Course overview
We believe the best illustration is based on exciting, original ideas. UCA Farnham's renowned BA (Hons) Illustration degree course will help you achieve just that - through drawing, text, sequential design, book production, moving image and more.

As well as a wealth of fundamental skills, you'll develop a personal style and learn business and self-promotion skills to help you build a career as soon as you graduate.

You'll be taught through studio-based projects, workshops and a lively programme of visiting speakers, skills-based workshops, pop-up exhibitions and external visits. There's also a wealth of exceptional facilities to take advantage of, including printmaking, ceramics, digital printing, textiles and 3D printing.

The course benefits from a wide range of industry links with partners including the Association of Illustrators, Ambit Magazine and the V&A.
Check out the @ucaillustration Instagram to see some of our day-to-day activities and student work-in-progress.
| | |
| --- | --- |
| Length of study | 3 years full-time |
| Campus | Farnham |
| Entry requirements | 112 UCAS tariff points |
| Course entry options | Sept 2021, Sept 2022 |
| UCAS institution code | C93 |
| UCAS code | W220 |
Course details
We'll help you to develop an open-minded, flexible approach – not only to your work but also about what illustration is and could be. This is alongside the development of essential skills in idea development, printmaking, drawing, digital software, storytelling and bookmaking.
You'll be able to experiment with ideas and image making, exploring your craft and learning the fundamentals of storytelling through illustration in both still and moving image and three-dimensional work.
Professional Practice 1: Destination
You'll learn about – and discover – the position of illustration in contemporary media practice and how it's developed from its traditional contexts. Illustration practice has, and is, continuously evolving and you'll be expected to reflect on this through research tasks and written and oral presentations.
Drawing
You'll examine the role of drawing – specifically within illustration practice, but also in broader terms as a discipline in itself.
Narrative
You'll explore the potential of creating your own text as the basis for an illustrated narrative. And you'll develop your understanding of storytelling and narrative structure not only through visual material but also through writing.
Context and Theory
Through a series of lectures, seminars and workshops, you'll be introduced to key debates and issues concerning the history, production and consumption of visual culture. This is given critical context through discussions on the social, political, economic and intellectual context.
You'll work in a more self-directed way, with the opportunity to explore new processes and skills.
You'll gain experience of the professional environment through externally focused projects, as well as establishing a good working practice, which will give you the experience and underpinning knowledge to progress into your final year.
With additional skills workshops, the emphasis will change to give you greater freedom to develop your work more uniquely, reflecting your own interests and enthusiasms.
We'll also encourage you to be more proactive and entrepreneurial, culminating in a student-led external exhibition.
Documentary
This unit introduces you to documentary illustration which can also be referred to as 'reportage' or visual journalism. The use of the terms 'reportage' and 'journalism' do not mean that this type of illustration only appears in newspapers and magazines. In this unit, you'll take on the role of the instigator and the protagonist, and will develop your personal viewpoint.
Professional Practice 2: Platform
You'll explore the breadth of illustration as a subject and its positioning in a contemporary media context. You'll also began to think about your career goals and aspirations through strategies you might adopt in preparing for work or postgraduate study after graduation.
Exhibition
The Exhibition unit culminates in a group exhibition. You'll develop skills of presentation and negotiation, through the process of establishing group agreement of a theme for the exhibition.
Critical Analysis and Research
This unit offers a choice of seminar programmes in conjunction with a short programme of core lectures and seminars. Workshops introduce you to the principles of research, analytical and critical methodologies. The seminar, lecture and workshop tasks are formatively assessed, and support you in working towards your summative assessment assignments.
Study Abroad (optional)
This optional unit is designed to broaden your educational experience and deepen your understanding of cultural diversity. It will enable you to study within a different cultural context and gain fresh perspectives.
Your focus will be on the resolution of your personal approach to content and style, developing your creative skills and production to a high standard and preparing a professional portfolio.
You'll also participate in external competitions and shows, produce promotional work and develop an online presence, reflecting your ambitions for professional practice.
Major Project
If you choose to propose one project for the 24 weeks, it's the largest project you'll study and will form the basis of your campus degree show and most probably any external shows you might participate in. You're also able to create smaller projects in this timeframe of 24 weeks. Whether one project, or two or three, the unit focuses on your ability to provide high-quality work suitable for presentation to an external audience and possible future clients.
Professional Practice 3: Launch
This is about acquiring key practical skills required for the launch of your professional career. These skills, and the measures you need to take, are very much geared to you building a sustainable career which may also include postgraduate study.
Responding to External Briefs
This unit is concerned with further developing your understanding of the complex relationship between illustrator, commissioning designer/art director and audience and you'll complete at least one competition brief from a recognised national or international competition or awards scheme, such as the Penguin Design Awards or Folio Society.
Illustration Dissertation
This is a substantial period of sustained, individually negotiated research on a subject, likely to be related to the contextual and/or theoretical concerns of your discipline or chosen area of practice, towards the provision of structured written argument.
This course offers the opportunity to study abroad for part of your second year. To find out more about studying abroad as part of your course please see the Study Abroad section:
Tuition fees
The course fees per year for 2021 entry are:
UK students - £9,250

EU students - £9,250 (see fee discount information)

International students - £16,950 (standard fee)

International students - £16,270 (full early payment fee)
The course fees for 2022 entry will be available here shortly.
Additional course costs
In addition to the tuition fees please see the additional course costs for 2021 entry. The details for 2022 entry will be available here in due course.
Further information
Find out more about our course fees and any financial support you may be entitled to:
These fees are correct for the stated academic year only. Costs may increase each year during a student's period of continued registration on course in line with inflation (subject to any maximum regulated tuition fee limit). Any adjustment for continuing students will be at or below the RPI-X forecast rate.
Course specifications
Please note, syllabus content indicated is provided as a guide. The content of the course may be subject to change in line with our Student Terms and Conditions for example, as required by external professional bodies or to improve the quality of the course.
This course has dedicated illustration studios with natural lighting for workshops, independent and group working. On campus, there are digital media suites programmed with design software for high-quality print production; printmaking studio with relief and block printing, plate or stone lithography, intaglio, letterpress, photopolymer plate printing and screen-printing; and a modern library with a wealth of books, journals, special collections and online resources.
Illustration studios, UCA Farnham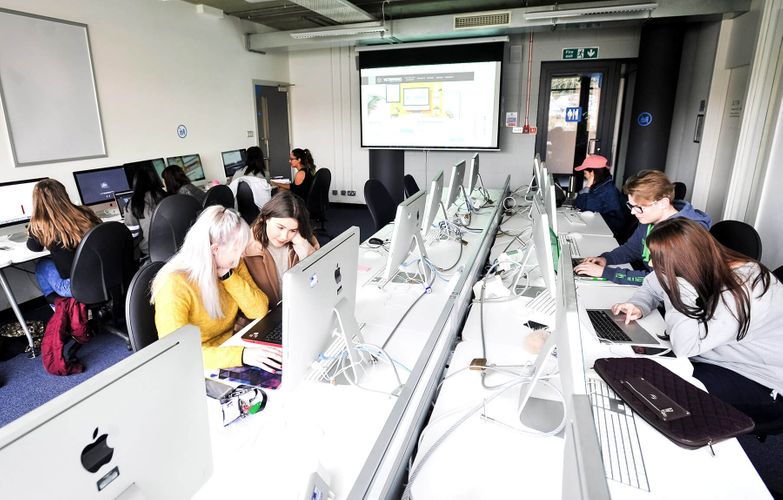 Digital Media suite, UCA Farnham
Print studios, UCA Farnham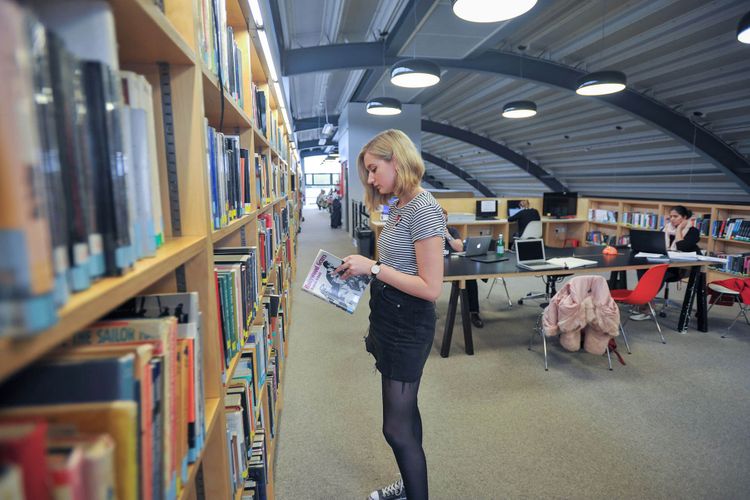 Library, UCA Farnham
Course connections
You'll benefit from our well established industry links, including:
Design and Art Directors Association
Far Far Away Books
Association of Illustrators
Nobrow Books
GAS Art Agency / Gina Cross, artists' and illustrators' agent
Ambit Magazine
Penguin Books
The Folio Society
The V&A
Comica
Loop Magazine
Ditto Press
Nobrow Books
The AOI
Four Corners Books.
The course attracts a variety of guest speakers, such as Rosy Nicolas, Tim Ellis, Tom Dowse, Graham Rawle, Gina Cross, The Association of Illustrators, Stephen Appleby, Olivier Kugler, Matilda Tristram and David Lemm.
The degree is a member of the Association of Illustrators, which gives you access to notable industry practitioners, workshops, lectures and seminars by some of the top illustrators in the UK and Europe.
The diverse and versatile skill set you'll develop on this course will open up a multitude of career paths.
Our recent graduates are currently working in:
Freelance illustration
In-house illustration/design
Education
Animation
Printmaking
Project management
Digital imaging
Multi-media production
Set design.
Beth Peters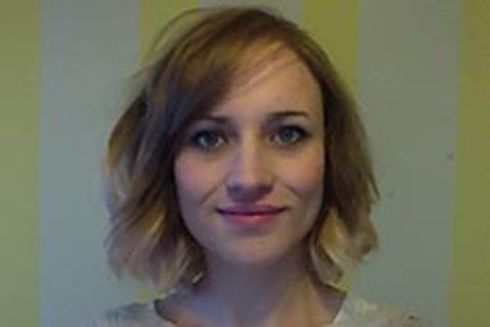 "The course has opened up new ways of thinking and taught me to apply this to my practical work. We have been encouraged to experiment and we've had the resources to try new things. We have also been lucky to meet people working in the industry."
Entry requirements
The standard entry requirements* for this course are:
One of the following:
112 new UCAS tariff points, see accepted qualifications
Pass at Foundation Diploma in Art & Design (Level 3 or 4)
Distinction, Merit, Merit at BTEC Extended Diploma / BTEC National Extended Diploma
Merit at UAL Extended Diploma
112 new UCAS tariff points from an accredited Access to Higher Education Diploma in appropriate subject
27-30 total points in the International Baccalaureate Diploma with at least 15 IB points at Higher level, see more information about IB entry requirements.
And four GCSE passes at grade A*-C and/or grade 4-9 including English (or Functional Skills English/Key Skills Communication Level 2).
Other relevant and equivalent Level 3 UK and international qualifications are considered on an individual basis, and we encourage students from diverse educational backgrounds to apply.
*We occasionally make offers which are lower than the standard entry criteria, to students who have faced difficulties that have affected their performance and who were expected to achieve higher results. We consider the strength of our applicants' portfolios, as well as their grades - in these cases, a strong portfolio is especially important.
To view the equivalent entry requirements for your country please select it in the list below.
For this course, you'll be required to submit an online portfolio via your UCA Applicant Portal. A range of formats will be accepted, including websites, moving image, sound, and 2D and 3D work, as well as examples of your writing, observational and experimental drawing, project work, idea development, sketchbooks, research and reflective journals or blogs. Further information on how to compile and upload your portfolio will be provided once you have applied. If you receive an offer, you'll be invited to attend an Offer Holder Webinar where you can meet the course team and learn more about the course.
UK applications
Apply for full-time study - starting September 2021:

Apply for full-time study - starting September 2022:
International & EU applications
Apply for full-time study - Year 1 - starting September 2021:

Apply for full-time study - Year 2 - starting September 2021:

Apply for full-time study - starting September 2022:
If you're interested in joining Year 3 of this course, please contact our International Admissions Team on +44 (0) 1252 892838 or internationaladmissions@uca.ac.uk
When to apply:
We are still accepting applications for 2021 entry - get your application in now.
If applying directly to us, you can apply throughout the year but we recommend you apply as early as possible so you have time to arrange accommodation and visas.
For more information visit our how to apply pages