Back to the drawing board

How Blackboard Artist and UCA grad Michael Tilley adapted his business — and his life — during lockdown
22 Jun 2020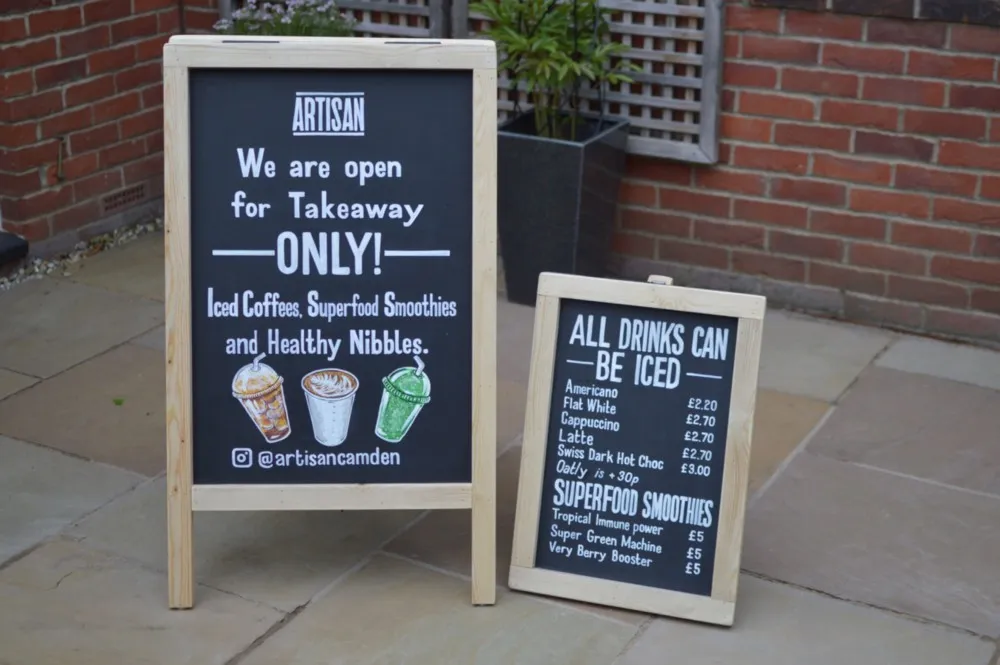 Last year, UCA alumni Michael Tilley was a busy man. The former foundation diploma student, who has become one of the country's leading lettering maestros as The Blackboard Artist, was working long hours to fulfil his orders as pubs, cafes and restaurants across London and beyond demanded his services.
But with all those facilities shut down through the COVID-19 pandemic and subsequent lockdown, Michael had to get creative in redesigning the way he works.
We caught up with him to find out what's been going on.
Hi Michael! With pubs and restaurants closed, what has changed for you since lockdown?
A lot has changed — there are a lot more Zoom classes and working from home in my daily routine now! But, as places are starting to promote that they are open for home delivery and collection, I've been able to do some more projects. A recent (and fun) one was working on some windows for a pizza place called Homeslice in Shoreditch and Marylebone. I highly recommend trying their pizza! We've also been supplying a lot of double-sided A-boards for coffee shops to promote that they are open, too.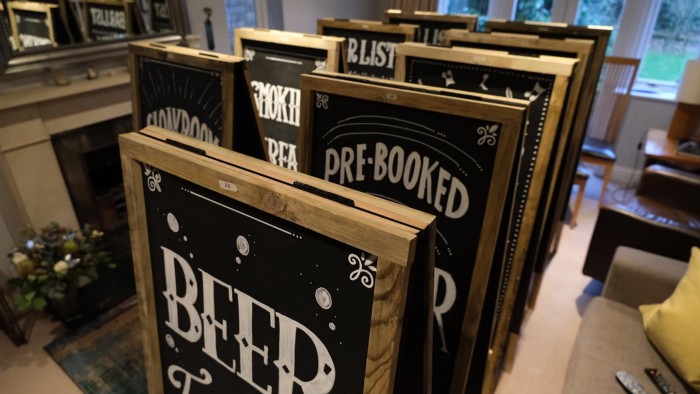 What have you been doing creatively since the lockdown came into effect?
When I didn't have projects on, I started hosting one-to-one online Zoom lessons for blackboard enthusiasts, which was fun, and I also worked on my own lettering projects to keep me active every day. I think painting is healthy and relaxing for the mind.
Have you learned any new skills?
Just as the lockdown started, my decade-old MacBook died on me. I've been eyeing up the iPad Pro for a long time now, and I decided to buy it as I had some money saved for times like this. I've started to learn how to draw using Procreate on the iPad, and it's been great. It's helping a lot with the business, allowing me to send a detailed professional sketch to clients, showing how their board will look. And it's fun to use, too!
I've also learned how to better use Zoom, and how to demonstrate things online more effectively, although there's still a lot to learn if your audience is a lot bigger.
What positives have you been able to take from this period of time?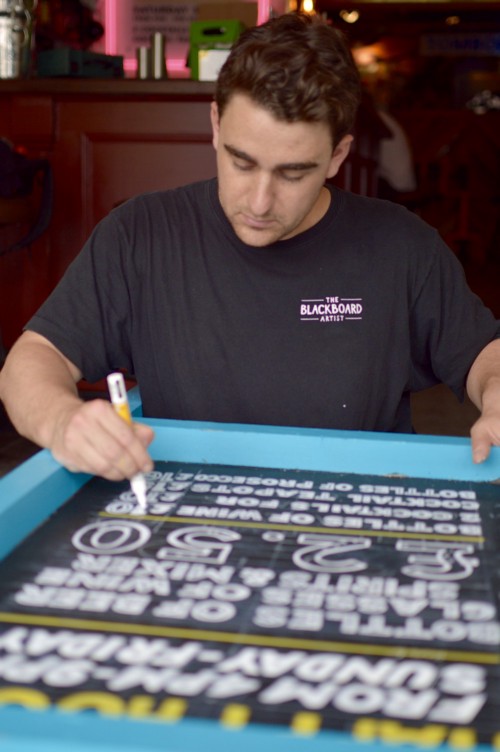 I've done a lot of thinking about how I want to have a better work/life balance. Before the lockdown kicked in, I was working crazy hours every week, not sleeping very well, and taking on a lot of stress. None of that is healthy — it doesn't give you time to think about how you can work in a smarter way, and how you want to achieve your goals. I've also had the opportunity to spend time with my family, and, now, to hang out with the friends that mean the most to me.
That's so good — do you think you'll maintain some of these changes after lockdown, then?
Definitely, and I'm excited about that! I'm really trying to push the fact that we supply boards ready to go now, as it saves a lot of travel time travelling to clients to paint boards on site, and it's nice to work from home sometimes. I'm looking into getting a workshop space and a van so I can drive to jobs, rather than using public transport, which will make life easier. All these changes are big, but exciting.
What advice would you give to our upcoming grads, who are about to embark on their careers in this new landscape?
The best advice I can give is to be aware that the world will be completely different after these strange times we've all been facing. My life was running at 150mph before this all happened, and I don't want to go back there. I think this slower pace of life is definitely refreshing, and gives us time to work out what we really want to do.
So, I think it would be a great start to use this time to write down notes about where you want to be in 10 years' time, and set yourself goals to help you get there. You can do anything you want in life if you're willing to work really hard at it. Embrace every part of the journey, and every step will be exciting.
Along the way, try your very best to turn every negative into a positive. Seven years ago, when I started working on blackboards, I was low in confidence and working in a pub kitchen as a kitchen porter, but I worked really hard to build my business on the side, as I knew painting was one of my passions.
Analyse what is changing in the world, reach out to the people you want to work for, and find out where your niche is, and what you can offer to the world.
Find out more about Michael's work at www.theblackboardartist.com/