Lecturer Illustration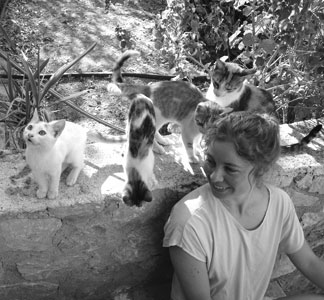 As a graphic artist and image-maker, Iro Tsavala is interested in how ideas and concepts can be expressed through narrative. Iro works on editorial and book illustration briefs, as well as a number of multi-disciplined, self-initiated projects.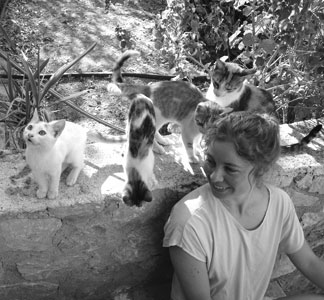 Bio
Iro is a senior Lecturer in Illustration BA and MA in Farnham. She is currently the Year 3 BA leader and contributes to the delivery of the MA programme. She has previously taught at Wimbledon, University of the Arts London and has completed her PGCE at the University of Greenwich. She completed her MA in Communication Art & Design at the Royal College of Art in 2008, and her BA (1st Class Hons) in Illustration at the Kent Institute of Art & Design in 2005.
Further information:
Research statement
Iro is an author-illustrator based in London, where she maintains her artist's studio. She is interested in the expression of ideas through narrative, the playful relationship between words and images and the function of the book format. Her work embraces the use of found ephemera, drawing and printmaking, resulting in both playful and sometimes enigmatic imagery.
Alongside her self- initiated projects, she works with Illustration commissions for clients such as The Poetry Society, the Guardian and Karnac books among others. Her books can be found in bookfairs such as ELCAF, Bristol Artists Book Event, PAGES Leeds and the Small publishers' Fair.
Symposia, Talks and Events:
2016: SHAPING THE VIEW : Understanding Landscape through Illustration
7th International Illustration Research Symposium, Edinburgh College of Art
2014: Pick Me Up, Live drawing event-Somerset House, London
2012: The Function of Folk, Illustration symposium, Ethnographic Museum, Krakow, Poland
Exhibitions and Bookfairs:
2016: All Things Animal Exhibition, Boston Children's Museum, Boston, MA
2016: Pages- Leeds International Contemporary Artist's book Fair, Leeds
2015: Elcaf-The Laundry, London
2014: The Chocolate Factory open Studios, London
2013: Stories on Paper-New Ashgate Gallery, Farnham
2012: The Function of Folk, Ethnographic Museum, Krakow, Poland
2012: Elcaf-Village Underground, London
2012: Comica Comiket-The Great Hall, Bishopsgate Institute, London
2011: Small Publishers Fair-Conway Hall, London
2011: The Magic Theatre, 2nd Illustration & Writing Symposium-MMU, Manchester
2010: Allotments-Swartz Gallery, London
Professional Membership, Affiliation and Consultancy
Fellow of The Higher Education Academy
2012: The Book Illustration Competition-Folio Society & The House of Illustration, Finalist
Illustration Commissions:
The Poetry News Summer 2016 issue, The Poetry Society – article artwork
Popescu European Poetry Translation Prize Anthology 2015,
The Poetry Society- cover artwork
'Love in the Age of the Internet' by Linda Cundy, Karnac Books, Nov. 2014, ISBN-10: 1782201467 – cover artwork
The Guardian Weekend magazine, 12 February 2011
'Mediocrity sucks, but who cares' by O. Burkeman – article artwork
The Guardian Weekend magazine, 23 January 2010,
'Decisions' by O. Burkeman – article artwork.
Research outputs
Find links to all Iro's research outputs and activities available at UCA's online research portal UCARO