Learn on-site at Maidstone TV Studios
Get industry work placements
BAFTA albert Education Partnership member
Course overview
Learn all you need to know to work in the television industry within the professional setting of Maidstone TV Studios on our varied and exciting BA (Hons) Television Production degree course.
Exploring a raft of television formats, from scripted drama to live production, you'll strike a balance between hands-on practical learning and technical study, including concept development and contextual awareness, ensuring you have a diverse skillset upon graduation. You'll also be prepared for a broad range of professional opportunities, including the potential for work experience on commercial productions and access to leading-edge industry facilities within the studios.
Recent examples have included Jools Holland's Annual Hootenanny, Empire of Light, Alan Partridge and I Can See Your Voice for the BBC, Catchphrase and Game of Talents for ITV, and a FIFA eSports World Championship.
Our ScreenSkills Select accreditation provides a host of benefits such as exclusive industry engagement, while our BAFTA Albert Education Partnership enables you to undertake sustainability training and achieve certification as an 'Albert Grad'. 
Recent graduates have worked at Warner Bros., ITV, BBC, Channel 4, Ignition Creative, Disney, Formula 1, Maidstone Studios, and a host of other top employers.
What you'll study
The content of the course may be subject to change. Curriculum content is provided as a guide.
Delivered at UCA Farnham, UCA's Integrated Foundation Year is designed to give you the skills you'll need to start your degree in the best possible way – with confidence, solid knowledge of creative practice, study skills and more.
You'll explore a range of creative techniques and develop your portfolio, with your chosen subject in mind. We'll work with you throughout the year to ensure you're on the right track and give you the tools to achieve your highest potential on your degree.
Find out more about the Integrated Foundation Year
Launch
This intensive production primer exposes you to a fast turn-around experience that mirrors many TV industry environments. Accentuating collaborative skills, it will test your flexibility and resilience as you respond in small groups to a prescribed commissioning target and changing external conditions. At the end of the week, teams will pitch their outcomes for the chance of winning the hypothetical commission.
Screen Stories
You'll be introduced to the fundamental structure, tropes and mechanisms that are common to human stories and that influence the content we watch. Expressed through enquiry into diverse global examples, you will interrogate your response to these narratives, arriving at a clearer sense of your own dramatic voice, while applying screenwriting craft for yourself. By researching ideas, developing them into a defined story concept and expanding this into an original short screenplay, you will examine the process through your own writing.
Equality Diversity and Inclusion
The unit provides an opportunity for you to explore what is meant by equality, diversity, and inclusion and the implications of these concepts for creative practice. It will equip you to understand how our social identities (such as, gender, race/ethnicity, class, disability, sexual orientation, and religion) contribute to the inclusion and/or exclusion of individuals in creative spaces.
Digital News
You will be introduced to the role of the media and its influence on the narratives we develop for understanding our social world, taking perspectives on the future, and the importance of journalistic storytelling. You'll be required to research, plan and produce a short news or current affairs item for multi-platform transmission. Working as a group, you will write, visualise and strategise your production, taking into account the demands of broadcasters, expectations of global audiences, landscape of regulatory compliance and technicalities of distribution.
Opportunity Week – Aspirations
Opportunity Week introduces ATOM Activities – see below - while challenging students to research a career path and route to industry that may guide their forward journey. Using your findings, and the findings of your peers, you'll build a career map that expands your awareness of available careers across activities such as scripted and unscripted, craft and technical, editorial and production, sales and exhibition.
Script to Screen
Building on the experience of the Screen Stories unit, you'll now focus on the interpretive and collaborative skills required to translate script to screen. Adopting one or more significant head-of-department roles, you will contribute to the realisation of a longer, more detailed dramatic short film from an existing screenplay. Directing, cinematography, production and sound design, casting, editing, effective planning and working to a tight schedule will be critical to the project.
Unscripted: Factual Entertainment
Factual entertainment is a broad category that has emerged to command huge global appeal, with successful formats traded and remade the world over. You'll be challenged to research and devise a high-concept, unscripted proposal in response to a commissioner brief. This calls for ideas that grab attention in the broadcast schedule but also cut through on streaming platforms. It is an opportunity to think outside the box and invent the next genre-busting format that reflects contemporary concerns of large sections of the population in enlightening, entertaining and accessible ways.
Personal story
You'll reflect on your first-year achievements, recalibrate ambitions for industry and set the targets that will help to achieve them. You'll develop an online showcase for your individual aptitudes and experiences and be supported to devise a Personal Development Plan that clarifies your way forward. Together, these two elements comprise your Personalised Learning Experience (PLE) digital outcome.
ATOM Activities
ATOM activities are tiny pieces of individual learning that facilitate interdisciplinary exposure across the university. Collectively they form a small fraction of your curriculum that is determined through your own personal choice and interest.
Launch
To launch Year 2, you'll work in teams to write, shoot, edit and deliver a five-minute film in three days. On the first day, you will draw two constraints from a hat – a genre, and a keyword or line of dialogue that must be used in the script. Teams will then be able to select a prop from a range of objects, which must also feature prominently in the story.
Documentary
You'll develop and create a short film documentary. The unit calls for an understanding of producer, client and audience expectations, and the ability to represent complex factual ideas in an engaging manner. Key skills will be required, including research and interview techniques, shooting strategies, storytelling and scripting for factual programme making. In the process you will develop your teamwork, research, political and aesthetic awareness, critical analysis of audiences, consideration of on and off-screen representation, presentation skills, promotion, and enterprise.
The Conscious Practitioner
This unit aims to promote progressive values and attitudes to diversity and inclusion in creative practice. You will have the opportunity to explore global perspectives and influences on creative practice, drawing upon interactions with varied identities, cultures, politics, and histories. The unit will explore how beliefs, values and attitudes drive behaviour and practices. You will reflect on the development of their own creative influences, perspectives, practices, and sense of belonging as developing creative professionals in global and contemporary spaces.
Live Production
Live and 'as live' production is a cornerstone of commercial television output. This unit challenges you to develop a detailed pitch for a live studio pilot. A commissioning panel will then 'green-light' the idea considered to have the greatest potential, before a creative team is formed from across the cohort to develop the concept through to live stream and record.
The unit provides opportunities for cross-course and external collaboration with other media related disciplines. For example, set and costume design, make-up and hair, music and graphics all contribute to the outcome. This collaboration promotes negotiation and creative teamwork that simulates the interdisciplinary character of professional production.
Opportunity Week
Opportunity Week gives you the chance to pitch yourself to a potential employer in a mock interview scenario. Applying for hypothetical jobs, provided at the start of the week, you'll need to prepare a cover letter and CV, reflecting on your accrued skills and designing an approach to the position.
This week is the perfect time to rehearse interview techniques in a supportive and constructive scenario that encourages confidence while identifying development targets.
Professional Story
Building on the Personal Story unit at the end of year 1, this unit extends your early career research into the world of professional employment. You'll undertake a short work placement, internship, or client brief, and using these experiences complete a work experience report, and update your online presence.
Your revised showcase will evidence your PLE Digital Outcome, refining your ambition and redefining your offer to industry ahead of your final year.
ATOM Activities
This unit is an extension of your Year 1 ATOM Activities.
PLE Digital Outcomes
You'll build your industry community and professional networking footprint, creating a digital folder evidencing that you are actively engaging in sustainable professional development. You'll showcase current and newly established professional networks and identify common interests.
Elective units
You'll also undertake two elective units across the year - choose from:
Animation: Industry and Technology – you'll learn about the development of animation from early cinema to the contemporary, considering both technological shifts and the role of animation studios.
Transmedia Worlds - This unit brings together the concepts essential to the understanding of film, media and the performing arts through a consideration of adaptation and transmedia worlds.
Audio World building: Sound for Moving Image - The unit will give you the opportunity to explore different forms of sound in relation to genre, and develop your understanding of recording Foley and environments, directing voice artists, and mixing sound.
Immersive Production: Developing an Experiential Concept for Film and Television Production - The unit will give you the opportunity to explore cutting edge and future focused technology so that you have a broad comprehension of the expertise and skills required if you want to delve further into immersive media production
The Individual Performance Project – You'll create a short live performance comprising at least two different elements, including things like a monologue, a piece of storytelling, a poem, a piece of dance/movement or a puppet show.
Theatre Production – You'll work together with students from a wide range of courses to make a live theatre production.
Applied Music - In this unit you will deliberately expand who you share and create music with to include a wider sense of community.
Film Production – You'll work together with students from a wide range of courses to make a short film, which could also include animated material or a game component.
Industry Insight: Crewing Up – Delivered at the Maidstone Studios, this unit gives you insight into the many roles in moving image production.
Shakespeare Festival - In this unit you will embrace the language of Shakespeare, staging performances of his work in in an outdoor festival setting at sites around UCA Farnham.
Showreels for the Creative Industries - This unit is designed to help you identify your career aspirations within the creative industries, and to build a professional showreel that best showcases your work.
Verbatim - you will learn about the history of Verbatim techniques in theatre. You will explore Verbatim texts and performance practices including 'headphone' theatre and documentary theatre practices.
If you opt to complete a professional practice year, this will take place in year three. You will undertake a placement within the creative industries to further develop your skills and CV.
While on your Professional Practice Year, you will be required to pay a reduced tuition fee for that year. This fee will be determined using government funding regulations. Based on current regulations, we expect this to be a maximum of 20% of the tuition fee rate that you are charged for your second year of study. You will also incur additional travel and accommodation costs during this year. The University will provide you with further advice and guidance about this as you approach your Professional Practice Year.
Please note: If you are an international applicant, you will need to enrol onto the course 'with Professional Practice Year'. It will not be possible to transfer onto the Professional Practice Year after enrolment
Launch
Shared across the School of Film, Media and Performing Arts, this week consists of a series of interdisciplinary seminars, screenings and workshops and focuses on ground-breaking creative work that has surprised, shocked, and changed the way we view the world.
You'll specifically be preparing a presentation/screening event at the end of the week, which provides the platform for outcomes from Year 1 and 2 launch weeks. This will include management of the venue, audio/visual technology and awards.
Critical Contexts
You'll explore a research topic that is meaningful to your final year practice, and you'll present it in the form of a structured written argument, a video essay/ presentation or research project targeted at informing the development of your practice.
Concept Development
This unit challenges you to focus your practice through the development of a viable production concept that can either stand alone as a development project or be taken into production through the subsequent units. At the end, you'll pitch your project to a Development Executive and receive professional feedback. The outcome will be a production bible that demonstrates consideration of all necessary creative and logistical variables.
Opportunity Week
Your final Opportunity Week is a moment to project ahead to graduate destinations, building on the career-focused experiences of the course to consider the professional self once more.
Final Major Project – Pre-Production
Having created an original concept and witnessed the pitching others, you now have the choice to either prepare your own development concept for production in the next unit, or join a preproduction project that is in need of your skills. Whichever you choose you'll work on a detailed pre-production package appropriate to your chosen role that demonstrates your readiness for the task.
Final Major Project – Production
This final unit brings together all the creative and critical experiences of the course, challenging you to demonstrate innovative and sophisticated engagement with a suitably ambitious major project.
Working individually or in teams, you'll produce a highly refined and professional outcome that is ready for distribution to a defined audience - managing the project, developing and deploying advanced creative methodologies and production skills appropriate to your role/s.
This course offers the opportunity to study abroad for part of your second year. To find out more about studying abroad as part of your course please see the Study Abroad section:
Industry placement
offer
Preparing graduates for successful careers underpins everything we do, and all students on this course may be offered support to identify and prepare for an industry placement according to their individual needs. We'll draw on our wide range of contacts within the creative industries to help provide you with opportunities that align with your interests and future career aspirations.
Course specifications
Please note, syllabus content indicated is provided as a guide. The content of the course may be subject to change in line with our Student Terms and Conditions for example, as required by external professional bodies or to improve the quality of the course.
Fees & funding
Tuition fees - 2023 entry
UK students:
Integrated Foundation Year - £9,250
BA course - £9,250
If you opt to study the Professional Practice Year, for 2023 you will be required to pay a reduced tuition fee of £1,850 (UK students) and £3,390 (International students). You will also incur additional travel and accommodation costs during your Professional Practice year. The University will provide you with further advice and guidance about this.
The fees listed here are correct for the stated academic year only, for details of previous years please see the full fee schedules. Costs may increase each year during a student's period of continued registration on course in line with inflation (subject to any maximum regulated tuition fee limit). Any adjustment for continuing students will be at or below the RPI-X forecast rate.
Financial support
There are lots of ways you can access additional financial support to help you fund your studies - both from UCA and from external sources.
Discover what support you might qualify for please see our financial support information
UCA scholarships and fee discounts
At UCA we have a number of scholarships and fee discounts available to assist you with the cost of your studies.
You'll find everything you need to know for your level of study on our scholarships page.
Additional course costs
In addition to the tuition fees there may be other costs for your course. The things that you are likely to need to budget for to get the most out of a creative arts education will include books, printing costs, occasional or optional study trips and/or project materials.
These costs will vary according to the nature of your project work and the individual choices that you make. Please see the Additional Course Costs section of your Course Information for details of the costs you may incur.
You'll be taught at Maidstone TV Studios with access to a dedicated baseroom, equipment store, specialist digital suites, green screen studio and sound recording booth. Maidstone Studios is one of the largest independent TV studios in the country, providing you with access to state-of the art facilities and hands-on experience on professional productions.
Maidstone Studios
Course teaching space, Maidstone Studios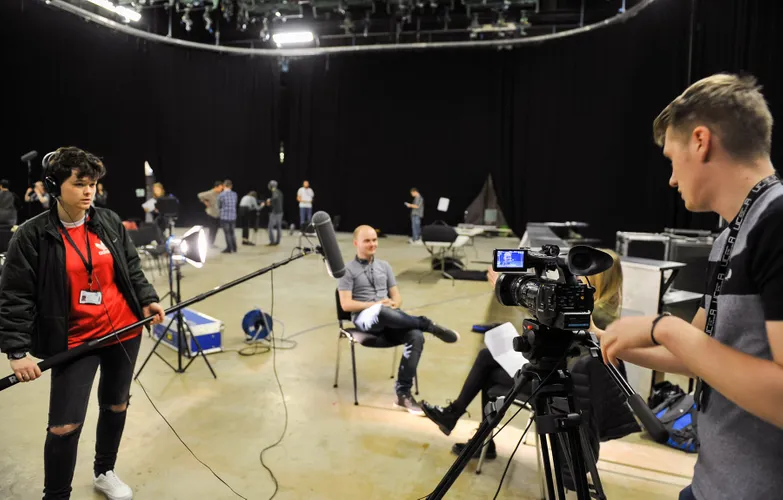 Maidstone Studios
Studio production, Maidstone Studios
Career opportunities
Television Production students are immersed in the professional world from the moment they walk through the doors of our course. Situated within one of leading television and media studios in the UK, our course offers you the chance to learn and work alongside some top film and television professionals on a daily basis.
Assisted by our dedicated work-placement coordinator, you'll be offered numerous hands-on work experience opportunities on the professional productions made at the studios and with external companies, which in the past have included:
.. With Jools Holland (BBC)
Take Me Out (ITV)
Catchphrase (ITV)
Sport Relief (BBC)
Strictly Come Dancing (BBC)
Frank Skinner's Opinionated (ITV)
Draw It! (Channel 4)
Let's Play (BBC)
Blind Date
Big Brother (Channel 5)
The Door (ITV).
This Time with Alan Partridge (Baby Cow/ BBC Studios)
I Can See your Voice (BBC)
FIFA eSports Club World Cup
The Euros (ITV)
Tour de France (ITV)
Blankety Blank (BBC)
The course is taught by a number of film and television professionals with extensive industry experience, covering all genres and formats. It includes screenwriters, directors, producers, editors and camera persons, covering work for the BBC, ITV, Channel 4, Sky, Discovery, Film4, Channel 5 and numerous independents.
90% of our graduates are now working in the creative media industry for a number of leading organisations, including:
Video Editor for Formula One
Junior Office Manager and Production Secretary at SpunGold TV
Junior Researcher at ITV
Runner at ITV
Runner at The Maidstone Studios
Studio Co-ordinator at QVC
Programme Co-ordinator and EA to Head of Production at Channel 4
Production Assistant at Gogglebox Entertainment
Editor at Motion Postproduction
Camera Assistant at Sound Credit TV
Digital Content Officer at Kent Fire and Rescue Service
Production Assistant at Telly Juice Ltd
Producer at Times Media Group.
Students who graduate from this course can go on to set up their own production companies, or work in roles such as:
Screenwriter
Director
Producer
Editor
Production assistant
Researcher
Digital content manager
Camera assistant
Sound assistant.
Georgina's thrilling life
in the fast lane
UCA graduate Georgina Sadler tell us about her job as assistant producer at Sky Sports.
Read Georgia's story
Wesley Denne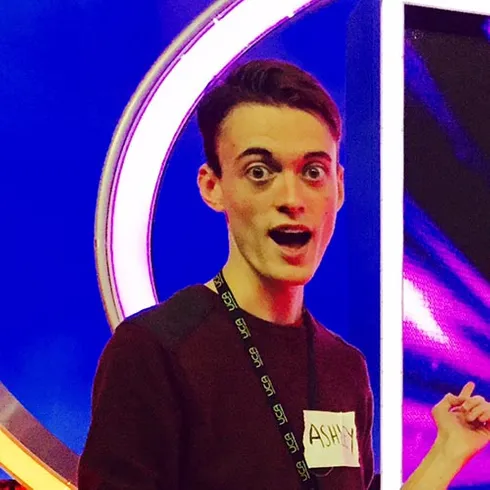 "The course is highly creative and there is never a wrong idea – it's all about developing that idea into something watchable. It's been an incredible journey that I'll always look back on with a positive outlook."
Entry requirements
BA (Hons) course
BA (Hons) course with Professional Practice Year
The standard entry requirements* for these courses are one of the following:
112 new UCAS tariff points, see accepted qualifications
Pass at Foundation Diploma in Art & Design (Level 3 or 4)
Distinction, Merit, Merit at BTEC Extended Diploma / BTEC National Extended Diploma
Merit at UAL Extended Diploma
112 new UCAS tariff points from an accredited Access to Higher Education Diploma in appropriate subject
27-30 total points in the International Baccalaureate Diploma with at least 15 IB points at Higher level, see more information about IB entry requirements.
And four GCSE passes at grade 9-4/A*-C including English (or Functional Skills English/Key Skills Communication Level 2).
Other relevant and equivalent Level 3 UK and international qualifications are considered on an individual basis, and we encourage students from diverse educational backgrounds to apply.
Portfolio requirements
For these courses, we'll need to see your portfolio for review. We'll invite you to attend an Applicant Day so you can have your portfolio review in person, meet the course team and learn more about your course. If you would prefer to upload a portfolio digitally, there is also the option to submit it online via your UCA Applicant Portal.
You don't need to have previous experience of video making, but we do want to see evidence of creativity and original thinking. This can be in the form of one or more of the following: videos, photographs, scripts, creative writing, sound recordings, journalism, online content and general media work. Further information will be provided once you have applied.
---
BA (Hons) course with Integrated Foundation Year
BA (Hons) course with Integrated Foundation Year and Professional Practice Year
The standard entry requirements for these courses are one of the following:
64 new UCAS tariff points, see accepted qualifications
Pass at Foundation Diploma in Art & Design (Level 3 or 4)
Merit, Pass, Pass at BTEC Extended Diploma / BTEC National Extended Diploma
Pass at UAL Extended Diploma
64 new UCAS tariff points from an accredited Access to Higher Education Diploma in appropriate subject
24 points from the International Baccalaureate, see more information about IB entry requirements.
And four GCSE passes at grade 9-4/A*-C including English (or Functional Skills English/Key Skills Communication Level 2).
Other relevant and equivalent Level 3 UK and international qualifications are considered on an individual basis, and we encourage students from diverse educational backgrounds to apply.
Portfolio requirements
These courses don't require a portfolio. If you receive an offer, you'll be invited to attend an Applicant Day where you can meet the course team and learn more about the course.
---
*We occasionally make offers which are lower than the standard entry criteria, to students who have faced difficulties that have affected their performance and who were expected to achieve higher results. We consider the strength of our applicants' portfolios, as well as their grades - in these cases, a strong portfolio is especially important.
Due to visa requirements, this course is not available to students that require a Tier 4 (General) visa. If you have another category of visa please contact us: internationaladmissions@uca.ac.uk to find out if you are eligible to study this course.
Please use the following fields to help select the right application link for you: