Television Production
BA (Hons)
Course overview
Our BA (Hons) Television Production degree offers you a unique and thrilling opportunity to work on iconic game shows and entertainment series' at one of the country's top TV studios - while you study.

Based at our fully-equipped study space at Maidstone Television Studios and accredited by ScreenSkills, this course is unlike any other and gives you the opportunity to learn the complete range of skills needed to make a career in the television and film industry.

You'll become a filmmaker, creating stories and working on productions from the very beginning.

Students have worked on shows including This Time with Alan Partridge, Strictly Come Dancing, Take Me Out, Catchphrase and more, and have gone on to careers with a host of high-profile channels, shows, brands and production companies, from ITV to Formula 1.
Apply now through Clearing
| | |
| --- | --- |
| Length of study | 3 years full-time |
| Campus | Maidstone TV Studios |
| Entry requirements | 112 UCAS tariff points |
| Course entry options | Sept 2021, Sept 2022 |
| UCAS institution code | C93 |
| UCAS code | P311 |
Accredited by:
Course details
By the end of your first year, we want you to be a filmmaker. You'll learn the art of storytelling with moving images for both fiction and non-fiction genres, and finish with approximately 20 minutes of footage for your portfolio.
Script to Screen
You'll learn the art of screenplay, from concept development to critical analysis and learning about the creative pipeline for moving image production. You'll write your own original screenplay, and with assistance from your fellow students, produce a short film (extract or trailer).
Directions
Building on the experience of the first unit, you will learn about role of the director and then assume this role as you produce of a longer, more detailed short film. Working from a pre-existing source material, you will need to consider every creative aspect of the production and plan effectively, working to a tight schedule.
Documentary
You will explore the documentary genre from a practical production point of view, as well as the theoretical concerns and issues that underpin all factual programme making, and from a pre-determined brief, make a documentary film in groups. Key skills include research and interview techniques, shooting strategies, storytelling and scripting for factual programme making.
Introduction to Television: Texts, Contexts & Culture
Throughout the year, you'll also study this theoretical unit at UCA Rochester. You'll consider how the medium of television can be understood and evaluated through the application of a range of critical and theoretical approaches. You will be introduced to a set of core topics - form and meaning (mise-en-scene, editing, sound, etc.), genre (documentary, soaps, etc.), representation (race, gender, etc.) and technology (visual FX, digital evolution, etc.), using screenings and television clips to provide the visual context for student analysis and discussion of critical and theoretical issues raised by the topic.
The second year builds on skills from year one and introduces you to more elements of television production. During this year you may also have the opportunity to complete an industry work placement or even study abroad.
TV News Production
You'll learn the essential skills to run an effective news and current affairs production. You will be required to research, plan and produce a short news or current affairs item for multi-platform transmission. You are required to write, visualise and strategically plan your production, taking into account the demands of broadcasters, the expectations of audiences, and the technical aspects of online and multi-platform transmission.
Fiction Adaptation (optional)
You are required to research, plan and produce a short video for transmission, adapted or derived from a literary source. You will be encouraged to experiment with visual representation and advanced filmmaking, such as montage and time-lapse, as well as dramatisation and text and sound design.
Professional Practice (optional)
This unit challenges you to engage with professional practice, with the aim to focus the knowledge and critical understanding of what it is to be a professional in the moving image production industry. Set within an industrial context, you have the opportunity to engage with an employer through a work placement or a commissioned moving image project. Working closely to the employers' requirements, you will be required to employ professional research, and production skills, as well as negotiate, collaborate, communicate, and be receptive and adaptive to feedback.
As Live Production
As Live Television Productions (a programme recorded in one take as if it's live but not actually broadcast until later) is a cornerstone of commercial television output. From game shows to talk shows, current affairs to cultural spin, As Live productions demand sophisticated skills and large-scale coordination of people and resources. This unit requires the development of a detailed pitch for, and subsequent production of, an As Live Studio Production pilot. The idea(s) considered to have most potential by a commissioning panel will be given the green light to go into production. A creative team is then formed to develop the concept through to transmission.
Transition
You'll begin the process of focusing your own practice within a chosen production role and context, ready for the transition into your final year of study. Independent study, research and critical analysis will inform and underpin the project. You will be encouraged to focus on a chosen role (writer, producer, director, director of photography or editor) and a particular output (drama, documentary, current affairs, entertainment or similar). Using an existing source of material (for example a television drama series or a documentary) you will be asked to re-interpret an aspect of the work from the perspective of your chosen skillset.
Television: Critical Perspectives
This unit brings the opportunity to explore television formats through in-depth critical analysis of television genre, with particular reference to broadcast journalism and drama. It also supports the development of a greater understanding and critical analysis of television genre and audiences, developing further skills in research, critique, presentation and academic writing.
Study abroad (optional)
This course offers the opportunity to study abroad for one term during your second year.
You'll focus your individual practice culminating in a final major project, produce a detailed pre-production document and a dissertation on a course-related subject of your choice.
Dissertation
You'll undertake a period of self-directed research on a subject related to the historical, theoretical, critical concerns of your discipline or professional area, and write a detailed piece on that subject. It may be related to a television genre, your chosen specialism or something else.
Pre-Production
You'll produce a detailed preparational piece for a production, either for something you are going to make into a film in the final unit, or a hypothetical idea. This latter option is a popular choice for students who want to think of a larger-scale production. You can present this work as a package in any form you feel is appropriate.
Production
This final unit brings together all the creative experience of the course, challenging students to demonstrate innovative and sophisticated engagement with a major project. Working individually or in teams, and through discussion with your tutor, you and your fellow students will adopt specialist roles that align with your own practice and career aspirations, and are required to develop and produce an innovative project. This could take the form of a complete moving image production, or a detailed development of one aspect, such as a screenplay.
This course offers the opportunity to study abroad for part of your second year. To find out more about studying abroad as part of your course please see the Study Abroad section:
Tuition fees
The course fees per year for 2021 entry are:
UK students - £9,250

EU students - £9,250 (see fee discount information)

International students - £16,950 (standard fee)

International students - £16,270 (full early payment fee)
The course fees for 2022 entry will be available here shortly.
Additional course costs
In addition to the tuition fees please see the additional course costs for 2021 entry. The details for 2022 entry will be available here in due course.

Further information
Find out more about our course fees and any financial support you may be entitled to:
These fees are correct for the stated academic year only. Costs may increase each year during a student's period of continued registration on course in line with inflation (subject to any maximum regulated tuition fee limit). Any adjustment for continuing students will be at or below the RPI-X forecast rate.
Course specifications
Please note, syllabus content indicated is provided as a guide. The content of the course may be subject to change in line with our Student Terms and Conditions for example, as required by external professional bodies or to improve the quality of the course.
You'll be taught predominantly at Maidstone TV Studios with first-year theoretical work studied at UCA Rochester. You will have access to the studios, cameras and specialist digital suite at the Studio. Maidstone Studios is one of the largest TV studios in the country, providing you with access to state-of the art facilities and hands-on experience on professional productions. You have access to learning and teaching space within the studios, which includes 25 Apple editing suites, a green screen studio and sound recording booth.
Maidstone Studios
Course teaching space, Maidstone Studios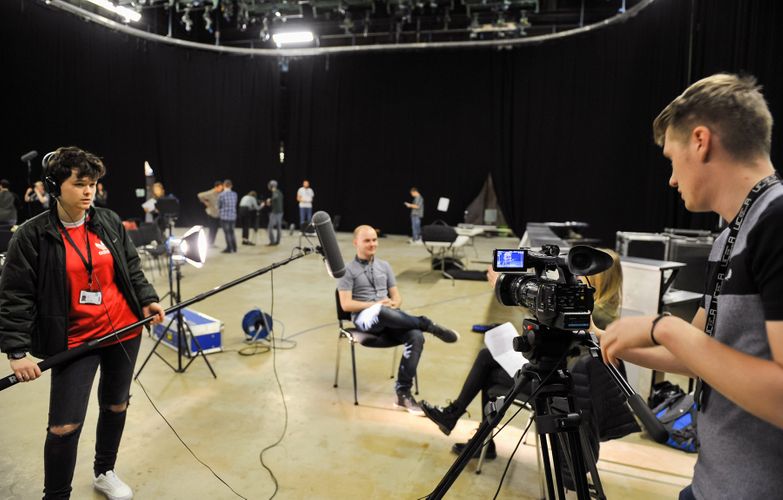 Madistone Studios
Studio production, Maidstone Studios
Course connections
Television Production students are immersed in the professional world from the moment they walk through the doors of our course. Situated within one of leading television and media studios in the UK, our course offers you the chance to learn and work alongside some top film and television professionals on a daily basis.
Assisted by our dedicated work-placement coordinator, you'll be offered numerous hands-on work experience opportunities on the professional productions made at the studios and with external companies, which in the past have included:
.. With Jools Holland (BBC)
Take Me Out (ITV)
Catchphrase (ITV)
Sport Relief (BBC)
Strictly Come Dancing (BBC)
Frank Skinner's Opinionated (ITV)
Draw It! (Channel 4)
Let's Play (BBC)
Blind Date
Big Brother (Channel 5)
The Door (ITV).
The course is taught by a number of film and television professionals with extensive industry experience, covering all genres and formats. It includes screenwriters, directors, producers, editors and camera persons, covering work for the BBC, ITV, Channel 4, Sky, Discovery, Film4, Channel 5 and numerous independents.
90% of our graduates are now working in the creative media industry for a number of leading organisations, including:
Video Editor for Formula One
Junior Office Manager and Production Secretary at SpunGold TV
Junior Researcher at ITV
Runner at ITV
Runner at The Maidstone Studios
Studio Co-ordinator at QVC
Programme Co-ordinator and EA to Head of Production at Channel 4
Production Assistant at Gogglebox Entertainment
Editor at Motion Postproduction
Camera Assistant at Sound Credit TV
Digital Content Officer at Kent Fire and Rescue Service
Production Assistant at Telly Juice Ltd
Producer at Times Media Group.
Students who graduate from this course can go on to set up their own production companies, or work in roles such as:
Screenwriter
Director
Producer
Editor
Production assistant
Researcher
Digital content manager
Camera assistant
Sound assistant.
Visit our 2021 grad show site to see the incredible work created by our graduating students
Visit the 2021 Gradshow
Wesley Denne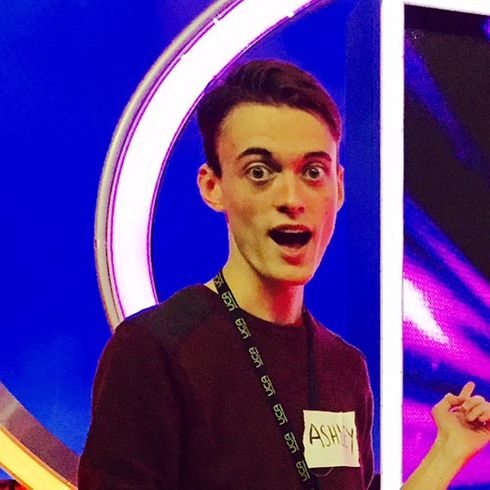 "The course is highly creative and there is never a wrong idea – it's all about developing that idea into something watchable. It's been an incredible journey that I'll always look back on with a positive outlook."
Entry requirements
The standard entry requirements* for this course are:
One of the following:
112 new UCAS tariff points, see accepted qualifications
Pass at Foundation Diploma in Art & Design (Level 3 or 4)
Distinction, Merit, Merit at BTEC Extended Diploma / BTEC National Extended Diploma
Merit at UAL Extended Diploma
112 new UCAS tariff points from an accredited Access to Higher Education Diploma in appropriate subject
27-30 total points in the International Baccalaureate Diploma with at least 15 IB points at Higher level, see more information about IB entry requirements.
And four GCSE passes at grade A*-C and/or grade 4-9 including English (or Functional Skills English/Key Skills Communication Level 2).
Other relevant and equivalent Level 3 UK and international qualifications are considered on an individual basis, and we encourage students from diverse educational backgrounds to apply.
*We occasionally make offers which are lower than the standard entry criteria, to students who have faced difficulties that have affected their performance and who were expected to achieve higher results. We consider the strength of our applicants' portfolios, as well as their grades - in these cases, a strong portfolio is especially important.
To view the equivalent entry requirements for your country please select it in the list below.
For this course, you'll be required to submit an online portfolio via your UCA Applicant Portal. You don't need to have previous experience of video making, but we do want to see evidence of creativity and original thinking. This can be in the form of one or more of the following: videos, photographs, scripts, creative writing, sound recordings, journalism, online content and general media work. Further information on how to compile and upload your portfolio will be provided once you have applied. If you receive an offer, you'll be invited to attend an Offer Holder Webinar where you can meet the course team and learn more about the course.
UK applications
Apply for full-time study - starting September 2021:

Apply for full-time study - starting September 2022:
International & EU applications
Apply for full-time study - Year 1 - starting September 2021:

Apply for full-time study - Year 2 - starting September 2021:

Apply for full-time study - starting September 2022:
If you're interested in joining Year 3 of this course, please contact our International Admissions Team on +44 (0) 1252 892838 or internationaladmissions@uca.ac.uk
When to apply:
We are still accepting applications for 2021 entry - get your application in now.
If applying directly to us, you can apply throughout the year but we recommend you apply as early as possible so you have time to arrange accommodation and visas.
For more information visit our how to apply pages