UCA students help stage
Jools Holland's Hootenanny
It's a national New Year's institution – the Jools Holland Annual Hootenanny – and this year UCA students were in the thick of it!
18 Jan 2023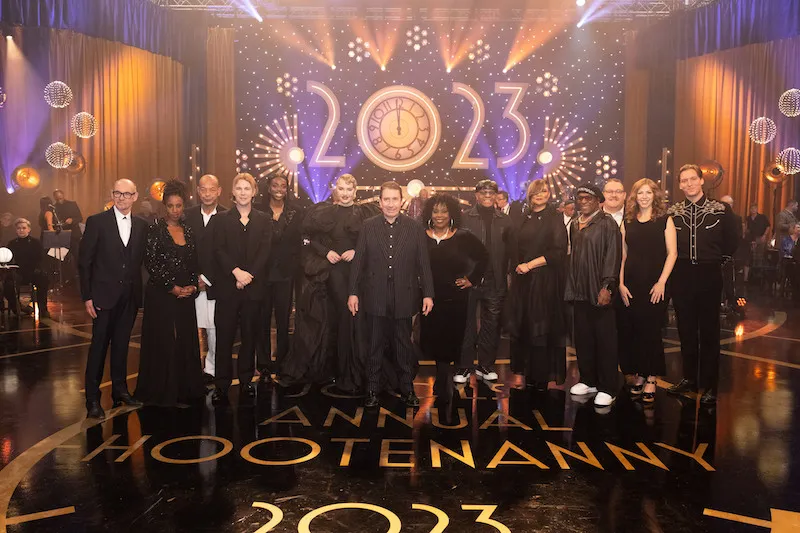 Above, the stars of the Jools Holland Annual Hootenanny with the host, Jools Holland, centre. Picture courtesy of @BBC Pictures
Supported by BA (Hons) Television Production's dedicated Work Placement Coordinator, Laura Coull, four final year students applied for, and won, paid roles as runners on the 30th anniversary Hootenanny.
The BBC filmed the annual music spectacular on 14 December at Maidstone Television Studios, where our Television Production degree course is based. We caught up with students Elsie Potter and Ruby Chapman to hear more about their experience.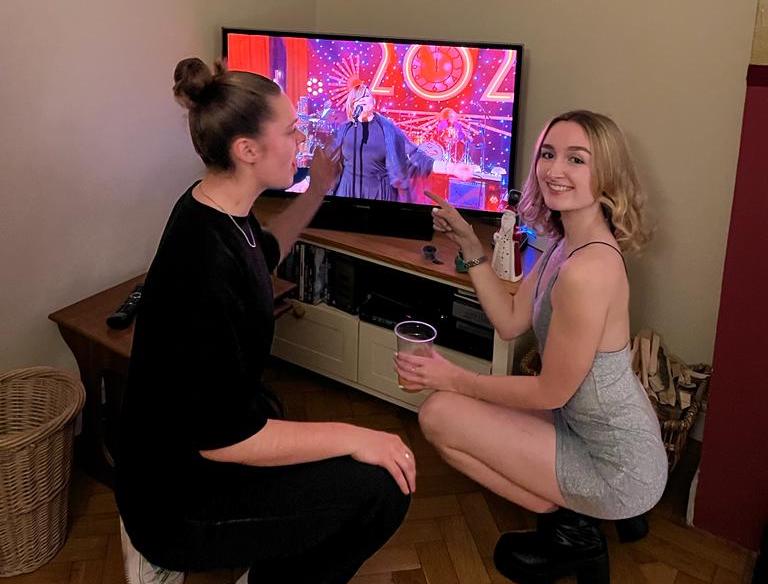 Hi Ruby and Elsie, thanks for chatting with us. Tell us about what it was like to work on such an iconic show.
Ruby: "Working on the Hootenanny was so much fun. It's such a unique experience and it's amazing to see how they really film the show. Creating a fake New Years' Eve two weeks before Christmas was certainly a large-scale event to pull off, but everybody was in a good mood and excited for the big countdown. It was great to see how the set works and it was certainly interesting to bump into famous faces while frantically completing your running tasks. The whole team we worked with were so kind, and it was brilliant to get to know new runners in the industry.
"Our tasks varied, but the main item on the agenda was to get the audience and VIPs in place and then provide them with champagne flutes and drinks for the famed midnight countdown. It sounds like a simple task, but keeping the audience and celebrities from drinking their champagne until midnight was a bigger challenge than you'd think!
Elsie: "It was such a fun and interesting experience. As well as ensuring that each audience member was provided with drinks, we had other tasks like being sent out in the van on errands, and ensuring that the talent had everything that was required in their dressing rooms. I learned a lot, met some lovely people, made some great connections, and gained valuable experience that I will use throughout my career."
What other jobs have you worked on during your course so far?
Elsie: "I've worked on quite a few, such as RHS Chelsea Flower Show and adverts shot on location in places like nightclubs."
Ruby: "I worked as a live editor for FIFA, which was great. The 2021 e-world cup was conducted completely online (due to covid) and therefore live mixers were required to edit the streams remotely. The total stream count was around nine million, and we worked with players from across six continents and a range of different time zones to pull it off. It was great fun and a fantastic experience! Other opportunities, aside from working on tv shows, included studying abroad in Norway for 6 months through Erasmus. This was one of the best experiences I've had. It's connected me to creatives across the globe and granted me huge independence and a new curiosity about culture. I've also been able to liaise with industry professionals who are brought in to help teach our course modules, which has been so valuable."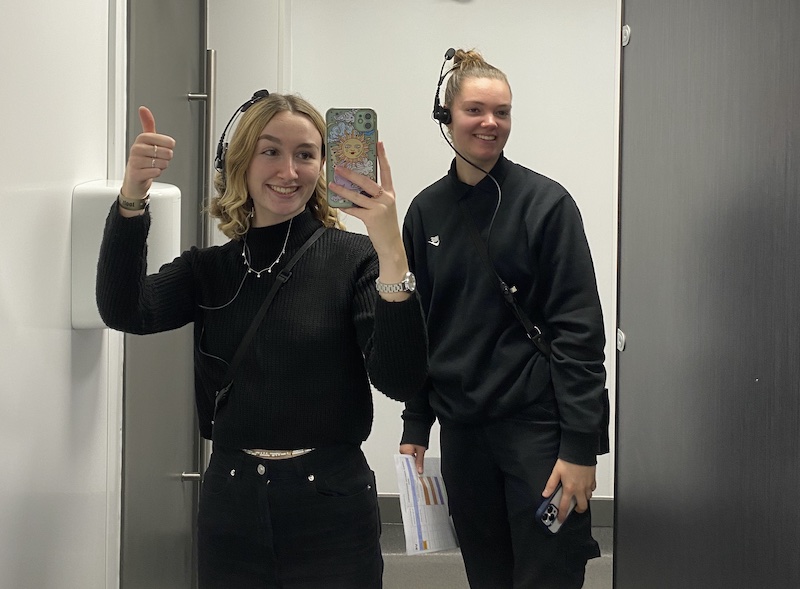 What are your career hopes for the future?
Ruby: "I would like to work in the documentary industry. In particular, creating engaging documentaries about social issues. I feel very passionately about using media for a positive purpose and therefore want to share stories of those who aren't usually given a platform. I want to travel and tell stories from a variety of cultures, backgrounds and countries. As I will graduate from UCA in May, I feel very grateful for the start they have given me in the industry. The support from my lecturers is unrivalled and the opportunities I've gained from this course have set me up for what I hope will be a successful career.."
Elsie: "I plan to apply for trainee researcher jobs for after I finish at UCA, hopefully working my way up to eventually getting into a role that involves some sort of producing. I have loved working within the creative industries so far and can't wait to see what the future holds once I have graduated and entered the industry full-time."
What advice would you give to anyone thinking about studying TV Production at UCA?
Ruby: "I would to tell them to do it! I feel so privileged to get a degree while perfecting my practical skills in shooting, editing and pre-production work. All of this while getting industry experience and free time to pursue my creative passions! I remember when I was applying, this course stood out for all those reasons. It was so practical, rather than theoretical. These aspects make it such a unique media course in the UK, and you get to go into a working TV studio every day. There's nowhere else you can take your lunch break and watch a new programme being shot at the same time."
Elsie: " I would say don't be afraid to give everything a go and apply for as many experiences as possible. Through applying yourself, you give yourself a better chance at succeeding - not just within your course, but throughout life, too."
Mike Rymer, Programme Director of BA (Hons) Television Production, said: "The opportunity to work on the Hootenanny is just another example of how our unique relationship with Maidstone Studios provides unparalleled access to professional work experience for the UK's major broadcasters."
Accredited by ScreenSkills Select for developing industry-ready students, BA (Hons) Television Production has an employability rate of 90% (Discover Uni) with recent graduates working for Warner Bros., ITV, BBC, Channel 4, and Sony Pictures Entertainment, among many others. Check out our course pages to learn more.