Animation
BA (Hons)
with or without Professional Practice Year
Course overview
Calling all budding animators! If you are keen to forge a career within the world of animation, regardless of your preferred medium, then look no further than UCA Farnham's renowned BA (Hons) Animation degree course.

Established in 1972 by Oscar winner Bob Godfrey, ours is one of the best-known and highly-regarded animation courses in the world, with graduates going on to create such icons as Hey Duggee, Peppa Pig and Compare the Market's Meerkats.

Whether you want to make animated films using CGI, traditional drawing, oil on glass, sand animation or pixelation, you will be encouraged to follow your passions and aim high for your future career.

Along the way, we'll support you with our extensive knowledge, facilities, experience and industry contacts, providing everything you'll need to become an innovative storyteller and artist.
From 2022 entry you have the option to complete a Professional Practice Year as part of this course. This will give you the opportunity to develop your professional, academic and personal potential, equipping you to be confident and engaged in creative workplaces. Employers widely recognise these qualities, and a significant proportion of placement students are offered graduate-level jobs or go onto postgraduate study.
| | |
| --- | --- |
| Length of study | 3 years full-time or, 4 years full-time with Professional Practice Year |
| Campus | Farnham |
| Entry requirements | 112 UCAS tariff points |
| Course entry options | Sept 2022 |
| UCAS institution code | C93 |
| UCAS code | W615 |
| UCAS code for course with Professional Practice | W616 |
Accredited by:
Course details
Drawing for Animation
Develop the essential drawing skills necessary for communicating ideas visually, and in turn develop your observational skills. You'll attend formal life-drawing sessions and keep sketchbooks, drawing journals and keep a daily drawing blog. This unit is designed to complement the Animation Principles unit.
Animation Principles
Through individual animation exercises and a group project, you will learn the importance of effective character design, staging and storyboarding when producing animation. This will teach you the fundamental principles and technique of animation and how to use them effectively in your own films.
Digital Skills
Fundamental principles of digital practices and workflows – in both 2D and 3D computer animation - are explored in this unit, from the designing and creation of digital assets suitable for animation, through to refining key framed movement.
Animation: Context and Interpretation
You will be introduced to key concepts and critical debates in media, visual and cultural theory central to reading and thinking about moving image in general and animation in particular.
Short Film
You'll produce a professionally finished film with the aim of having it screened at a competitive international animation festival before the end of your second year.
Research and Concept
Following the Short Film unit, you'll get feedback on your work. This feedback, together with tutorials, will identify your strengths, areas of improvement and interests to take forward into an individual course of study. Your research may include expanding your existing technical skills or experimenting with new techniques and to this end, you will examine a wide range of approaches to animation production.
Advanced Digital Techniques
Through a series of seminars and workshops, you'll look beyond the tools of computer software and explore their creative use within the context of your own animated sequences. You'll go on to work in small production teams, where roles and responsibilities reflect that of industry practice. Each team will produce an animated piece using a combination of 2D and 3D software.
Animated Cultures
Exploring the diverse cultures of animation through key debates and the work of key practitioners, you will explore technological, social and aesthetic innovations in relevant critical contexts. You will also consider animation's wider contexts in moving image, media culture and the visual arts.
Study Abroad (optional)
This optional unit will allow you to spend a period of time in an overseas educational institution.
If you opt to complete a professional practice year, this will take place in year three. You will undertake a placement within the creative industries to further develop your skills and CV.
While on your Professional Practice Year, you will be required to pay a reduced tuition fee for that year. This fee will be determined using government funding regulations. Based on current regulations, we expect this to be a maximum of 20% of the tuition fee rate that you are charged for your second year of study. You will also incur additional travel and accommodation costs during this year. The University will provide you with further advice and guidance about this as you approach your Professional Practice Year.
Please note: If you are an international applicant, you will need to enrol onto the course 'with Professional Practice Year'. It will not be possible to transfer onto the Professional Practice Year after enrolment
Proposal and Pitch
You'll take your first steps towards making your final animated film – proposing, developing and refining your ideas.
Final Film
This major piece of work will be the climax of your learning journey, drawing on all the creative, technical and theoretical knowledge you've developed. You'll have the opportunity to screen your film at the Graduation Show and you'll be encouraged to submit to competitions and festivals internationally.
Dissertation
Your dissertation involves a substantial period of sustained, individually negotiated research on a subject related to the contextual and/or theoretical concerns of your discipline or chosen area of practice, towards the provision of structured written argument.
Destinations
This unit aims to equip you with the skills, knowledge and confidence to present yourself to potential employers in the best possible way. By evaluating your coursework so far and identifying your individual strengths, the unit aims to focus your ambition towards your chosen career path.
This course offers the opportunity to study abroad for part of your second year. To find out more about studying abroad as part of your course please see the Study Abroad section:
Tuition fees
The course fees per year for 2021 entry are:
UK students - £9,250

EU students - £9,250 (see fee discount information)

International students - £16,950 (standard fee)

International students - £16,270 (full early payment fee)
The course fees for 2022 entry will be available here shortly.
If you opt to study the Professional Practice Year, you will be required to pay a reduced tuition fee for that year. This fee will be set by the government in their funding regulations. Based on current regulations, we expect this to be a maximum of 20% of the tuition fee rate that you will be charged for your second year of study. You will also incur additional travel and accommodation costs during your Professional Practice year. The University will provide you with further advice and guidance about this.
Additional course costs
In addition to the tuition fees please see the additional course costs for 2021 entry. The details for 2022 entry will be available here in due course.

Further information
Find out more about our course fees and any financial support you may be entitled to:
These fees are correct for the stated academic year only. Costs may increase each year during a student's period of continued registration on course in line with inflation (subject to any maximum regulated tuition fee limit). Any adjustment for continuing students will be at or below the RPI-X forecast rate.
Course specifications
Please note, syllabus content indicated is provided as a guide. The content of the course may be subject to change in line with our Student Terms and Conditions for example, as required by external professional bodies or to improve the quality of the course.
Animation facilities include stop motion studio with Dragonframe capture software, Canon DSLRs and professional camera stands, and stages pre-rigged with grips, stands and lights. Studios feature individual workstations, light boxes, Wacom tablets, line testers and batch scanners. Macs have the full Adobe Creative Suite as well as Toon Boom and Maya CG software, while there's also sound and editing suites on campus.
Animation studio, UCA Farnham
Animation studio, UCA Farnham
Animation studio, UCA Farnham
Sound and editing suite, UCA Farnham
Course connections
As a long-established degree course, we've built an extensive network of industry connections, giving us access to high-profile visiting lecturers, and to commissions, competitions and exciting work-placement opportunities. Our industry links include:
Aardman Animation
Studio AKA
Cinesite
The Mill
Create and Make
Agile Films
Blackdog Films Limited
HSI Film
Blink Productions
The Film Club
National Film and TV School
Passion Pictures (one of the leading studios in Europe)
Nexus
Moth Collective
UsTwo
Beakus
Fudge Animation
Animade.
Animation is one of the most significant and rapidly expanding media fields. An enormous range of career opportunities exist in animation, from the traditional techniques of animation storytelling to drawn, model and CGI animation. Typical careers in the industry include:
Directors
Producers
Animators (in commercials, films, broadcast, online media and games)
Editors
Character designers
Production designers
Pre-vis artists
Compositors
Storyboard artists
Post-production.
As one of the pre-eminent animation courses in the world, our sought after alumni have landed many exciting, high profile roles across the industry. These include positions as:
Animators
CG animators
CG riggers
Designers
Directors
Model makers
Producers
Storyboard artists.
Many well-known studios have been set up by our alumni including:
Animade
Astley Baker Davies (makers of Peppa Pig)
Film Fabrik
Honeycomb Animation (makers of Grizzly Tales for Gruesome Kids)
Mackinnon & Saunders
Moth Collective
Slurpy Studios
Tandem Pictures.
This gives our course very solid links to a vibrant industry, and we enjoy connections with a range of creative talent, studios and potential employers.
Visit our 2021 grad show site to see the incredible work created by our graduating students
Visit the 2021 Gradshow
Michelle Brand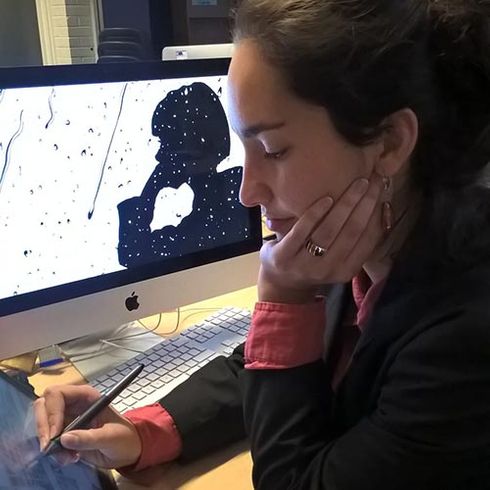 "I chose animation because it combines all my interests at once – art, filmmaking, and storytelling. Although I had done some animation before the course, my passion grew during my studies."
Entry requirements
The standard entry requirements* for this course are:
One of the following:
112 new UCAS tariff points, see accepted qualifications
Pass at Foundation Diploma in Art & Design (Level 3 or 4)
Distinction, Merit, Merit at BTEC Extended Diploma / BTEC National Extended Diploma
Merit at UAL Extended Diploma
112 new UCAS tariff points from an accredited Access to Higher Education Diploma in appropriate subject
27-30 total points in the International Baccalaureate Diploma with at least 15 IB points at Higher level, see more information about IB entry requirements.
And four GCSE passes at grade A*-C and/or grade 4-9 including English (or Functional Skills English/Key Skills Communication Level 2).
Other relevant and equivalent Level 3 UK and international qualifications are considered on an individual basis, and we encourage students from diverse educational backgrounds to apply.
*We occasionally make offers which are lower than the standard entry criteria, to students who have faced difficulties that have affected their performance and who were expected to achieve higher results. We consider the strength of our applicants' portfolios, as well as their grades - in these cases, a strong portfolio is especially important.
To view the equivalent entry requirements for your country please select it in the list below.
For this course, you'll be required to submit an online portfolio via your UCA Applicant Portal. You should include work that showcases your creative abilities, interests and aspirations, as well as your passion for the subject. We'd expect that a typical portfolio would contain: examples of your observational drawing skills; examples of your recent coursework; examples of your personal ideas, interests and image generation in sketchbooks; evidence of animation if possible, no longer than two minutes. Further information on how to compile and upload your portfolio will be provided once you have applied. If you receive an offer, you'll be invited to attend an Offer Holder Webinar where you can meet the course team and learn more about the course.
Please use the following fields to help select the right application link for you:
UCAS Code for course with Professional Practice

W616

UCAS Code for course with Integrated Foundation Year

W61A

UCAS Code for course with Integrated International Foundation Year

W61C

UCAS Code for course with Integrated Foundation Year and Professional Practice Year

W61B

UCAS Code for course with International Integrated Foundation Year and Professional Practice Year

W61D