Kimberley's animation
answers a curious question
One of life's great questions – where DO all the socks go? – is answered in wondrous ways by BA (Hons) Computer Animation Arts graduate Kimberley Davis, who is one of hundreds of graduates exhibiting their work at this year's Graduation Shows. We caught up with Kimberley to talk about her work and what's next.
24 Jun 2022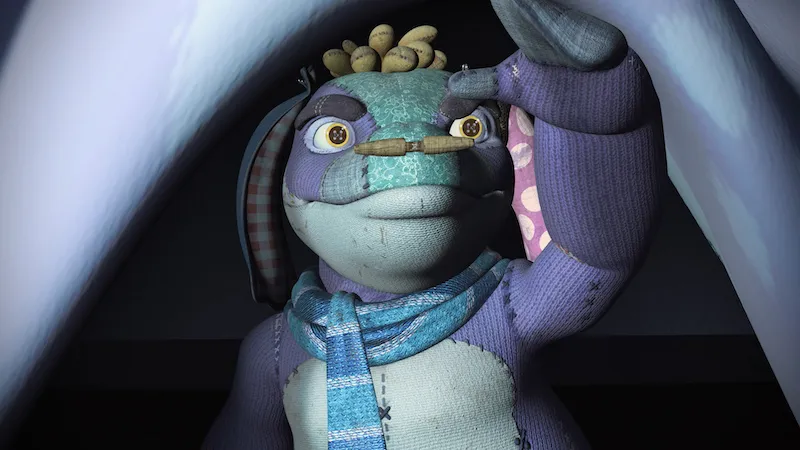 Kimberley's final major project is a charming short film entitled "Where do all the socks go?", where hidden creatures within the home steal odd socks for comfort while occupants sleep. Inspired by the likes of Bagpuss and Monsters Inc., the main character - the Sock-Stealer - is made of scraps of fabric with a toggle for a nose. The Sock-Stealer is given a voice by the family pet, Loki the French Bulldog, and has a soundtrack provided by her partner, Tom, a professional sound designer.
Hi Kimberley, thanks for chatting with us! What was the inspiration for this story, and were there many changes to the overall plot or style along the way?
"At first this was just meant to be a creature design project but evolved to become a short animation exploring odd occurrences that happen around the home. The inspiration behind this came late one night when going through lockdown. My house is an older style building and during the winter, creaking noises would happen from the wood contracting and rattling as the pipes warmed up. Hearing these noises formed an idea around a hidden ecosystem that lives alongside us to create this phenomenon, such as the floorboards creaking and the car keys going missing. When discussing this idea with my tutor, the core of the animation moved to fully exploring one question and having fun with it.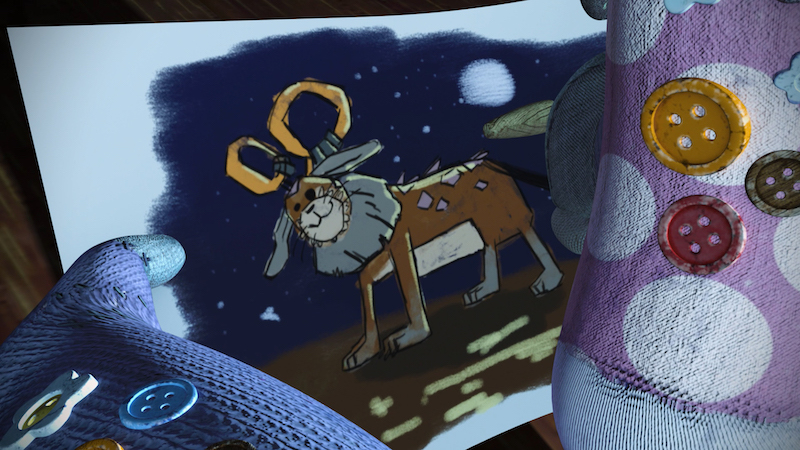 "This project went through several changes due to time constraints, balancing a personal/working life and understanding the audience the animation was aimed at. When coming to the final stages of the project, I decided to leave the animation open-ended to allow further adventures and characters to be introduced later."
In the film there are noticeably a lot of different light sources and textures – was that a deliberate choice and how easy was it to create leather, metal, fabric, etc?
"The multiple light sources were deliberate and were altered depending on the shot, this was to light up the scene effectively while portraying that the animation was occurring at night. When looking at references, blueish lighting helped to capture the night-time ambience effectively and create a little more magic to the environment.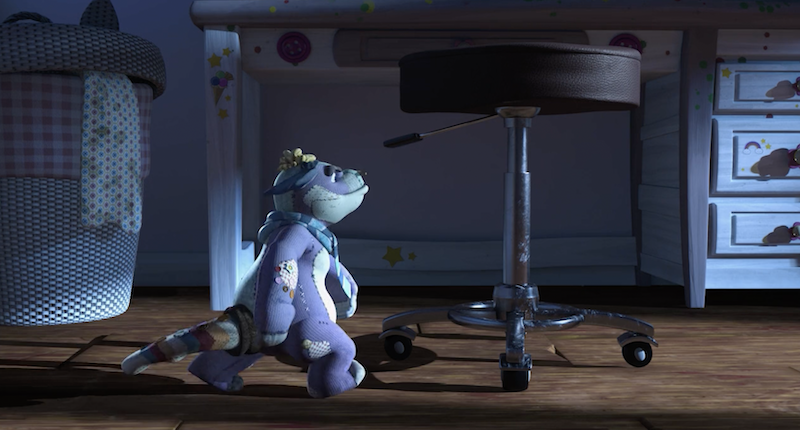 "A contracted light source was used on the Sock-Stealer to make it stand out from the background, and the main lighting source was considered when doing this. The textures were a mix between Photoshop and Substance Painter, I utilised normal and bump maps for the more intricate details such as the wood grain and the stool leather. Learning texturing was quite challenging but the more I did it, the easier it became, and I found myself really enjoying the whole process."
How have you found your UCA experience?
"My time studying at UCA has been enjoyable but challenging at times. Studying during the pandemic completely changed the university 'experience' but I feel the tutors did amazingly, transitioning education from in-house to home. During my time here, I became inspired by all the other amazing creatives studying alongside me and would love to keep in contact with them long after university has finished."
What is next for you now you've graduated?
"The next steps will be to continue honing my skills as a character animator while applying for animator roles within the industry. I would also like to keep pursuing my own projects so I can keep developing skills within other areas of the 3D pipeline."
Finally, what advice would you give to students starting out on their computer arts journey?
"The advice I would give to new students would be that it's OK to feel anxious and that you can take a step back every so often for mental health. As an older student balancing work, university and personal life, there were times it was very tough to keep motivated, but I had a lot of support from my tutors, family, and friends. Sadly, I didn't always take on the advice given me to slow down but if I had to do it again, I would listen more and take the breaks that I needed."
You can read more about Kimberley's journey on this project and more about her work on her blog, and check out her film and that of other 2022 graduates at our Graduation Show at UCA Rochester.