Film Production
BA (Hons)
Course overview
If you want to work on major movies and TV shows, then our BA (Hons) Film Production course at UCA Farnham will you the tools, knowledge and confidence you need to forge an exciting career behind the camera.

Graduates have gone on to work on the Harry Potter and Mission Impossible series', as well as prestigious TV shows like Tom Clancy's Jack Ryan and Disney+ series Loki.

Our course is predominantly practice-based – we believe in learning through doing. As you study, you'll get the chance to have your coursework screened at national and international competitions and festivals and graduate with the strong portfolio of work, sought-after specialist skills and practical filmmaking experience that employers really want.

Right from the outset, you'll be part of a close-knit creative team, making films on digital and 16mm cameras just as you will in the film industry. You'll learn about the business of film, explore the production process from beginning to end, and develop networking and communication skills that will set you up for your career.
Apply now through Clearing
| | |
| --- | --- |
| Length of study | 3 years full-time |
| Campus | Farnham |
| Entry requirements | 112 UCAS tariff points |
| Course entry options | Sept 2021, Feb 2022, Sept 2022 |
| UCAS institution code | C93 |
| UCAS code | W600 |
Accredited by:
Course details
During this year, you'll be introduced to the world of moving image, exploring practical, theoretical and ethical issues associated with the representation of people or places using visual and sonic media.
You'll explore screen storytelling, understanding how filmmakers tell their stories and producing factual and fiction films.
Encounters
This unit allows you to explore the practical, theoretical and ethical problems associated with the representation of people or places using digital media. Working in groups, you'll undertake research leading to the production of a short film which presents a portrait of an individual, a group/organisation or a place. Working as an individual, you'll undertake research leading to the production of a digital online photographic portfolio which represents a portrait of an individual or a place.
Stories for the Screen
You'll explore the practice of screen storytelling focusing particularly on the role of the screenwriter. It addresses the fundamental question: how do we, as filmmakers, go about telling our stories on screen? At the core of this unit are writing workshops, through which you will gain a foundation in the skills needed to work with screenplays effectively, whatever role you seek to perform in the filmmaking process. You'll also be challenged to make a short film, rotating roles within a production group in order to further explore the translation of a script to screen.
Screen Craft 1
This unit will familiarise you with a basic knowledge and understanding of production and postproduction practices and develop your understanding of the function and structure of film narrative. Working within a group, you'll be involved in creating an imaginative non–sync narrative film. You'll see the project through an entire production process, beginning with the development of story and script, creating characters through writing and working with actors, and creating an appropriate story world through camera, production design and sound.
Screen Studies 1
You'll be introduced you to a range of fundamental concepts essential to the understanding of international moving image history and theory. Through exploration of a range of narrative and non-narrative moving image forms from around the world you will gain a historical overview of their development. You will also be introduced to some of the key theoretical approaches used in analysing moving image texts that also takes into consideration their specific contexts of production and consumption.
During this year you will be able to choose a pathway onto one of seven key roles - screenwriting, producing, directing, cinematography, editing, sound or production design – which you'll be encouraged to develop throughout the production of a short fiction film. You'll also develop your knowledge of film history, and initiate and work on a factual film project.
Production Roles
You'll consider the different roles on a film production and choose one to explore in more depth through a series of workshops and small project work. The key areas for you to choose from may include screenwriting, producing, directing, cinematography, editing, sound, production design and visual effects.
Short Film Production
In this unit you will have the opportunity to take on responsibility for a crew role in the production of a short fiction film to a given brief. You will be required to take on a crew role whilst making a fiction production and develop your technical skills in this area.
Creative Documentary
You'll examine storytelling within the documentary form, which will encourage you to undertake a documentary journey that reveals unexpected realities. Through collaborative working, you'll gain confidence in understanding the stories and kinds of storytelling that are appropriate to documentary filmmaking.
Screen Studies 2
Providing a cultural, critical, theoretical and historical overview of the ways in which selected filmmakers from a variety of international contexts have responded to real-life events. A selection of fiction and non-fiction moving image texts that take real-life events as their starting points will be explored and a range of relevant theoretical and interpretative approaches will be employed to analyse their production and consumption.
Study Abroad (optional)
This optional unit will allow you to spend a period of time in an overseas educational institution.
The final year is a combination of work on your graduate film portfolio and self-directed work on an individual Extended Research Project.
You'll complete your studies with support and guidance through your development of a professional profile and positioning yourself in the wider film and television community.
Filmmaking Portfolio
You'll develop your knowledge and technical skills in film production to a level that will enable you to work creatively and professionally at the end of your course. The unit offers you an opportunity to define your intended area of film practice. This is a portfolio unit in which you will work on more than one project and through negotiation with your teaching staff, you will balance two or more roles in order to fulfil the weight of production work required.
Extended Research Project
Emphasising the personal development of critical writing in consultation with teaching staff, this unit aims to offer a supportive opportunity for the research and completion of an independently generated and illustrated Extended Research Project.
Projections
This final unit is designed to encourage you to reflect on your learning throughout the course. In preparing for the world beyond university you'll need to polish your CV and your online presence as well as to develop your confidence in presenting yourself both online and in person. You'll also prepare your previous project work for presentation at screenings and festivals by developing a festival strategy and all associated promotional materials.
This course offers the opportunity to study abroad for part of your second year. To find out more about studying abroad as part of your course please see the Study Abroad section:
Tuition fees
The course fees per year for September 2021 and February 2022 entry are:
UK students - £9,250

EU students - £9,250 (see fee discount information)

International students - £16,950 (standard fee)

International students - £16,270 (full early payment fee)
The course fees per year for September 2022 entry will be available here shortly.
Additional course costs
In addition to the tuition fees please see the additional course costs for September 2021 and February 2022 entry. The details for September 2022 will be available here in due course.

Further information
Find out more about our course fees and any financial support you may be entitled to:
These fees are correct for the stated academic year only. Costs may increase each year during a student's period of continued registration on course in line with inflation (subject to any maximum regulated tuition fee limit). Any adjustment for continuing students will be at or below the RPI-X forecast rate.
Course specifications
Please note, syllabus content indicated is provided as a guide. The content of the course may be subject to change in line with our Student Terms and Conditions for example, as required by external professional bodies or to improve the quality of the course.
Facilities include two purpose-built film studios with dedicated technical support; sound editing, 7.1.2 surround sound mixing as well as digital and analogue editing suites. Software includes Avid Media Composer, Symphony, Baselight, Nitris and Pro Tools. Production kit also includes high end cameras, lighting and sound kit, which is available on campus from the Equipment Hire Department on site.
Film studio, UCA Farnham
Foley sound studio, UCA Farnham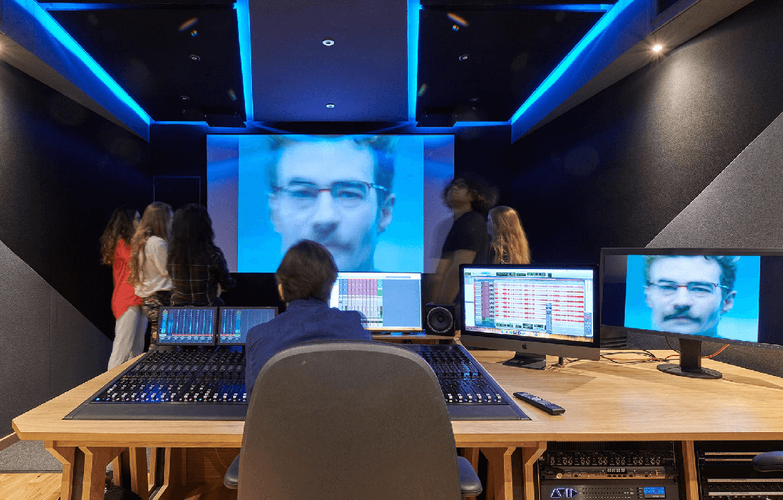 Film editing suite, UCA Farnham
Film and performance studio, UCA Farnham
Course connections
Our industry connections include:
Avid
Kodak
BKSTS
BECTU
NAHEM
Envy
The Royal Television Society
The Guild of Television Cameramen
Tangram Post Production
Warp Films
Working Title
BBC
Picture Productions
Paramount Pictures
ITN
Mainframe
Big Minded TV.
We've hosted a number of visiting lecturers, including:
Alex Garland, novelist, screenwriter, film producer and director with titles including The Beach, Ex Machina, Dredd, Sunshine and 28 Days Later
Barrie Vince, editor of Get Real, A Private Function and Moonlighting
Gustavo Costantini, Argentinian sound designer, musician and Professor of Sound Design at the University of Buenos Aires
Joe Martin and Danielle Clarke, director and producer of documentaries Win a Baby, Going Straight, Scientologists at War and Britain's Young Soldiers
Julie Noon/One World Media, Julie made Syria's Torture Machine, The TA and the Taliban, and Cooking in the Danger Zone
Philip Ilson, directs the London Short Film Festival
Sean Bobbitt, cinematographer of 12 Years a Slave (amongst many others).
As well as coursework, our students are supported in external projects and have made professional level film work for organisations including:
Alive & Well
London Life
Royal Marsden Hospital
Sailability
The March Foundation
Who Needs Heroes.
Our students have undertaken work experience on major blockbuster films and award-winning features, such as:
Lilting
The Favourite
Snow White and the Huntsman
Thor: The Dark World
Anna Karenina
Game of Thrones.
Our graduates have worked in various roles on big budget productions, including:
James Bond
Black Sheep
Tom Clancy's Jack Ryan
Loki
Sex Education
Mission: Impossible
Rogue Nation
Star Wars: Episode VII
Thor: The Dark World
Fast & Furious 6
Anna Karenina
Pride.
A number of our graduates are working for range of high-profile organisations, such as:
The BBC
ITV
Channel 4
RSA Films
The Challenge Network
Roast Beef Productions
Art4noise
Channel 5
E4
Splice Media
Blindeye Films
Flex Film
Passion Pictures
Seventh Art Productions.
The types of roles our graduates go on to achieve include:
Director
Editor
Producer
Production designer
Camera operator
Sound designer
Location manager
Location sound recordist
Independent film maker
Screen writer
Distributor
Exhibitor
DIT operator.
Visit our 2021 grad show site to see the incredible work created by our graduating students
Visit the 2021 Gradshow
Hannah Cole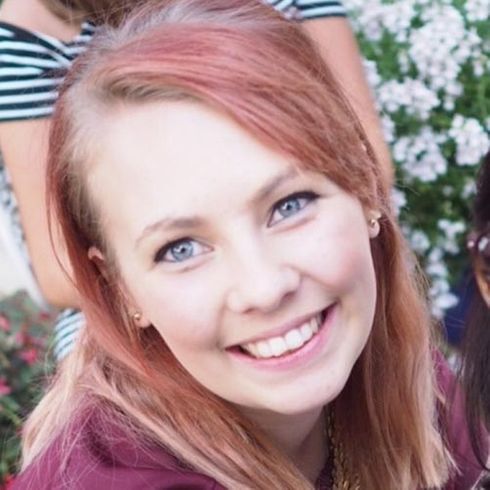 "The course was an amazing experience. I can't believe how much confidence I've gained. To go from an incredibly shy, reserved person to standing in front of a lecture theatre and pitching an idea is an amazing achievement."
Entry requirements
The standard entry requirements* for this course are:
One of the following:
112 new UCAS tariff points, see accepted qualifications
Pass at Foundation Diploma in Art & Design (Level 3 or 4)
Distinction, Merit, Merit at BTEC Extended Diploma / BTEC National Extended Diploma
Merit at UAL Extended Diploma
112 new UCAS tariff points from an accredited Access to Higher Education Diploma in appropriate subject
27-30 total points in the International Baccalaureate Diploma with at least 15 IB points at Higher level, see more information about IB entry requirements.
And four GCSE passes at grade A*-C and/or grade 4-9 including English (or Functional Skills English/Key Skills Communication Level 2).
Other relevant and equivalent Level 3 UK and international qualifications are considered on an individual basis, and we encourage students from diverse educational backgrounds to apply.
*We occasionally make offers which are lower than the standard entry criteria, to students who have faced difficulties that have affected their performance and who were expected to achieve higher results. We consider the strength of our applicants' portfolios, as well as their grades - in these cases, a strong portfolio is especially important.
To view the equivalent entry requirements for your country please select it in the list below.
For this course, you'll be required to submit an online portfolio via your UCA Applicant Portal. Further information on how to compile and upload your portfolio will be provided once you have applied. If you receive an offer, you'll be invited to attend an Offer Holder Webinar where you can meet the course team and learn more about the course.
UK applications
Apply for full-time study - starting September 2021:

Apply for full-time study - starting February 2022:

Apply for full-time study - starting September 2022:
International & EU applications
Apply for full-time study - Year 1 - starting September 2021:

Apply for full-time study - Year 2 - starting September 2021:

Apply for full-time study - starting February 2022:

Apply for full-time study - starting September 2022:
If you're interested in joining Year 3 of this course, please contact our International Admissions Team on +44 (0) 1252 892838 or internationaladmissions@uca.ac.uk
When to apply:
We are still accepting applications for 2021 entry - get your application in now.
If applying directly to us, you can apply throughout the year but we recommend you apply as early as possible so you have time to arrange accommodation and visas.
For more information visit our how to apply pages