Course overview
From branding to typography, UI/UX design to print media and digital publishing, BA (Hons) Graphic Design at UCA Farnham introduces you to the many exciting avenues within the industry, with an added business focus.

You'll take part in challenging live projects, competitions and extra-curricular industry placements, so that by the time you graduate you'll have a wealth of knowledge and experience to take forward into your career.

The course will enable you to specialise in your area of interest while building a strong entrepreneurial skill set, and you'll be encouraged to collaborate, socialise and share ideas within our unique community of creative students.

Recent students have designed window displays for Benetton's flagship stores, worked with Sky on the creation of a new TV channel and undertaken live projects for Bestival.
Check out the @gdfarnham.uca Instagram to see some of our day-to-day activities and student work-in-progress.
Apply now through Clearing
| | |
| --- | --- |
| Length of study | 3 years full-time |
| Campus | Farnham |
| Entry requirements | 112 UCAS tariff points |
| Course entry options | Sept 2021, Sept 2022 |
| UCAS institution code | C93 |
| UCAS code | W217 |
Course details
In the first year, you'll focus on the investigation, testing and application of the guiding principles and processes associated with graphic design, learning the fundamentals of design and associated Adobe programmes.
You'll learn the technical and conceptual skills that will give you a solid foundation from which to explore the areas of specialist activity that exist under the broad definition of 'graphics'.
With tutor guidance and tuition, you'll also investigate the design process itself, ensuring that creative outcomes are reached through a combination of experimentation and formula.
The aim is to produce outcomes that have real purpose and that clearly communicate messages and meaning.
Principles in Practice 01
This unit encourages exploration and graphical experimentation with emphasis firmly placed upon communication. It focuses upon the practical use of graphic principles as a means of conveying information across a variety of outcomes and media types and formats i.e. digital and print, mainstream publishing and independent press.
Typographic Studies
This unit focuses on the investigation, testing and application of the guiding principles and processes associated with Graphic Design. It has three main focal points – typography, creative methodology (the craft of graphic image construction) and the overarching principles of visual communication.

Principles in Practice 02
You'll have the opportunity to further develop the application of principles within a broad range of graphic communication outcomes with increasing depth of enquiry and knowledge of contemporary visual communication methods and processes.

Visual Communications: Context and Theory
This unit is presented through a series of illustrated lectures that introduce a number of key historical and contemporary contextual frameworks for visual culture and communication practices You'll be encouraged to begin to identify changing relationships between visual culture, communication and wider social and cultural concerns.
Units in the second year will give you the vital background knowledge and critical thinking skills to apply what you learn to the real world and the opportunity for work experience over the summer break.
The second year focus is on finding your own specialist way of working.
This will include (but won't be limited to) information design, publishing and narrative, branding, typography and print media, and digital technologies.
We will encourage you to research the overlap and relationships between these specialist areas, to seek out ways of working that reflect the needs of industry whilst simultaneously exploring the outer reaches of graphic communication.
Specialist Ways of Working
We'll encourage you to reflect on your achievements so far whilst looking forwards into the second half of the course and beyond, taking control of your design direction and giving your work a real purpose and focus.
Contextual and Theoretical Perspectives
We'll help you to position your own practice by recourse to a range of theories, contextual frameworks and critical evaluations, introducing you to a variety of research methods to facilitate independent study towards coherent, self-reflective argument in written form.
External Context
The design industry has a number of national and international awards created specifically for students including D&AD, the International Society of Typographic Designers and YCN. This unit offers you the opportunity to work on one of these industry led student competitions. The briefs offered by these institutions represent a broad range of industry-focused outcomes that provide a considerable creative challenge. Through this unit you will be expected to draw together processes, approaches and techniques learnt during the course and demonstrate a high level of applied design processes and methods. Selected work will be entered for competitions. Entries will be judged on the strength of their creative problem solving, innovation, clarity of message, professional level of technical execution and presentation.
Study Abroad (optional)
This optional unit is designed to broaden your educational experience and deepen your understanding of cultural diversity, enabling you to study within a different cultural context and gain fresh perspectives.
In your final year, you'll begin to develop your practice and you'll produce your final major project, bringing together your career aspirations and practical work.
Professional Practice
You'll explore in greater depth the working world of the professional designer and creative practitioner; its primary aim is to help you prepare for graduation and to give you the opportunity to research the world of current graphic design practice in a range of related industries and areas and its associated career paths.
Contextual Research and Critical Reflection
This unit is for you to conceive, develop and construct an individually meaningful portfolio of contextual research that informs, augments and reflects upon practice towards the provision of structured narratives that critically engage with a range of contextual and theoretical frameworks. This will serve to support the positioning of your individual practice in relation to the present, historical, theoretical or critical concerns of your subject area.
Final Major Project
This will give you the opportunity to demonstrate the fluency of your design and communication skills, and to examine a subject or theme in depth through a self-determined and challenging assignment. Your final major project will benefit from your increased understanding of theoretical issues – how these inform and contextualise your practical work, your research skills and your creative/strategic design abilities.
This course offers the opportunity to study abroad for part of your second year. To find out more about studying abroad as part of your course please see the Study Abroad section:
Tuition fees
Full-time students:
The course fees per year for 2021 entry are:
UK students - £9,250

EU students - £9,250 (see fee discount information)

International students - £16,950 (standard fee)

International students - £16,270 (full early payment fee)
Part-time students:
Part-time fees are calculated for every 10 credits of study you complete so the amount you pay for the year depends on the intensity of your study.
The course fees for 2022 entry will be available here shortly.
Additional course costs
In addition to the tuition fees please see the additional course costs for 2021 entry. The details for 2022 entry will be available here in due course.
Further information
Find out more about our course fees and any financial support you may be entitled to:
These fees are correct for the stated academic year only. Costs may increase each year during a student's period of continued registration on course in line with inflation (subject to any maximum regulated tuition fee limit). Any adjustment for continuing students will be at or below the RPI-X forecast rate.
Course specifications
Please note, syllabus content indicated is provided as a guide. The content of the course may be subject to change in line with our Student Terms and Conditions for example, as required by external professional bodies or to improve the quality of the course.
This course has dedicated graphics studios which offer spaces for group tutorials and personal working. There are campus digital media suites with Macs and PCs with latest programmes for film editing as well as general design work. Open access printmaking studios with screen printing as well as letterpress facilities, 3D printers and book binding facilities. There is also a modern library with a wealth of books, journals, special collections and online resources.
Graphics studios, UCA Farnham
Print studios, UCA Farnham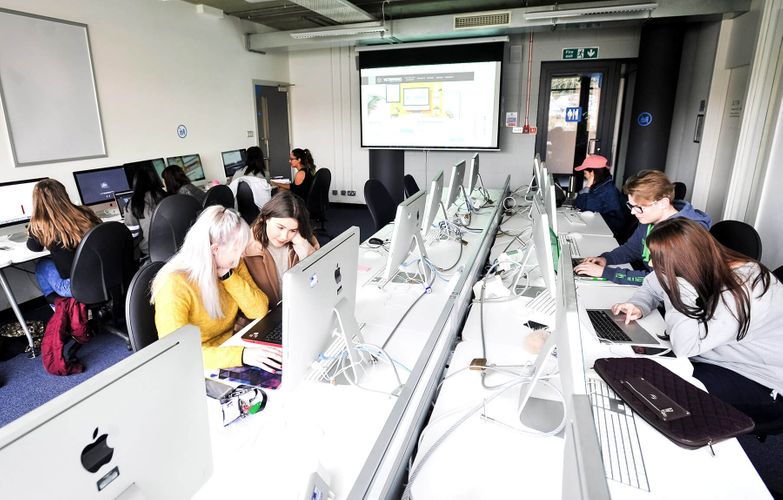 Digital Media suite, UCA Farnham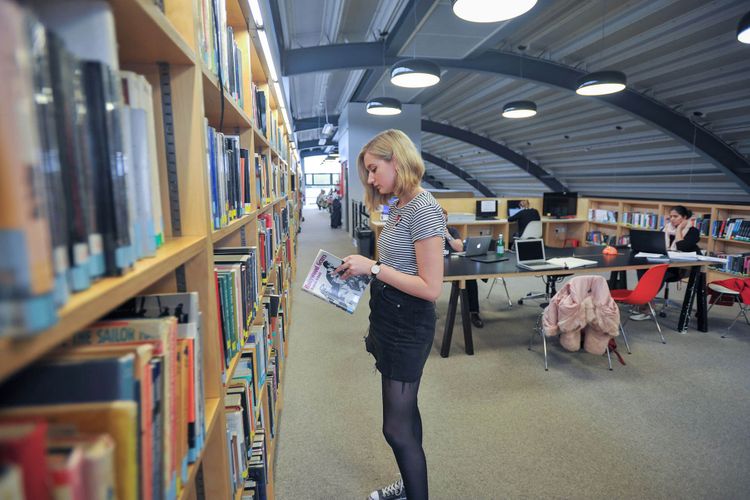 Library, UCA Farnham
Course connections
Interaction with the industry is fundamental to our degree. We engage with industry through studio visits, work placements, 'live' projects and tasks either set by or co-authored by industry practitioners, as well as international competitions and collaborations. Students regularly win D&AD student awards, such as the Yellow Pencil for Best Packaging Design in 2011.
Our connections include:
Barnbrook
Boeing
Channel 4
Dalton Maag
Design Bridge
Design Museum
The Designers Republic
Fabrica
Fitch
FutureBrand
Holmes & Marchant
Landor Associates
Naked
MetaDesign
Mother
Preloaded
SEA
Sky (television)
The Stool Pigeon
VCCP.
Graduates from the course have achieved high-profile roles with many leading companies, including:
Apple
Bloom
Bulletproof
Cartlidge Levene
Curious
Cyprus University of Technology
Design Studio
Elmwood Singapore
ForPeople
GIRRBACH Sü.warendekor GmbH / Germany
Harrods
Hasbro
Lego
LessRain
Lidl Stiftung
Navy Blue
Pearlfisher
Pentagram
Pocket App
Preloaded
Something Big
Springetts
Waitrose
Yahoo! Hong Kong
Zak Agency.
Our recent graduates have been appointed in areas such as branding, typography, editorial design, graphic design, freelance design, consultancy and brand strategy.
Visit our 2021 grad show site to see the incredible work created by our graduating students
Visit the 2021 Gradshow
Emma Mills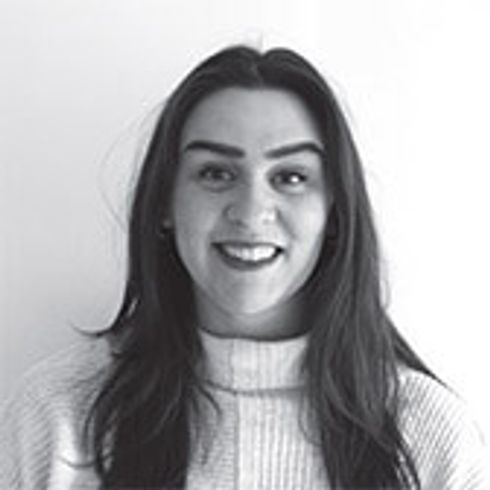 "I loved how broad the work you produce could be. I'd never have thought I could create what I did during the three years. The course encouraged me to try new things, embrace my strengths and helped me grow into the designer I wanted to become."
Entry requirements
The standard entry requirements* for this course are:
One of the following:
112 new UCAS tariff points, see accepted qualifications
Pass at Foundation Diploma in Art & Design (Level 3 or 4)
Distinction, Merit, Merit at BTEC Extended Diploma / BTEC National Extended Diploma
Merit at UAL Extended Diploma
112 new UCAS tariff points from an accredited Access to Higher Education Diploma in appropriate subject
27-30 total points in the International Baccalaureate Diploma with at least 15 IB points at Higher level, see more information about IB entry requirements.
And four GCSE passes at grade A*-C and/or grade 4-9 including English (or Functional Skills English/Key Skills Communication Level 2).
Other relevant and equivalent Level 3 UK and international qualifications are considered on an individual basis, and we encourage students from diverse educational backgrounds to apply.
*We occasionally make offers which are lower than the standard entry criteria, to students who have faced difficulties that have affected their performance and who were expected to achieve higher results. We consider the strength of our applicants' portfolios, as well as their grades - in these cases, a strong portfolio is especially important.
To view the equivalent entry requirements for your country please select it in the list below.
For this course, you'll be required to submit an online portfolio via your UCA Applicant Portal. Ideally, this should include sketchbooks, design development journals, drawings and other work demonstrative of media and methods, completed graphic design projects, links to blogs, online design journals and creative activity. Further information on how to compile and upload your portfolio will be provided once you have applied. If you receive an offer, you'll be invited to attend an Offer Holder Webinar where you can meet the course team and learn more about the course.
UK applications
Apply for full-time study - starting September 2021:

Apply for full-time study - starting September 2022:
International & EU applications
Apply for full-time study - Year 1 - starting September 2021:

Apply for full-time study - Year 2 - starting September 2021:

Apply for full-time study - starting September 2022:
If you're interested in joining Year 3 of this course, please contact our International Admissions Team on +44 (0) 1252 892838 or internationaladmissions@uca.ac.uk
When to apply:
We are still accepting applications for 2021 entry - get your application in now.
If applying directly to us, you can apply throughout the year but we recommend you apply as early as possible so you have time to arrange accommodation and visas.
For more information visit our how to apply pages