Studio Practice (Visual Communication) (top-up)
BA (Hons)
Canterbury 1 year full-time
Course overview
Our new Studio Practice top-up course in Visual Communication at UCA Canterbury will give you the chance to gain all the skills you need to progress to postgraduate study in the UK.
Designed for international students, the course is aligned with final year students' studies, so you can progress to a Master's degree in a streamlined way.
You'll get right into the action from the start, undertaking research and practical projects, working on collaborative activities and building your skills, knowledge and confidence.
Equivalent to the final year of an undergraduate degree, this course enables you to build upon an existing qualification such as a foundation degree or an HND.
UCAS Code for 1 year/standard: W407
Apply now
Visit us at an Open Day
Course details
The content of the course may be subject to change. Curriculum content is provided as a guide.
In your final year, you'll undertake a self-directed research and design project and will create your final major project.
You'll have the opportunity to collaborate with your fellow students to present your work, preparing you for a career in industry.
Critical Research and Practice
This unit involves the research, development, and construction of a self-directed research and design project. This will take into account your knowledge, understanding, skills, experience and interests that you have gained over the duration of the course. Here, the theoretical and practical are entirely intertwined and you will be encouraged to develop an experimental approach, employing research to inform practice, and practice to inform your research, so that you develop an original and innovative approach to both.
Major Project
You will research, develop and realise a major self-initiated project of your own choosing. You'll draw up a written project proposal which effectively and succinctly communicates the key elements of your conceptual, technical, aesthetic and theoretical concerns and intentions. Then, you'll produce a body of work which demonstrates a high level of maturity through its clarity and focus and the synthesis of previously learned practical and theoretical knowledge. You'll also present your work, and this will open up opportunities to collaborate with others, if appropriate.
Tuition fees - 2023 entry
UK students:
BA (top-up) course - £9,250
EU students:
International students:
BA (top-up) course - £16,950
Additional course costs
In addition to the tuition fees there may be other costs for your course. The things that you are likely to need to budget for to get the most out of a creative arts education will include books, printing costs, occasional or optional study trips and/or project materials. These costs will vary according to the nature of your project work and the individual choices that you make. Please see the Additional Course Costs section of your Course Information for details of the costs you may incur.
Further information
For more detailed information about our course fees and any financial support you may be entitled to please see our fees and finance pages.
The fees listed here are correct for the stated academic year only. Costs may increase each year during a student's period of continued registration on course in line with inflation (subject to any maximum regulated tuition fee limit). Any adjustment for continuing students will be at or below the RPI-X forecast rate.
Course specifications
Please note, syllabus content indicated is provided as a guide. The content of the course may be subject to change in line with our Student Terms and Conditions for example, as required by external professional bodies or to improve the quality of the course.
Visual Communication facilities include dedicated studios with space for both personal and group working; digital media suites with Macs running the latest industry design software, including Adobe Creative Suite, Final Cut Studio, Final Cut Pro, Soundtrack Pro and Autodesk Maya. We have photography studios and processing and printing darkrooms for black and white film-based photography; printmaking studios with access to lithography, screen-printing, etching and relief printing.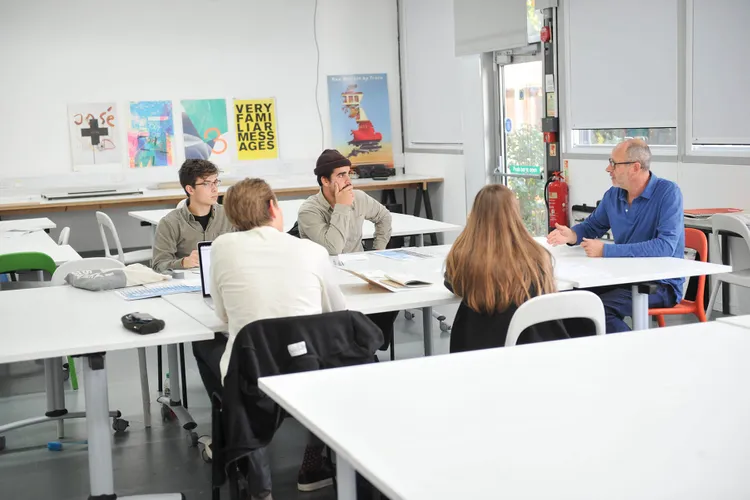 Studios, UCA Canterbury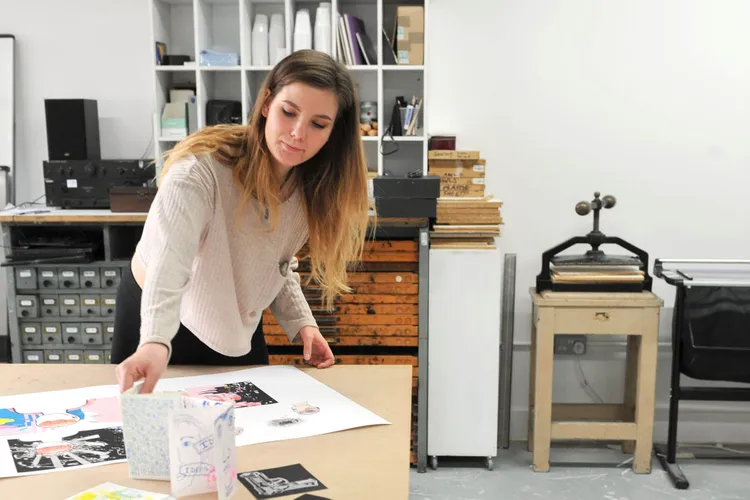 Graphic print studios, UCA Canterbury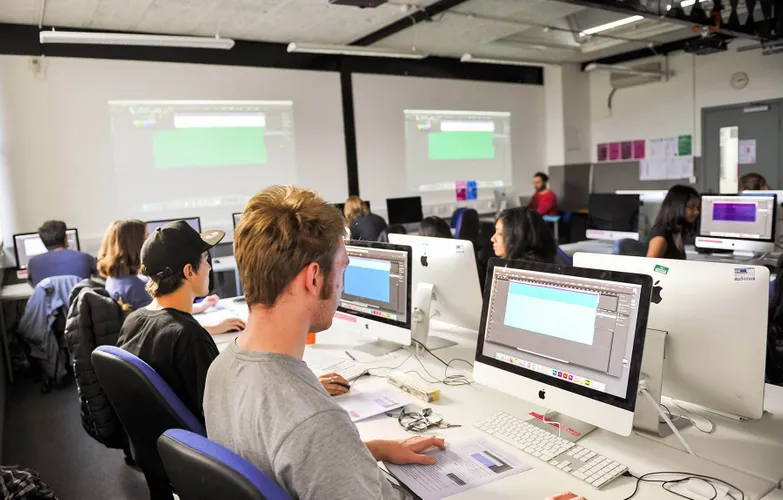 Digital Media suite, UCA Canterbury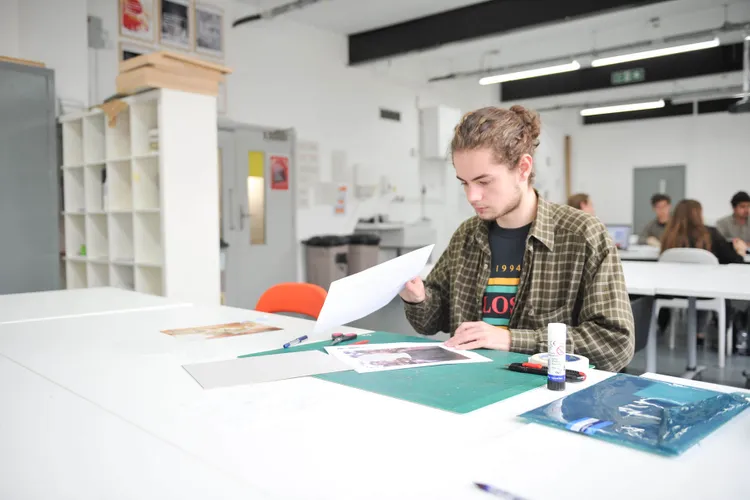 Studios, UCA Canterbury
Entry requirements
The standard entry requirements* for this course are:
240 credits from a relevant degree (120 credits at level 4 and 120 credits at level 5), with a minimum of 55% overall
Foundation Degree in a relevant subject
Higher National Diploma in a relevant subject
Other relevant and equivalent UK and international qualifications are considered on an individual basis, and we encourage students from diverse educational backgrounds to apply.
*We occasionally make offers which are lower than the standard entry criteria, to students who have faced difficulties that have affected their performance and who were expected to achieve higher results. We consider the strength of our applicants' portfolios, as well as their grades - in these cases, a strong portfolio is especially important.
Check the equivalent qualifications for your country and the English language requirements:
Don't meet the international entry requirements or English language requirements?
You may be able to enter the course through the following entry pathways:
For this course, we may need to see your portfolio for review. We'll invite you to attend an Applicant Day so you can have your portfolio review in person, meet the course team and learn more about your course. If you would prefer to upload a portfolio digitally, there is also the option to submit it online via your UCA Applicant Portal. Further information will be provided once you have applied.
Please use the following fields to help select the right application link for you:
UCAS Code for 3 year/standard

W407