Course overview
UCA's MA Illustration degree gives you the chance to challenge yourself, push boundaries and find your path as an adaptable practitioner in the field of contemporary illustration.
Based at our Farnham campus, this course explores the illustrated narrative. Contemporary illustration has grown to embrace a broad spectrum of opportunities for image-makers and storytellers alike. With the growth of online digital cultures - and the evolution of digital image creation for traditional image-making – there are new and exciting opportunities for the entrepreneurial illustrator to make their mark.

You'll explore every facet of illustration within practice and context, working with like-minded creatives in a dynamic and intellectual environment. We'll give you the tools and support to pursue your self-directed study, and produce a body of work that is true to you and makes a meaningful impact in the field of illustration.
Visiting lecturers and practitioners will help to inform and nurture your professional development, encouraging you to question and debate as you grow your practice.

Visit our course instagram to discover more about what's happening on the course and see some of our students' work in progress.
What you'll study
The content of the course may be subject to change. Curriculum content is provided as a guide.
For our students coming from a non-UK educational background, UCA has launched an Integrated International Pre-Masters year. On this course you'll prepare for postgraduate study with a mix of online and face-to-face learning that will give you the study skills required to complete a Master's, and you'll also improve your English for academic study.
You'll be introduced to the University and the technical workshops and facilities available to you. The first term includes a range of lectures and seminars and you'll start to explore your creative practice.
Research Methods: Practice and Context
This forms the foundation of your developing postgraduate studies by reflecting on the diverse history, practice, function, theories and consumption relating to illustration. It will enable you to critically evaluate and reflect on your creative practice and apply appropriate research methods in support of your creative development.
Exploratory Illustration Practice
This unit focuses on self-directed practice, in which you'll define and develop individual rationales and methods of working.
During term two you begin developing your MA project, evaluating and testing out the aims of your proposal over a sustained period of self-directed study.
Illustration Practice and Development
In this unit, you'll develop and explore your practice further in response to your developing project proposal. The work undertaken in this unit should build on the research questions you initiated and explored in the Exploratory Illustration Practice unit. You'll continue to evaluate and test the aims of your proposal over a sustained period of self-directed study. This unit encourages the continued exploration, development and refinement of individual working methodologies and strategies.
Illustration: Collaborative Practice
This unit provides a framework in which to evaluate and reflect on the development of your creative practice and proposal in relation to potential areas of collaboration and dissemination.
In the third term of the course, you'll apply the knowledge gained through your research to create a final body of work.
Illustration Final Project: Realisation and Dissemination
This is the culmination and consolidation of your studies - it should be a resolved piece or body of work demonstrating evidence of advanced conceptual, theoretical and technical capability over an extended period of self-directed study.
Tuition fees - 2023 entry
UK students:
Integrated Pre-Masters course - £10,500
MA course - £10,500
EU students:
Integrated International Pre-Masters course - £10,500 (see fee discount information)
MA course - £10,500 (see fee discount information)
International students:
Integrated International Pre-Masters course (30 weeks) - £17,500
Integrated International Pre-Masters course (15 weeks) - £8,750
MA course - £17,500
Additional course costs
In addition to the tuition fees there may be other costs for your course. The things that you are likely to need to budget for to get the most out of a creative arts education will include books, printing costs, occasional or optional study trips and/or project materials. These costs will vary according to the nature of your project work and the individual choices that you make. Please see the Additional Course Costs section of your Course Information for details of the costs you may incur.
Further information
For more detailed information about our course fees and any financial support you may be entitled to please see our fees and finance pages.
The fees listed here are correct for the stated academic year only. Costs may increase each year during a student's period of continued registration on course in line with inflation (subject to any maximum regulated tuition fee limit). Any adjustment for continuing students will be at or below the RPI-X forecast rate.
To support our students and alumni to progress to the next level of study, we have developed a new range of fee discounts across a range of courses.
Course specifications
Please note, syllabus content indicated is provided as a guide. The content of the course may be subject to change in line with our Student Terms and Conditions for example, as required by external professional bodies or to improve the quality of the course.
We have dedicated illustration studios with natural lighting, digital media suites with Macs and PCs programmed with the latest industry-standard design software for high quality print production. There is an open access printmaking studio with relief and block printing, plate or stone lithography, intaglio, letterpress, photopolymer plate printing and screen-printing. Also a modern library with a wealth of books, journals, special collections and online resources.
View 360 virtual tour
Illustration studios, UCA Farnham
Print studio, UCA Farnham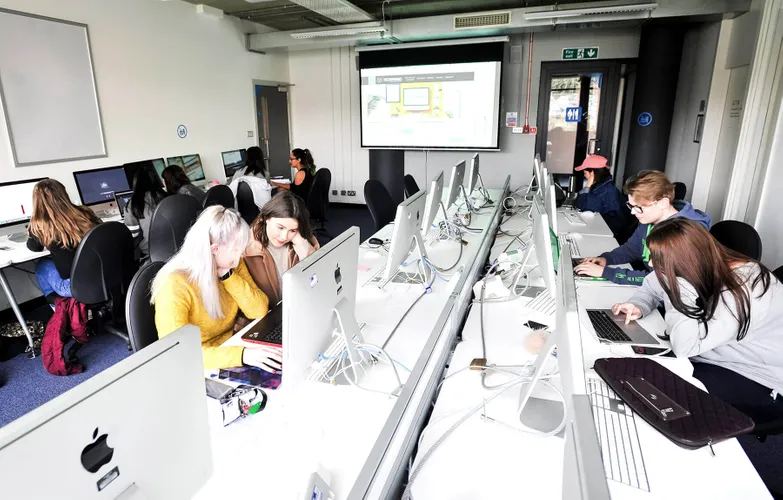 Digital Media suites, UCA Farnham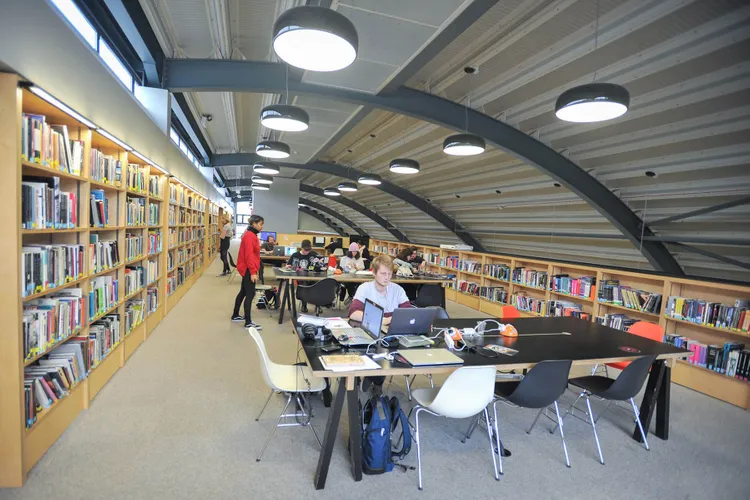 Library, UCA Farnham
Career opportunities
Illustration at UCA has a long tradition of original narrative and storytelling through images, reflecting staff expertise and practice in these areas.
Students on MA Illustration also benefit from well-established industry connections.
Graduates from our MA Illustration course go on to establish careers in a diverse range of exciting areas, such as:
Freelance illustration
Self-publishing
Artist practice
Printmaking
Curation
Editing
Animation
Project management
Education
Design
Digital imaging
Web authoring
Multi-media production.
Jayesh Sivan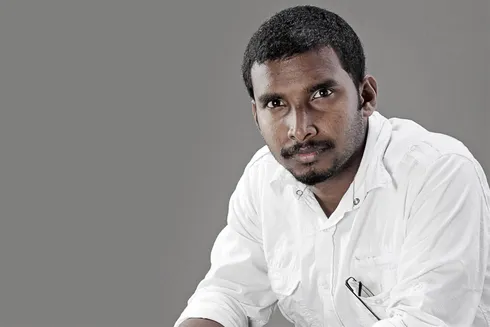 "I've really enjoyed the course and the course content is broad, which is great because it's helping to expand my skill set. The lecturers and technicians are all extremely helpful and encourage you to experiment with different techniques and approaches and this is made possible by the great facilities and technology available."
Entry requirements
MA course
An honours degree or equivalent qualification in the subject or a related discipline
and/or
Relevant work experience, demonstrating your ability to study at postgraduate level.
Consideration will also be given to applicants who can make a strong case for admission in relation to a particular project and can demonstrate their potential to satisfactorily complete the course.
Check the equivalent qualifications for your country and the English language requirements:
Any additional entry requirements listed in the UK requirements section, e.g., subject requirements, work experience or professional qualifications, also apply to international applicants applying with equivalent qualifications.
MA course with Integrated International Pre-Masters course
A recognised bachelor degree or 3 year diploma with a strong portfolio in a relevant subject.
Don't meet the international entry requirements or English language requirements?
You may be able to enter the course through the following entry pathways:
MA course
MA course with Integrated International Pre-Masters course
For these courses, we'll need to see your visual or written portfolio for review. We'll invite you to upload your portfolio online via your Applicant Portal – further information will be provided once you have applied. If you would prefer to meet the Academic Team in person for a review of your work on campus, this can also be arranged for you.
Please use the following fields to help select the right application link for you: