Course overview
On our BA (Hons) Fine Art degree course at UCA Farnham, you'll become an artist - but you will also become so much more, with a wealth of adaptable skills to take with you into the career of your choice.

Our course reflects the dynamism and attitude of contemporary art, encouraging you to engage with society, culture and politics through painting, sculpture, film, printmaking, photography, drawing or performance.

As you study, you'll explore how art is created through industry projects, exhibitions and curatorial exercises, and develop skills in leadership and project management. You'll also have the opportunity to exhibit your own work across London and the South East, and complete a work experience placement in the art world as you establish yourself as a confident and competent artist.

The course will also give you opportunities to discover the ways in which artists build a profile, become employable, promote themselves, and develop the expert support and industry links you need to succeed in the working world.
Apply now through Clearing
| | |
| --- | --- |
| Length of study | 3 years full-time |
| Campus | Farnham |
| Entry requirements | 112 UCAS tariff points |
| Course entry options | Sept 2021, Sept 2022 |
| UCAS institution code | C93 |
| UCAS code | W101 |
Course details
Contemporary Art Practice
You'll be introduced to the key concepts of contemporary art practice, and its place within political, social and environmental spheres, to help you develop your own relationship with art.
Critical Dialogues
The historical and theoretical ideas which inform contemporary art practice are introduced in this unit, as well as the historical practices which influence today's artists.
Spatial Practices
The role of space within fine art is explored in this unit. You'll learn how space is a key element of the making, presentation, consideration and critique of an artwork, and how audiences interpret the value, meaning and status of artworks.
Research and Analysis
You'll learn how to collate, reflect, critique and disseminate concerns and interests through research folders and reflective and critical journals. Through a series of workshops and seminars, you'll be introduced to ways of supporting and enhancing your practice through your research and the ideas which come from it – and you'll learn how to confidently present those ideas as well as your work.
Studio Practices
Within your chosen broad areas of discipline (painting, sculpture or print media), you'll develop your understanding from initial awareness to accomplished knowledge, specifically regarding the complexities and debates surrounding your subject.
Critical Theory
You'll explore key ideas and debates relating to art practices of the current and last century.
Contemporary Exhibition Practice
We'll ask you to conduct a personal field study of the contemporary art world. Through a process of reflection and critical analysis, and in collaboration with your fellow students, you'll pitch a joint proposal for a cultural event to a group of your peers. This will culminate in a live project external to the university, which you and your peer group will organise and curate.
Study Abroad (optional)
This optional unit is designed to broaden your educational experience and deepen your understanding of cultural diversity, enabling you to study within a different cultural context and gain fresh perspectives of fine art.
In the third year, your final major project will be an opportunity to combine the practical skills you have learned throughout the course, and you'll have the opportunity to show your final work in the Graduation Show.
Practice Resolution
You'll be encouraged to identify key issues and concerns in your work through your final major project proposal, which may provide the basis for your future development and help you to discover a distinctive identity. We'll ask you to focus primarily on the resolution of current issues and concerns in your studio practice, rather than on the formulation of new ideas.
Dissertation
You'll undertake a substantial period of sustained, individually negotiated research on a subject related to the contextual and/or theoretical concerns of your discipline or chosen area of practice, towards the provision of structured written argument.
Realising Professional Practice
In this unit you'll be introduced to the specifics of creative management relevant to Fine Art and how this can be applied to sustaining and realising your practice externally.
This course offers the opportunity to study abroad for part of your second year. To find out more about studying abroad as part of your course please see the Study Abroad section:
Tuition fees
Full-time students:
The course fees per year for 2021 entry are:
UK students - £9,250

EU students - £9,250 (see fee discount information)

International students - £16,950 (standard fee)

International students - £16,270 (full early payment fee)
Part-time students:
Part-time fees are calculated for every 10 credits of study you complete so the amount you pay for the year depends on the intensity of your study.
The course fees for 2022 entry will be available here shortly.
Additional course costs
In addition to the tuition fees please see the additional course costs for 2021 entry. The details for 2022 entry will be available here in due course.
Further information
Find out more about our course fees and any financial support you may be entitled to:
These fees are correct for the stated academic year only. Costs may increase each year during a student's period of continued registration on course in line with inflation (subject to any maximum regulated tuition fee limit). Any adjustment for continuing students will be at or below the RPI-X forecast rate.
Course specifications
Please note, syllabus content indicated is provided as a guide. The content of the course may be subject to change in line with our Student Terms and Conditions for example, as required by external professional bodies or to improve the quality of the course.
Extensive studio spaces and access to work shop for painting, sculpture, wood and plaster and mould making; campus print studios with relief and block printing, plate or stone lithography, intaglio, letterpress, photopolymer plate printing and screen-printing; metals workshop with blacksmithing area and forge for large scale projects and also lathes, mills and bandsaw; modern library with a wealth of books, journals, special collections and online resources.
Fine Art studios, UCA Farnham
Print studios, UCA Farnham
Sculpture workshop, UCA Farnham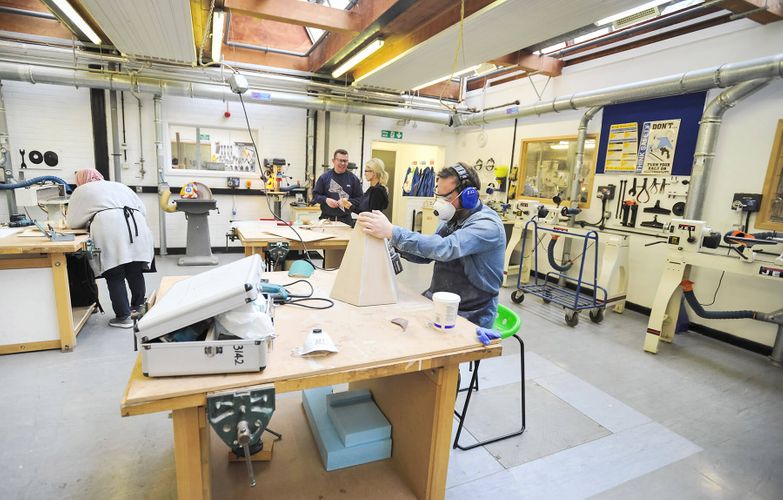 Materials workshop, UCA Farnham
Course connections
As a long-established and well connected course, Fine Art at our Farnham campus has strong industry links with highly regarded names in the art world, including:
The Institute of Contemporary Art
Jerwood Space
Zeitgeist Art Platform
Henry Moore Institute
Blythe Gallery (Imperial College)
Resonance FM
Leeds and Cass Sculpture Foundation.
Students have exhibited at galleries such as 242 Gallery, 10 Gales, Blyth Gallery at Imperial College London, Bargehouse in South Bank and so on. They've exhibited locally at The Lightbox in Woking, James Hockey Gallery and Alice Holt Forest in Farnham and Watts Gallery in Guildford. They've also been selected for Bloomberg New Contemporaries, the Jerwood Drawing Prize and the Threadneedle Prize, amongst other competitions.
Our alumni have won the Jerwood Drawing Prize, John Walker Painting Prize and Neo Art Print Prize, and recent graduates have gone on to become practicing:
Artists
Curators
Creative project managers
Special effects prop makers
Set designers
Teachers
Writers
Production assistants
Technicians
Arts administrators
Entrepreneurs
Gallery owners
Illustrators
Art historians.
The adaptability instilled in our students has translated into exciting and diverse opportunities for many of our graduates, such as creating concert projections for Madonna, collaborations with Sadler's Wells and the highly specialist casting of human organs for medical research.
Visit our 2021 grad show site to see the incredible work created by our graduating students
Visit the 2021 Gradshow
Catinca Malaimare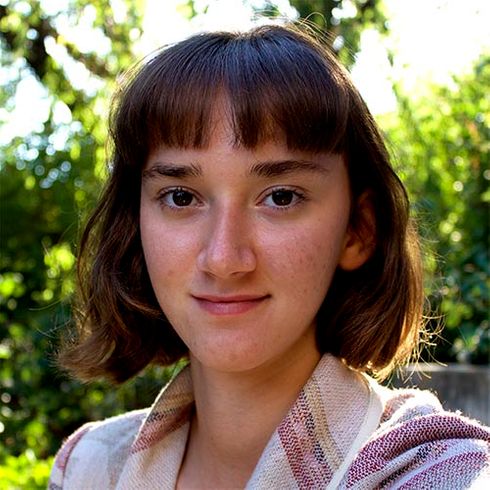 "I loved that, through the work on the course, I could participate in different areas of exhibition-making, fundraising events, work placements opportunities, internships, workshops and more."
Entry requirements
The standard entry requirements* for this course are:
One of the following:
112 new UCAS tariff points, see accepted qualifications
Pass at Foundation Diploma in Art & Design (Level 3 or 4)
Distinction, Merit, Merit at BTEC Extended Diploma / BTEC National Extended Diploma
Merit at UAL Extended Diploma
112 new UCAS tariff points from an accredited Access to Higher Education Diploma in appropriate subject
27-30 total points in the International Baccalaureate Diploma with at least 15 IB points at Higher level, see more information about IB entry requirements.
And four GCSE passes at grade A*-C and/or grade 4-9 including English (or Functional Skills English/Key Skills Communication Level 2).
Other relevant and equivalent Level 3 UK and international qualifications are considered on an individual basis, and we encourage students from diverse educational backgrounds to apply.
*We occasionally make offers which are lower than the standard entry criteria, to students who have faced difficulties that have affected their performance and who were expected to achieve higher results. We consider the strength of our applicants' portfolios, as well as their grades - in these cases, a strong portfolio is especially important.
To view the equivalent entry requirements for your country please select it in the list below.
For this course, you'll be required to submit an online portfolio via your UCA Applicant Portal. Your portfolio should contain a selection of current work, including recent project work, sketchbooks, and research or reflective journals or notebooks. Further information on how to compile and upload your portfolio will be provided once you have applied. If you receive an offer, you'll be invited to attend an Offer Holder Webinar where you can meet the course team and learn more about the course.
UK applications
Apply for full-time study - starting September 2021:

Apply for full-time study - starting September 2022:
International & EU applications
Apply for full-time study - Year 1 - starting September 2021:

Apply for full-time study - Year 2 - starting September 2021:

Apply for full-time study - starting September 2022:
If you're interested in joining Year 3 of this course, please contact our International Admissions Team on +44 (0) 1252 892838 or internationaladmissions@uca.ac.uk
When to apply:
We are still accepting applications for 2021 entry - get your application in now.
If applying directly to us, you can apply throughout the year but we recommend you apply as early as possible so you have time to arrange accommodation and visas.
For more information visit our how to apply pages