Fine Art Four Years
BA (Hons)
Course overview
If you're passionate about fine art but haven't yet built up a big enough portfolio for our three-year course, you can join us on our four-year BA (Hons) Fine Art degree at UCA Canterbury and get going early.

Your studies will encourage you to work with curiosity, develop ideas and themes, and consolidate your practice. With the support of our staff, you'll experiment with a range of traditional and contemporary media, including painting, sculpture, installation, photography, film, sound, performance, animation and printmaking.

Year zero will introduce you to a variety of approaches to making art. Following your own interests, you'll explore disciplines such as painting, sculpture, installation, photography, film, sound, performance, animation and printmaking and complete your own project.

As you study, you'll develop a deep theoretical and critical understanding of Fine Art, and learn business and self-promotion skills. You'll also have plenty of opportunities to meet other students, make friends and build a professional network that will give you a strong foundation on which to build your career.

This course will give you a wealth of transferable skills, distinguished by your creativity, ability to cope with change and hardworking, flexible attitude to work.
| | |
| --- | --- |
| Length of study | 4 years full-time |
| Campus | Canterbury |
| Entry requirements | 64 UCAS tariff points |
| Course entry options | Sept 2021, Sept 2022 |
| UCAS institution code | C93 |
| UCAS code | W102 |
Course details
Year 0 introduces you to the making and thinking skills around being an artist. There are four units to this programme – some running concurrently - that help you to explore and test out a wide range of ideas, materials and processes, as well as how to develop practice from research. There is also a program of international visiting artists and supported writing tasks to support you with your studio work. Within a tutor led and energetic fine art community, you will be encouraged to explore a critical approach to your thinking. This is done through lectures and seminars, one to one teaching and group work.
Studio Testing 1
This unit begins the process of establishing an individual art practice, introducing students to a variety of approaches to the practices and processes of art making. The unit will be delivered through weekly tasks, seminars and studio discussions where students will be encouraged to experiment with a range of mediums and processes.
Studio Testing 2
Students will be encouraged to explore how art can be understood through discussion of concepts and testing in relation to their individual and developing studio practice. This allows for a more sustained and longer period of time to develop ideas.
Contexts
This unit will enable you to develop skills and approaches to support your understanding of contemporary art, and to recognise possible contexts for their developing practice. There will be a series of tutor-led seminars in which students investigate and discuss the work and ideas of a number of modern and contemporary artists. This is in supportive environment with other group members.
Materials and Processes
This unit aims to introduce basic making methodologies across a range of mediums and processes, which will enable students to develop their understanding of how to approach material problem solving in their studio practice. This unit is supported by a series of workshops to develop your technical skills in a wide range of disciplines for example, printmaking, 3D material exploration and photography and filmmaking.
The first year of the course encourages your curiosity, and through four units – some running concurrently - you'll explore how you think about fine art and how you make it, produce work and learn production, dissemination and reception of contemporary art. You will be encouraged to develop an increasing independence in how you take your work and ideas forward.
Studio Practice 1
Through innovative approaches to making and thinking about fine art, you'll be challenged about how you think about it as a subject, broadening and deepening your understanding so you can free yourself of habitual assumptions and practices and generating an experimental body of work in the process. This project encourages you to make a body of work from ideas that have sparked your interest, complimented by a series of practical workshops.
Studio Practice 2
This unit builds on what you have learnt in Studio Practice 1, and allows more of a focus on your choice of context(s) within your studio work – its narratives, subject matters, materials, processes. This project allows you to develop an increasing independence to explore ideas and themes.
History and Theory
This unit introduces historical and theoretical research as a way to better understand art practice. You'll be shown a range of approaches, discourses and models found in recent and contemporary art practice, and you'll explore these within wider intellectual, cultural and global contexts. You will have a series of lectures and seminars that support you to learn about and discuss contemporary art and write about it.
Context and Display
This unit will look at the different ways contemporary art is made, analysed, consumed and received, in intellectual and wider cultural spheres. This process allows you to test your understanding and develop your practice by displaying and installing your work in public places.
This year encourages you to speculate with ideas and questions about your work, and we'll be asking you to think about your own practice in terms of context and supporting you to work more independently. You will get an opportunity to exhibit your work in a public-facing arena. You will also be encouraged to participate collaboratively with other students and also to consider opportunities with the wider network organisations such as Canterbury Cathedral or the Stour Valley Creative Partnership.
Contemporary Art Practice 1
You'll develop your individual practice within a more specialised and collaborative studio and research environment, and you'll explore how your art should be displayed with test installations on campus. Teaching on the unit is delivered through a number of tutor-led groups each group representing a range of skills and practices. You will also participate in a seminar programme where a range of contextual positions are presented and discussed.
Contemporary Art Practice 2
Contemporary Art Practice 2 is a continuation of Contemporary Art Practice 1, emphasising the focussing and refining of your studio work as a specialised practice, underpinned by creative and innovative approaches in the context of contemporary art. In this unit you will be offered to consider a variety of curatorial and intellectual propositions in terms of situating art practice within wider social, cultural, intellectual or institutional terms, as a professional practice, and in relation to audience. The unit will be organised through continued development of studio practice and development of individual or collective projects to be realised off-site.
In your final year, you'll create work which makes a statement about yourself and your ideas for exhibition at the Degree Show, this is supported by your research and critical writing.
Degree Show Development
This unit guides you towards your final degree show exhibition through the development of your individual and critically informed practice. Within the unit, you'll create a body of work which represents your practice and your expected approach towards the degree show exhibition.
Degree Show
You'll work towards the creation and presentation of a body of self-initiated work. This is informed by current issues in contemporary art, and will be presented at the degree show exhibition.
And one of the following units:
Critical Contexts
Running alongside the Degree Show Development unit, you'll explore academic research skills, methodologies, compositional and editing skills, allowing you to produce a concise and informed critical argument on a subject that relates to contemporary art practice. You are encouraged to be ambitious and intellectually creative in your approach. You are expected to produce a written text, supported with visual references where appropriate, that has the same degree of resolution and rigour that your degree show will have, with a particular emphasis on the structure and presentation of the text.
OR
Dissertation
This unit consists of a substantial period of sustained, individually negotiated research on a subject that is likely to be related to the contextual and/ or theoretical concerns of your discipline or chosen area of practice, towards the provision of structured written argument.
OR
Cominbed Dissertation / Critical Contexts
This unit consists of two periods of sustained, individually negotiated research on subjects which are likely to be related to the contextual and/ or theoretical concerns of your chosen areas of practice, towards the provision of structured argument.
Tuition fees
The course fees per year for 2021 entry are:
UK students - £9,250

EU students - £9,250 (see fee discount information)

International students - £16,950 (standard fee)

International students - £16,270 (full early payment fee)
The course fees for 2022 entry will be available here shortly.
Additional course costs
In addition to the tuition fees please see the additional course costs for 2021 entry. The details for 2022 entry will be available here in due course.
Further information
Find out more about our course fees and any financial support you may be entitled to:
These fees are correct for the stated academic year only. Costs may increase each year during a student's period of continued registration on course in line with inflation (subject to any maximum regulated tuition fee limit). Any adjustment for continuing students will be at or below the RPI-X forecast rate.
Course specifications
Please note, syllabus content indicated is provided as a guide. The content of the course may be subject to change in line with our Student Terms and Conditions for example, as required by external professional bodies or to improve the quality of the course.
There are large purpose-built studios for each year of the course, used for group tutorials and personal working and a 3D workshop with machines for working in wood, metals, plastics and ceramics. There are also workshops for plaster and rubber casting, glass casting, slumping, fusing and enamelling (kiln), ceramic bisque and gloss firing, low melt metal casting, and carving (wood, stone and polystyrene). Finally, there are printmaking studios for relief and block printing, intaglio and screen-printing.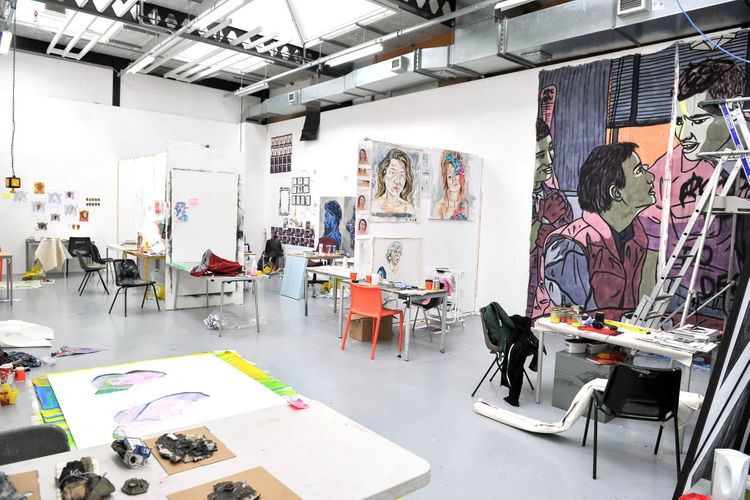 Fine Art studios, UCA Canterbury
Sculpture studios, UCA Canterbury
Print studios, UCA Canterbury
Fine Art studios, UCA Canterbury
Course connections
As a long-established course, we have a national reputation which gives our students access to some of the most respected names in the creative industries, including:
Turner Contemporary Margate
Folkestone Triennial
Dover Arts Development
Stour Valley Creative Partnership
Crate
Whitstable Biennale
Canterbury Cathedral
Limbo.
Whilst many of our alumni have developed careers as established artists, others have chosen to apply their talents to other fields, becoming:
Artist practitioners
Filmmakers
Project managers
Animators
Curators
Writers photographers
Arts administrators
Publishers
Educators
Technical instructors
Designers
Producers
Picture/archive researchers
Teachers.
Nova Marshall
"My Fine Art degree gave me a wide range of skills, from how to present my work professionally and encouraging me to explore new ideas, to developing hands-on practical skills, and enabling me to realise my ideas."
Entry requirements
The standard entry requirements* for this course are:
One of the following:
64 new UCAS tariff points, see accepted qualifications
Pass at Foundation Diploma in Art & Design (Level 3 or 4)
Merit, Pass, Pass at BTEC Extended Diploma / BTEC National Extended Diploma
Pass at UAL Extended Diploma
64 new UCAS tariff points from an accredited Access to Higher Education Diploma in appropriate subject
24 points from the International Baccalaureate, see more information about IB entry requirements.
And four GCSE passes at grade A*-C and/or grade 4-9 including English (or Functional Skills English/Key Skills Communication Level 2).
Other relevant and equivalent Level 3 UK and international qualifications are considered on an individual basis, and we encourage students from diverse educational backgrounds to apply.
*We occasionally make offers which are lower than the standard entry criteria, to students who have faced difficulties that have affected their performance and who were expected to achieve higher results. We consider the strength of our applicants' portfolios, as well as their grades - in these cases, a strong portfolio is especially important.
To view the equivalent entry requirements for your country please select it in the list below.
This course doesn't require a portfolio. If you receive an offer, you'll be invited to attend an Offer Holder Webinar where you can meet the course team and learn more about the course.
UK applications
Apply for full-time study - starting September 2021:

Apply for full-time study - starting September 2022:
International & EU applications
Apply for full-time study - starting September 2021:

Apply for full-time study - starting September 2022:
When to apply:
We are still accepting applications for 2021 entry - get your application in now.
If applying directly to us, you can apply throughout the year but we recommend you apply as early as possible so you have time to arrange accommodation and visas.
For more information visit our how to apply pages