Fashion Photography
BA (Hons)
Course overview
There are fashion photographers - and then there are fashion photographers who have learned their trade at UCA. Our BA (Hons) Fashion Photography course gives you the skills you need to become a creative and experimental artist within the fashion industry.
Taught at UCA Rochester, in part alongside students on our BA (Hons) Photography course, you will explore established and expanded conventions within contemporary fashion photography, and have the opportunity to produce highly creative original work using industry-standard facilities.

With industry commissions, strong professional connections and a visiting lecture programme that offers a chance to hear from industry leaders, you'll also gain essential insights into the working environments of fashion photographers.
Apply now through Clearing
| | |
| --- | --- |
| Length of study | 3 years full-time |
| Campus | Rochester |
| Entry requirements | 112 UCAS tariff points |
| Course entry options | Sept 2021 |
| UCAS institution code | C93 |
| UCAS code | W645 |
Please note
This course will be taught at UCA Rochester until Summer 2023, after which your final year of study will be taught at UCA Epsom.
Course details
Environment
You'll examine the relation of photography to environment, with a particular emphasis on space. Internal and external, urban and rural environments are an important feature of our cultural, social and political experience. This unit provides the opportunity to explore these ideas through the genres of documentary, architecture, landscape and street photography.
Styling Identity
You'll extend your knowledge of creative fashion styling, identity and image creation practice from a theoretical and practical perspective. This unit aims to use and explore various approaches to research, and empower you in the complex process of analysing a more diverse range of sources and interpreting your findings in a wider range of outcomes.
Image Making
After a basic introduction to a range of different methodologies, exploring the notions of the singular image, tableau, series and/or montage, you'll decide on the mode of production of your work. Your project can be realised in the studio, with the option to undertake set-builds; or on location, as appropriate to your concept. This will be a visual project with outputs such as a book, exhibition, installation, moving image, magazine, zine or online publication.
Individual Project
This concludes the first year and encourages you to reflect upon your progress so far, consolidate your successes and begin to make not defined by a set brief but driven by personal research and exploration.
Photo-Object
The Photo-Object unit encourages you to consider the relationship between photography and objects. This basic premise will be explored through a series of workshops focusing on the composition, lighting and layering of objects, within both studio and external settings. Working alongside these sessions will be a series of related lectures.
Fashion Film
Working as part of a team (or individually if you wish) you'll use story and mood-boards to develop a fashion film concept and style, then establish timelines to help organise production and meet deadlines, from finding actors/models, scouting locations, shooting and editing audio-visual footage, to post-production and promotion of your work. You'll be guided along the way by workshops, which twill encourage you to experiment with new techniques and learn to create technically proficient and visually exciting audio-visual work. You'll be expected to locate your work within wider industrial, social and cultural developments, potentially culminating in the showcasing of your film.
Storytelling
You'll produce a substantial body of work reflecting upon your learning, creativity and individuality. You'll be encouraged to experiment, challenge your image making skills and produce a series of work that forms a coherent narrative. The story, and how you tell it, is up to you but should be considered and reflect upon your research into historical and contemporary practice in visual culture.
Exposure: Positioning Practice
This unit serves to consolidate your learning throughout year two and focuses attention on where your practice and career are heading in the short and long term. It is designed to synthesise understanding of your practice with regard to the dissemination of work, possible directions you might take in year three, and consideration of where you might want to work within the creative industries.
Study Abroad (optional)
Is an optional unit that will allow you to spend a period of time in an overseas education institution.
Major Project
This requires you to make a significant body of work, drawing on the skills and knowledge you've acquired on the course. Essentially, your independently led project requires sustained critical development, strong conceptual ideas, risk taking, aesthetic judgement, and sophisticated communication with a detailed understanding of context.
Exposure
The Exposure unit is intended to help you progress your photographic practice along with your communication and professional skills, and has two distinct elements. The first is to produce a photographic body of work along with associated contextual input with a professional client. Secondly, you will produce a professional dossier including your career plan, personal branding, evidence to accompany your input into the year three exhibitions and a photographic portfolio.
Independent Research
This written unit comprises a substantial period of sustained, individually negotiated research on a subject likely to be related to the contextual and/or theoretical concerns of your chosen area of study (which may include specific disciplinary concern and/or wider cultural practice).
This course offers the opportunity to study abroad for part of your second year. To find out more about studying abroad as part of your course please see the Study Abroad section:
Tuition fees
The course fees per year for 2021 entry are:
UK students - £9,250

EU students - £9,250 (see fee discount information)

International students - £16,950 (standard fee)

International students - £16,270 (full early payment fee)
Additional course costs
In addition to the tuition fees please see the additional course costs for 2021 entry.

Further information
Find out more about our course fees and any financial support you may be entitled to:
These fees are correct for the stated academic year only. Costs may increase each year during a student's period of continued registration on course in line with inflation (subject to any maximum regulated tuition fee limit). Any adjustment for continuing students will be at or below the RPI-X forecast rate.
Course specifications
Please note, syllabus content indicated is provided as a guide. The content of the course may be subject to change in line with our Student Terms and Conditions for example, as required by external professional bodies or to improve the quality of the course.
There are two large photographic studios with digital work stations, Broncolor and Profoto lighting; access to a range of digital & analogue cameras including Hasselblad, Canon & Fujifilm GFX, colour and black and white darkrooms & film processing, and a dedicated digital area with specialist software for photo editing and large format photographic printers.
Photography studio, UCA Rochester
Photography studios, UCA Rochester
Photography studios, UCA Rochester
Photography studios, UCA Rochester
Course connections
Through industry-facing project briefs, strong links with practitioners at multiple levels, portfolio reviews, visiting lectures, and annual exhibitions, students are introduced to a range of voices and experiences within the world of fashion photography, photography and moving image.
We also hold weekly lectures with well-known names within the industry. Past lecturers have included:
Rut Blees Luxemburg
Sophie Rickett
Stephen Gill
Eva Stenram
John Stezaker
Simon Roberts
Esther Teichmann
Olivia Pomp
Roy Mehta
Shirley Read
David Vintiner
Cameron Griffiths
Katja Mayer
Karl Ohiri
Kathleen McGown
Rosie Whitney-Fish
Claudia Singer
Lewis Bush
Frederike Helwig
Catherine Viellevoije
Sasha Hitchcock
Peter Dench
Cheryl Newman
Oliver Gapper
Anne Pinxt-Braybon
Nigel Grimmer
Junko Mikuriya
Vivek Vadoliya
Christopher Coekin
Tiffany Jones
Nils Rikard Osterlund
Rosy Martin
Ophelia Wynne
Giacomo Brunelli
Our graduates have landed roles in a dazzling range of fields, including:
Fashion
Editorial
Advertising
Fine Art
Freelance photography
Post-production
Digital imaging
Video editing
Production
Art buying and direction
Picture editing
Research
Image management
Marketing.
Visit our 2021 grad show site to see the incredible work created by our graduating students
Visit the 2021 Gradshow
Grace Elliott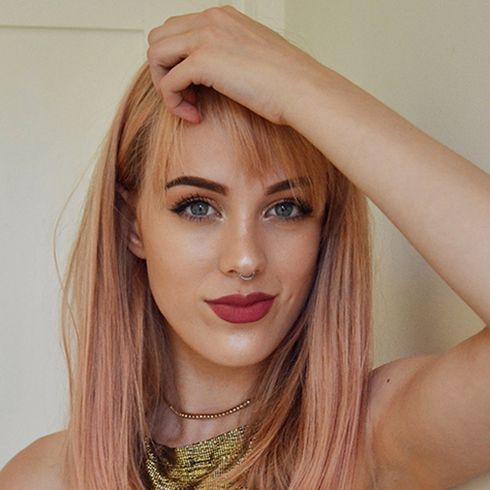 "On the course I get an opportunity to learn about other photographers and I'm also able to learn about other things such as art, performance, culture and fashion – all things that relate to the visual image and help inspire ideas for new projects."
Entry requirements
The standard entry requirements* for this course are:
One of the following:
112 new UCAS tariff points, see accepted qualifications
Pass at Foundation Diploma in Art & Design (Level 3 or 4)
Distinction, Merit, Merit at BTEC Extended Diploma / BTEC National Extended Diploma
Merit at UAL Extended Diploma
112 new UCAS tariff points from an accredited Access to Higher Education Diploma in appropriate subject
27-30 total points in the International Baccalaureate Diploma with at least 15 IB points at Higher level, see more information about IB entry requirements.
And four GCSE passes at grade A*-C and/or grade 4-9 including English (or Functional Skills English/Key Skills Communication Level 2).
Other relevant and equivalent Level 3 UK and international qualifications are considered on an individual basis, and we encourage students from diverse educational backgrounds to apply.
*We occasionally make offers which are lower than the standard entry criteria, to students who have faced difficulties that have affected their performance and who were expected to achieve higher results. We consider the strength of our applicants' portfolios, as well as their grades - in these cases, a strong portfolio is especially important.
To view the equivalent entry requirements for your country please select it in the list below.
For this course, you'll be required to submit an online portfolio via your UCA Applicant Portal. Further information on how to compile and upload your portfolio will be provided once you have applied. If you receive an offer, you'll be invited to attend an Offer Holder Webinar where you can meet the course team and learn more about the course.
UK applications
Apply for full-time study - starting September 2021:
International & EU applications
Apply for full-time study - Year 1 - starting September 2021:

Apply for full-time study - Year 2 - starting September 2021:
If you're interested in joining Year 3 of this course, please contact our International Admissions Team on +44 (0) 1252 892838 or internationaladmissions@uca.ac.uk
When to apply:
We are still accepting applications for 2021 entry - get your application in now.
If applying directly to us, you can apply throughout the year but we recommend you apply as early as possible so you have time to arrange accommodation and visas.
For more information visit our how to apply pages