Course overview
Are you looking to become a fashion designer? Learn the advanced knowledge and skills you'll need, and gain a clear style identity, on our BA (Hons) Fashion Design course at UCA.
With access to the latest technology, including a Gerber suite for computerised pattern development, you'll master all the skills you need to come up with creative fashion visions and bring them to life.
We pride ourselves on having no specific house style, so you'll have the freedom to establish your own design identity, supported by a community of like-minded peers and a team of professional staff with a wealth of industry experience.

As part of the course, you'll tackle briefs from brands such as Reiss, Warehouse and Tommy Hilfiger and be given the chance to show off your work at high-profile international events. You'll also enter your work in competitions; previous students have achieved success at Graduate Fashion Week, and in many other national and international fashion design contests.
Please note - this course is subject to validation and will be moving from UCA Rochester to UCA Epsom for 2022 entry.
| | |
| --- | --- |
| Length of study | 3 years full-time |
| Campus | Epsom |
| Entry requirements | 112 UCAS tariff points |
| Course entry options | Sept 2022 |
| UCAS institution code | C93 |
| UCAS code | W233 |
Course details
In Year 1, you'll place emphasis on developing the core skills and understanding of Fashion Design, introducing you to the basic techniques to help you develop and communicate your design ideas and then translate these through to product outcomes.
A Cut Above
You'll expand on your understanding of the importance realisation plays in the design process. The focus will be on the designer market, allowing you to start to explore and understand fashion market awareness.
Capturing The Market
Extends your knowledge of Fashion by looking at another aspect of the Fashion market and how design is applied to it. The mass market or high street fashion component within the structure of the fashion industry has both increased in importance and developed greater power in recent years.
Tools of The Trade
You begin to explore different methods of communication through the introduction of drawing skills and the sketchbook as a tool for recording and communicating information. The application of drawing skills into portfolio presentation techniques is explored, both manually and through computer software programmes. Communication of product management information through Computer Aided Manufacture (CAM) is introduced.
Fashion History and Theory
This unit will establish a foundation for the evaluation and discussion of fashion, dress and textiles, which underpins practice in your main pathway. It will draw on seminal works and the latest academic research to explore the historical, cultural, social and economic significance of sartorial fashion. In so doing you will gain an understanding of fashion in a variety of contexts, both historically and theoretically.
You'll challenge tried and tested approaches to design in Year 2, taking an experimental and individual approach to your work. You'll have the opportunity to tackle live briefs, working with well-known companies.
Creative Collaboration
The art of design interpretation through prototype sampling to develop a range of garments for a specific market is explored in depth. This unit will focus on the production of the design statement in the development of a capsule collection of garments to a given price point/ market. The research and product development for the specified market will further extend your knowledge of fashion both technologically and conceptually. The competitive realities of commercial merchandise through market investigation and quick response are practiced.

Creative Identity
You are encouraged to take a more experimental and individual approach to their design work, challenging perceived notions of design and cutting and presenting fresh perspectives. The unit enables you to start to consider your identity as a designer and begin to formulate an individual aesthetic and approach to design, which will inform their future design practice.
Cut to Suit
Building on your pattern cutting and production skills you have learnt in year one, you will be introduced to a range of techniques practiced in Ready to Wear collections. Researching into historical and contemporary designer tailored garments will provide you with invaluable knowledge of fabric choice, internal construction techniques, pattern and finishing. Using the skills acquired through studio workshop teaching, you will be able to reproduce a tailored product, testing the theory behind the taught tailored principles.
Industry Placement or Industry Case Study
You select one of the following options:
1. Industry placement: enables you to undertake a self-initiated work placement that is relevant to their potential career direction and contributes to the fulfilment of the course aims and objectives.

2. Industry case study: you study an aspect of the industry that you have identified as an area of interest, through the method of case study research. You undertake fieldwork into a self-selected topic or question.
Developing Research and Critical Enquiry
This unit provides space to consider the research and inquiry options available to you in the final year, and evaluate your future direction. Through exploration of a subject area related to either broader contextual issues, or a concern within the industry you aspire to work in, you will develop appropriate research skills applicable to your final year of study.
Design Concepts and Contexts
This unit introduces you to a range of cultural and critical theories and design contexts and concepts that are vital for developing a broader contextual understanding that underpin your main pathway and future contextual studies units. The unit will explore significant movements and moments in the history of design and the arts in order to help you develop a widening appreciation of the aesthetic forces, which shape culture and potentially your own work.
Study Abroad (optional)
This optional unit will allow you to spend time studying with one of our partner institutions.
In Year 3, your final collection, portfolio and thesis will allow you to undertake in-depth, self-sustained research and the opportunity to create a design collection. You'll have the chance to show off your work at international, high-profile events such as Graduate Fashion Week.
Collection
This unit focuses on the final collection. The unit provides the opportunity for you to take an individual approach to the design and production process and to manage this efficiently and effectively.
Portfolio
Provides the opportunity to demonstrate your individual creative identity aligned to your career aspirations, through the production of a signature portfolio, consolidating the knowledge and skills acquired on the course. The portfolio will typically consist of a range of research, concept and mood, illustrations, design sketches/ range development and planning as well as product management.
Thesis
This unit consists of a substantial period of sustained, individually negotiated research on a subject that is likely to be related to the contextual and/ or theoretical concerns of your discipline or chosen area of practice, towards the provision of structured written argument.
This course offers the opportunity to study abroad for part of your second year. To find out more about studying abroad as part of your course please see the Study Abroad section:
Tuition fees
The course fees per year for 2022 entry will be available here shortly.
As a guide the fees for 2021 entry are:
UK students - £9,250

EU students - £9,250 (see fee discount information)

International students - £16,950 (standard fee)

International students - £16,270 (full early payment fee)
Additional course costs
In addition to the tuition fees please see the additional course costs. The details for 2022 will be available here shortly. As a guide please see the additional course costs for 2021 entry.

Further information
Find out more about our course fees and any financial support you may be entitled to:
These fees are correct for the stated academic year only. Costs may increase each year during a student's period of continued registration on course in line with inflation (subject to any maximum regulated tuition fee limit). Any adjustment for continuing students will be at or below the RPI-X forecast rate.
Course specifications
Please note, syllabus content indicated is provided as a guide. The content of the course may be subject to change in line with our Student Terms and Conditions for example, as required by external professional bodies or to improve the quality of the course.
At UCA Epsom there are design, pattern and production studios. There is also specialist sewing areas with technical assistance. There are also campus screen printing facilities and photographic studios with professional quality lighting rigs.
Fashion sewing workshop, UCA Epsom
Fashion studios, UCA Epsom
Fashion store, UCA Epsom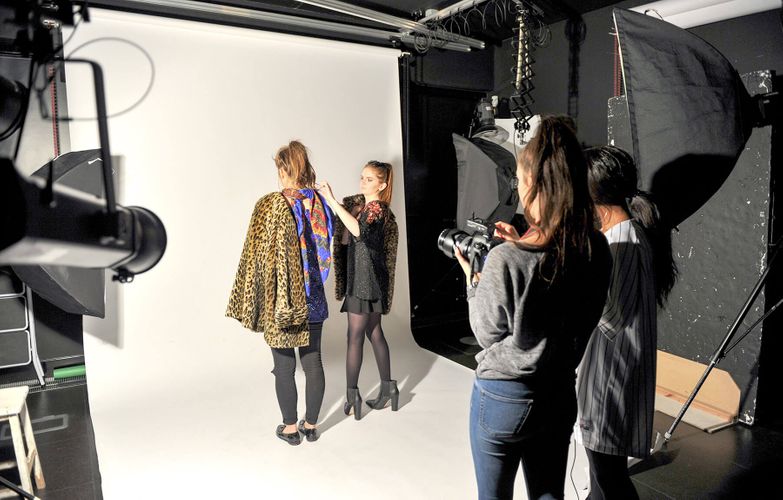 Photography studios, UCA Epsom
Course connections
Our Fashion Design degree enjoys an international reputation. We've forged strong connections with many high-profile brands, including:
Alexander McQueen
Jenny Packham
Jonathan Saunders
Reiss
Roksanda Ilinic
Roland Mouret.
UCA's Fashion Design degree enjoys an international reputation, and our graduates have progressed into a variety of rewarding careers – from design and illustration to pattern cutting and garment technology, and with leading fashion companies all over the world. These include:
Comme Des Garçons
Balenciaga
Lanvin
Givenchy
Max Mara
Pucci
Burberry
Stella McCartney
Reiss
Jigsaw
River Island
Karen Millen.
Visit our 2021 grad show site to see the incredible work created by our graduating students
Visit the 2021 Gradshow
Valentina Desideri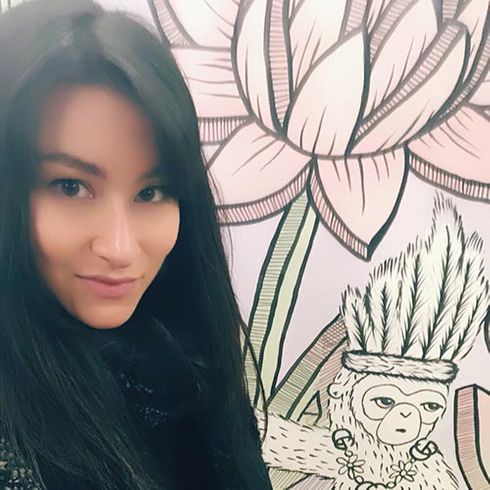 "UCA provided me with the knowledge and skills to successfully enter the fashion industry as a confident designer, eager to learn and challenge myself."
Entry requirements
The standard entry requirements* for this course are:
One of the following:
112 new UCAS tariff points, see accepted qualifications
Pass at Foundation Diploma in Art & Design (Level 3 or 4)
Distinction, Merit, Merit at BTEC Extended Diploma / BTEC National Extended Diploma
Merit at UAL Extended Diploma
112 new UCAS tariff points from an accredited Access to Higher Education Diploma in appropriate subject
27-30 total points in the International Baccalaureate Diploma with at least 15 IB points at Higher level, see more information about IB entry requirements.
And four GCSE passes at grade A*-C and/or grade 4-9 including English (or Functional Skills English/Key Skills Communication Level 2).
Other relevant and equivalent Level 3 UK and international qualifications are considered on an individual basis, and we encourage students from diverse educational backgrounds to apply.
*We occasionally make offers which are lower than the standard entry criteria, to students who have faced difficulties that have affected their performance and who were expected to achieve higher results. We consider the strength of our applicants' portfolios, as well as their grades - in these cases, a strong portfolio is especially important.
To view the equivalent entry requirements for your country please select it in the list below.
For this course, you'll be required to submit an online portfolio via your UCA Applicant Portal. Further information on how to compile and upload your portfolio will be provided once you have applied. If you receive an offer, you'll be invited to attend an Offer Holder Webinar where you can meet the course team and learn more about the course.
UK applications
Apply for full-time study - starting September 2022:
International & EU applications
Apply for full-time study - starting September 2022:
When to apply:
The UCAS application deadline for 2022 entry is 26 January. If you are applying directly to us, you can apply throughout the year but we recommend you apply as early as possible so you have time to arrange accommodation and visas.
For more information visit our how to apply pages