A day in the life at Calvin Klein:
On location with a Fashion Management & Marketing student
Second year Fashion Management & Marketing student Eve Jappy is settling into her new life in Amsterdam whilst on her work placement.
28 Mar 2019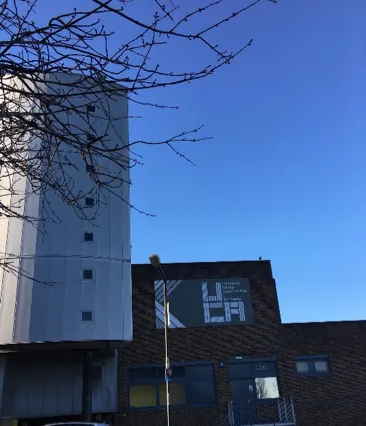 7.30am
My alarm goes off and I jump in the shower, getting myself ready for a full day in the office at Calvin Klein.
The first thing I had to get used to in Amsterdam was that everyone cycles around the city rather than drives. So, of course I got myself a bike and now I feel like I fit in with the locals.
I hop on my bike and cycle the short trip to the European Headquarters, grabbing a smoothie from my favourite local coffee shop on my way.
9.00am
I arrive at work and head straight up to the sixth floor to the Calvin Klein Creative Hub. I work here with the visual merchandising team, alongside the creative services, store design and architecture teams. I settle in and my manager sets me my tasks for the day.
10.30am
We have a team meeting between the visual merchandisers and store design. I'm learning so much from sitting in on meetings and listening to everyone's creative processes. I've been tasked with creating guidelines for all the different European market stores, so it's important I listen up and make sure I've got everything covered.
12.30pm
Lunchtime! We're spoiled for choice here at Calvin Klein HQ. With 400 employees situated across three different buildings and twelve floors, there's a lot of mouths to feed. The office is more like a 'campus', with a restaurant, a deli, several cafés and a gym on site. There's even a meditation room where you can go to unwind during your downtime.
Today, I grab a quick lunch from one of the cafés, as we've got a busy afternoon ahead.
3.00pm
This afternoon I've been assisting on a photoshoot for some of the new women's lingerie range. This has been a great experience for me, working alongside photographers, stylists and the shoot manager to ensure everything runs as smoothly and efficiently as possible. It's a lot of work and running around, which can be tiring, but I'm having a great time and learning so much from everyone.
5.30pm
It's the end of the working day, and I'm just getting ready for the cycle back to my apartment where I'm staying. I'm heading out for dinner this evening with some girls from work.
8.00pm
We head out to a beautiful restaurant called MaMa Kelly. The interior design is gorgeously girly, full of pink and gold furniture. We order some delicious food and even had a Pink Pornstar-Martini to celebrate the end of a really productive day.
In my spare time, I've been trying to explore as much of the city as possible. So far, De Pijp has been my favourite neighbourhood. It's got a very cool, young and trendy vibe.
11.00pm
It's finally time for bed before another busy day in the office tomorrow.
I have learnt so much from the Calvin Klein team so far on my placement. I would really encourage anyone to do a placement abroad while studying if you get the chance. It may seem scary but it is so worth it as you get to experience different cultures and nationalities.
I am so thankful that my course leader really encouraged us to put a lot of effort into our LinkedIn and digital portfolios, because it helped to get me noticed in the industry and opened up this fantastic opportunity.
Thanks for reading!