Ceramics & Glass
BA (Hons)
Course overview
Our BA (Hons) Ceramics & Glass course at UCA Farnham offers you the chance to study ceramics and glass in the heart of a town with World Craft Town status, where you'll benefit from UCA's extensive craft expertise.

You will discover how to blow glass, use the hot glass workshop, and create beautiful ceramic pieces using techniques such as wheel-throwing and kiln-firing.

The course embraces diverse approaches to craft, supporting you to explore all methods of ceramics and glasswork, including traditional and contemporary practices. You'll have the opportunity to experience materials and processes across both disciplines, while focusing on your chosen specialisms.

Along the way, you will gain the confidence, knowledge and experience you need to take the next steps in your career, whether that means setting up your own studio and independent brand, or joining an established studio and working with others.
| | |
| --- | --- |
| Length of study | 3 years full-time |
| Campus | Farnham |
| Entry requirements | 112 UCAS tariff points |
| Course entry options | Sept 2021, Sept 2022 |
| UCAS institution code | C93 |
| UCAS code | W266 |
Course details
Practice Process 1
You will be introduced to researching, developing ideas, drawing, designing and essential making processes in ceramics and glass through a series of creative studio projects. Basic introductions into to digital technology support study in this unit.
Contextual Studies 1
You'll explore where craft and design practices fit within wider social and cultural landscapes. You will learn about the contextual location of historical and contemporary practice with a long-term view to identifying your own arena of practice.
Practice Process 2
Further set projects, will help you develop a deeper understanding of specific ceramics and glass techniques. You will develop research skills as well as build up a technical understanding of materials and process.
Practice Process 3
You will consolidate your making ability developed in previous units and gain new skills. These will focus on mould making and its subsequent products in ceramics glass. You will be expected to choose ceramics or glass to then go forward and specialise in. To respond with confidence to more complex project briefs as you prepare for your second year, you'll extend your understanding of the subject context for your work and begin to explore relevant industry focus.
Practice Exploration 1
An important element of second year experience is to develop an individual approach to practice. You'll identify your interests and expand your research skills, promoting a critical and reflective approach to designing and making. This unit begins with a set project that enables ceramics and glass students to increase their knowledge of plaster mould-making and production. Increasingly complex methods of production are introduced that focus on form. CAD techniques are explored at deeper levels.
Contextual Studies 2
Objects and environments are fundamental to our understanding of the world and this unit introduces a range of contexts demonstrating the importance of meaning and how this can be used to create and express value within the objects you are making. You'll cover everything from consumer demands to emotional attachment, to the notion of luxury and material culture.
Practice Exploration 2
Building on your experience in Practice Exploration 1 you will continue to develop your design identity and interests. An important element of second year experience is to develop an individual approach to practice. You will now devise your own research project and be working more independently. Inductions include an in-depth experience of print and how this can be applied to both ceramics and glass.
Practice Exploration 3
You'll define your own patterns of study and consolidate your creative practice by developing work in response to your own concerns, interests and personal direction, ready for your final year. You'll complete project briefs from inception to resolution and incorporate all stages of the design process, learning more about professional practice and contemporary context.
Students in the School of Crafts and Design have the unique opportunity within UCA to add an additional year of study at an overseas institution (either at a higher education establishment or workplace).
This optional year is designed to broaden your educational experience and deepen your understanding of cultural diversity, enabling you to study within a different cultural context and gain fresh perspectives.

Studying abroad can be a life-changing experience. Living in another country, you'll experience new places, people, cultures and possibilities. You'll develop initiative, independence, motivation and, depending on where you go, a working knowledge of another language – all qualities employers are looking for. You will return to complete your degree with all the benefits of the International Year experience behind you.
To find out more about studying abroad as part of your course please see the Study Abroad section:
Practice Portfolio
Priming you for life after graduation, this unit will help you through the transition from student to early stage professional practitioner or another relevant career. You'll develop a practice portfolio reflecting your individual interests, which will demonstrate your abilities to create opportunities and to promote yourself, as well as your knowledge of the industry.
Practice Position 1
You will begin to outline your individual practice position, with this preparatory unit ahead of your final major project. To achieve this, you'll take one of two routes - research and exploratory prototyping and testing, or research to resolution. Whichever route you take, you will be developing and realising your own design ideas.
Contextual Studies 3
You will conceive, develop and construct a personally meaningful portfolio of contextual research which locates and evaluates your studio practice in relation to a range of contextual frameworks and perspectives. Critical engagement with a range of contextual and theoretical frameworks supports the positioning of individual practice in relation to past, present and possible future endeavours.
Practice Position 2
Following on from the preparatory work completed in Practice Position 1, you identify a personal creative direction and critically define your practice within the discipline. You'll develop a collection of work for your graduate design project, which will be publicly exhibited and prepare for opportunities and awareness of future direction post-graduation.
Tuition fees
The course fees per year for 2021 entry are:
UK students - £9,250

EU students - £9,250 (see fee discount information)

International students - £16,950 (standard fee)

International students - £16,270 (full early payment fee)
Additional course costs
In addition to the tuition fees please see the additional course costs for 2021 entry.

Further information
Find out more about our course fees and any financial support you may be entitled to:
These fees are correct for the stated academic year only. Costs may increase each year during a student's period of continued registration on course in line with inflation (subject to any maximum regulated tuition fee limit). Any adjustment for continuing students will be at or below the RPI-X forecast rate.
Course specifications
Please note, syllabus content indicated is provided as a guide. The content of the course may be subject to change in line with our Student Terms and Conditions for example, as required by external professional bodies or to improve the quality of the course.
We have state-of-the-art workshops and machinery for a wide range of ceramics and glass processes, including traditional and emerging digital techniques, including clay 3D printers and a CNC mill for plaster. We have both hot-glass and kiln-glass facilities, including; a hotshop for glass blowing, dedicated kilns for glass fusing and casting, and facilities for grinding, engraving and polishing. For ceramics we have a dedicated hand building area, throwing room, glaze room, plaster room for mould making, and a kiln room.
Glass hot shop, UCA Farnham
Ceramics hand-building studio, UCA Farnham
Glass hot shop, UCA Farnham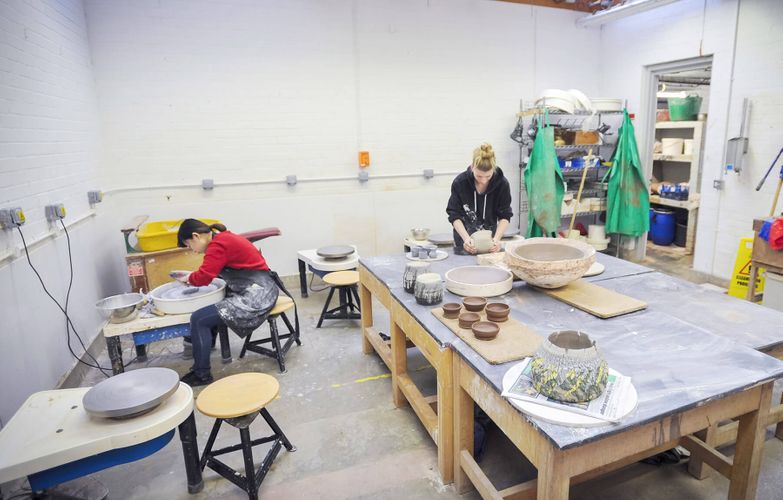 Ceramics throwing room, UCA Farnham
Course connections
We enjoy close links with a range of professional organisations who are able to benefit our students in the form of work experience and deeper collaborations. We work with a range of Worshipful companies and other organisations who are able to benefit our students in the form of bursaries, awards, seminars, workshops, commissions and competitions. Our students have also taken part in competitions with the Lighting Industry Association and the British Art Medals Society. Other links include:
Worshipful Company of Glaziers and Painters of Glass
Worshipful Company of Glass Sellers
Bullseye Glass of America
Gaffer Glass UK.
318 Ceramics
The Crafts Study Centre
Grayshott Pottery
Froyle Tiles
As well as study abroad/international year opportunities, a European study trip is organised each year and is open to all year groups.
The course at Farnham is the UK's representative of ISCAEE (International Symposium of Ceramics Art Education and Exchange). Every two years staff and students visit an institute for a symposium. Students exhibit their work and deliver lectures alongside their professors. These are all published in ISBN publications. They experience demonstrations from experts and cultural visits. Countries visited include China, Japan, Korea and Turkey.
Many of our graduates become self-employed designers and makers, setting up their own businesses and also taking freelance commissions. Some go on to work for design and manufacturing companies. Others work with galleries, for museums, undertake curatorships, work in academia or move on to postgraduate study.
Heidi Nicholson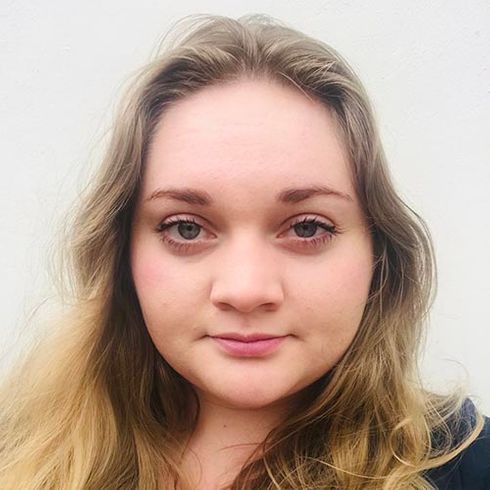 "We have fantastic facilities and a great sense of community within our course. I always feel I'm being challenged creatively, and the support and knowledge of the tutors and technicians help me to produce work I am really proud of."
Entry requirements
The standard entry requirements* for this course are:
One of the following:
112 new UCAS tariff points, see accepted qualifications
Pass at Foundation Diploma in Art & Design (Level 3 or 4)
Distinction, Merit, Merit at BTEC Extended Diploma / BTEC National Extended Diploma
Merit at UAL Extended Diploma
112 new UCAS tariff points from an accredited Access to Higher Education Diploma in appropriate subject
27-30 total points in the International Baccalaureate Diploma with at least 15 IB points at Higher level, see more information about IB entry requirements.
And four GCSE passes at grade A*-C and/or grade 4-9 including English (or Functional Skills English/Key Skills Communication Level 2).
Other relevant and equivalent Level 3 UK and international qualifications are considered on an individual basis, and we encourage students from diverse educational backgrounds to apply.
*We occasionally make offers which are lower than the standard entry criteria, to students who have faced difficulties that have affected their performance and who were expected to achieve higher results. We consider the strength of our applicants' portfolios, as well as their grades - in these cases, a strong portfolio is especially important.
To view the equivalent entry requirements for your country please select it in the list below.
For this course, you'll be required to submit an online portfolio via your UCA Applicant Portal. Further information on how to compile and upload your portfolio will be provided once you have applied. If you receive an offer, you'll be invited to attend an Offer Holder Webinar where you can meet the course team and learn more about the course. Students from diverse educational backgrounds are encouraged to apply. We welcome students with a broad range of A-level subjects, as well as students with appropriate Art & Design Foundations or BTEC/UALAB diplomas which allow you to demonstrate your ability to research, evaluate and produce creative solutions.
UK applications
Apply for full-time study - starting September 2021:
International & EU applications
Apply for full-time study - Year 1 - starting September 2021:

Apply for full-time study - Year 2 - starting September 2021:
If you're interested in joining Year 3 of this course, please contact our Admissions Team on +44 (0) 1252 892 960 or admissions@uca.ac.uk
When to apply:
We are still accepting applications for 2021 entry - get your application in now.
If applying directly to us, you can apply throughout the year but we recommend you apply as early as possible so you have time to arrange accommodation and visas.
For more information visit our how to apply pages