Fashion Image & Styling
BA (Hons)
Course overview
UCA's BA (Hons) Fashion Image and Styling degree will help make you a key player in the fashion industry. On this course, you'll discover how to create looks and concepts for every scenario – from the movies and the red carpet to the High Street and magazines.

Fashion image experts and stylists are at the front line of the fashion industry, working across fashion shoots and celebrity events, and even with social media influencers.

Taught by styling experts, you'll learn everything you need to know to enter any area of the industry – whether it's fashion styling, fashion film, fashion illustration or curation.

Throughout the course, you'll explore the often unseen role of fashion image creators and learn how to tackle any brief – from styling a fashion show to creating an Instagram series, directing a pop video or even leading an entire creative team towards a common goal.

Along the way, you'll benefit from a wealth of industry expertise, make use of our extensive fashion facilities, and develop in-depth skills in styling, film and photography, image-making, event and show curation and even virtual concept-building.

Our students have gone on to work in events and creative direction at M&S and Gucci, styling at i-D Magazine and Net-a-Porter, and even presenting and hosting fashion events in London, New York and Milan.
Apply now through Clearing
| | |
| --- | --- |
| Length of study | 3 years full-time |
| Campus | Rochester |
| Entry requirements | 112 UCAS tariff points |
| Course entry options | Sept 2021 |
| UCAS institution code | C93 |
| UCAS code | W239 |
Please note
This course will be taught at UCA Rochester until Summer 2023, after which your final year of study will be taught at UCA Epsom.
Course details
The first year of your course gives you an introduction to the various elements of fashion imaging and styling. You'll also start to build your portfolio.
Launch
The Launch week is an inter-disciplinary Industry Guest Speakers' Series offered to all students across the School of Fashion & Textiles. Guest speakers with diverse backgrounds, skills and career paths representing the diversity of our student community will inspire you to kick-start your thinking about your own career journey.
Fashion Image Making
This first unit looks at fashion and image and how fashion trends and products are communicated to an audience. You'll examine the role of culture within the fashion industry and learn about influential image-makers and techniques. As part of this unit, you'll also begin your research practice, and make a start on your Personal Development Planning as you began to contextualise your practice within the industry.
Equality, Diversity and Inclusion
The unit provides an opportunity for students to explore what is meant by equality, diversity, and inclusion and the implications of these concepts for creative practice. It will equip students to understand how our social identities (such as gender, race/ethnicity, class, disability, sexual orientation, and religion) contribute to the inclusion and/or exclusion of individuals in creative spaces.
Showcase
This is a short, sharp and exciting project where your skills in decision-making, fast reflexes and concise communication in the curation, exhibition and promotion of a fashion image. You'll work individually, and as a group, and have the opportunity to liaise with professionals. You'll select your best fashion image from the previous unit, rework and redesign for print and digital, and finally promote, exhibit and evaluate – all in a 4-week period.
ATOM Activities
ATOM activities are tiny pieces of individual learning that help you collaborate with others at UCA and, while a small fraction of your curriculum, give you an opportunity to broaden your horizons.
Hackathon
You'll work across the School of Fashion & Textiles on a week-long project brief. This is an opportunity to work as part of a multi-disciplinary team and get your hands on a piece of software or equipment to familiarise yourself with the technology that is becoming ubiquitous in the industry. For instance, you may be asked to design a website, an Instagram filter, an avatar, a virtual garment or digital prints to name but a few possibilities.
Fashion Styling & Creative Direction
Extend your knowledge of creative fashion styling, fashioned identity and image creation both from a theoretical and practical perspective. You'll learn how stylists and creative directors use style in order to define and represent an identity through media, and then generate style images for a specified publication to explore these ideas.
Portfolio and Personal Development Planning (PDP)
You'll learn how to curate and build a digital portfolio – your first step in placing your own practice in an industry context. You'll also create an enhancement project to boost your portfolio – this is extra-curricular and may take the form of work experience, an individual or collaborative project or a competition entry. You'll reflect on your PDP development.
Your second year will see you develop your skills as you begin to take more creative decisions and work on independent projects. You'll also have the opportunity to undertake a work placement, as well as an optional study abroad exchange.
ATOM Activities
ATOM activities are tiny pieces of individual learning that help you collaborate with others at UCA and, while a small fraction of your curriculum, give you an opportunity to broaden your horizons.
Launch week
This intensive, interactive career preparation week builds upon your Year 1 work, preparing you for your work placement, focused on your CV and covert letter preparation, personal branding on professional social networks, networking and interview preparation.
Fashion in Motion
This unit is about applying your understanding of, and creative responses to, the requirements of the fashion industry in 360-degree moving image; film, animation or capturing live performance. You will need to define and analyse a client of your choice and respond with a short creative film, animation or documentary of a live event, which takes fashion image making and styling to the highest level.
Equality Diversity and Inclusivity 2
This unit aims to promote progressive values and attitudes to diversity and inclusion in creative practice. Students will have the opportunity to explore global perspectives and influences on creative practice, drawing upon interactions with varied identities, cultures, politics, and histories. The unit will explore how beliefs, values and attitudes drive behaviour and practices.
Product Styling and e-Commerce (elective)
In the fast-paced world of e-commerce, product imagery and styling are a crucial tool in driving sales. This short-sharp portfolio-enhancing unit focuses on the employable practicalities of styling for e-commerce with a focus on clarity, planning and documentation to give you a strong skill and knowledge base in this competitive and exciting facet of the industry. You'll produce a range of e-commerce shots and accompanying documentation for a specified brand and product of your choice.
Bespoke Styling for Celebrity (elective)
In the constant whirl of celebrity appearances, relationships between stylists and celebrities is based on networks, trust and clarity of purpose. In this unit, you will research a celebrity of your choice, contextualise their audience and 'message', and propose an innovative, bespoke wardrobe for a series of specified appearances in conjunction with relevant designers and makers.
Opportunity Week
Have you ever watched Dragon's Den on the BBC? Have you ever dreamed of being one of the contestants? Have you got a business idea? Now is your chance to become the next big fashion & textiles entrepreneur. Students will work in multi-disciplinary teams to prepare a short business plan, a prototype and pitch their ideas to a panel of industry judges.
Digital Content Creation
This unit builds on contextualising your own practice in industry. Your research, analysis and deep understanding of your own practice and current industry needs will inform your exploration and experimentation in applying your skills in communication and storytelling. You will investigate, propose and create a multifaceted digital content campaign that will promote a brand, product or service across a number of media platforms with a consistent message and tone appropriate to your 'client'.
Portfolio & PDP
Advancing from your first year you'll make a new digital portfolio that reflects your level of study. You'll also create an enhancement project to boost your portfolio – this is extra-curricular and may take the form of work experience, an individual or collaborative project or a competition entry, and you'll reflect on your PDP development.
Placement
This unit is about gaining direct, insider understanding of the marketplace and your role within it. The unit will begin to prepare you for your future, professional entry into the industry and focuses on the practices and principles of the creative industries surrounding fashion image-making & styling. Your placement should be a minimum of 15-20 days, but as it is at the end of the academic year this opens up the opportunity for you to continue your placement into the summer break after an assessment has taken place.
In your final year you'll produce your final project and an illustrated thesis.
Launch week
The Launch week is a project pitch week. This is your opportunity to share ideas that you will have developed over the summer about your degree project, receive feedback and finetune it before you start actively working on it as part of your last year at university.
Innovation for Industry
In a saturated market, how we communicate and present our concepts for innovation in fashion imagery is crucial to successful visual communication and, ultimately, relevance and longevity for both ourselves and our clients. In this unit, we will introduce you to a client who will set a research question that is relevant to current industry practice. Using the research question as a starting point, you'll take a broader view of what you determine to be the definition of 'innovation' in response to the client brief and also to your own developing portfolio, specialist skills and practice.
Critical Thinking for Publication
Following on from your Academic Proposal (completed at the end of Year 2), and your Year 2>3 Summer Project, you will now refine your aims and come to a conclusion in the Critical Thinking for Publication Unit. You will define your angle or argument, and communicate this through creative content for a specified platform or publication. The creative outcome will be supported by a research document in which you reflect on your learning journey. You will evidence the growth of the argument and contextualise the topic within the global fashion industry.
Opportunity Week
The Graduate Career Fair taking place during the first week of your second term supports your job search as you prepare to leave University. Companies that are actively hiring in your sector are invited to present to give you information about them, the kind of candidates they are looking for and their hiring process.
Creative Direction for Fashion
For your final project on the course, you are expected to create a substantial project that focuses on your area of professional interest and showcases your specialist skills. This work may take a variety of forms – from a body of editorial work within a publication to a series of films. You'll also compile your graduate portfolio and a promotional showcase.
This course offers the opportunity to study abroad for part of your second year. To find out more about studying abroad as part of your course please see the Study Abroad section:
Tuition fees
The course fees per year for 2021 entry are:
UK students - £9,250

EU students - £9,250 (see fee discount information)

International students - £16,950 (standard fee)

International students - £16,270 (full early payment fee)
Additional course costs
In addition to the tuition fees please see the additional course costs which will be available here shortly.

Further information
Find out more about our course fees and any financial support you may be entitled to:
These fees are correct for the stated academic year only. Costs may increase each year during a student's period of continued registration on course in line with inflation (subject to any maximum regulated tuition fee limit). Any adjustment for continuing students will be at or below the RPI-X forecast rate.
Course specifications
Please note, syllabus content indicated is provided as a guide. The content of the course may be subject to change in line with our Student Terms and Conditions for example, as required by external professional bodies or to improve the quality of the course.
On the course you'll have access to a digital media suite with Macs loaded with design software; studio spaces used for teaching, group projects and styling workshops and photographic studios for fashion shoots.
Digital media suite, UCA Rochester
Course studios, UCA Rochester
Photography studio, UCA Rochester
Photography studio, UCA Rochester
Course connections
Live projects
You'll have the opportunity to take part in live industry projects collaborating with fashion giants including Harvey Nichols, Shaftesbury PLC, Covent Garden, Carnaby Street, Camden Town and Zandra Rhodes.
Student Placements
Student placements are mandatory in the second year. Past students have undertaken placements at Gucci, Vogue, Preen, London Fashion Week and Wonderland Magazine.
Our graduates work in areas as diverse as:
Styling
Public relations
Marketing
Digital marketing
Copywriting.
Recent graduates' positions demonstrate a dazzling array of career opportunities, such as:
Social media manager
PR coordinator
Digital account executive
Digital marketing assistant
Marketing assistant
Junior account executive
Communications coordinator
Communications assistant
Marketing communications manager
Fashion assistant
Online coordinator.
In addition, a number of graduates have created their own career and business opportunities through freelance editorial styling, journalism, and boutique PR and marketing.
Visit our 2021 grad show site to see the incredible work created by our graduating students
Visit the 2021 Gradshow
Charlotte Spencer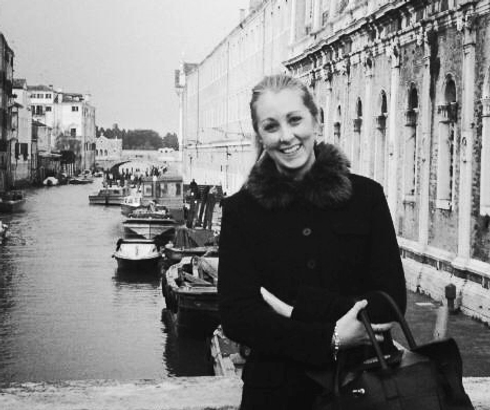 "The course offers an extraordinarily broad insight into the fashion industry, which has helped me significantly in developing my abilities, including photography, filmmaking, and a wide range of writing and digital media skills"
Entry requirements
The standard entry requirements* for this course are:
One of the following:
112 new UCAS tariff points, see accepted qualifications
Pass at Foundation Diploma in Art & Design (Level 3 or 4)
Distinction, Merit, Merit at BTEC Extended Diploma / BTEC National Extended Diploma
Merit at UAL Extended Diploma
112 new UCAS tariff points from an accredited Access to Higher Education Diploma in appropriate subject
27-30 total points in the International Baccalaureate Diploma with at least 15 IB points at Higher level, see more information about IB entry requirements.
And four GCSE passes at grade A*-C and/or grade 4-9 including English (or Functional Skills English/Key Skills Communication Level 2).
Other relevant and equivalent Level 3 UK and international qualifications are considered on an individual basis, and we encourage students from diverse educational backgrounds to apply.
*We occasionally make offers which are lower than the standard entry criteria, to students who have faced difficulties that have affected their performance and who were expected to achieve higher results. We consider the strength of our applicants' portfolios, as well as their grades - in these cases, a strong portfolio is especially important.
To view the equivalent entry requirements for your country please select it in the list below.
For this course, you'll be required to submit an online portfolio via your UCA Applicant Portal. This is a creative course, but you don't need visual arts or design qualifications to apply. We look for creativity and problem-solving skills that demonstrate potential for promoting fashion, together with a commitment to, and interest in, the fashion industry. Further information on how to compile and upload your portfolio will be provided once you have applied. If you receive an offer, you'll be invited to attend an Offer Holder Webinar where you can meet the course team and learn more about the course.
UK applications
Apply for full-time study - starting September 2021:
International & EU applications
Apply for full-time study - starting September 2021:
When to apply:
We are still accepting applications for 2021 entry - get your application in now.
If applying directly to us, you can apply throughout the year but we recommend you apply as early as possible so you have time to arrange accommodation and visas.
For more information visit our how to apply pages