Architecture (ARB/RIBA Part 1)
BA (Hons)
Course overview
Your journey to becoming a qualified architect begins here on our fully validated and accredited BA (Hons) Architecture course, taught at UCA Canterbury.

We provide a lively, progressive and creative experience - from the outset you'll be designing new buildings and considering the world around you.

Throughout the course, we'll challenge you to become highly skilled in technical drawing and design. You'll also be encouraged to consider how architecture can have a wider impact on everything, from its immediate surroundings and social contexts, right through to the human body.
You will also benefit from dedicated studios, master a wealth of industry-grade technology and apparatus, and have the use of our Tracklab virtual reality studio.
Apply now through Clearing
| | |
| --- | --- |
| Length of study | 3 years full-time |
| Campus | Canterbury |
| Entry requirements | 128 UCAS tariff points |
| Course entry options | Sept 2021, Sept 2022 |
| UCAS institution code | C93 |
| UCAS code | K100 |
Accredited by:
Course details
The first year comprises five units, exploring design, communication techniques, history and theory. You will also be introduced to new software and at the end of the year, design a small building.
Projects 01
You'll look at fundamental issues, processes, skills and tools that will be relevant in your studies in architecture, focusing on design in relation to the human body. The role of architecture in defining our spaces and experiences is explored as a means by which the body might be guided through site-specific design proposals.
Communication 01
This unit introduces you to representation as a critical practice. You'll learn a range of techniques in the context of a number of projects, supported by lectures and seminars. These will provide cultural and technological contexts.
Technology 01
Through the use of materials, the unit examines aspects of technology associated with the built environment. It will also explore their relationship with design as both a process and an outcome.
Cultural Context 01
This unit looks at the study of the histories and theories of architectural and spatial design. It aims to address the ways in which designed spaces, buildings and cities are situated culturally. It also provides you with the required tools of analysis and interpretation to make informed readings of your environment.
Projects 02
The content and themes of the previous unit are synthesised through the design of a small building, focusing on relationships between architecture and time. Whilst the first half of the unit focuses on site analysis, research and design strategy, the second focuses on lighting, structure, materiality and finish.
There's six units across the second year, which will challenge you to experiment, explore and test theories, designs and materials. The potential for specialised learning and the implications of different choices of direction will become clearer, with personal preferences emerging.
Projects 03
You'll focus on the ways in which architecture can establish social, political, physical and environmental dialogues with wider, as well as immediate, conditions. The importance of identifying and then developing or suppressing these relationships consciously through the design of external space will be interrogated.
Cultural Context 02
The unit, entitled Design, Theories and Operations, considers how ideas are socially, historically and culturally located. It is primarily concerned with theory and represents a step up, challenging you to interrogate architectural ideas, designs and actions. You'll engage with, and make explicit, theories which are shaping the built environment, or can be used to develop a more nuanced critique of its production.
Technology 02
This unit explores the coverage of building materials and methods of construction introduced in Year One. It introduces low energy design strategies as a vehicle to discussing sustainability in the built environment.
Projects 04
Has two themes:
Intelligent skin: You will be introduced to a design methodology with a technology focus, providing you with the opportunity to use technology as a generator for an engagement with cultural objectives, contextual study and communication through design development.
Synoptic: You'll undertake a synoptic project where the main emphasis is on the integration of different design preoccupations and resolving these together to present a well-considered outcome. Typically, the project set will be concerned with a manufacturing process of current social or aesthetic concern or interest.
Communication 02
You'll look in more detail at how computers, which allow simultaneous working on a variety of resolutions and modes, have broadened possibilities. You'll also be introduced to parametric digital design.
Creative Practice 01
This unit is designed to provoke experimentation, risk-taking, exploratory and playful work following the rigours of professional practice and the creative industries.
Study Abroad (optional)
This optional unit will allow you to spend a period of time in an overseas educational institution.
You'll gain the depth of knowledge to resolve a complex design programme with a substantial amount of self-determined direction. You'll establish preferences and viewpoints expressed in verbal and written design discourse within each subject area, and will relate subject areas to design.
You'll learn to be highly self-driven and self-directed, presenting and writing in detail about your specialist knowledge and viewpoints, and develop a sophisticated appreciation of how architecture can significantly improve the worlds of today and tomorrow.
You'll also build an appreciation of how architecture can become more significant in today's world. Your communication skills will be enhanced, so a project can be presented coherently to the public or external professionals.
Projects 05
This unit has two 'home'-based themes:
Terrain: You'll examine 'home' from the viewpoint of an individual user. You'll explore ways in which this individual might seek to influence the wider world.
Urban: you'll explore 'home' as a respondent to the wider cultural, social and/or political visions for, and/or conditions of, the city. You'll examine the ways in which these interface with conditions for the individual. Housing is addressed as a key contested constituent of the city.
Creative Practice 02
You'll learn the legal and procedural characteristics of practising as an architect in the UK. Weekly lectures and workshops will be supplemented with independent study and weekly submissions.
Research Thesis
You'll undertake a period of self-directed research on a subject related to the historical, theoretical and critical concerns of architecture. The subject matter will be informed by the specific interests you have developed and will be supported by the particular expertise of staff within the School of Architecture through its Research Groups.
Projects 06
This unit allows you to showcase all the design skills you have learned, compiling these into one extended, professional standard portfolio of drawings, diagrams, models and prototypes.
You'll investigate the current political, social and economic issues relevant to the future of a city which is unfamiliar to you, and which may also apply to the future success of similar cities. From tehre, you'll design a large building in your chosen city, establishing a sophisticated dialogue between topography, social and political issues, city scale structures, networks, regional objectives and the way these impact the lives of individuals.
You will engage pre-existing, disparate functions in new ways to generate cultural outcomes, agendas and patterns of use.
This course offers the opportunity to study abroad for part of your second year. To find out more about studying abroad as part of your course please see the Study Abroad section:
Tuition fees
The course fees per year for 2021 entry are:
UK students - £9,250

EU students - £9,250 (see fee discount information)

International students - £16,950 (standard fee)

International students - £16,270 (full early payment fee)
The course fees for 2022 entry will be available here shortly.
Additional course costs
In addition to the tuition fees please see the additional course costs for 2021 entry. The details for 2022 entry will be available here in due course.

Further information
Find out more about our course fees and any financial support you may be entitled to:
These fees are correct for the stated academic year only. Costs may increase each year during a student's period of continued registration on course in line with inflation (subject to any maximum regulated tuition fee limit). Any adjustment for continuing students will be at or below the RPI-X forecast rate.
Course specifications
Please note, syllabus content indicated is provided as a guide. The content of the course may be subject to change in line with our Student Terms and Conditions for example, as required by external professional bodies or to improve the quality of the course.
Each year of the course has a dedicated open plan studio space for group tutorials and personal working. Facilities for the course include: laser cutters, 3D printers, virtual reality lab, 3D workshop with machines for working in wood, metals, plastics and ceramics and fully-equipped computer studios with Macs and PCs programmed with industry-standard software for design and animation.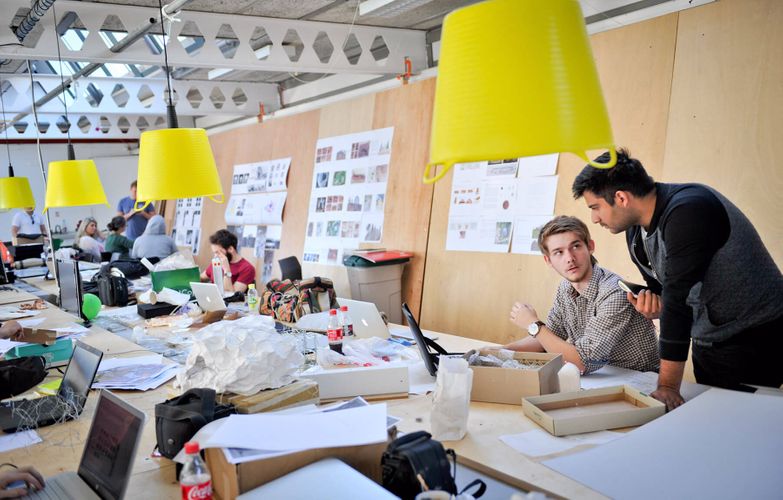 Architecture studios, UCA Canterbury
Architecture TraKLAB, UCA Canterbury
Architecture studios, UCA Canterbury
Fabrication Lab, UCA Canterbury
Course connections
Our course enjoys excellent relationships with a number of high-profile organisations, which are listed below:
Architects Registration Board
Architectural Association of Ireland
Chartered Institute of Architectural Technologists
Chartered Institute of Building
Commission for Architecture and the Built Environment
International Interior Design Association
Residential Interior Design
Royal Incorporation of Architects in Scotland
Royal Institute of British Architects
Royal Institution of Chartered Surveyors
Royal Society of Ulster Architects
Royal Town Planning Institute.
Many of our graduates typically progress to one-year paid placements at architects' offices, before continuing their studies at Master's level. Our alumni have secured rewarding careers internationally and nationally for more than 60 years.
Recent employment opportunities have included working at the offices of Zaha Hadid, Norman Foster, Will Alsop and Sauerbruch Hutton, as well as at local architects' practices such as Clague Architects and Lee Evans Partnership (both in Canterbury). Our graduates have also established their own research collaborations and projects.
Visit our 2021 grad show site to see the incredible work created by our graduating students
Visit the 2021 Gradshow
Connie Latham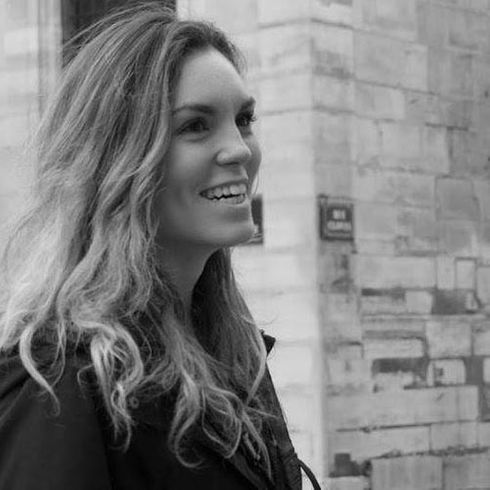 "The campus was really important to me as the facilities were excellent and the staff all seemed really helpful. After doing my foundation course, UCA was the only place I applied to for the Architecture degree, because I loved the atmosphere."
Entry requirements
The standard entry requirements* for this course are:
One of the following:
128 new UCAS tariff points, see accepted qualifications
Merit at Foundation Diploma in Art & Design (Level 3 or 4)
Distinction, Distinction, Merit at BTEC Extended Diploma / BTEC National Extended Diploma
Merit at UAL Extended Diploma
128 new UCAS tariff points from an accredited Access to Higher Education Diploma in appropriate subject
29-32 total points in the International Baccalaureate Diploma with at least 16 IB points at Higher level, see more information about IB entry requirements.
And five GCSE passes at grade A*-C and/or grade 4-9 including Mathematics and English (or Functional Skills English/Key Skills Communication Level 2).
Other relevant and equivalent Level 3 UK and international qualifications are considered on an individual basis, and we encourage students from diverse educational backgrounds to apply.
*We occasionally make offers which are lower than the standard entry criteria, to students who have faced difficulties that have affected their performance and who were expected to achieve higher results. We consider the strength of our applicants' portfolios, as well as their grades - in these cases, a strong portfolio is especially important.
To view the equivalent entry requirements for your country please select it in the list below.
For this course, you'll be required to submit an online portfolio via your UCA Applicant Portal. Further information on how to compile and upload your portfolio will be provided once you have applied. If you receive an offer, you'll be invited to attend an Offer Holder Webinar where you can meet the course team and learn more about the course.
UK applications
Apply for full-time study - starting September 2021:

Apply for full-time study - starting September 2022:
International & EU applications
Apply for full-time study - Year 1 - starting September 2021:

Apply for full-time study - Year 2 - starting September 2021:

Apply for full-time study - starting September 2022:
If you're interested in joining Year 3 of this course, please contact our International Admissions Team on +44 (0) 1252 892838 or internationaladmissions@uca.ac.uk
When to apply:
We are still accepting applications for 2021 entry - get your application in now.
If applying directly to us, you can apply throughout the year but we recommend you apply as early as possible so you have time to arrange accommodation and visas.
For more information visit our how to apply pages