Course overview
Become a skilled visual storyteller and a fully rounded designer with a strong understanding of design theory and history on our in-depth and multi-disciplinary BA (Hons) Graphic Design degree at UCA Canterbury.

This course is heavily weighted in practical work, and it's through this that you will evolve your own style and voice as a graphic designer, working on industry briefs and collaborating with students on our Illustration and Animation course. Along the way, you'll enjoy the benefits of dedicated studio spaces, exceptional facilities and strong industry links.

Your learning will be supported by a range of workshops in techniques such as typography, printmaking, photography, darkroom processes, 3D, letterpress and motion design, and you'll be tutored by a team of experienced professional designers with connections at the highest levels of the industry.
Please note: This course has been withdrawn for September 2022 entry and we will be running the following alternative courses: BA (Hons) Graphic Design at UCA Farnham and BA (Hons) Visual Communication at UCA Canterbury
Our standard three year undergraduate degree for those who meet the entry requirements for higher education.
Apply now
Course details
Introduction to Visual Communication
You'll explore how Graphic Design shapes form and content across the spectrum of media, from the printed page to the internet, and will work to articulate your own personal voice as a designer and artist, while fashioning messages that communicate to various communities and are relevant to contemporary culture.
Design Fundamentals 1: Image, Type, Print
You'll be introduced to how different meanings can be constructed through a variety of type and image constellations. You will also learn how these are applied to and affected by different print mediums and formats.
Design Fundamentals 2: Motion, Narrative, Screen
This unit introduces narrative, sequence and interactivity as thematic concepts that can be applied to a screen-based design outcome. You will be asked to consider how visual language, such as words, images, materials, format and structure, can support narrative.
Visual Theory: Message, Medium, Meaning
Through the exploration of examples from historical and contemporary practice and analysis of your studio work, you'll examine a range of topics. These will include basic concepts in semiotics, the relationship between word and image, the construction of narrative, photographic language, function and expression, culture connotation and myth, subversion and propaganda.
The second year focus is on finding your own specialist way of working and you'll be encouraged and supported to start working more independently. We'll enable you to experiment, find your own style and understand the processes and cultures of visual communication.
Social and Cultural Contexts
Encourages you to examine and explore your personal ethics, values and motivation through the production of work for others.
The Editorial Process
Consolidates and develops further your creative, graphic, typographic and technical skills.
Developing Your Practice
Graphic designers today don't just respond to design problems identified by others, but often instigate themselves visual/design/cultural changes. This unit prepares you for this future role.
Spatial Practices
You'll learn how to manipulate spaces to create identities, multi-sensory experiences, and innovative events/exhibitions in a sustainable and environmentally conscious context.
Study Abroad (optional)
This optional unit is designed to broaden your educational experience and deepen your understanding of cultural diversity. It will enable you to study within a different cultural context and gain fresh perspectives.
In your final year, you'll undertake a self-directed research and design project and will create your final major project.
You'll have the opportunity to collaborate with your fellow students to present your work, preparing you for a career in industry.
We also offer Year 3 as a top-up year through the internal progression arrangement for students from the Barking & Dagenham Foundation Degree course. It's also open to students from other courses and circumstances, as long as you meet the entry requirements. Please contact us for further details.
Critical Research and Practice
This unit involves the research, development, and construction of a self-directed research and design project. This will take into account your knowledge, understanding, skills, experience and interests that you have gained over the duration of the course. Here, the theoretical and practical are entirely intertwined and you will be encouraged to develop an experimental approach, employing research to inform practice, and practice to inform your research, so that you develop an original and innovative approach to both.
Major Project
You will research, develop and realise a major self-initiated project of your own choosing. You'll draw up a written project proposal which effectively and succinctly communicates the key elements of your conceptual, technical, aesthetic and theoretical concerns and intentions. Then, you'll produce a body of work which demonstrates a high level of maturity through its clarity and focus and the synthesis of previously learned practical and theoretical knowledge. You'll also present your work, and this will open up opportunities to collaborate with others, if appropriate.
This course offers the opportunity to study abroad for part of your second year. To find out more about studying abroad as part of your course please see the Study Abroad section:
Tuition fees
The course fees per year for September 2021 and February 2022 entry are:
UK students - £9,250

EU students - £9,250 (see fee discount information)

International students - £16,950 (standard fee)

International students - £16,270 (full early payment fee)
Additional course costs
In addition to the tuition fees please see the additional course costs for September 2021 and February 2022 entry.
Further information
Find out more about our course fees and any financial support you may be entitled to:
These fees are correct for the stated academic year only. Costs may increase each year during a student's period of continued registration on course in line with inflation (subject to any maximum regulated tuition fee limit). Any adjustment for continuing students will be at or below the RPI-X forecast rate.
Course specifications
Please note, syllabus content indicated is provided as a guide. The content of the course may be subject to change in line with our Student Terms and Conditions for example, as required by external professional bodies or to improve the quality of the course.
This course has dedicated graphics studios for workshops, group and independent working. In addition to the campus printmaking studio there is a dedicated print room for graphics and illustration students with letterpress facilities, large format digital printers and finishing equipment. There are also campus digital media suites with software including: Adobe Creative Suite, Final Cut Studio, Final Cut Pro, Soundtrack Pro and Autodesk Maya.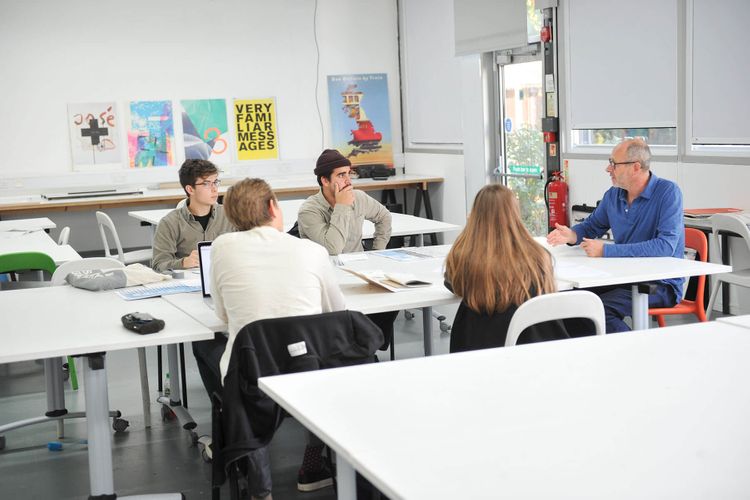 Graphics studios, UCA Canterbury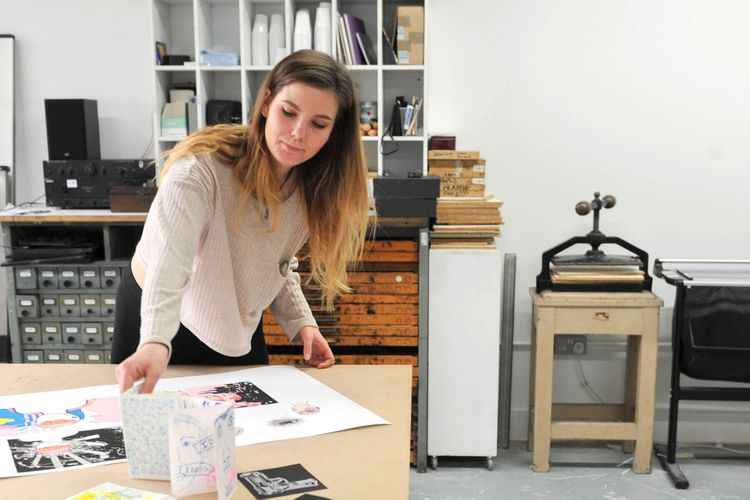 Graphic print studios, UCA Canterbury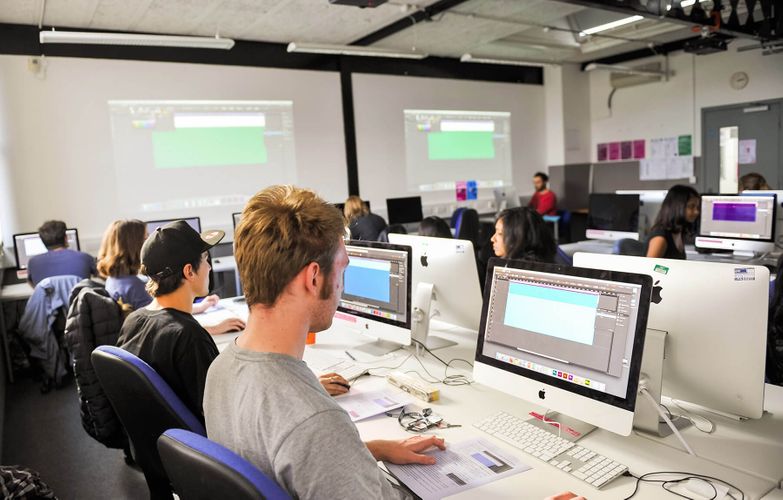 Digital Media suite, UCA Canterbury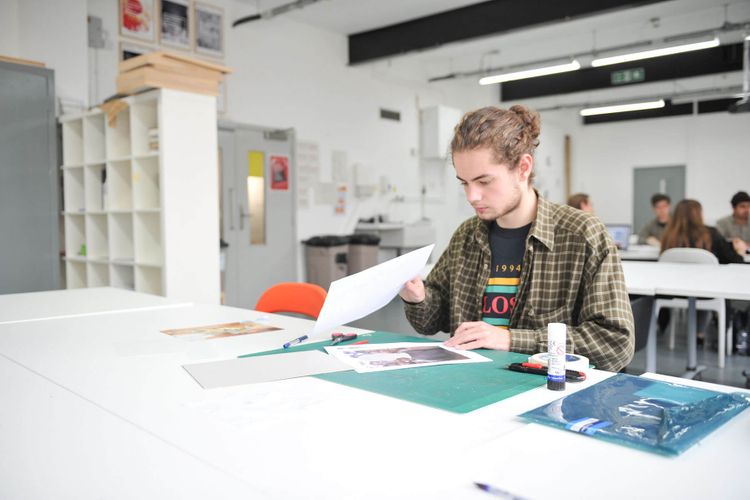 Graphic Design studios, UCA Canterbury
Course connections
With a staff of experienced professional designers, our course enjoys strong links with respected names across the industry.
Calling on our connections, we have a full programme of visiting designers and lecturers that give valuable insight into Industry and professional practice such as recent guests Bob and Roberta Smith, Le Gun and Why not Associates.
Studying Graphic Design with us will give you a highly transferable set of skills which are desirable across a broad range of creative industries.
Many of our graduates have landed exciting, fulfilling positions, including:
Graphic and packaging designers
Art directors
Picture editors
Information designers
App developers
Web and broadcast designers.
Visit our 2021 grad show site to see the incredible work created by our graduating students
Visit the 2021 Gradshow
Alex Todd
"UCA is a great environment to learn, to experiment and to develop. With its vast range of equipment at your disposal and hugely devoted tutors to guide you, there's nothing you can't achieve here."
Entry requirements
The standard entry requirements* for this course are:
One of the following:
112 new UCAS tariff points, see accepted qualifications
Pass at Foundation Diploma in Art & Design (Level 3 or 4)
Distinction, Merit, Merit at BTEC Extended Diploma / BTEC National Extended Diploma
Merit at UAL Extended Diploma
112 new UCAS tariff points from an accredited Access to Higher Education Diploma in appropriate subject
27-30 total points in the International Baccalaureate Diploma with at least 15 IB points at Higher level, see more information about IB entry requirements.
And four GCSE passes at grade A*-C and/or grade 4-9 including English (or Functional Skills English/Key Skills Communication Level 2).
Other relevant and equivalent Level 3 UK and international qualifications are considered on an individual basis, and we encourage students from diverse educational backgrounds to apply.
*We occasionally make offers which are lower than the standard entry criteria, to students who have faced difficulties that have affected their performance and who were expected to achieve higher results. We consider the strength of our applicants' portfolios, as well as their grades - in these cases, a strong portfolio is especially important.
To view the equivalent entry requirements for your country please select it in the list below.
For this course, you'll be required to submit an online portfolio via your UCA Applicant Portal. We'd like to assess your creative potential, so your portfolio should include completed project work, sketchbooks or blogs and other preparatory or process work, printed outputs, and screen-based work. Further information on how to compile and upload your portfolio will be provided once you have applied. If you receive an offer, you'll be invited to attend an Offer Holder Webinar where you can meet the course team and learn more about the course.
Please use the following fields to help select the right application link for you: