Course overview
Covering the full indie game development pipeline, from planning and concept to publishing, our BA (Hons) Games Design specifically explores this vibrant, imaginative and fast-growing sector of the games industry.

This course blends games arts, games design and critical thinking with professional skills and project management for the indie games sector and will prepare you for working either in a team at an independent studio or on your own development projects.

You'll be able to focus on your own individual approach to games design as you develop a personal game style and portfolio. You'll also work within small, agile teams, where each contributor usually performs more than one role, has more creative ownership over the result and is able to innovate and challenge what has gone before.

With access to excellent facilities and high-end technology, plus the support of experienced staff with strong links to the indie gaming industry, you'll graduate with the skills and tools you need to jump right into your dream career.
Please note - this course is subject to validation and will be moving from UCA Rochester to UCA Farnham for 2022 entry.
| | |
| --- | --- |
| Length of study | 3 years full-time |
| Campus | Farnham |
| Entry requirements | 112 UCAS tariff points |
| Course entry options | Sept 2022 |
| UCAS institution code | C93 |
| UCAS code | I620 |
Accredited by:
Course details
Art and Design
Learn key drawing skills, visual design skills, conceptual approaches and software so you can develop ideas into art assets for indie games development. You will learn how to approach visual problems creatively using a range of sources for inspiration and reference. You will be introduced to software, through which you will produce a digital and non-digital outcome, demonstrating your conceptual approach, drawing skills and technical understanding.
Animation
Building upon Art and Design, you'll be introduced to key skills, conceptual approaches and software to develop ideas into animated assets for indie computer games. You will gain a solid grounding into the principles and processes of real time animation for computer games, from traditional drawing skills to animation in software, producing digital and non-digital outcomes demonstrating your technical and conceptual skills.
Interaction
This unit introduces you to the fundamental concepts of gameplay, design, prototyping (analogue and digital) and visual scripting. You will produce digital and non-digital outcomes demonstrating your technical and conceptual skills and will end up with dozens of experiments, ideas and prototypes to draw on in future practice.
Moving Image Culture: Understanding and Interpretation
With a focus on video games and the history of their theorisation, this unit introduces you to a range of key concepts central to the understanding of historical and contemporary moving image culture. You will also become familiar with the technological developments and conceptual transformations, before and after the so-called digital shift, establishing a firm understanding of the technical and intellectual changes that have influenced the development of the video game as a medium.
Games Art
Through this unit you will further build on the 2D and 3D skills and contextual knowledge you gained in Year one. Alongside this you will develop your understanding of professional aspects of AAA workflows and wider games industry, when starting to define your future role within it.
Games Production
You'll be introduced to games production practices by adopting professional roles and working together in teams. Divided into two halves, in the first half, you will work as part of a group to create a 3D environment based on a real world setting as chosen by your tutors. The second half of the unit concentrates on using your developing practical and conceptual skills to produce an outcome of high quality.
Gaming in Contemporary Culture
You'll critically examine the position of computer games and gamers within culture and society, exploring gaming's relationship to gender, ethnicity, conflict and capital. You'll also discuss ludology and its attendant concepts, including immersion, procedural rhetoric and cyber-individualism.
Final Major Project - Pre-production
You'll begin this unit by developing a project proposal through which you will define the concept, scope, audience, and purpose of your Final Major Project. You will present this through a pitch to your tutors and peers. Alongside this proposal, you will produce a detailed games design document and production schedule committing to project milestones (a significant milestone will be the conclusion of this unit before progression to 'Final Major Project').
Final Major Project
The culmination of your studies at UCA will see you build upon the work you have undertaken in the previous unit to produce a polished, finished release, as part of a team. You'll demonstrate your creativity, skill, knowledge and understanding of the craft of games design and aptitude for your chosen career path upon graduation.
Dissertation
This unit consists of a substantial period of sustained, individually-negotiated research on a subject that is likely to be related to your chosen area of practice. You will produce a structured written argument in the form of a well-researched, long-form essay where you will evidence your clarity of argument, depth of critical thought, and research skill.
This course offers the opportunity to study abroad for part of your second year. To find out more about studying abroad as part of your course please see the Study Abroad section:
Tuition fees
The course fees per year for 2022 entry will be available here shortly.
As a guide the fees for 2021 entry are:
UK students - £9,250

EU students - £9,250 (see fee discount information)

International students - £16,950 (standard fee)

International students - £16,270 (full early payment fee)
Additional course costs
In addition to the tuition fees please see the additional course costs. The details for 2022 will be available here shortly. As a guide please see the additional course costs for 2021 entry.

Further information
Find out more about our course fees and any financial support you may be entitled to:
These fees are correct for the stated academic year only. Costs may increase each year during a student's period of continued registration on course in line with inflation (subject to any maximum regulated tuition fee limit). Any adjustment for continuing students will be at or below the RPI-X forecast rate.
Course specifications
Please note, syllabus content indicated is provided as a guide. The content of the course may be subject to change in line with our Student Terms and Conditions for example, as required by external professional bodies or to improve the quality of the course.
This campus has studios with high-end PCs with Alienware towers, 4k dual screen monitors and Wacom Cintiq graphics tablets, all dedicated to games design, with software including Unity and Unreal games engines. In addition, our Farnham campus has sound production and Foley studios, pro tools and a specialist library.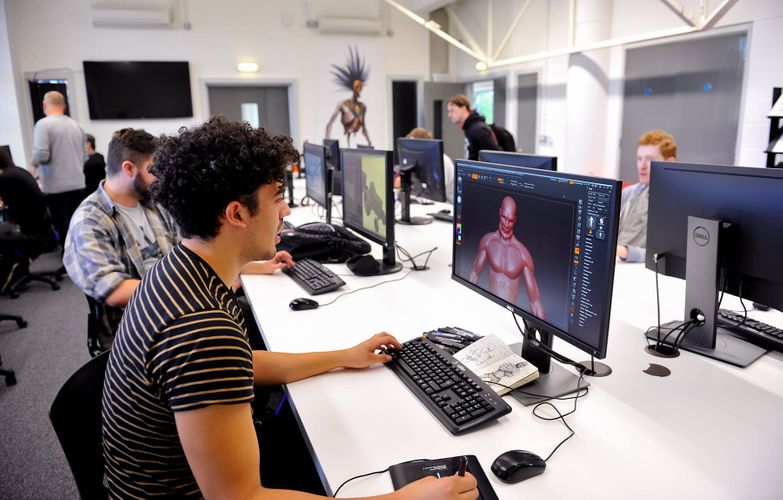 Games studio, UCA Farnham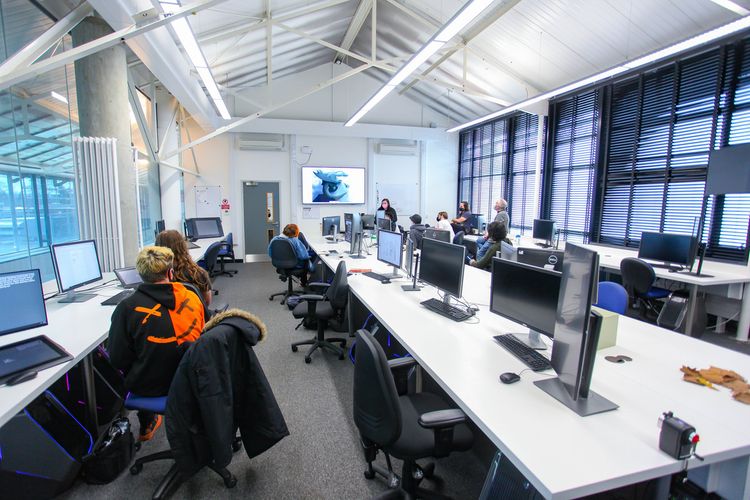 Games studios, UCA Farnham
Games studio, UCA Farnham
Library, UCA Farnham
Course connections
Rochester is ideally located in the South East of England proximate to 48% of the UK games industry, we're 45 minutes from London Victoria through which the capital's indie games and technology start-ups can be accessed.
With the UK games market being the fifth largest in the world and growing at a record pace, career routes are plentiful in the computer games industry. According to the Association for UK Interactive Entertainment, the UK video games revenue is expected to overtake total spend on books by 2020 – the sector was valued at a record £5.11 billion in 2017 and is predicted to grow by £8 billion over the next four years.
London and the South East comprise 47% of the UK games industry, and with 82% of games companies are looking to expand their workforce, there are more career opportunities in gaming than ever before.
Entry requirements
The standard entry requirements* for this course are:
One of the following:
112 new UCAS tariff points, see accepted qualifications
Pass at Foundation Diploma in Art & Design (Level 3 or 4)
Distinction, Merit, Merit at BTEC Extended Diploma / BTEC National Extended Diploma
Merit at UAL Extended Diploma
112 new UCAS tariff points from an accredited Access to Higher Education Diploma in appropriate subject
27-30 total points in the International Baccalaureate Diploma with at least 15 IB points at Higher level, see more information about IB entry requirements.
And four GCSE passes at grade A*-C and/or grade 4-9 including English (or Functional Skills English/Key Skills Communication Level 2).
Other relevant and equivalent Level 3 UK and international qualifications are considered on an individual basis, and we encourage students from diverse educational backgrounds to apply.
*We occasionally make offers which are lower than the standard entry criteria, to students who have faced difficulties that have affected their performance and who were expected to achieve higher results. We consider the strength of our applicants' portfolios, as well as their grades - in these cases, a strong portfolio is especially important.
To view the equivalent entry requirements for your country please select it in the list below.
For this course, you'll be required to submit an online portfolio via your UCA Applicant Portal. We're looking for emerging artists who are excited about the subject area, keen to learn, and are looking to create amazing digital art and design work. A portfolio should reflect your specialist areas of interest through visual work, which may include 2D or 3D artwork, sketchbooks and drawings, films, and any games or projects you've worked on. Further information on how to compile and upload your portfolio will be provided once you have applied. If you receive an offer, you'll be invited to attend an Offer Holder Webinar where you can meet the course team and learn more about the course.
UK applications
Apply for full-time study - starting September 2022:
International & EU applications
Apply for full-time study - starting September 2022:
When to apply:
The UCAS application deadline is 15 January. If you are applying directly to us, you can apply throughout the year but we recommend you apply as early as possible so you have time to arrange accommodation and visas.
For more information visit our how to apply pages
Thomas Yardley
"I've become fascinated by game art, the process it goes through to become a game. I enjoy the freedom we're given – we talk about the types of games we're making, and helping each other on the course brings a great social feeling."