Course overview
UCA's new MSc Game Engineering course aims to give you the necessary knowledge and skills to undertake advanced games development.
You'll build on your previous technical studies, whether these are within a technical games subject or in another relevant technical discipline, to develop complex game outputs.
During the course, you'll explore 3D graphics, including modelling, rigging, and animation using contemporary tools, together with AI and machine learning, which are often used in games to enable advanced game play, features, and worlds.
And using Unity and Unreal Engine, you'll begin to build games, culminating in your final major project.
You'll be supported throughout by a mix of academic expertise and insight from industry professionals, and have the opportunity to learn real-world skills beyond the classroom through networking, placements and competitions - from PocketGamer, Guildford Games Festival and London Games Festival to Rezzed, EGX and Medway Rapture Experience.
What you'll study
The content of the course may be subject to change. Curriculum content is provided as a guide.
For our students coming from a non-UK educational background, UCA has launched an Integrated International Pre-Masters year. On this course you'll prepare for postgraduate study with a mix of online and face-to-face learning that will give you the study skills required to complete a Master's, and you'll also improve your English for academic study.
Launch
Your launch week is the chance get to know your peers and start working collaboratively.
Game Engine Programming and Development
You will develop a theoretical proposal of the game you plan to develop throughout the unit, demonstrating objectives, schedule, budget, choice of game engine, team members, assets to use and other relevant details.
You will then implement your game using a chosen game engine, including using essential game engine subsystems, tools, and elements.
Advanced topics in games engineering will also be covered in this unit, and you will apply what you've learned to your game.
Games Research and Professional Contexts 1
In this hybrid unit, you will get the analytical tools to not only interrogate and interpret existing games and gameplay experiences in written and verbal form, but to apply what you learn to their practice in a reflective report.
You will learn to synthesise theoretical research methods and industry practices of game evaluation to provide a critically informed and reflective toolset for analysing and critically assessing games, gameplay experiences, and their practice.
You will learn about a range of methods for analysing video games on the level of their content and form drawing upon established research practices within the academy for analysing texts, images, and more recent Game Studies-specific approaches.
In tandem with this scholarly approach to research methods, the professional practice strand of this unit will provide you with industry and practitioner-led insights into how game design and art practices are analysed and assessed within the game development process. Delivered by industry insiders from a range of career stages and focuses, this element of the unit will provide opportunities for students to understand and apply industry standard best practice for evaluating games.
Opportunity
Opportunity week gives you the chance to work collaboratively to produce and replicate industry practice.
Game Artificial Intelligence
You will learn about artificial intelligence, machine learning, and deep learning in the broader sense together with fundamental concepts to game AI such as game states, character intelligence, and agent and environment related topics. Alongside this, the unit covers standard machine learning libraries with Python and you will implement an AI algorithm in Python, as well as proposing a plan for how you would integrate AI to the game you developed in the Game Engine Programming and Development unit.
You will also learn theory and practice and consider the future of games industry and research.
Games Research and Professional Contexts 2 (Includes Creative Business Start-up or Collaborative Practice Project option)
Building on the methodological and analytical skills developed in Games Research and Professional Practice 1, you will be introduced to range of key concepts, theories and debates providing a conceptual lens through which to critically deconstruct game form and content. In addition, to this focus on game texts and concepts, topics will focus on players: on their experience of gameplay, on player cultures and identity and the role of game creators in shaping players as individuals and collectives. Centrally, these questions of player identities and cultures will be framed via concepts of equality, diversity, and inclusion.
In this unit, you will also choose to undertake one of the following two options:
A collaborative professional practice group project. This is expected to involve groups of students across the games postgraduate portfolio collaborating on a project which may be based on an industry brief.
A creative business start-up component, which is designed to give students from any creative discipline the opportunity to develop an idea, have it evaluated and win a prize. Throughout the process, students will develop their thinking and skills for innovation.
Game Engineering Major Project
As the culmination of the course, this unit requires you to undertake a specialist and challenging project of your interest and choosing in the area of game engineering, and will demonstrate a professional level of accomplishment. Optionally, the project may also involve collaboration with industry. The project will encompass research, design, development, and evaluation stages, which will be suitably planned and documented and accompanied by a set of digital assets and artefacts produced by the project.
Course specifications
Please note, syllabus content indicated is provided as a guide. The content of the course may be subject to change in line with our Student Terms and Conditions for example, as required by external professional bodies or to improve the quality of the course.
Fees & financial support
Tuition fees - 2024/25 entry
UK students:
EU students:
International students:
Integrated International Pre-Masters course (30 weeks) - £17,500
Integrated International Pre-Masters course (15 weeks) - £8,750
MSc course - £18,000
Further information
The fees listed here are correct for the stated academic year only. For more detailed information about our course fees and any financial support you may be entitled to please see our fees and finance pages.
Financial support
There are lots of ways you can access additional financial support to help you fund your studies - both from UCA and from external sources.
Discover what support you might qualify for please see our financial support information
UCA scholarships and fee discounts
At UCA we have a number of scholarships and fee discounts available to assist you with the cost of your studies.
You'll find everything you need to know for your level of study on our scholarships page.
Additional course costs
In addition to the tuition fees there may be other costs for your course. The things that you are likely to need to budget for to get the most out of a creative arts education will include books, printing costs, occasional or optional study trips and/or project materials.
These costs will vary according to the nature of your project work and the individual choices that you make. Please see the Additional Course Costs section of your Course Information for details of the costs you may incur.
Our outstanding computer games studios have high-end PCs dedicated to games design with games systems and interactivity software including Maya, Photoshop and Substance, and Unity and Unreal games engines. There are also sound production studios, a Foley studio and pro tools suites. There is a modern library with a wealth of books, journals, special collections and online resources.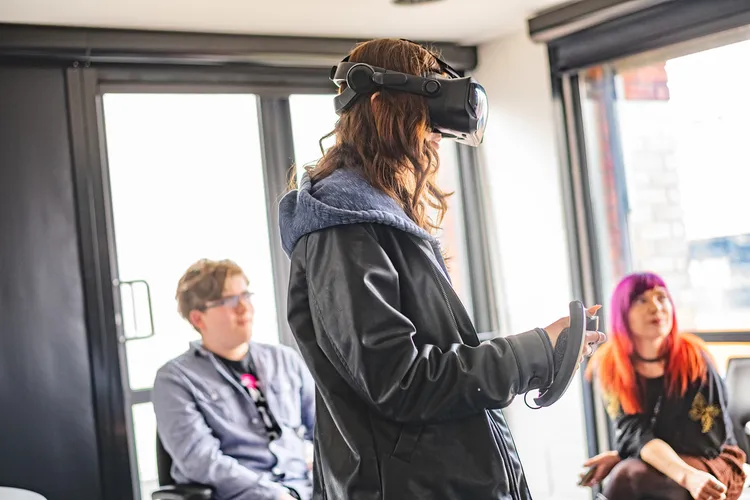 Games studios, UCA Farnham
Games studio, UCA Farnham
Games studios, UCA Farnham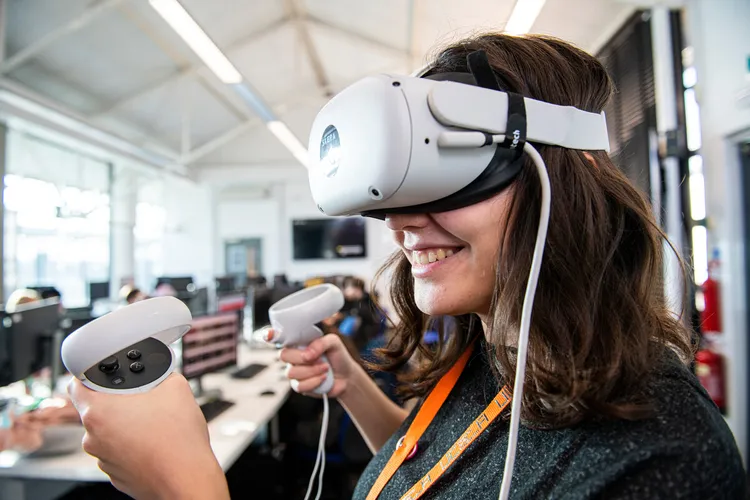 Games studios, UCA Farnham
Career opportunities
Our course provides students with a skillset to potentially become future leaders within the game industries. Graduates might go on to work in a variety of different roles. These might include:
Infrastructure Engineer
Audio Programmer
Engineering Technical Lead
Game Developer
AI Engineer
Gameplay Engineer
Our graduates have gone on to work for large gaming companies, including Ubisoft, Activision and Rockstar North.
Each year, we're privileged to be able to share our graduates' incredible work with the world. And now's your chance to take a look.
Visit the online showcase
Entry & portfolio requirements
Entry & portfolio
requirements
MSc course
A good honours degree or equivalent qualification in a related discipline


and/or
Relevant work experience, demonstrating your ability to study at postgraduate level.


Consideration will also be given to applicants who can make a strong case for admission in relation to a particular project and can demonstrate their potential to satisfactorily complete the course.
Portfolio requirements
For this course we will need to see your written or visual portfolio for review. We'll invite you to attend an Applicant Day so you can have your portfolio review in person, meet the course team and learn more about your course. Further information will be provided once you have applied.
MSc course
The entry requirements for these courses will depend on the country your qualifications are from, please check the equivalent qualifications for your country:
Any additional entry requirements listed in the UK requirements section, e.g., subject requirements, work experience or professional qualifications, also apply to international applicants applying with equivalent qualifications.
Portfolio requirements
You will be required to submit a portfolio for review. Further information on specific portfolio requirements and how to submit your portfolio will be sent to you after we have reviewed your application.
---
MSc course with Integrated International Pre-Masters course
A recognised bachelor degree or 3 year diploma with a strong portfolio in a relevant subject.
Any additional entry requirements listed in the UK requirements section, e.g., subject requirements, work experience or professional qualifications, also apply to international applicants applying with equivalent qualifications.
Portfolio requirements
You will be required to submit a portfolio for review. Further information on specific portfolio requirements and how to submit your portfolio will be sent to you after we have reviewed your application.
---
English language requirements
To study at UCA, you'll need to have a certain level of English language skill. And so, to make sure you meet the requirements of your course, we ask for evidence of your English language ability, please check the level of English language required:
Don't meet the international entry requirements or English language requirements?
You may be able to enter the course through the following entry pathways:
Please use the following fields to help select the right application link for you: