Course overview
Global fashion and beauty brands need innovative creative directors to communicate their visual messages effectively. With our MA Creative Direction for Fashion course, you'll gain all the knowledge and tools you need to take your place in the industry.
Taught at UCA Epsom, this course provides you with the perfect learning environment to develop both creative and strategic skills in fashion direction.
You will work closely with brand, trend and creative directors to gain vital insight, and explore current issues within the fashion industry, proposing solutions through innovative concepts that push the boundaries.
You'll combine your creative thinking and image-making skills to build a portfolio that is contemporary, diverse and inclusive.
What you'll study
The content of the course may be subject to change. Curriculum content is provided as a guide.
For our students coming from a non-UK educational background, UCA has launched an Integrated International Pre-Masters year.
On this course you'll prepare for postgraduate study with a mix of online and face-to-face learning that will give you the study skills required to complete a Master's, and you'll also improve your English for academic study.
You'll be introduced to the University and the technical workshops and facilities available to you. The first stage includes a range of lectures and seminars and practical workshops where you'll start to explore the relationship between theory and creative practice.
Professional Practice
The aim of this unit is to enable you to situate your practice and outline a clear direction for your MA studies in creative direction for fashion. Facilitated through industry collaboration (analysis and reflection of an existing campaign or fashion rebrand and transformation), this unit runs simultaneously alongside the Research & Critical Enquiry unit.
Research & Critical Enquiry
The aim of this unit is that through research, critical enquiry and understanding of a range of cultural, social economic and industry contexts, will inform and enhance your project development.
During term two you begin developing your MA project, evaluating and testing out the aims of your proposal over a sustained period of self-directed study.
Creative Concept Development & Consolidation
The skills, knowledge and critical perspectives acquired during previous units will support and inform the design and modification of your creative concept. The body of work will be appropriate for an intended market, target consumer and/or brand, and will clearly demonstrate creative vision in depth and scope; from brand work to book design, photography to film, editorial to exhibition.
In the third term of the course, you'll apply the knowledge gained through your research to create a final body of work.
Final Project Resolution & Promotional Launch
A culmination of your MA studies and work completed in the previous units. You will realise and present (on relevant platforms), a 'no holds barred', current creative concept and promotional launch strategy which clearly demonstrates key skills in art and design practice, visual communication and identity, and relevant industry collaboration (as appropriate).
Tuition fees - 2023 entry
UK students:
Integrated Pre-Masters course - £10,500
MA course - £10,500
EU students:
Integrated International Pre-Masters course - £10,500 (see fee discount information)
MA course - £10,500 (see fee discount information)
International students:
Integrated International Pre-Masters course (30 weeks) - £17,500
Integrated International Pre-Masters course (15 weeks) - £8,750
MA course - £17,500
Additional course costs
In addition to the tuition fees there may be other costs for your course. The things that you are likely to need to budget for to get the most out of a creative arts education will include books, printing costs, occasional or optional study trips and/or project materials. These costs will vary according to the nature of your project work and the individual choices that you make.
Further information
For more detailed information about our course fees and any financial support you may be entitled to please see our fees and finance pages.
The fees listed here are correct for the stated academic year only. Costs may increase each year during a student's period of continued registration on course in line with inflation (subject to any maximum regulated tuition fee limit). Any adjustment for continuing students will be at or below the RPI-X forecast rate.
To support our students and alumni to progress to the next level of study, we have developed a new range of fee discounts across a range of courses.
Course specifications
Please note, syllabus content indicated is provided as a guide. The content of the course may be subject to change in line with our Student Terms and Conditions for example, as required by external professional bodies or to improve the quality of the course.
Students at UCA Epsom have access to campus printmaking workshops with dedicated technical support, campus photographic studios with lighting rigs, green screen lighting set up and digital media suites equipped with Macs and PCs, programmed with specialist design software. There is an extensive library on campus with publiactions, magazines and journals for your studies.
View 360 virtual tour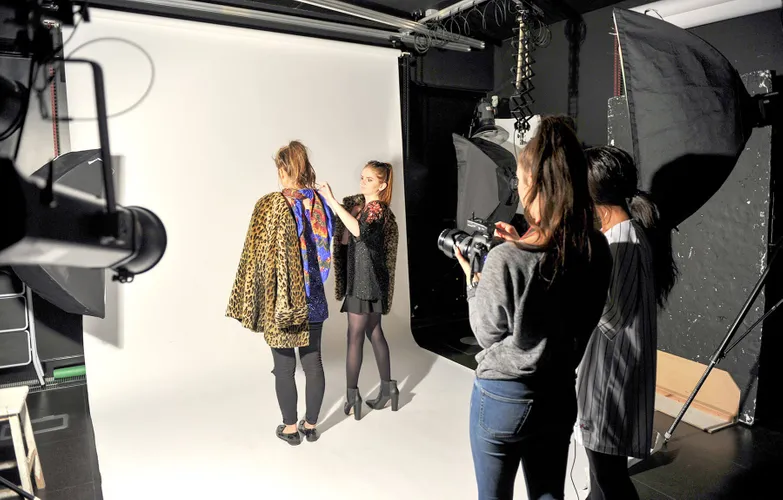 Photograhy studios, UCA Epsom
Digital Media suites, UCA Epsom
Print studios, UCA Epsom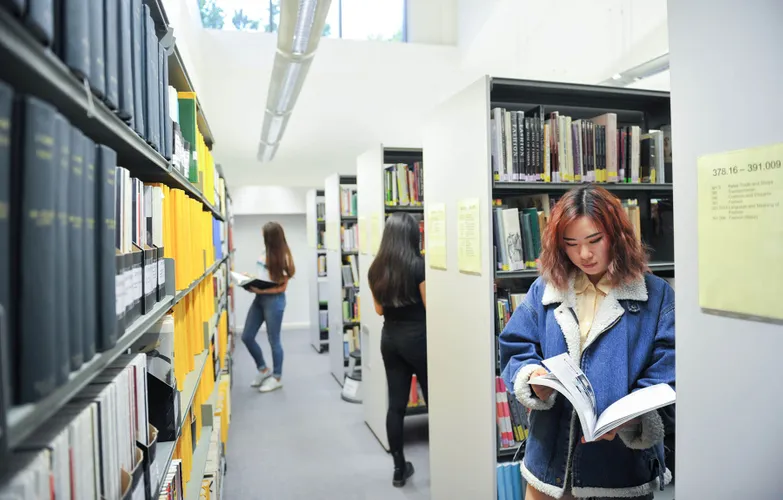 Library, UCA Epsom
Entry requirements
MA course
An honours degree or equivalent qualification in the subject or a related discipline
and/or
Relevant work experience, demonstrating your ability to study at postgraduate level.
Consideration will also be given to applicants who can make a strong case for admission in relation to a particular project and can demonstrate their potential to satisfactorily complete the course.
Check the equivalent qualifications for your country and the English language requirements:
Any additional entry requirements listed in the UK requirements section, e.g., subject requirements, work experience or professional qualifications, also apply to international applicants applying with equivalent qualifications.
MA course with Integrated International Pre-Masters course
A recognised bachelor degree or 3 year diploma with a strong portfolio in a relevant subject.
Don't meet the international entry requirements or English language requirements?
You may be able to enter the course through the following entry pathways:
MA course
MA course with Integrated International Pre-Masters course
For these courses, we'll need to see your visual or written portfolio for review. We'll invite you to upload your portfolio online via your Applicant Portal – further information will be provided once you have applied. If you would prefer to meet the Academic Team in person for a review of your work on campus, this can also be arranged for you.
Please use the following fields to help select the right application link for you: