Creative Computing
BSc (Hons)
Course overview
Create and shape the world around you through coding and digital technology on our BSc (Hons) Creative Computing degree course at UCA Canterbury.

With the skills you gain, you'll be able to forge careers in a range of industries, from architecture to games and app design.

This is a project-based course that encourages learning through making. You'll hone your skills through a blend of cutting-edge digital research and practical applications, including 3D printing, Virtual and Augmented Reality, and electronics.

You'll gain an understanding of the designer's role in society and learn how creative computing can work as a catalyst for change in one of the fastest-growing sectors of the global economy.

And because this course runs as part of our School of Architecture, you'll be able to work alongside other students and tutors and broaden your knowledge and experience of making, fabricating and spatial thinking.
Apply now through Clearing
| | |
| --- | --- |
| Length of study | 3 years full-time |
| Campus | Canterbury |
| Entry requirements | 112 UCAS tariff points |
| Course entry options | Sept 2021 |
| UCAS institution code | C93 |
| UCAS code | W290 |
Course details
Creative Thinking
The successful creative coder will need to be comfortable and competent in communicating ideas to clients and colleagues alike. Here, you'll begin to develop your skills through sketching, drawing and making workshops designed to enhance your conceptualisation and presentation skills.
Context & History
This is a lecture and seminar series introducing you to the core history of coding culture, theories and key players. This unit will serve as a platform for your continued research into convergent and multidisciplinary practice models.
Screen Space
Complementing the earlier Creative Thinking unit, you'll be introduced to key skills in 2D graphic asset development and presentation in a more digital space, utilising industry-standard software.
Creative Coding 01 (Lexicon)
You'll explore the structures and vocabulary of contemporary programming languages and learn about the cognitive and structural foundation to all future code-based work. You'll be introduced to key mathematical and syntactic paradigms which are present in all major programming languages.
Hardware Hack
An introduction to electronics, material and mechanical systems through toy/hardware hacking and physical computing, this unit will kick-start ideas around "adaptive re-use" for digital technology, focusing specifically on circuit building, power sources, sensors, as well as key electronic tools and equipment.
Creative Coding 02 (Objects)
This unit challenges you to think about systems of agency and authentic experience in the context of programming for human scale spatial intervention. Here, you'll develop a deeper understanding of writing code and negotiating the complexities of data exchange and control.
Context & Theory
This is a seminar-based research unit aimed at the development of case studies of Human-in-the-loop, and Human Computer Interaction examples and theories.
CoLAB 01 (Diverse Practice)
You'll be introduced to broad concepts of design practice and business management, including tendering, pitching, fees, production planning and presentation. This unit focuses on group work, engendering and nurturing key skills in team-based projects and highlighting the importance of leveraging individual strengths to maximise collective productivity. You'll also have the opportunity to work with fellow students across the disciplines of architecture and design.
Fabricate
You'll learn about the key skills and knowledge in digital fabrication software and technology. The unit foregrounds the manifold opportunities presented by combining rapid prototyping through 3D printing, CNC and laser cutting, with autonomous or networked embedded code applications.
Study Abroad (Optional)
This optional unit will allow you to spend a period of time in an overseas educational institution.
Pitching and Prototyping
This is a speculative unit which aims to engage you with emergent and future focused technologies, such as virtual reality, spatial scanning, cybernetics, wearable computing and robotics.
Research Thesis
A substantive research unit, culminating in the production of a written dissertation or project and report.
CoLAB 02 (Entrepreneurial Practice)
Developing a strong sense of self and individual style is a big part of how a course can prepare you for the workplace. This unit provides the space for you to define and communicate your individuality as a Designer and Coder, as well as highlight your specific skills and areas of speciality.
Major Project
A student initiated synoptic unit which gives you complete ownership of the conceptualisation, research, development and deployment of a project, supervised through weekly tutorials by our team of industry experienced tutors.
This course offers the opportunity to study abroad for part of your second year. To find out more about studying abroad as part of your course please see the Study Abroad section:
Tuition fees
The course fees per year for 2021 entry are:
UK students - £9,250

EU students - £9,250 (see fee discount information)

International students - £16,950 (standard fee)

International students - £16,270 (full early payment fee)
The course fees for 2022 entry will be available here shortly.
Additional course costs
In addition to the tuition fees please see the additional course costs for 2021 entry. The details for 2022 entry will be available here in due course.

Further information
Find out more about our course fees and any financial support you may be entitled to:
These fees are correct for the stated academic year only. Costs may increase each year during a student's period of continued registration on course in line with inflation (subject to any maximum regulated tuition fee limit). Any adjustment for continuing students will be at or below the RPI-X forecast rate.
Course specifications
Please note, syllabus content indicated is provided as a guide. The content of the course may be subject to change in line with our Student Terms and Conditions for example, as required by external professional bodies or to improve the quality of the course.
This course has open plan studio spaces offer a flexible learning environment, used for tutorials and independent working, and fully equipped Mac and PC computer labs with software for design and coding. We also offer room scale, multi-user VR and tracking equipment, as well as laser cutters, 3D printers, CNC milling and injection moulding equipment and small-scale robotics through our purpose built FabLAB and TrakLAB. The campus also has a 3D workshop with machines for working in wood, metals, plastics and ceramics.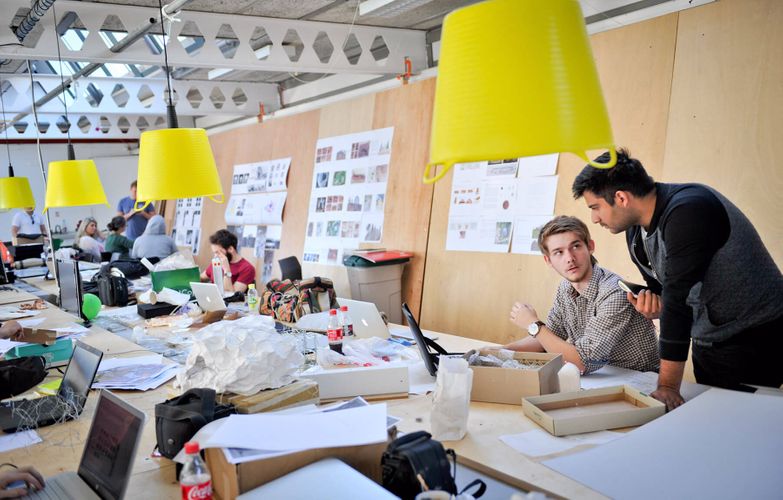 Architecture studios, UCA Canterbury
FabLab, UCA Canterbury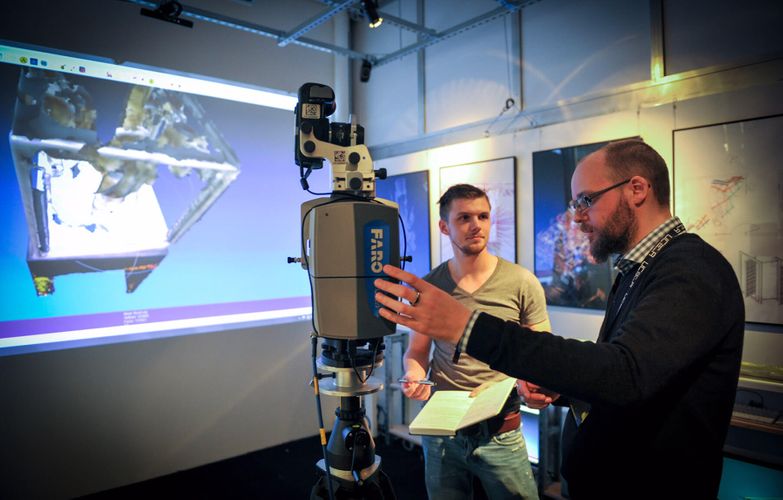 Architecture TRAK Lab, UCA Canterbury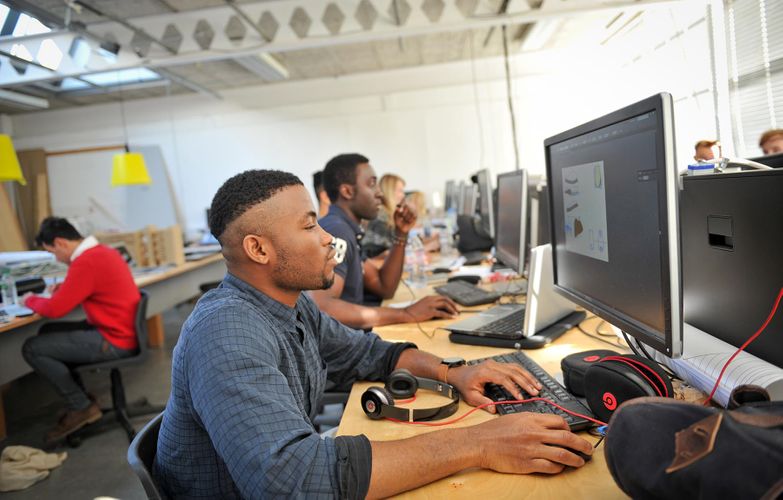 Digital media suite, UCA Canterbury
Course connections
The course has a growing network of international industry and research contacts across a range of scales and disciplines of practice.
This includes digital artists and innovators such as London-based creative technology studio The Workers and interactive studio Running In The Halls, makers and spatial practitioners Between Art and Technology (BAT) Studio, world-renowned designers Jason Bruges Studio, and 3D pioneers ScanLAB Projects.
The course also has links to individuals and teams in the indie app and games development sector, as well as larger commercial entertainment and games design companies such as SONY Interactive Entertainment Europe, and Rockstar North.
Graduates of this course will find that their skillset and training will empower them to find job opportunities in a wide range of careers and sectors including:
Digital Entertainment
Digital Fabrication
Interactive Media
App Development
Web Services
Robotics
Cybernetics
Games and Entertainment
Experience Design.
Graduates of this course may wish to consider opportunities for further study on one of our postgraduate courses.
Morgan Ruffell
"My favourite thing is the integration with the School of Architecture, alongside the software, hardware and resources that are available to us. You can collaborate with other courses to create amazing projects."
Entry requirements
The standard entry requirements* for this course are:
One of the following:
112 new UCAS tariff points, see accepted qualifications
Pass at Foundation Diploma in Art & Design (Level 3 or 4)
Distinction, Merit, Merit at BTEC Extended Diploma / BTEC National Extended Diploma
Merit at UAL Extended Diploma
112 new UCAS tariff points from an accredited Access to Higher Education Diploma in appropriate subject
27-30 total points in the International Baccalaureate Diploma with at least 15 IB points at Higher level, see more information about IB entry requirements.
And four GCSE passes at grade A*-C and/or grade 4-9 including English (or Functional Skills English/Key Skills Communication Level 2).
Other relevant and equivalent Level 3 UK and international qualifications are considered on an individual basis, and we encourage students from diverse educational backgrounds to apply.
*We occasionally make offers which are lower than the standard entry criteria, to students who have faced difficulties that have affected their performance and who were expected to achieve higher results. We consider the strength of our applicants' portfolios, as well as their grades - in these cases, a strong portfolio is especially important.
To view the equivalent entry requirements for your country please select it in the list below.
For this course, you'll be required to submit an online portfolio via your UCA Applicant Portal. As this course attracts applicant from a wide range of backgrounds, there is no rigid portfolio requirement but it is your opportunity to show us what you are currently working on or projects you have previously completed. This may be in the form of a traditional work, or could also be entirely digital. Further information on how to compile and upload your portfolio will be provided once you have applied. If you receive an offer, you'll be invited to attend an Offer Holder Webinar where you can meet the course team and learn more about the course.
UK applications
Apply for full-time study - starting September 2021:
International & EU applications
Apply for full-time study - Year 1 - starting September 2021:

Apply for full-time study - Year 2 - starting September 2021:
If you're interested in joining Year 3 of this course, please contact our International Admissions Team on +44 (0) 1252 892838 or internationaladmissions@uca.ac.uk
When to apply:
We are still accepting applications for 2021 entry - get your application in now.
If applying directly to us, you can apply throughout the year but we recommend you apply as early as possible so you have time to arrange accommodation and visas.
For more information visit our how to apply pages