Course overview
If you're a graphic designer, our MA degree in Interface and Interactive Design will give you the opportunity to extend your skills and become an expert in designing for digital platforms - from apps and architecture to VR and military applications.
With more industry sectors employing interactive designers, this course presents an ideal opportunity to expand your skill set and develop a specialism in this extremely sought-after area of graphic design.
Based at UCA Farnham, you'll learn the fundamental skills you need to forge a career in fields from systems design to branding, and develop market insights and in-depth knowledge of User Experience. Your studies will culminate in a final project that challenges you to design your own product and 'take it to market'.
Course details
The content of the course may be subject to change. Curriculum content is provided as a guide.
Get ready for your chosen postgraduate course with this preparatory year of specialist study. With a mix of online and face-to-face learning, UCA's Integrated Pre-Masters is designed to give you insight into the study skills required to complete a Master's, within the context of your creative subject. You'll build skills in autonomous learning, forming your own targets and goals, honing your research skills, time management and professional practice.
For our students coming from a non-UK educational background, UCA has launched an Integrated International Pre-Masters year. On this course you'll prepare for postgraduate study with a mix of online and face-to-face learning that will give you the study skills required to complete a Master's, and you'll also improve your English for academic study.
You'll undertake the following units during your year of study.
Interface design
You will will explore the key tenets of interface design, exploring typography, system design, branding, grid structures and associated software.
User Experience design
In this unit, you will explore narrative, storytelling and audiences. It is an opportunity for you to develop, explore and analyse technology and psychology, and its relationship with human interaction.
Market insights
Taking a chosen area of study – which will form the basis for your final major project and take into consideration your career or further study aspirations – you will complete an extensive market research project to gain insights and understanding. You will have the opportunity to pitch your ideas and research insights to industry experts or potential investors.
Final major project
Using the information and insights gained from the previous unit, you will complete an in-depth study, with the aim for you to "go to market" with your products upon graduation.
Tuition fees - 2023 entry
UK students:
Integrated Pre-Masters course - £10,500
MA course - £10,500
EU students:
Integrated International Pre-Masters course - £10,500 (see fee discount information)
MA course - £10,500 (see fee discount information)
International students:
Integrated International Pre-Masters course (30 weeks) - £17,500
Integrated International Pre-Masters course (15 weeks) - £8,750
MA course - £17,500
Additional course costs
In addition to the tuition fees there may be other costs for your course. The things that you are likely to need to budget for to get the most out of a creative arts education will include books, printing costs, occasional or optional study trips and/or project materials. These costs will vary according to the nature of your project work and the individual choices that you make.
Further information
For more detailed information about our course fees and any financial support you may be entitled to please see our fees and finance pages.
The fees listed here are correct for the stated academic year only. Costs may increase each year during a student's period of continued registration on course in line with inflation (subject to any maximum regulated tuition fee limit). Any adjustment for continuing students will be at or below the RPI-X forecast rate.
To support our students and alumni to progress to the next level of study, we have developed a new range of fee discounts across a range of courses.
Course specifications
Please note, syllabus content indicated is provided as a guide. The content of the course may be subject to change in line with our Student Terms and Conditions for example, as required by external professional bodies or to improve the quality of the course.
This course has dedicated studios which offer spaces for group tutorials and personal working. There are campus digital media suites with Macs and PCs with latest programmes for film editing as well as general design work. There is also a modern library with a wealth of books, journals, special collections and online resources.
View 360 virtual tour
Graphics studios, UCA Farnham
Print studio, UCA Farnham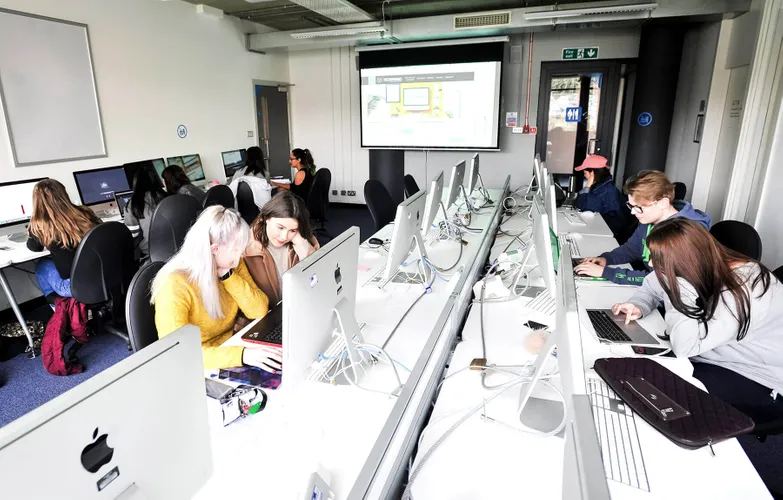 Digital Media suites, UCA Farnham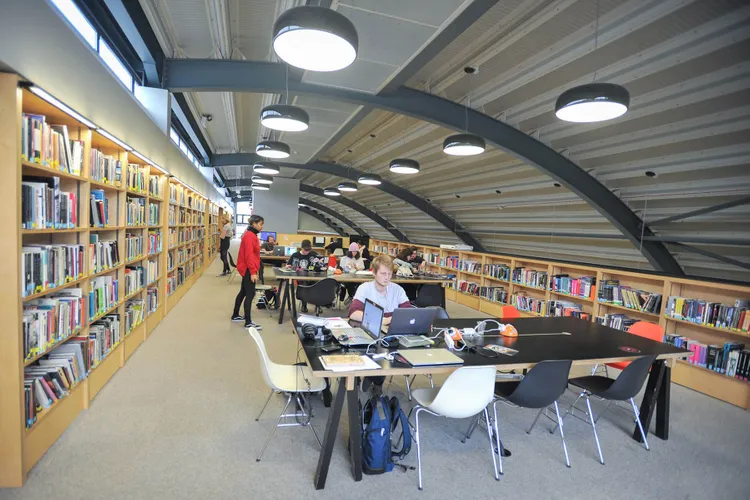 Library, UCA Farnham
Entry requirements
MA course
An honours degree or equivalent qualification in the subject or a related discipline
and/or
Relevant work experience, demonstrating your ability to study at postgraduate level.
Consideration will also be given to applicants who can make a strong case for admission in relation to a particular project and can demonstrate their potential to satisfactorily complete the course.
Check the equivalent qualifications for your country and the English language requirements:
Any additional entry requirements listed in the UK requirements section, e.g., subject requirements, work experience or professional qualifications, also apply to international applicants applying with equivalent qualifications.
MA course with Integrated International Pre-Masters course
A recognised bachelor degree or 3 year diploma with a strong portfolio in a relevant subject.
Don't meet the international entry requirements or English language requirements?
You may be able to enter the course through the following entry pathways:
MA course
MA course with Integrated International Pre-Masters course
For these courses, we'll need to see your visual or written portfolio for review. We'll invite you to upload your portfolio online via your Applicant Portal – further information will be provided once you have applied. If you would prefer to meet the Academic Team in person for a review of your work on campus, this can also be arranged for you.
Please use the following fields to help select the right application link for you: