Film & Digital Art
BA (Hons)
Course overview
We'll challenge you to push boundaries and bridge the gap between film and fine art on our BA (Hons) Film & Digital Art degree course.
Taught at UCA Farnham, you will explore the creative possibilities of moving image, photography and digital practices, and create work that responds to social, political, and cultural developments.

We'll teach you digital production skills and encourage you to work with curiosity, take risks, explore concepts and reflect critically on others' work, as well as your own.

You'll graduate with broad transferable skills that prepare you for a future in the creative industries – our graduates stand out because of their wide range of skills and ability to think beyond the boundaries of film.

The course has produced distinguished alumni and award-winners including Will McGregor, director of the BBC series Poldark, and His Dark Materials.
Please note: this course has changed it's name for 2022 entry to BA (Hons) Digital Art.
Apply now through Clearing
| | |
| --- | --- |
| Length of study | 3 years full-time |
| Campus | Farnham |
| Entry requirements | 112 UCAS tariff points |
| Course entry options | Sept 2021 |
| UCAS institution code | C93 |
| UCAS code | W690 |
Course details
You'll be introduced to key concepts of historical and contemporary visual culture, developing skills in film language, sound recording, postproduction and research.
Moving Image Culture: Understanding & Interpretation
We'll introduce you to the key concepts of historical and contemporary moving image culture. You'll become familiar with technical innovations and conceptual transformations, and will consider the ideological institutions and cultural practices that shape the production and experience of cinema, computer games and networked media – including the politics of representation.
Imagining Reality
You'll explore documentary practices as well as the representation of reality through formal approaches such as the poetic, observational, reflexive, expository and performative. You'll cover a range of diverse methodologies which challenge the notion of the real, from historical and contemporary perspectives, while developing skills in film language, cinematography, sound recording, post-production techniques and research methods.
Experimental Media
You'll be introduced to experimental film, video and sound art, and will examine the inter-relationship between experimental moving image, cinema and fine art practice. You'll produce a portfolio of experimental video and sound work, enabling you to explore theoretical concepts through practice. You'll experiment with avant-garde forms and create work that challenges conventions.
Portraits
You'll further develop your visual language and familiarity with lens-based practices by considering the core skills of photography and image manipulation. You'll explore aspects of identity and develop an awareness of the constructed nature of the 'self' in relation to gender, sexuality, socio-economic status, ethnicity and community groupings. You'll produce a series of images that create meaning through montage and sequencing, and you'll make a multi-screen moving image work.
You'll advance your practical skills and will develop your own individual style. You'll investigate the relationship between fine art practice and theory and the rapid expansion of digital technology.
Your imaginative productions might be projected installations, multiscreen work, documentary, photography, animation, dance, film or any other medium.
Cultures of Convergence
You'll investigate the relationship between contemporary art practice and theory, and the proliferation of new technologies over the past three decades. You'll expand your understanding of digital convergence, and consider the formation of new social and cultural identities under the influence of new technologies and hybridisation. You'll cover issues such as the critical approaches to new media technologies, interactive multimedia, hybrid artistic practices, post-internet art, and the construction of identity and difference in the digital age.
Innovation & Interference
We'll encourage you to be inventive and imaginative in your interpretation of conceptual themes, and to develop your critical thinking within the context of moving image and hybrid digital practices. You'll create two productions – which could take the form of expanded cinema, an experimental art piece, an installation, an expanded documentary or narrative, or a video dance composition. You'll reflect upon and refine your work, considering audience and dissemination as key factors.
Professional Toolkit
This technical skills development unit will support the ongoing development of projects during the year. You'll build on your existing skills to develop specialist knowledge of areas of moving image and digital image production. The specialist areas you choose to focus on may include digital video editing, visual effects, sound design, 3D or 2D modelling and animation, coding for interactivity, digital photography and studio production workflow.
Study Abroad (optional)
This optional unit will allow you to spend time in an overseas educational institution.
You'll showcase your skills and interests and establish your future goals by proposing your own major project to lead onto a career in the creative industries, possibly as an entrepreneur, start-up or fine artist.
Dissertation
This unit consists of a substantial period of sustained, individually negotiated research on a subject that is likely to be related to the contextual and/or theoretical concerns of your discipline or chosen area of practice, towards the provision of a structured written argument.
Resolution 1
This unit focuses on research development and pre-production. You'll demonstrate your capacity for sustained and high quality work in group and/or independent study. You'll develop a robust major project proposal and pilot outcomes – determining the subject, range and scope through supportive negotiation with your tutor. You'll pitch your idea and begin the pre-production process.
Resolution 2
You'll build upon the development of your work in Resolution 1 to produce a fully resolved body of high quality work, which you can confidently disseminate into the public domain – whether through exhibition, portfolio or other presentational form. You'll further develop an understanding of the professional context and career potential of your talents and creativity, while reflecting upon your ideas and objectives. You'll come away with a vibrant portfolio of work and a clear idea of your future goals.
This course offers the opportunity to study abroad for part of your second year. To find out more about studying abroad as part of your course please see the Study Abroad section:
Tuition fees
The course fees per year for 2021 entry are:
UK students - £9,250

EU students - £9,250 (see fee discount information)

International students - £16,950 (standard fee)

International students - £16,270 (full early payment fee)
The course fees for 2022 entry will be available here shortly.
Additional course costs
In addition to the tuition fees please see the additional course costs for 2021 entry. The details for 2022 entry will be available here in due course.

Further information
Find out more about our course fees and any financial support you may be entitled to:
These fees are correct for the stated academic year only. Costs may increase each year during a student's period of continued registration on course in line with inflation (subject to any maximum regulated tuition fee limit). Any adjustment for continuing students will be at or below the RPI-X forecast rate.
Course specifications
Please note, syllabus content indicated is provided as a guide. The content of the course may be subject to change in line with our Student Terms and Conditions for example, as required by external professional bodies or to improve the quality of the course.
At UCA Farnham there are purpose-built film studios with dedicated technical support from industry specialists; Sound editing and mixing suites which include software such as Avid Media Composer, Symphony Nitris and Pro Tools; an on-campus media store with good supply of 16mm, super 16mm, digital HD video cameras and high-end sound recording equipment to hire and digital media suites with Macs and PCs with latest programmes for film editing as well as general design work.
Film and performance studio, UCA Farnham
Foley sound studio, UCA Farnham
Film editing suite, UCA Farnham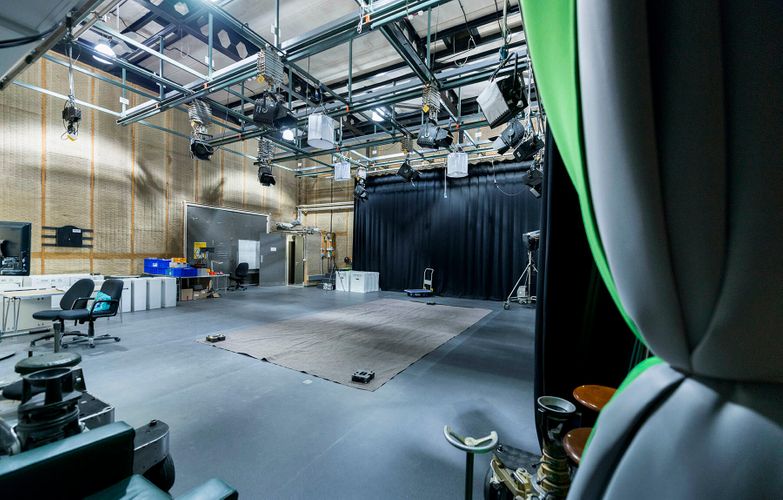 Film studio, UCA Farnham
Course connections
As a student on this course, you'll benefit from our strong industry links, which cover a broad range of sectors. We regularly host visiting lecturers who share their experiences and expertise, giving you a great opportunity to make contacts and gain invaluable insights into areas that interest you, as well as contextualise your studies. Recent guest lecturers have included:
Commercial film and video directors
Music video companies
Visual effects artists
Experimental filmmakers
Video artists.
We also have close connections with post-production facilities, games companies, production companies and art venues.
We've produced a host of distinguished alumni, including national award winners. A number of recent graduates have gone on to work on Hollywood movies, BBC television programmes, and on projects with companies such as:
Cartoon Network
Boomerang
Conran Design Group
pd3
Incentivated
M&C Saatchi Mobile
Tiger Aspect Productions
Double Negative
The Mill
Framestore
Jim Henson's Creature Shop.
Roles include film and video directors, lighting camera ops, sound ops, producers and production managers, digital film editors, digital visual effects artists, CGI animators, sound designers, games designers, phone app creators, flash animators, experimental film and video artists, installation artists and digital photographers.
Graduates have also started their own companies, with recent successes including Kode Media, Bright Stem and This Place.
Visit our 2021 grad show site to see the incredible work created by our graduating students
Visit the 2021 Gradshow
Ance Priedniece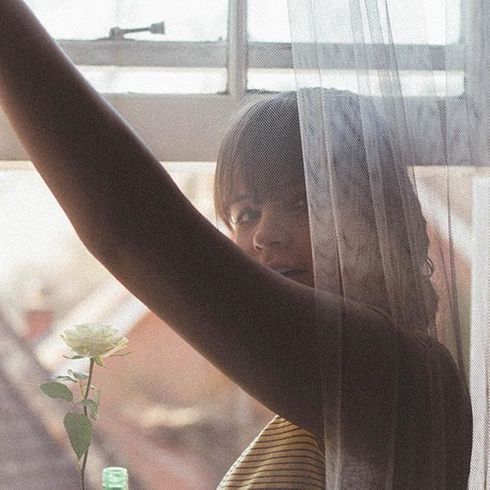 "The best part of the course is that it isn't limited and teaches skills ranging from practical workshops with cameras to editing and visual effects. It's perfect for anyone who doesn't want to limit themselves to just one aspect of the industry"
Entry requirements
The standard entry requirements* for this course are:
One of the following:
112 new UCAS tariff points, see accepted qualifications
Pass at Foundation Diploma in Art & Design (Level 3 or 4)
Distinction, Merit, Merit at BTEC Extended Diploma / BTEC National Extended Diploma
Merit at UAL Extended Diploma
112 new UCAS tariff points from an accredited Access to Higher Education Diploma in appropriate subject
27-30 total points in the International Baccalaureate Diploma with at least 15 IB points at Higher level, see more information about IB entry requirements.
And four GCSE passes at grade A*-C and/or grade 4-9 including English (or Functional Skills English/Key Skills Communication Level 2).
Other relevant and equivalent Level 3 UK and international qualifications are considered on an individual basis, and we encourage students from diverse educational backgrounds to apply.
*We occasionally make offers which are lower than the standard entry criteria, to students who have faced difficulties that have affected their performance and who were expected to achieve higher results. We consider the strength of our applicants' portfolios, as well as their grades - in these cases, a strong portfolio is especially important.
To view the equivalent entry requirements for your country please select it in the list below.
For this course, you'll be required to submit an online portfolio via your UCA Applicant Portal. We'll need to see a portfolio of work that should contain a showreel of moving images (maximum of five minutes) and/or a portfolio of visual work (photography, drawings, animations, web pages, etc.) We're always impressed by students who show self-motivated projects they're working on beyond their coursework, as this is an indication of real enthusiasm. Further information on how to compile and upload your portfolio will be provided once you have applied. If you receive an offer, you'll be invited to attend an Offer Holder Webinar where you can meet the course team and learn more about the course.
UK applications
Apply for full-time study - starting September 2021:

Apply for full-time study - starting September 2022:
International & EU applications
Apply for full-time study - Year 1 - starting September 2021:

Apply for full-time study - Year 2 - starting September 2021:

Apply for full-time study - starting September 2022:
If you're interested in joining Year 3 of this course, please contact our International Admissions Team on +44 (0) 1252 892838 or internationaladmissions@uca.ac.uk
When to apply:
We are still accepting applications for 2021 entry - get your application in now.
If applying directly to us, you can apply throughout the year but we recommend you apply as early as possible so you have time to arrange accommodation and visas.
For more information visit our how to apply pages