Course overview
Our new Studio Practice top-up course in Games at UCA Farnham will give you the chance to gain all the skills you need to progress to postgraduate study.
Ideal for international students and also suitable to UK students looking to build upon existing qualifications, this course is aligned with Year 3 of our BA and BSc Games courses, so you can progress to a Master's degree in a streamlined way.
You'll get right into the action from the start, undertaking research and practical projects, working on collaborative activities and building your skills, knowledge and confidence.
What you'll study
The content of the course may be subject to change. Curriculum content is provided as a guide.
Thesis
You'll undertake a series of a substantial period of sustained, individually negotiated research on a subject that's related to the contextual and/or theoretical concerns of your discipline or chosen area of practice.
You'll engage with a range of research skills, and develop an appropriate methodological approach, appropriate to your chosen subject area. In devising and effecting a written response to such research, you will be expected to reflect upon and articulate a clear and sustained argument that conforms to academic conventions and demonstrates an understanding of the subject area through selected, managed, and detailed analysis and evaluation.
Final Major Project: Pre-Production
This extended period of study allows you to develop a significant body of work either individually or in a group that demonstrates your skills, interests and your aspiration for your future role within the games industry. Work from this stage will make up your graduate portfolio.
You will begin this unit by developing a project proposal through which you will define the concept, scope, audience, and purpose of your Final Major Project, you will present this through a pitch to your tutors and peers. Alongside this proposal you will produce a detailed production schedule committing to project milestones.
There will be a full review of your work (as an individual or in a team) at the end of the unit. Your project at this point will not be complete but should be to an appropriate professional standard and evidence the 300 learning hours you have spent on its development during this unit.
Final Major Project
In this unit you will build upon the work you have undertaken in the previous unit to produce a fully resolved body of work, you will do this either individually or as part of a team. Through it you will demonstrate your creativity, skill, knowledge and understanding of recognised games industry practices and pipelines producing outcomes to a professional standard.
Course specifications
Please note, syllabus content indicated is provided as a guide. The content of the course may be subject to change in line with our Student Terms and Conditions for example, as required by external professional bodies or to improve the quality of the course.
Each year, we're privileged to be able to share our graduates' incredible work with the world. And now's your chance to take a look.
Visit the online showcase
Fees & funding
Tuition fees - 2024 entry
UK students:
BA (top-up) course - £9,250
EU students:
International students:
BA (top-up) course - £17,500
The fees listed here are correct for the stated academic year only, for details of previous years please see the full fee schedules.
Financial support
There are lots of ways you can access additional financial support to help you fund your studies - both from UCA and from external sources.
Discover what support you might qualify for please see our financial support information
UCA scholarships and fee discounts
At UCA we have a number of scholarships and fee discounts available to assist you with the cost of your studies.
You'll find everything you need to know for your level of study on our scholarships page.
Additional course costs
In addition to the tuition fees there may be other costs for your course. The things that you are likely to need to budget for to get the most out of a creative arts education will include books, printing costs, occasional or optional study trips and/or project materials.
These costs will vary according to the nature of your project work and the individual choices that you make. Please see the Additional Course Costs section of your Course Information for details of the costs you may incur.
Our games courses have studios with high-end PCs with Alienware towers, 4k dual screen monitors and Wacom Cintiq graphics tablets, all dedicated to games design, with software including Unity and Unreal games engines. There is also a VR development studio, and a dedicated Games Incubator Studio for graduate entrepreneurs looking to set up their own companies or looking to release games to market. In addition, our Farnham campus has sound production and Foley studios, pro tools and a specialist library.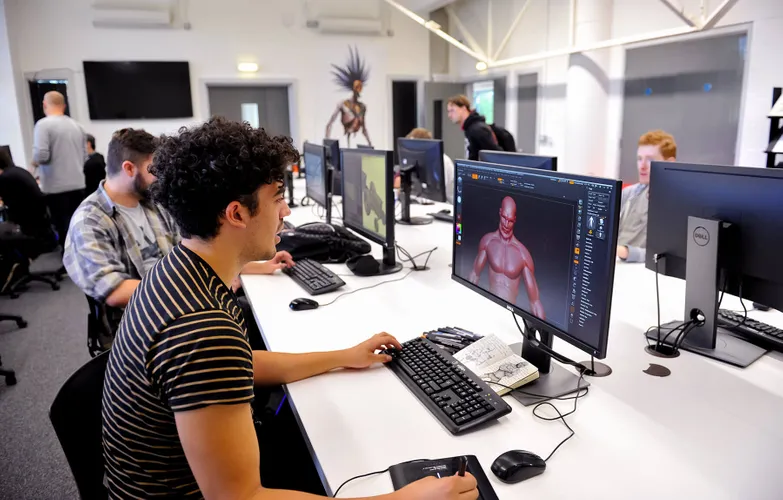 Games studio, UCA Farnham
Foley sound studio, UCA Farnham
Games studio, UCA Farnham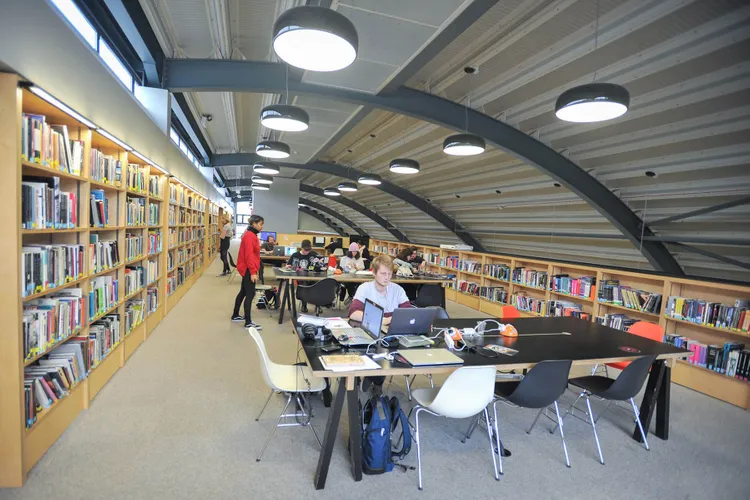 Library, UCA Farnham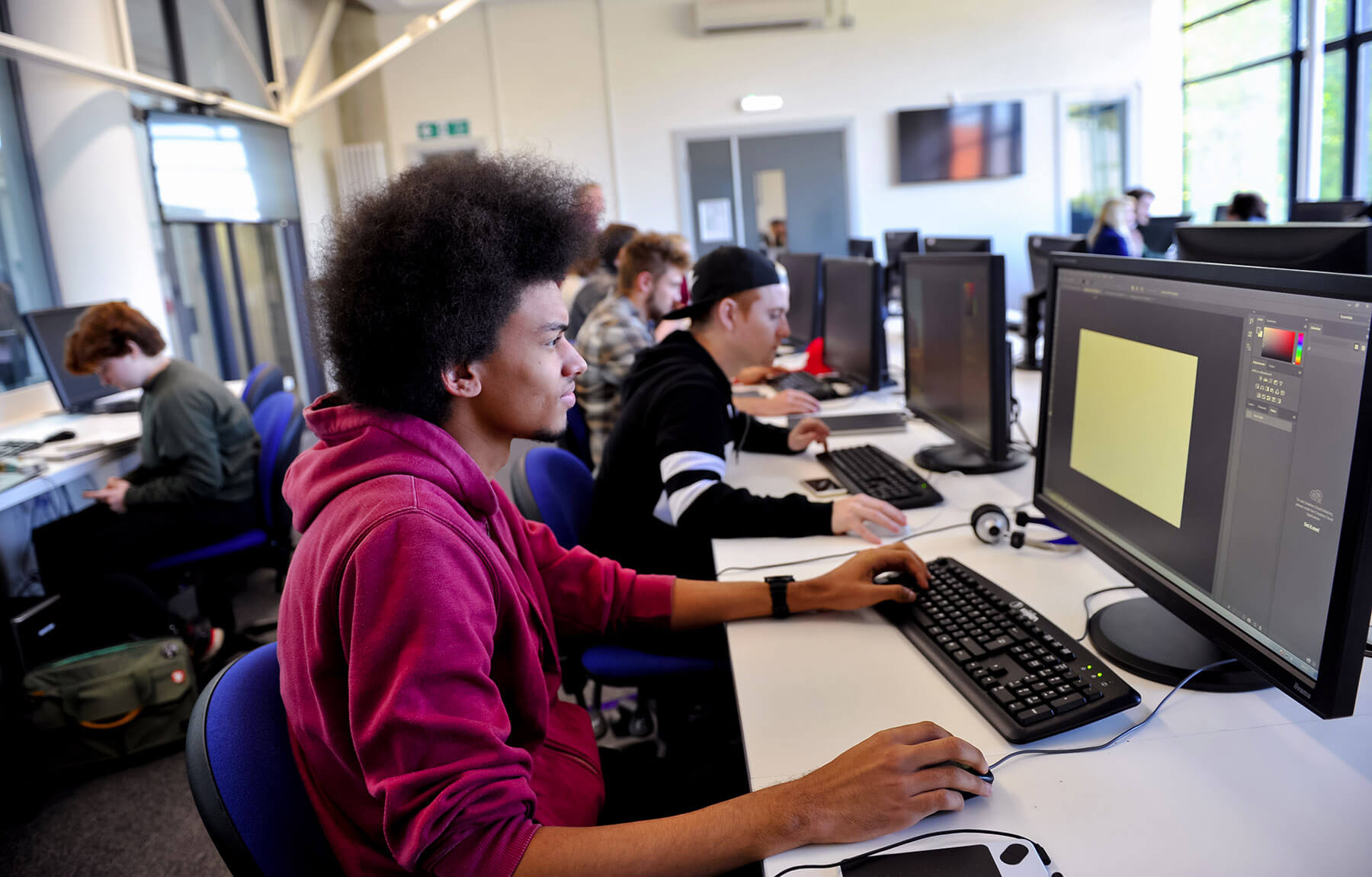 What's it like being a student at UCA?
That's a big question. Get some answers from people who are studying right here, right now.
Entry & portfolio requirements
Entry & portfolio
requirements
BA/BSc (Hons) course (top-up)
The standard entry requirements* for this course are:
240 credits from a relevant degree (120 credits at level 4 and 120 credits at level 5), with a minimum of 55% overall
Foundation Degree in a relevant subject
Higher National Diploma in a relevant subject
And/or Accreditation of Prior Experiential Learning (APEL)
In recognition that you may already have a relevant professional qualification, or appropriate working experience in the relevant industries, APEL may be accepted for entry on to the course. This will be based on the partnership articulations and will be assessed on a case by case basis.
Other relevant and equivalent Level 3 UK and international qualifications are considered on an individual basis, and we encourage students from diverse educational backgrounds to apply.
Portfolio requirements
For this courses, we'll need to see your portfolio for review. We'll invite you to attend an Applicant Day so you can have your portfolio review in person, meet the course team and learn more about your course. Further information will be provided once you have applied.
---
*We occasionally make offers which are lower than the standard entry criteria, to students who have faced difficulties that have affected their performance and who were expected to achieve higher results. We consider the strength of our applicants' portfolios, as well as their grades - in these cases, a strong portfolio is especially important.
BA/BSc (Hons) course (top-up)
The entry requirements for these courses will depend on the country your qualifications are from, please check the equivalent qualifications for your country:
Any additional entry requirements listed in the UK requirements section, e.g., subject requirements, work experience or professional qualifications, also apply to international applicants applying with equivalent qualifications.
Portfolio requirements
For this course, we'll need to see your portfolio for review. We'll invite you to attend an Applicant Day so you can have your portfolio review in person, meet the course team and learn more about your course. If you would prefer to upload a portfolio digitally, there is also the option to submit it online via your UCA Applicant Portal. Further information will be provided once you have applied.
---
English language requirements
To study at UCA, you'll need to have a certain level of English language skill. And so, to make sure you meet the requirements of your course, we ask for evidence of your English language ability, please chcek the level of English language required:
Don't meet the international entry requirements or English language requirements?
You may be able to enter the course through the following entry pathways:
Please use the following fields to help select the right application link for you: