Music Composition & Technology
BA/BSc (Hons)
Course overview
If you dream of becoming a film or gaming composer, a Foley artist or music producer, our BA/BSc (Hons) Music Composition and Technology course at UCA Farnham will give you all the skills and knowledge you need.

The BA route of this course explores music composition and sound design in relation to forms such as film and animation, while the BSc route concentrates on technical knowledge and understanding.

You'll pick your route in the second year, but whichever you choose, you'll be supported and guided by our team of tutors and expert staff, and use both modern and traditional tools to hone your skills.

You'll also get the opportunity to work with students on UCA's Film, Animation, Acting and Games courses, applying your knowledge to a wide variety of projects.
Apply now through Clearing
| | |
| --- | --- |
| Length of study | Three years full-time |
| Campus | Farnham |
| Entry requirements | 112 UCAS tariff points |
| Course entry options | Sept 2021, Sept 2022 |
| UCAS institution code | C93 |
| UCAS code | W300 |
Accredited by:
Course details
Your first year of study will cover a number of areas, but integral throughout will be learning about the music industry and how to make it work for you. You'll learn about the history of sound and electronic music, learn the basics for your craft, discover how sound impacts a creative environment, and explore and apply your skills through a series of dynamic projects.
Adventures in Sound and Music (BA/BSc)
You'll be introduced to the basic concepts of creating sound and music for the screen, exploring the physical properties of sound and the technical tools required for recording and working with audio.
Exploring Narrative (BA/BSc)
This unit introduces you to narrative storytelling through music and sound, and explains how music and sound are an intrinsic part of screen-based media. As a music composer or sound designer, you will need to produce soundtracks for on-screen media for example films, animations,computer games. This unit provides an opportunity to consider appropriate forms of sound and music for different on-screen media and also explore thematic development and genre.
Sonic Art (BA/BSc)
You will explore the powerful effect of sound and music in a space or environment and consider how our interpretation and reading of sound and music changes with the environment and vice-versa. You will consider the work of artists and musicians working in this area, for example Susan Phillipsz, Janet Cardiff, Laurie Anderson and Bill Fontana. You will also start to think about the environment as a theatre for staging dramatic performances and performance work.
Studio Toolkit 1 (BA/BSc)
An introduction to the fundamental techniques and processes of audio production and engineering, you'll use a Digital Audio Workstation (DAW) to help you understand how audio engineers manipulate sound, the different ways they do it, and why.
Beats and Bleeps 1: Audio in History and Theory (BA/BSc)
You will be introduced to historical and artistic movements by examining them through key concepts and critical debates in art, media and popular music studies theory. You will also discover how technological innovation not only stimulated creativity in composition and production but in many cases became synonymous with that time.
As you continue to develop your skills, two key things happen in the second year. First, you'll decide whether you want to complete your degree as a BA, or continue it as a BSc. Secondly, you'll have an opportunity to either go on work experience, or work with UCA Acting and Performance students on a project.
Studio Toolkit 2 (BA/BSc)
Building on your knowledge of the technical implementation of audio, you will investigate how different tools can be used to solve more sophisticated audio problems. You'll explore software that enables you to work creatively in both linear and non-linear environments.
Linear Brief (BA)
You will learn how to communicate with a client and to plot a workflow, for both short and long timeframe projects, and learn about allocation of budgets – from plotting the spend on players, technology resources and composer's fees. You will critically reflect on the management of the project and the process of doing this within a given set of constraints.
Designing Interactivity (BSc)
You will explore the ways and means of creating sound and music to work in flexible, non-linear ways. You'll study the use of sound/music in interactive contexts and develop interactive media soundtrack. Building on prior work exploring narrative, you'll learn to plot and plan digital audio in creative ways. You will produce audio/music to an interactive brief, possibly through collaboration.
Sound Advice (BA/BSc)
This unit introduces you to the current working structures and operations of the UK and global music and media industries, giving insights into how music producers, film/media producers and businesses interact with each other on a creative and commercial basis. You'll explore the roles of various intermediaries that operate, and intervene, between music producers, film/media producers, the rights owners and the users/consumers.
Beats and Bleeps 2: Audio Consumption and Theory (BA/BSc)
In this unit, you will focus on developing your advanced research skills in relation to twentieth century audio and critical theory interact. Using different methods for analysis, drawing on key theories and engaging in current debates, you will understand the contexts of theory and practice through essays and in seminars. You will broaden your frame of reference by studying your practice from various perspectives and will examine such topics as representation, identity and consumption, putting your compositional and sound design work in a social and cultural context.
Self-Generated Project or Work Experience (BA/BSc)
Work Experience: You will be required to research, negotiate and undertake a legitimate self-initiated work experience/placement opportunity relevant to the music industry and to your aspirations. Alternatively, you can choose to undertake a placement on a music tour. The work experience/placement or tour should last for a minimum of two weeks or ten working days.
Or
Self-Generated Project (BA): Working in a small group, you will develop an idea that you wish to share at the point of delivery with an on-line audience, you will use your devised music or sound and record and broadcast a live event.
Or
Self-Generated Project (BSc): This unit gives you the opportunity to work collaboratively. You will devise and realise both an individual project and a group project.
Your final year of study is the culmination of your work at UCA, with two compulsory units and a choice between either a Dissertation, or completing the Practice as Research unit.
Dissertation
This unit consists of a substantial period of sustained, individually negotiated research on a subject that is likely to be related to the contextual and/or theoretical concerns of your discipline or chosen area of practice, towards the provision of structured written argument.
Or
Practice as Research
This unit consists of two elements – a 2,500-word contextual paper and an individually negotiated Music Composition or Sound Design Project which practically explores and investigates the issue, concern, practice or theory raised in your contextual paper. The research is designed for you to locate and explore your practice in a theoretical context.
The Sound Business (BA/BSc)
In this unit you'll have the opportunity to bring together all your creative projects, skills and knowledge to form a professional practice 'package' designed for music and media industry clients, customers, users and intermediaries. Once you have this you can present yourself and your music and/or media projects to the industry.
Showreel (BA/BSc)
This unit consolidates your technical knowledge and practical skills in music composition and/or sound design with your collaborative and conceptual abilities. You will build a showreel of up to 30 minutes of original work, appropriate to your chosen genre(s).
Tuition fees
The course fees per year for 2021 entry are:
UK students - £9,250

EU students - £9,250 (see fee discount information)

International students - £16,950 (standard fee)

International students - £16,270 (full early payment fee)
The course fees for 2022 entry will be available here shortly.
Additional course costs
In addition to the tuition fees please see the additional course costs for 2021 entry. The details for 2022 entry will be available here in due course.
Further information
Find out more about our course fees and any financial support you may be entitled to:
These fees are correct for the stated academic year only. Costs may increase each year during a student's period of continued registration on course in line with inflation (subject to any maximum regulated tuition fee limit). Any adjustment for continuing students will be at or below the RPI-X forecast rate.
Course specifications
Please note, syllabus content indicated is provided as a guide. The content of the course may be subject to change in line with our Student Terms and Conditions for example, as required by external professional bodies or to improve the quality of the course.
Our teaching spaces have a mixture of analogue and digital equipment. We have sound editing, recording and mixing suites with software such as Avid Pro Tools, Steinberg Dorico and Cubase, Ableton Live, Max/MSP, Logic Pro and the Vienna Symphonic Library. The media store has a good supply of equipment to hire, specialist music equipment includes: Ableton push controllers, amplifiers, midi keyboards and high quality microphones such as the Neuman U87 and AKG 414. You'll also have access to the Grove Music dictionary and Naxos Music Library.
Sound editing suite, UCA Epsom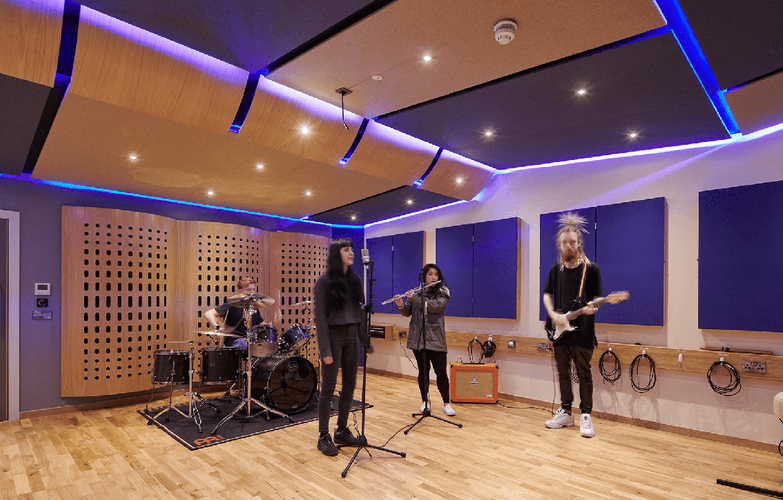 Recording studio, UCA Farnham
Pro-tools room, UCA Farnham
Foley studio, UCA Epsom
Course connections
Music is very much about collaborations and partnerships. The course has a wide and varied network of industry partners that provide us with performance opportunities, guest lectures, and work placements.
Some of our industry links include:
Audient - Mixing consoles and interfaces
ECME – Edinburgh Contemporary Music Ensemble
The Gildas Quartet - String Quartet based in Manchester and London
Lamb Films – Video and film production company based in Belfast
We Are OCA - New Music Collective
The Sonic Lodge - Recording studio in Edinburgh
Steinberg – Digital audio workstations and music notation software
Surrey Music Hub
Adventure Camera - mountain film producer Keith Partridge
SoundVaultHQ – Podcast network.
We are also an official Avid Learning Partner.
Working in sound and music often leads to a varied and interesting career, frequently moving from one field into another or using a wide range of skills on a single project. Careers directly applicable to this course include:
Composer for Moving Image
Non-linear Composer (Computer Games)
Sound Designer
Sound Artist
Orchestrator
Copyist
Music Producer
Musicologist
Music Educator
Sound Engineer
Sound Recordist.
Your BA or BSc will prepare you for a wide range of postgraduate courses. We will help you find the correct course for you and support you in your application should further study be for you.
Clayton De Haan
"The Music Composition and Technology course has already taught me many of the fundamental skills needed for being in the music industry. It is giving me a thorough knowledge of the history of music, we are taught the theory and practice for composing for moving image and we can use a variety of instruments both live and electronic"
Entry requirements
The standard entry requirements* for this course are:
One of the following:
112 new UCAS tariff points, see accepted qualifications
Pass at Foundation Diploma in Art & Design (Level 3 or 4)
Distinction, Merit, Merit at BTEC Extended Diploma / BTEC National Extended Diploma
Merit at UAL Extended Diploma
112 new UCAS tariff points from an accredited Access to Higher Education Diploma in appropriate subject
27-30 total points in the International Baccalaureate Diploma with at least 15 IB points at Higher level, see more information about IB entry requirements.
And four GCSE passes at grade A*-C and/or grade 4-9 including English (or Functional Skills English/Key Skills Communication Level 2).
Additionally applicants will normally be expected to have A level in music or music technology (or equivalent) OR Grade 5 Theory (ABRSM, LCMM, Trinity College, Rockschool or others recognised by Ofqual).
Other relevant and equivalent Level 3 UK and international qualifications are considered on an individual basis, and we encourage students from diverse educational backgrounds to apply.
*We occasionally make offers which are lower than the standard entry criteria, to students who have faced difficulties that have affected their performance and who were expected to achieve higher results. We consider the strength of our applicants' portfolios, as well as their grades - in these cases, a strong portfolio is especially important.
To view the equivalent entry requirements for your country please select it in the list below.
This course requires submission of a portfolio of musical work. We are not necessarily looking for a polished production but rather something that you feel demonstrates your musical and sonic interests. It could include a video of a performance, the music to a short film, a piece of sound design, a score, graphic score or lead sheet of original work. It could be a mix or remix in any style and might include a description of your technical or artistic process. In other words, it should represent you, your interests and your process. You will need to submit the portfolio through one of the following methods: Vimeo, Soundcloud, Youtube or Dropbox/Box/GDrive links - either public or private. If private, please include the password. We recommend you keep your work to less than 5 minutes in total.
UK applications
Apply for full-time study - starting September 2021:

Apply for full-time study - starting September 2022:
International & EU applications
Apply for full-time study - Year 1 - starting September 2021:

Apply for full-time study - Year 2 - starting September 2021:

Apply for full-time study - starting September 2022:
When to apply:
We are still accepting applications for 2021 entry - get your application in now.
If applying directly to us, you can apply throughout the year but we recommend you apply as early as possible so you have time to arrange accommodation and visas.
For more information visit our how to apply pages