Our Canterbury
accommodation
UCA Canterbury has one on-campus hall of residence - Ian Dury House and for 2022 we are delighted to announce a new partnership with a vibrant accommodation option just 20 minutes' walk from campus - Riverside Student Quarter.
You'll be in shared accommodation with single bedrooms, each of which comes with a bed, wardrobe, desk and chair - you can put your personal stamp on it with your own soft furnishings.
Read on for more details about our accommodation options.
Ian Dury House
Our purpose-built on-campus accommodation features nine flats, one of which is accessible for students with disabilities.
Each flat has six en-suite single bedrooms, with a shared kitchen and communal dining area.
View our 360-degree Virtual Tour to get an idea of the rooms you'll find at Ian Dury House.
Things to know:
Student wardens live on-site if you need help out of hours
There is no parking on-site
All bedrooms and shared areas are heated
We'll provide a vacuum cleaner, broom, dustpan and brush, and mop and bucket in each flat
You'll need to bring pots, pans, cutlery, crockery, kitchen utensils, tea towels, towels, sheets, pillow(s), and a duvet (and cover) or blankets
We operate a no-smoking policy in all our residences and buildings
Internet access is included in the residence fees.
Costs:
For 2022-2023, prices average around £150 per week and vary depending on your level of study and the location and/or type of accommodation you choose, for more details please see the full residence fees:
Kitchen, Ian Dury House
Bedrooom, Ian Dury House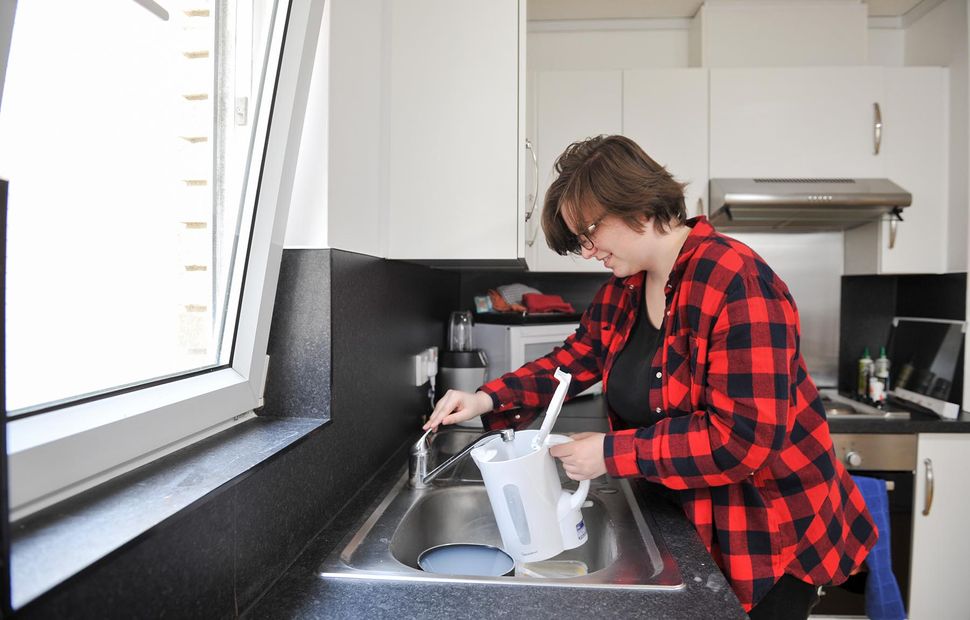 Kitchen, Ian Dury House
Bedroom, Ian Dury House
Riverside Student Quarter
UCA is delighted to announce a new partnership with a vibrant accommodation option just 20 minutes' walk from campus.
Riverside Quarter – a complex of student and private residential accommodation – is completely new, with incredible social areas and even on-site fitness facilities.
In all, UCA has acquired 120 purpose-built en-suite rooms. The rooms are part of a cluster flat of either six or eight bedrooms plus a shared kitchen space.
Each bedroom comes with a single bed, desk with draw, shelves, desk chair, pin board and desk light, two double power sockets with USB charging points, Wi-Fi/Ethernet access point, waste bin, double wardrobe, coat hooks, full length mirror and wall. Each bathroom has a shower, sink, toilet and shaver socket.
The communal kitchens contain all the appliances you need for cooking, cleaning and ironing, together with seating areas for eating and relaxing.
Outside of the flats there's a communal lounge with TV for movie and game nights, an extra communal kitchen that can be booked out, a study area with booths/desks, and a fitness suite featuring yoga mats, exercise balls and spin bikes.
There's also a communal courtyard with a games area.
Things to know
All units are self-catered
There are disabled parking spaces for blue badge holders, but no other on-site parking
There is 24-hour security, including night guards
There is an on-site laundry room for washing and drying
Costs
For 2022-2023, prices range from £155 per week to £160 per week depending on how long you need the room for. Going direct to Riverside Quarter will incur a £165 per week charge.
Riverside Student Quarter
Bedroom, Riverside Student Quarter
Kitchen, Riverside Student Quarter
Bathroom, Riverside Student Quarter
Terms &
Conditions
Click the link below to read about the accommodation agreement between us, including things like services provided, payment and responsibilities:
Find out more about accommodation and UCA Canterbury