Fashion Design students
'Starstruck' by Jason Manford
Six students from UCA Rochester's BA (Hons) Fashion Design course have designed suits for comedian Jason Manford to wear on ITV's singing contest, Starstruck.
10 Mar 2023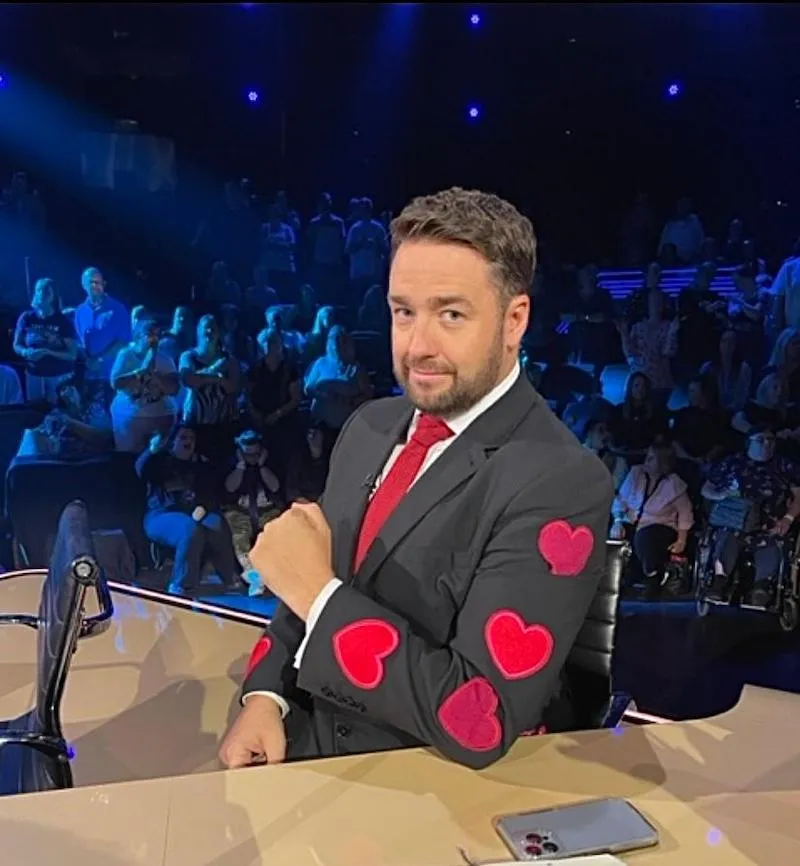 Katie Butler. Image ©ITV
Jason said in his Twitter post: "Rather than going with the famous (& expensive) designer suits every week on #Starstruck I had another idea! Why not give the opportunity to hard working fashion students to design and make suits for the telly!"
Last summer, the students started work on their designs, working closely with Jason's stylist, Tanja Martin, to present their design ideas. When the final students were chosen, they were invited to meet Jason for measuring, fittings, and to discuss their designs.
Tanja said: "I'm a big believer in the value of industry experience and I benefited from the students' levels of creativity and innovation, which is hard to come by in a lot of the menswear we see in the shops at the moment.
"They rose to the challenge, travelling long distances for fittings and making amendments to accommodate feedback, sometimes at very short notice and even coming backstage to complete needed alterations. They were a pleasure to work with and I'm so proud of what they achieved. Let's hope more people have faith in the emerging talent in the fashion industry and give new designers a chance to show them what they're capable of."
The first suit reveal came courtesy of third-year student Katie Butler.
"Because Starstruck is a singing contest the concept for my design was love and music," she said. "I was so pleased as it looked exactly as I had imagined, I appreciated all the lovely comments it received. It was Jason's idea to give students the opportunity rather than taking the usual route of high-end designer suits."
Jason took to Twitter to add: "I loved the job she did, she certainly wears her heart on her sleeve!"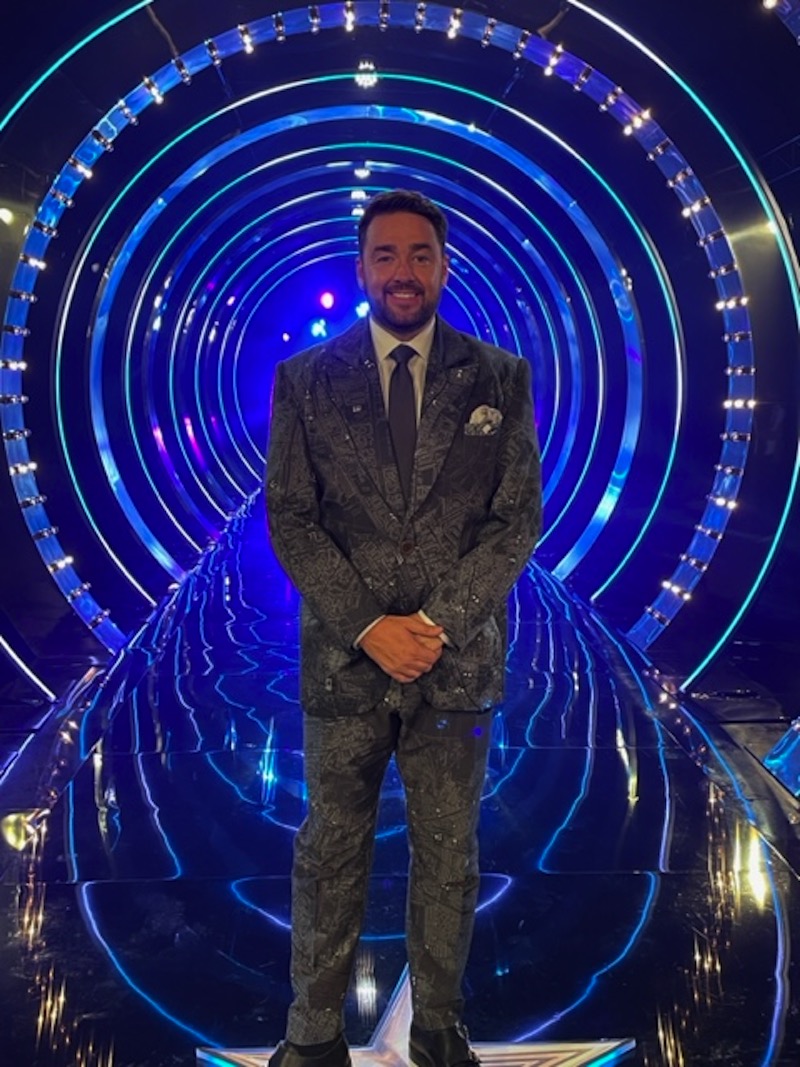 AnnaMarie's look. Image ©ITV
The second look was designed by 2022 graduate, Annamarie Wheeler. She set out to create a custom-tailored suit that resonated with Jason.
"I know he is very proud of his northern roots so, I wanted to celebrate that," explained Annamarie. "I found an old map of the greater Manchester area that I edited and reproduced. I changed the original colour to better suit him and his style and created the print for the suit. I spent time positioning the print to make sure over his heart it said 'Manchester'."
The latest outfit to be revealed on last Saturday's show, was designed by Reiss Martin, a fellow third-year student. He created an eye-catching suit inspired by ice and influenced by glam music icons such as David Bowie and Mick Jagger.
"I chose a petrol blue wool and ivory crystal appliqué to catch the studio lighting, hopefully looking impressive on camera," she said. "The jacket has a fitted silhouette with sharp, pointed peak lapels mimicking the jagged edges of ice."
Jason commented on twitter: " Another smasher of a suit."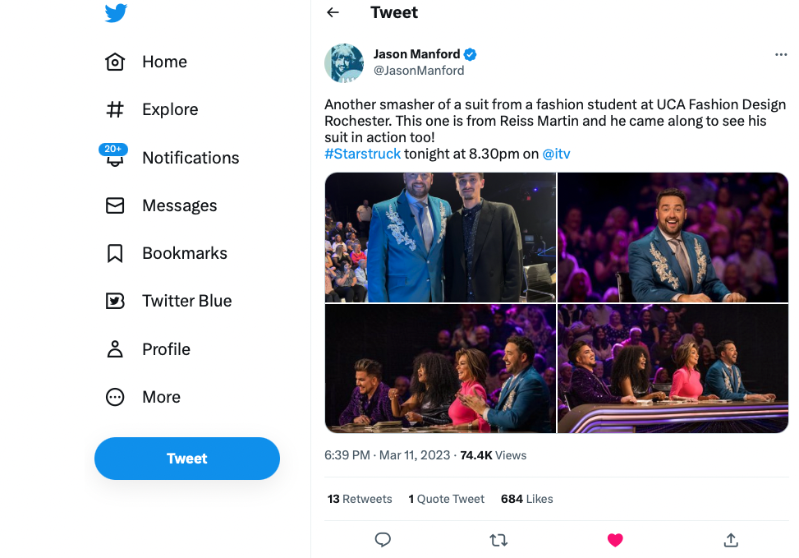 The next three UCA designers will have their work revealed throughout the show.
Andreea Colan, who cannot wait to see her suit on TV, said it felt like "a dream come true."
Third-year student Andreea chose to make a black and navy asymmetrical suit for Jason. It's inspired by the artistic decadence movement in French literature, which is associated with Baudelaire. Her look combines classic and modern, deconstructing elements of it and adding zips.
"I have no words to describe how excited I was to be chosen to work with Jason and his stylist, Tanja. It was the first time I made something from scratch to be worn for such an event. It was an amazing opportunity that helped me envision how it feels to be working in the real world."
Emma Foster, who graduated last year, has used beading to elevate her suit, a nod towards the dazzling likes of Elvis and Elton John. Her look incorporates a 'vintage' superstar aesthetic within a contemporary design.
"I took Jason's personal style and added glitz so that Jason's could shine head to toe," she explained.
"It was an amazing experience working with Jason, his stylist Tanja was a brilliant support."
Lastly, Jone Vzesniauskaite, a 2022 graduate who was brought up in Lithuania, used her in-depth knowledge of creative pattern-cutting and draping to create a unique design for dressing Jason.
Watch ITV's Starstruck on Saturday nights to see Jason reveal the next suit. . .
To learn more about studying Fashion Design at UCA, visit the course pages.