UCA helps launch campaign
to showcase advertising graduates
A new campaign to promote the skills of advertising students within the industry has been launched with the help and input of UCA advertising lecturer Mark Brill.
10 Nov 2022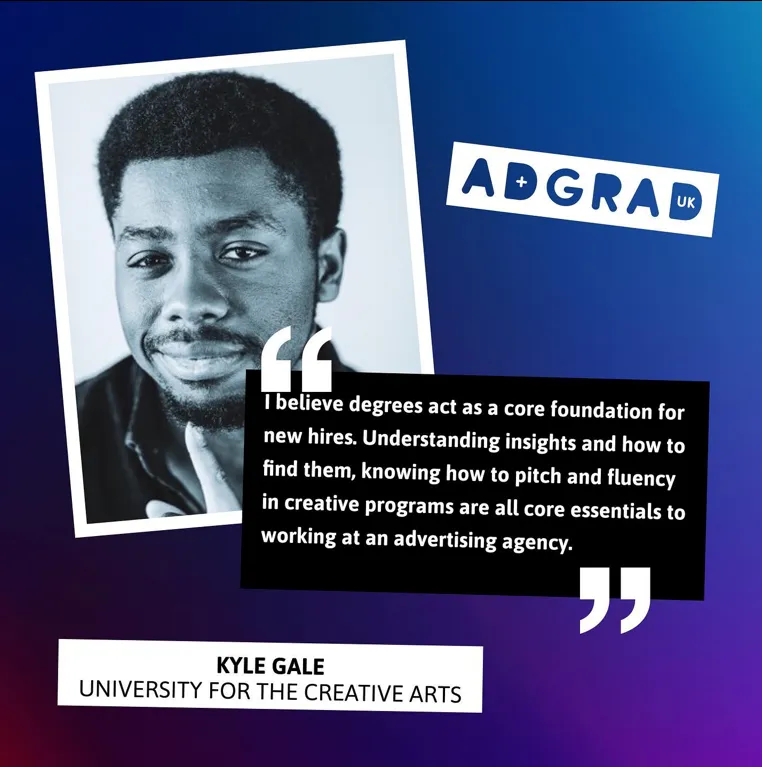 Ad Grad UK aims to showcase students' skills to the advertising and creative sectors, which, Mark and his fellow UK university lecturers believe, need a better understanding of the benefits of a university education.
"Advertising graduates have a very strong set of creative and professional skills that ensure they have the ability, knowledge, and personal qualities to successfully work not only in the advertising industry but across all areas of the creative industries," said Mark."That's what they get from being immersed in the field for three years, taught by a rich mix of current and former advertising professionals, qualified and experienced teachers, industry commentators and published academics. It's a badge of quality for the industry."
The team behind Ad Grad UK believe that an advertising degree equips graduates with much more than a portfolio. It develops a graduate's personality, resilience, and can-do attitude and makes them amazing creative thinkers, problem solvers, critical thinkers, and collaborators, not just in advertising agencies but across many different sectors. And with universities valuing diversity in all its forms, advertising students come from a variety of backgrounds and can offer employers something different.
UCA graduate Kyle Gale studied advertising at UCA and now works as a junior art director at creative agency Elvis. He said: "I believe degrees act as a core foundation for new hires. Understanding insights and how to find them, knowing how to pitch and fluency in creative programs are all core essentials to working at an advertising agency."

Mark added: "Advertising degrees are not trying to turn out cookie-cutter creatives. They focus on developing students' individuality, curiosity, and professionalism. And that's good news for the creative industries, as graduates are not just looking at the industry now but have ambitions as to be part of a diverse, creative and vibrant industry in the future."
You can find out more about Ad Grad UK on their Instagram and Twitter pages.
To learn more about studying advertising at UCA, visit the course pages.