A Journey into Archive
by Gina Pierce
An installation of textiles by Gina Pierce, UCA PhD
Event details
24 April 2023 - 24 May 2023

10:00 - 17:00 (GMT)

Link Gallery, UCA Epsom, 21 Ashley Rd, Surrey KT18 5BE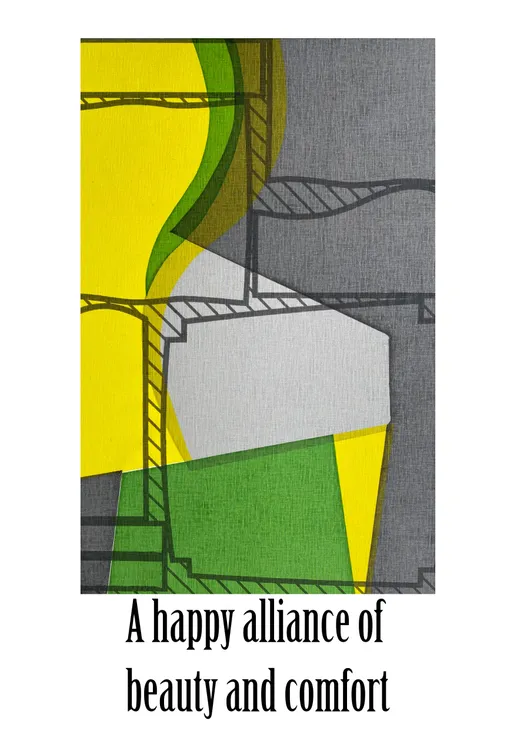 Gina Pierce's practice based PhD at UCA Farnham aimed to both highlight the contents of archives that might remain in storage for many years, and to engage wider audiences with these archives. The pieces in this exhibition have been made for the research as practice component of the PhD and they demonstrate how artefacts in the archive can be a source for new art and design work. By selecting items from the archive that had not been viewed for many years, I was able to highlight their existence by combining them together in new design work. This has been used in participatory projects to engage wider audiences and to inspire creative activities.
The case study for my PhD was the collection of the former Parker Knoll furniture company consisting of chairs, documents and for me most importantly, seven books of fabric samples. This is the archive of a very successful twentieth century furniture company, from which I selected the years 1945 - 1955 to study. The new creative work produced both by myself and participants brings new life to the archive as it becomes a source for inspiration, demonstrating the value of our historical culture.
Gina Pierce Profile
Gina completed an MA in Textiles at Central Saint Martins since when she has designed and produced printed artwork, fabrics and wallpapers, selling in Europe and the US. Her interest in using historical archives started with a project studying the Huguenot fabrics, the 'Spitalfields Silks', leading to the curation of the Fabric of the City exhibition and symposium. In 2017 she organised The Big Blanket, a charity project for Crisis at Christmas, in which volunteers created fifty blankets inspired by an antique floral textile, which when assembled recreated the floral.
Gina has been a senior lecturer at the School of Art, Architecture and Design, London Metropolitan University teaching on under-graduate degree courses for many years. Most recently, she completed her PhD at UCA Farnham, studying the use of archives to engage the public and to inspire creativity.
Instagram HERE
Website HERE