Want a career in TV?
Here's how our students get themselves in the running
Our BA (Hons) Television Production students on the perks of being based at Maidstone Studios, where they've been working on the upcoming Alan Partridge series.
05 Feb 2021
There are many roles within the world of television, and most people begin their journey building vital experience as a runner, helping out on set with anything a production's cast and crew might need. But finding that opportunity to "get your foot in the door" in the first place can be tricky.
"If you can get work experience while you're at university, then you'll graduate far better prepared," says Laura Coull, Work Placement and Production Co-ordinator for our BA (Hons) Television Production course.
This can often come down to having industry connections. Luckily, UCA's BA (Hons) Television Production students have a unique opportunity to build their knowledge AND their network at the same time.
As part of our long-standing partnership with Maidstone Television Studios, our students are based at the studios full-time throughout their degree, attending academic sessions in a dedicated learning area while getting hands-on experience on the studio floor. And last year the course was recognised as one of the best in the country for training work-ready graduates when it gained the prestigious ScreenSkills Select accreditation.
Laura works closely with the studios to help find and create placement opportunities for the students, both at the studios and beyond. Over the years, they've worked on shows like The X Factor, Blind Date, Catchphrase, Strictly Come Dancing, Watchdog, The One Show, This Morning, Take Me Out, Celebrity Juice, Don't Tell the Bride, and more.
"They gain a greater knowledge of what they want to do within the industry, and already have four or five credits under their belt by the time they graduate," she explains. "That puts them in a far better position to launch their careers."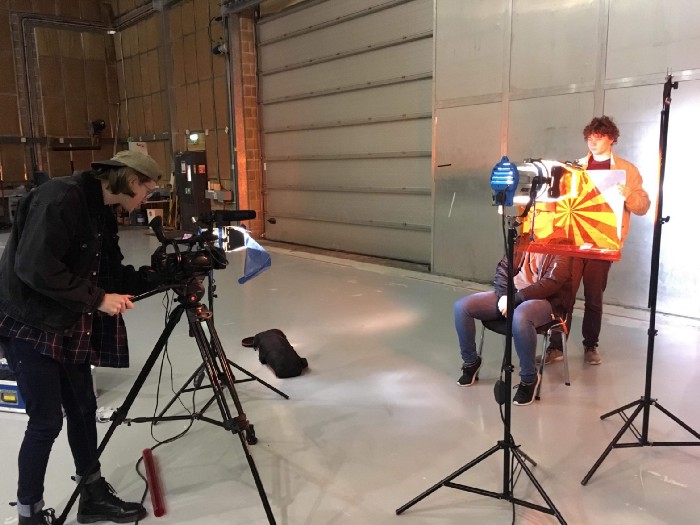 In 2020, the COVID-19 pandemic actually presented some unexpected opportunities for our students, as the start of the new academic year coincided with the resumption of filming at many studios and sets (albeit with stringent COVID safety measures in place).
So, in the autumn, Maidstone Television Studios became a hive of activity, with several exciting series' and shows starring the likes of Steve Coogan and Paddy McGuinness being filmed there. And because those production companies needed skilled assistance, all our students have been getting experience on real shows while they learn.
Most recently, they've been working on the recently-announced second season of This Time with Alan Partridge.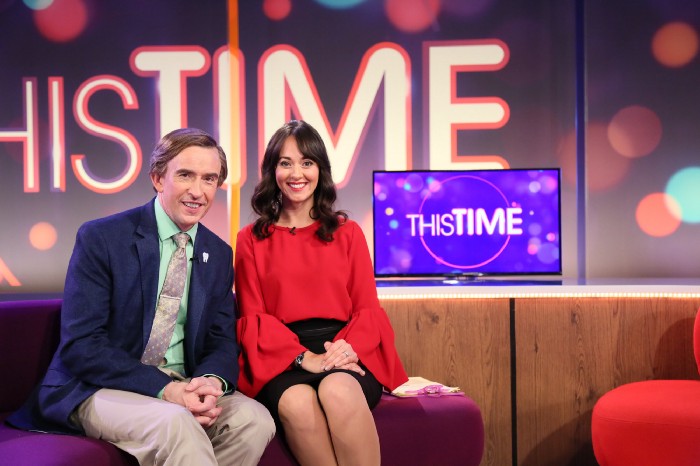 Third-year students James Hunt and Ethan Urquhart both undertook ten days' work experience as runners. By the end of his time on set, Ethan was shadowing the third assistant director.
"It was all about making sure the cast was happy, and everything ran as it should," says Ethan. "As time went on, I started to build relationships, making friends with cast and crew. I loved it."
James spent six of his ten days on location, working at various sites around Maidstone as the crew filmed external shots. "It was a great experience," he says. "The longer you're on set, the more you're trusted just to get things done. I was surprised by two things — firstly, how quickly things happen. And secondly, the attention to detail that goes into sets and props."
As well as revealing the realities of working on a major show, the experience helped James and Ethan evaluate their own career aspirations.
"When I started this course, I wanted to be a cameraperson. But as the course has gone on, I've discovered how much I enjoy the producing side of things," says Ethan, who has recently applied for the prestigious Channel 4 Production Trainee Scheme. "It's been a complete change of heart. My work experience showed me how interesting the assistant director's role is, so I definitely want to explore that further."
James still wants to become a director but says his work experience has opened his mind. "I've discovered there's so much more you can do. I'd really like to explore the props and set design side of the industry, for example. I joined this course because of the amazing work experience opportunities, and I'm so glad I did."
To find out more about the course, visit the BA (Hons) Television Production course page.
You can watch Season 1 of This Time with Alan Partridge on BBC iPlayer now.