Course overview
If you want to expand your understanding of moving image beyond conventional film, then our MA Experimental Film course at UCA Farnham will give you the knowledge, insight and tools to create exciting new work.

This one year, full-time course will support your development as a creative moving image expert, expanding the boundaries of your thinking and practice and advancing your visual and research interests.

Led by internationally renowned staff and inspired by an exciting range of prominent visiting artists and theorists, you'll work with both 16mm equipment and digital techniques to produce the stylised films and moving image pieces you really want to make. Along the way, you'll build a deeper understanding of global perspectives on experimental film as you study the ideas, methods and works of some of the leading proponents of the craft.

You do not need to have prior formal filmmaking training to undertake this course – we welcome students whose creativity demonstrates visual, intellectual and emotional engagement, and who are open to experimental and unexpected ways of thinking.
Please note: this course is suspended for September 2022 entry.
A one-year course of advanced study for furthering your research skills and specialising within your discipline.
A year-long preparatory course of study to ready you for your Master's, developing your specialist skills, research acumen and confidence in working autonomously.
A year-long preparatory course of study to ready you for your Master's in the UK, developing your English speaking and writing together with your specialist skills, research acumen and confidence in working autonomously.
Apply now
Course details
The content of the course may be subject to change. Curriculum content is provided as a guide.
Get ready for your chosen postgraduate course with this preparatory year of specialist study. With a mix of online and face-to-face learning, UCA's Integrated Pre-Masters is designed to give you insight into the study skills required to complete a Master's, within the context of your creative subject. You'll build skills in autonomous learning, forming your own targets and goals, honing your research skills, time management and professional practice.
For our students coming from a non-UK educational background, UCA has launched an Integrated International Pre-Masters year. On this course you'll prepare for postgraduate study with a mix of online and face-to-face learning that will give you the study skills required to complete a Master's, and you'll also improve your English for academic study.
Practice & Context: History of Experimental Film
You will be introduced to the key work, ideas and debates in experimental film, linking these filmmaking and critical practices to contemporary issues in visual and material culture.
You will learn the critical, analytical and evaluative skills needed to prepare you for the development of your major project and to start to situate your practice and your filmmaking voice.
As part of this unit, you will research a topic in experimental film practice that speaks to your personal interests and enhances your understanding of both your practice and its contexts. You'll present your findings as a portfolio of visual research work that aims to support the development of your practice.
The specific content of lectures, seminars and workshops will vary from year to year in order to reflect changes in subject approaches and discourses. A variety of artists and teachers will contribute to the teaching of the unit to ensure that you are exposed to current debates and practitioners.
Making Techniques
You will be challenged to develop your curiosity, knowledge and technical ability within your own filmmaking process. A series of practical workshops will offer opportunities to explore various methods and approaches used in contemporary practice.
You will produce short experimental works exploring using both analogue and digital forms. Developing your skills in research and development will be a part of this unit, requiring documented evidence to be presented alongside your films in the form of a reflective research journal or blog.
Project Development & Distribution
This unit is built around the creative, organisational and technical processes of the first steps in developing your major practical project. You will embark on this with a project proposal and development plan.
You will also be expected to research and evidence an understanding of dissemination strategies for contemporary moving image media working with people and institutions outside of the university. Your research experience of onsite and online events, festivals, street art and gallery installations, will enable you to refine your projects contextual setting and contemporary site.
Final Major Project
In this unit, your investigation and interrogation of critical discourse, practice and research will contribute to the formulation of your major project, continuing from Project Development & Distribution. Your voice as an artist and filmmaker and the context your work creates are the key attributes of your final project.
You will be expected to reach beyond the current boundaries/notions of 'experimental film' and look forward to developing technologies and dissemination strategies in the pursuit and realisation of your project. Developing agility and versatility alongside your practical skills, continuing to develop your reflective practice with an informed and decisive approach. This practice will address the intellectual, aesthetic, social and technical processes involved.
The unit will also prepare you with learning and skills development around your preparation for a career in the creative industries, exhibition of the final work will be undertaken in a venue/setting appropriate for the form, ending the course being confident in your position as a filmmaker and artist.
Tuition fees - 2022 entry
UK students:
Integrated Pre-Masters course - £10,500
MA course - £10,500
EU students:
Integrated International Pre-Masters course - £10,500 (see fee discount information)
MA course - £10,500 (see fee discount information)
International students:
Integrated International Pre-Masters course - £17,500
MA course - £17,500
The fees for 2023 entry will be available here in due course.
Additional course costs
In addition to the tuition fees there may be other costs for your course. The things that you are likely to need to budget for to get the most out of a creative arts education will include books, printing costs, occasional or optional study trips and/or project materials. These costs will vary according to the nature of your project work and the individual choices that you make.
Further information
For more detailed information about our course fees and any financial support you may be entitled to please see our fees and finance pages.
The fees listed here are correct for the stated academic year only. Costs may increase each year during a student's period of continued registration on course in line with inflation (subject to any maximum regulated tuition fee limit). Any adjustment for continuing students will be at or below the RPI-X forecast rate.
To support our students and alumni to progress to the next level of study, we have developed a new range of fee discounts across a range of courses.
Course specifications
Please note, syllabus content indicated is provided as a guide. The content of the course may be subject to change in line with our Student Terms and Conditions for example, as required by external professional bodies or to improve the quality of the course.
Filmmaking facilities include purpose-built film studios with dedicated technical support from industry specialists. Sound editing and mixing suites which include software such as Avid Media Composer, Symphony Nitris and Pro Tools. Digital media suites with Macs and PCs with latest programs for film editing, and an on-campus media store with good supply of digital HD cameras as well as 16mm and super 16mm cameras and high-end sound recording equipment to hire.
Film studio, UCA Farnham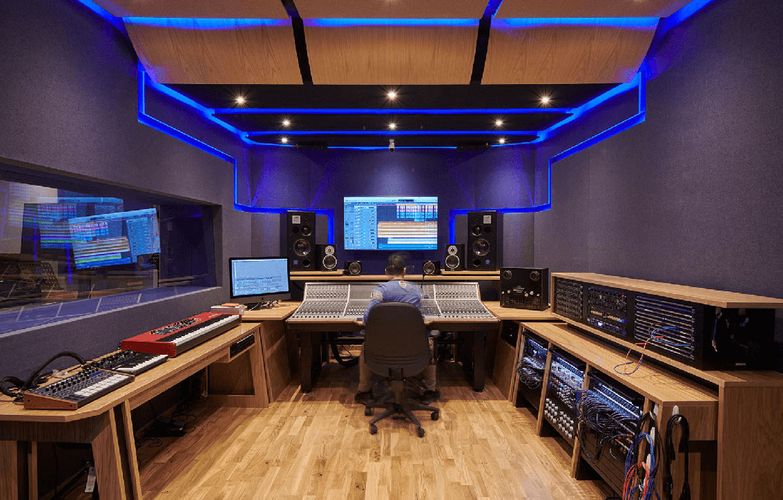 Editing suite, UCA Farnham
Film & Media centre, UCA Farnham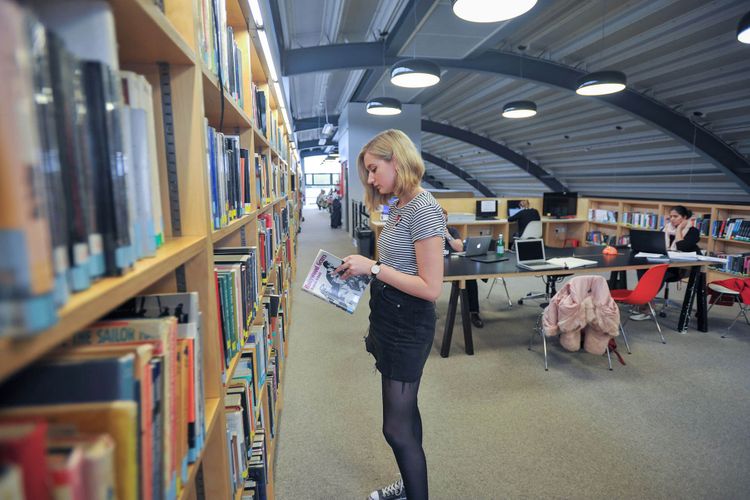 Library, UCA Farnham
Entry requirements
MA course
An honours degree or equivalent qualification in the subject or a related discipline
and/or
Relevant work experience, demonstrating your ability to study at postgraduate level.
Consideration will also be given to applicants who can make a strong case for admission in relation to a particular project and can demonstrate their potential to satisfactorily complete the course.
---
MA course with Integrated Pre-Masters course
MA course with Integrated International Pre-Masters course
A recognised bachelor degree or 3 year diploma with a strong portfolio in a relevant subject.
Don't meet the international entry requirements or English language requirements?
You may be able to enter the course through the following entry pathways:
UCA International Foundation courses
MA course
MA course with Integrated Pre-Masters course
MA course with Integrated International Pre-Masters course
For these courses, we'll need to see your visual or written portfolio for review. We'll invite you to upload your portfolio online via your Applicant Portal – further information will be provided once you have applied. If you would prefer to meet the Academic Team in person for a review of your work on campus, this can also be arranged for you.
Please use the following fields to help select the right application link for you: