Interior Architecture & Design
BA (Hons)
with or without Professional Practice Year or International Year (optional)
Course overview
Discover how to use your design skills to shape and improve people's everyday lives on our highly-respected BA (Hons) Interior Architecture and Design course at UCA Farnham.
You'll develop high-level technical drawing and making skills by working on projects from idea to completion, and build an in-depth understanding of the ways in which interiors impact individuals and societies. At the same time, you'll explore historical and contemporary practices and concepts.
Based within our School of Craft & Design, you'll work closely with our team of respected academics and designers as you develop your personal style. You'll also have plenty of opportunities to make the most of our established professional links as you take part in off-site workshops at leading design agencies, and work on industry project briefs.

Taught within a unique craft and design community, this hands-on course also offers access to exceptional facilities including glass, ceramics, metalwork, woodwork, textiles and digital making studios.
Apply now through Clearing
| | |
| --- | --- |
| Length of study | 3 years full-time or, 4 years full-time with Professional Practice Year/International Year |
| Campus | Farnham |
| Entry requirements | 112 UCAS tariff points |
| Course entry options | Sept 2021 |
| UCAS institution code | C93 |
| UCAS code | W251 |
| UCAS code for course with Professional Practice | W254 |
Course details
Interior Practice Process 1
You'll be introduced to fundamental design processes from concept to outcome, learn about research methods and explore visual communication techniques. You'll learn about historical and contemporary practice, building your skills and confidence so you can begin experimenting with different approaches.
Contextual Studies 1
Through a series of illustrated lectures and seminars, you'll be introduced to a range of historical and contemporary contexts beyond your own subject. We'll encourage you to think across disciplines and help you build the broad contextual framework you'll need to create innovative work. You'll also develop structured narratives that analyse and evaluate specific examples of crafts and/or design.
Interior Practice Process 2
Building on Interior Practice Process 1, you'll test and develop your skills and material knowledge, enhancing your design ideas, processes and understanding. You'll study people's relationships to space to help inform your design decisions, and introduce graphic communication techniques into presentations and photo collages into your site contexts.
Interior Practice Process 3
Developing your skills in the range of processes, materials and structures you explored in previous units, you'll extend your understanding of the context of your work through relevant design practice and thinking. This will refine your ability to respond to project briefs with creativity and confidence.
Interior Practice Exploration 1
You'll work on individual and team project briefs that extend and develop your conceptual thinking and design proposals, while demonstrating your decision-making skills and industry awareness.
Contextual Studies 2
Objects and environments are fundamental to our understanding of the world. This unit will introduce you to a range of contexts that demonstrate the importance of meaning, and how it can be used to create and express value within design practices.
Interior Practice Exploration 2
Exploring projects in further detail, you'll consider how a concept develops through to realisation. You'll also demonstrate your knowledge of technical drawing, scale model creation, joints and junctions, material efficiency and orthographic drawing, producing detailed design drawings and models at scales from 1:20 through to full size.
Interior Practice Exploration 3
You'll have the opportunity to develop work in response to a live industry brief, resulting in a full-size built environment. You will be encouraged to develop and refine your team working skills, as well as individual approaches to research, designing and making. You'll also reflect on what you explored in Year two.
You may opt to apply for the version of this course that includes an additional 'Professional Practice Year'.
This means that, in year three, you'll take up a work placement with a subject-appropriate employer to further develop your skills and CV.
Please note: If you are an international applicant, you will need to enrol onto the course titled 'Interior Architecture & Design BA (Hons) with Professional Practice Year'. It will not be possible to transfer onto the Professional Practice Year route after enrolment.
On this course, you'll have the opportunity to add a year of study at an overseas institution (either a higher education establishment or a workplace).
This optional year is designed to broaden your educational experience and deepen your understanding of cultural diversity, allowing you to study within a different cultural context and gain fresh perspectives.

Studying abroad can be a life-changing experience. Living in another country, you'll experience new places, people, cultures and possibilities. You'll develop sought-after employability skills such as independence, motivation and – depending on where you go – a working knowledge of another language. You will return to complete your degree with all the benefits of the international year experience.
To find out more about studying abroad as part of your course please see the Study Abroad section: Study abroad information
The International Year is not available to students enrolled onto the Professional Practice Year route.
Professional Practice and Portfolio
In a lecture series based on the Royal Institute of British Architects' "Stages of Work", you learn about the professional development of a design project. In lectures and tutorials, you'll explore how to create a portfolio of work, curriculum vitae and letter of application, and learn helpful interview techniques.
Contextual Studies 3
You'll conceive, develop and construct portfolio of contextual research that's meaningful to you. This will inform, enhance and reflect upon your practice, critically engage with a range of contextual and theoretical frameworks, and support the positioning of your practice in relation to past, present and possible future work.
Final Major Project
The purpose of this unit is for you to produce a graduate major project from a self-initiated brief (within a given framework) that realises your individual potential. You'll be offered a selection of topics and sites of a high-level of architectural quality that help provide a stimulating design challenge.
Tuition fees
The course fees per year for 2021 entry are:
UK students - £9,250

EU students - £9,250 (see fee discount information)

International students - £16,950 (standard fee)

International students - £16,270 (full early payment fee)
If you opt to study the Professional Practice Year, you will be required to pay a reduced tuition fee for that year. This fee will be set by the government in their funding regulations. Based on current regulations, we expect this to be a maximum of 20% of the tuition fee rate that you will be charged for your second year of study. You will also incur additional travel and accommodation costs during your Professional Practice year. The University will provide you with further advice and guidance about this.
The course fees for 2022 entry will be available here shortly.
Additional course costs
In addition to the tuition fees please see the additional course costs for 2021 entry. The details for 2022 entry will be available here in due course.
Further information
Find out more about our course fees and any financial support you may be entitled to:
These fees are correct for the stated academic year only. Costs may increase each year during a student's period of continued registration on course in line with inflation (subject to any maximum regulated tuition fee limit). Any adjustment for continuing students will be at or below the RPI-X forecast rate.
Course specifications
Please note, syllabus content indicated is provided as a guide. The content of the course may be subject to change in line with our Student Terms and Conditions for example, as required by external professional bodies or to improve the quality of the course.
Our on-site facilities include studios for personal and group working, workshops featuring 3D printing, laser cutter, circular and band saws, a planer/thicknesser, belt sanders, drilling machines and vacuum forming equipment, laser and plasma cutters, and spot-welding equipment.
There are also digital media suites with graphic design and computer-aided design (CAD) programmes, and a well-stocked library with a wealth of relevant books, journals, and online resources.
Interior Architecture & Design studios, UCA Farnham
3D workshops, UCA Farnham
Interior Architecture & Design studios, UCA Farnham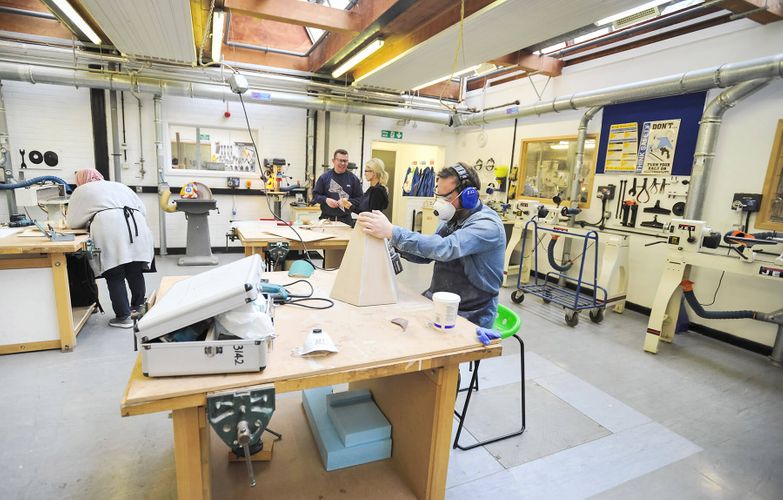 Materials 3D wokshop, UCA Farnham
Course connections
We've established a range of strong industry connections, and the companies that often employ our students complete work for household names, including:
Aston Martin
Jaguar
Mercedes-Benz
BBC
Virgin
AT&T
The V&A
Science Museum
Imperial War Museum
Karen Millen
All Saints
H&M
Selfridges
Harvey Nichols
Hotel Chocolat
Ritz-Carlton
Four Seasons
JW Marriot.
Recent guest lecturers have included:
Sarah Page – founder, Sarah Page Studio
Steve James-Royle – Founder, The Yard Creative
Julie Glass, designer
Lillie Cannings – designer, Modus
William Warren – lecturer and founder of a furniture and product design consultancy
Adrian Caddy – founder, Greenspace
Siu-Lan Choi – creative director, Household
Nina Eklund – design manager, Marks & Spencer
Carl Turner – founding director, Carl Turner Architects
Peter Higgins – creative director, Land Design Studio
Jason Bruges – founder and creative director, Jason Bruges Studio
Matthew Cripps – architectural and interior designer, Stedman Blower Architects.
Recent graduates have secured positions in a wide range of design areas such as retail leisure (restaurant, cafés, bars), exhibitions and events, offices and conferences, hotels and clubs, residential, cruise ships and transportation, film sets and computer animation.
Some of our alumni also go on to postgraduate study in design management, sustainable design or film set design.
Virtual Grad Show
Walk through the virtual end of year show to view the work from the graduating students
View the virtual show
Helena Masat
"The course helped us to explore a variety of different aspects of design, such as modelmaking, construction regs, technical drawing and spatial design. We also expanded our design ideas by using other facilities on campus such as craft workshops"
Entry requirements
The standard entry requirements* for this course are:
One of the following:
112 new UCAS tariff points, see accepted qualifications
Pass at Foundation Diploma in Art & Design (Level 3 or 4)
Distinction, Merit, Merit at BTEC Extended Diploma / BTEC National Extended Diploma
Merit at UAL Extended Diploma
112 new UCAS tariff points from an accredited Access to Higher Education Diploma in appropriate subject
27-30 total points in the International Baccalaureate Diploma with at least 15 IB points at Higher level, see more information about IB entry requirements.
And four GCSE passes at grade A*-C and/or grade 4-9 including English (or Functional Skills English/Key Skills Communication Level 2).
Other relevant and equivalent Level 3 UK and international qualifications are considered on an individual basis, and we encourage students from diverse educational backgrounds to apply.
*We occasionally make offers which are lower than the standard entry criteria, to students who have faced difficulties that have affected their performance and who were expected to achieve higher results. We consider the strength of our applicants' portfolios, as well as their grades - in these cases, a strong portfolio is especially important.
To view the equivalent entry requirements for your country please select it in the list below.
For this course, you'll be required to submit an online portfolio via the UCA Applicant Portal. This should include work demonstrating your approach to art and design, sketching, photography, modelmaking, concept development, computer graphics, and 2D and 3D processes. Once you have applied, we'll send you further information on how to put your portfolio together and upload it. If you receive an offer, you'll be invited to attend an Offer Holder Webinar, where you can meet the course team and learn more about the course.
UK applications
Apply for full-time study - starting September 2021:
International & EU applications
Apply for full-time study - Year 1 - starting September 2021:

Apply for full-time study - Year 2 - starting September 2021:
If you're interested in joining Year 3 of this course, please contact our International Admissions Team on +44 (0) 1252 892838 or internationaladmissions@uca.ac.uk
When to apply:
We are still accepting applications for 2021 entry - get your application in now.
If applying directly to us, you can apply throughout the year but we recommend you apply as early as possible so you have time to arrange accommodation and visas.
For more information visit our how to apply pages
UK Applications
Apply for full-time study - starting September 2021:
International Applications
Apply for full-time study - starting September 2021:
When to apply:
We are still accepting applications for 2021 entry - get your application in now.
If applying directly to us, you can apply throughout the year but we recommend you apply as early as possible so you have time to arrange accommodation and visas.
For more information visit our how to apply pages