Interior Architecture & Design
BA (Hons)
Course overview
Our BA (Hons) Interior Architecture and Design degree will give you the skills to match your imagination as you explore the potential of underused or unused spaces and places.
We want to challenge you to create solutions to transform underused spaces using traditional and emerging technologies. We want you to question and experiment.
This course, taught at UCA Canterbury, aims to transform you into a versatile, innovative and entrepreneurial graduate.

You'll achieve this through work on innovative design briefs and collaborations with other students around the campus, particularly in the first year, when you'll study alongside students on our BA (Hons) Architecture course.

Design projects will be delivered within a design studio system, in teaching groups of around 15 students. Each group will be led by a member of staff, with projects informed by the tutor's own design practice or research.
Apply now through Clearing
| | |
| --- | --- |
| Length of study | 3 years full-time |
| Campus | Canterbury |
| Entry requirements | 112 UCAS tariff points |
| Course entry options | Sept 2021, Sept 2022 |
| UCAS institution code | C93 |
| UCAS code | W252 |
Course details
The first year is designed to challenge your understanding of Interior Architecture and Design. Projects introduce ways of recognising the relationships between the human body and the built environment, considering how your work impacts upon people and beginning to understand your social responsibilities as a designer.
You'll be taught alongside students of BA (Hons) Architecture following a shared programme of study.
Year 1 allows familiarity with the teaching and learning methods used across the course and the facilities available on campus.
By the end of the year, you'll have gained the depth of knowledge to complete and present a simple design programme drawing on a variety of cultural and technical influences and data sources. And you'll have utilised several techniques for communication as well as appreciated their cultural significance.
Projects 01
You'll explore fundamental issues, processes, skills and tools that will be relevant in your studies in architecture, focusing on design in relation to the human body. You'll explore the role of architecture in defining our spaces and experiences, as a means by which the body might be guided through site-specific design proposals.
Projects 02
The content and themes of the previous unit will be synthesised through the design of a small building. You'll be encouraged to think about the way in which all journeys are articulated through space and time. You'll also consider the activities of users in your design projects, as forms of journey that suggest particular sequencings and programming of spaces.
Communication
This unit introduces you to representation as a critical practice. An understanding of the status of modes and techniques of representation in analysis and design development will be of central importance. You'll learn a range of techniques in the context of a number of projects, supported by lectures and seminars, which will provide cultural and technological contexts for your production.
Technology
Through the use of materials, the unit introduces you to some aspects of technology associated with the built environment and to their relationships with design as both a process and an outcome.
Cultural context 01
This unit explores the study of the histories and theories of architectural and spatial design, aiming to address the ways in which designed spaces, buildings and cities are situated culturally and providing you with the tools of analysis and interpretation needed to make informed readings of your environment.
You'll develop your understanding of the processes around the fabrication of elements by taking part in
live projects.
You'll develop your knowledge of materials and fabrication processes through the design, representation and construction of an element in a site-specific location.
You'll also develop your own design brief around issues of conservation.
Design projects will be delivered within a design studio system, with teaching given to groups of approximately 15 students. Each group is led by a member of staff and is explicitly informed by their design practice/research.
Projects 03
We'll introduce you to ways of understanding the relationships between the subjective idea (representation) and the physical process of making and installing the idea (realisation). We'll discuss processes, theories and methodologies of fabrication.
Projects 04
You'll look at the concept of design activism and develop this to a 'design as activism' agenda. You'll articulate a critical political position in relation to a site and context for the project. This will usually be selected by the studio group and often relates to live projects or sites that teaching staff are involved with.
Creative Practice
This unit is designed to provide an overview of the range of professional practices, established and emergent, within the field of interiors. You'll be introduced to a range of topics: business (including marketing and advertising), economics, law and legal, management, media, systems and operations, design strategies, and professional conduct. This is in addition to a series of talks related around the RIBA stages as they apply to interiors: pre-agreement, ideas-design, pre-construction, and construction and completion.
Cultural Context 02
This unit is chiefly concerned with theory, specifically the ways in which (design) theories have been made operational through (design) propositions.
Study Abroad (optional)
This optional unit is designed to broaden your educational experience and to deepen your understanding of cultural diversity.
You'll build on the experience and skills you've already developed. The third year offers you the opportunity to undertake a self-initiated design project that lasts the entire year.
During this time, you'll set your own agenda, conducting in-depth contextual research within a shared research theme.
Design projects will be delivered within a design studio system, with teaching given to groups of approximately 15 students. Each group is led by a member of staff and is explicitly informed by their design practice/research.
Projects 05
You'll have the opportunity to undertake an extended piece of interiors design work, synthesising knowledge and understanding gained in the first two years of the course. Typically, studio groups set a research theme and site or sites for the year, and individual students develop their own agendas for design and design research within this context.
Cultural context 03
You'll develop a range of research skills appropriate to your chosen topic. A series of lectures and seminars will introduce you to established research techniques and methodologies. You'll undertake research into your chosen topic, supervised by an allocated member of staff, and present your findings as either a written thesis or a research project.
Professional Practice
This will be your chance to demonstrate your individual creative identity aligned to your career aspirations. The vehicle for doing this will be through the production of a signature portfolio, consolidating the knowledge and skills you've gained on the course.
This course offers the opportunity to study abroad for part of your second year. To find out more about studying abroad as part of your course please see the Study Abroad section:
Tuition fees
The course fees per year for 2021 entry are:
UK students - £9,250

EU students - £9,250 (see fee discount information)

International students - £16,950 (standard fee)

International students - £16,270 (full early payment fee)
The course fees for 2022 entry will be available here shortly.
Additional course costs
In addition to the tuition fees please see the additional course costs for 2021 entry. The details for 2022 entry will be available here in due course.
Further information
Find out more about our course fees and any financial support you may be entitled to:
These fees are correct for the stated academic year only. Costs may increase each year during a student's period of continued registration on course in line with inflation (subject to any maximum regulated tuition fee limit). Any adjustment for continuing students will be at or below the RPI-X forecast rate.
Course specifications
Please note, syllabus content indicated is provided as a guide. The content of the course may be subject to change in line with our Student Terms and Conditions for example, as required by external professional bodies or to improve the quality of the course.
There are open plan studio spaces for each year of the course, used for group tutorials and personal working. Facilities for the course include: laser cutters, 3D printers, virtual reality lab, 3D workshop with machines for working in wood, metals, plastics and ceramics and fully-equipped computer studios with Macs and PCs programmed with software for design and animation.
Course studios, UCA Canterbury
FabLAB, UCA Canterbury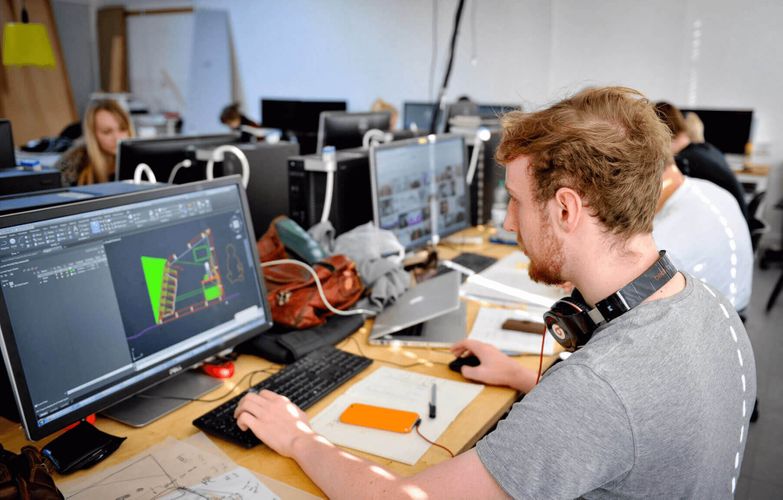 Digital suites, UCA Canterbury
Virtual Reality lab, UCA Canterbury
Course connections
You'll be fully immersed in the architecture and design industries through live projects. In the past these have included work with the leading London architecture firm AKT II, global design and architecture firms such as HOK and SOM, local government organisations and architecture companies in Margate and Folkestone. You'll also have the opportunity to enter industry competitions.
As part of their professional studies, all of our third year students are given placements in leading architecture and design companies, such as:
Platform
Bompas and Parr
Piercy and Co
Harvey and John
Grimshaw
Hawkins Brown
Jason Bruges Studio.
Our graduates are equipped to pursue a host of design roles, and many of our alumni work for global design and architecture firms, but also smaller regional UK design companies. As well as the more standard careers in interior design and architectural design, we facilitate a wide range of specialisms that reflect individual interests.
These can open up potential future careers in:
Product design
Lighting design
Set design and fabrication
Arts delivery
Events organisation
Branding
Employment in the emerging high-tech and coding markets.
Visit our 2021 grad show site to see the incredible work created by our graduating students
Visit the 2021 Gradshow
Sophia Clunies-Ross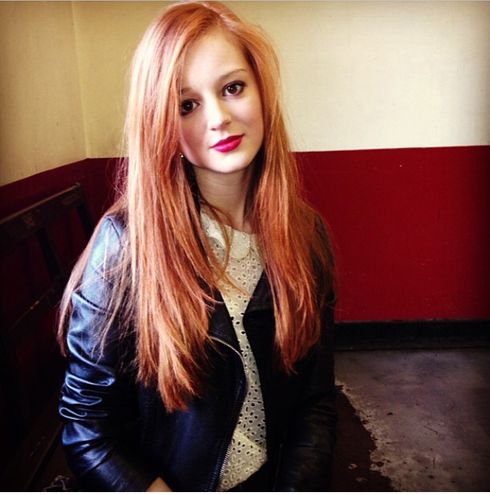 "I think that we're very lucky with the facilities; I've had the opportunity to work with many different mediums including clay, wood, laser cutter, and 3D printing. I really like the support network that is created by the university. "
Entry requirements
The standard entry requirements* for this course are:
One of the following:
112 new UCAS tariff points, see accepted qualifications
Pass at Foundation Diploma in Art & Design (Level 3 or 4)
Distinction, Merit, Merit at BTEC Extended Diploma / BTEC National Extended Diploma
Merit at UAL Extended Diploma
112 new UCAS tariff points from an accredited Access to Higher Education Diploma in appropriate subject
27-30 total points in the International Baccalaureate Diploma with at least 15 IB points at Higher level, see more information about IB entry requirements.
And four GCSE passes at grade A*-C and/or grade 4-9 including English (or Functional Skills English/Key Skills Communication Level 2).
Other relevant and equivalent Level 3 UK and international qualifications are considered on an individual basis, and we encourage students from diverse educational backgrounds to apply.
*We occasionally make offers which are lower than the standard entry criteria, to students who have faced difficulties that have affected their performance and who were expected to achieve higher results. We consider the strength of our applicants' portfolios, as well as their grades - in these cases, a strong portfolio is especially important.
To view the equivalent entry requirements for your country please select it in the list below.
For this course, you'll be required to submit an online portfolio via your UCA Applicant Portal. We may ask you for an online portfolio comprising design or art projects. If you're not currently studying art or design, you could include other material – such as written work or photography – to demonstrate your creative potential. Further information on how to compile and upload your portfolio will be provided once you have applied. If you receive an offer, you'll be invited to attend an Offer Holder Webinar where you can meet the course team and learn more about the course.
UK applications
Apply for full-time study - starting September 2021:

Apply for full-time study - starting September 2022:
International & EU applications
Apply for full-time study - Year 1 - starting September 2021:

Apply for full-time study - Year 2 - starting September 2021:

Apply for full-time study - starting September 2022:
When to apply:
We are still accepting applications for 2021 entry - get your application in now.
If applying directly to us, you can apply throughout the year but we recommend you apply as early as possible so you have time to arrange accommodation and visas.
For more information visit our how to apply pages