UCA's starring role in
Netflix's Heartstopper
Smash hit teen series Heartstopper is back – and the University for the Creative Arts (UCA) has a starring role!
21 Aug 2023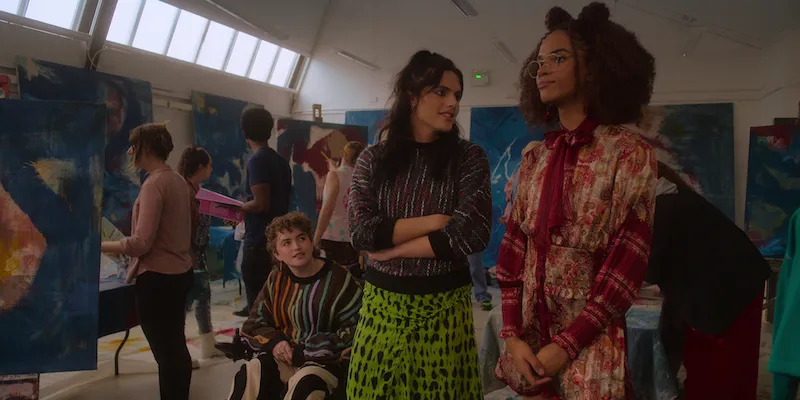 Heartstopper is a joyous, unabashed coming-of-age, and romantic comedy-drama, following a group of teenagers as they navigate school, first love, friendship, coming out, and mental health. It's based on the bestselling graphic novel series by the same name, by award-winning author Alice Oseman, and the first season topped the Netflix charts in 54 countries.
Filming at UCA's Farnham campus took place in October 2022 across four days, during which time the campus was transformed into the Lambert School of Art, where one of the show's main characters, Elle (Yasmin Finney) attends an Open Day and art exhibitions. Elle is accompanied by some of her friends, including Charlie (Joe Locke), Nick (Kit Connor), Tao (William Gao), Darcy (Kizzy Edgell), and Tara (Corinna Brown). As well as returning familiar faces, Elle makes new friends in Season 2. In scenes shot at UCA, Elle meets Naomi, played by Bel Priestley, who shares her passion for art.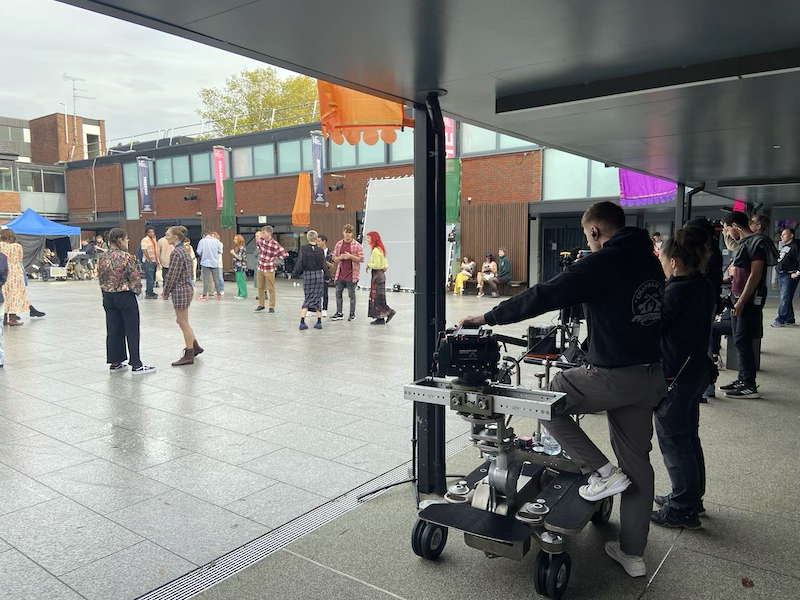 In a recent Netflix article, Elle's character is described as, 'learning to spread her wings through her passion for art' in the second season.
"Not only is she navigating the world as a trans woman, but she also knows exactly what she wants to do, and her path is set," Finney told Netflix on the set of Heartstopper last November.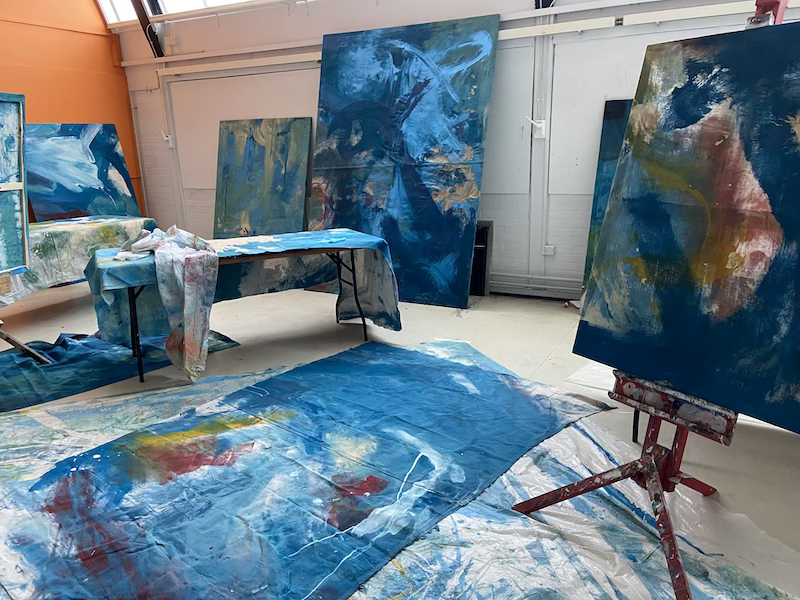 To create the Lambert School of Art, UCA's Illustration spaces were turned into an art studio, full of easels and dressed with buckets of paint, dust sheets, and large-scale paintings. UCA's James Hockey Gallery became a climate change exhibition, flanked by protest placards, large-scale climate-themed paintings, and a centrally hung Perspex installation. The same space was also hosted a 'Here and Queer' exhibition featuring large organza pieces, a pop-up bar, mobile artwork suspended in the gallery, and one of Elle's paintings.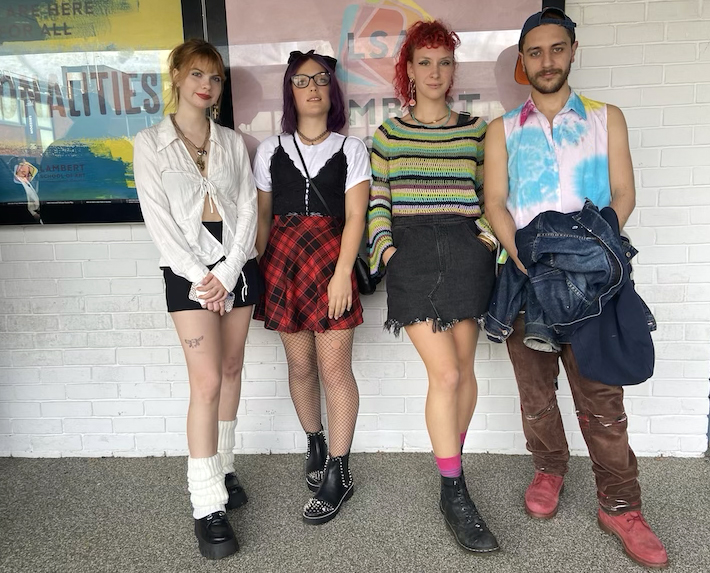 UCA students also got the opportunity to get involved, with some becoming extras, and others on film and television courses working as location marshals and assisting the assistant directors (AD) after being selected by the production's location managers.
Aurora Ulian, a 2023 Fine Art graduate was an extra, and used the opportunity to network with the crew and other cast members for future opportunities. They said: "It was interesting to see from the inside what's going on – in one of the biggest productions in the world – and how things worked."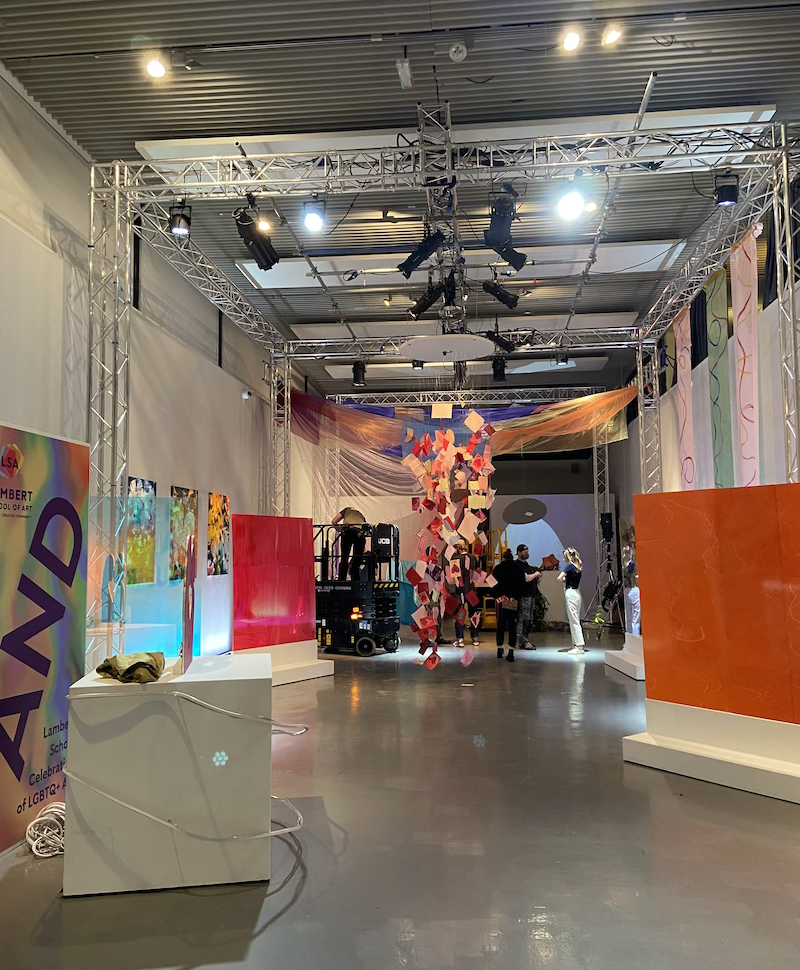 One of the assistants to the AD, Grace Lamb, a 2023 BA (Hons) TV and Media Production graduate, said: "I was gobsmacked, when I found out what I was going to be working on, having watched the first series.
"I've learned to talk to everybody about their role and what they do and gain as many contacts as possible. Having a Netflix production on the CV is huge!

"My high point was standing with the directors as they worked, seeing the magic on their monitors, and how amazing they made UCA look."
Jagmeet Singh, known as Sonny, an MA Filmmaking graduate from UCA who also worked on the set, added: "It was a great experience because it was my first time working on such a big set. It's profound seeing how people actually work, how big film productions work, and how everything, the props, the cameras, all come together. "
You can watch Season 2 of Heartstopper on Netflix now and tune in to episodes 2 and 7 to watch UCA's starring role!
To learn more about pursuing a career in acting, film or TV, visit UCA's course pages and start your journey today.