Architecture student & staff exhibit at
RA's Summer Exhibition
Master of Architecture student Diya Seepaul, BA Architecture Stage 2 convener Kristina Kotov, and M.Arch convener Gabor Stark from the University for the Creative Arts (UCA) in Canterbury have been selected for this year's Summer Exhibition at the Royal Academy, London.
07 Jun 2023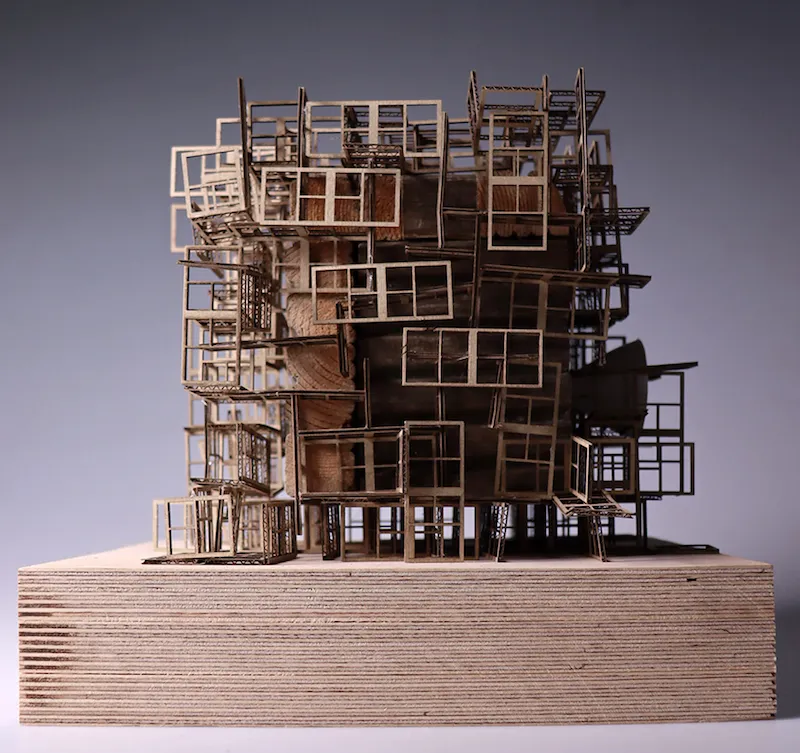 The annual exhibition, running without interruption since 1769, features work by leading artists, Royal Academicians, and household names as well as new and emerging talent. Anyone can submit their work and, if their work is selected by the RA's panel of artists, it goes on display in the Main Galleries. This year, the Architecture Room is curated by architect Peter Barber RA, and focuses on the role of making and the hand-made in the design process.
Following the two-stage submission and selection process, Diya will show 'The Anthropocentric Sublime', her proposal of an architectural pinhole camera that records the ecological transformations in the Chernobyl Exclusion Zone in Ukraine. Diya built the 1:50 model for her design project in the SYN City 51º N | Architecture Climate Action studio in her first year on her Master of Architecture course.
Kristina and Gabor exhibit their collaborative sculpture 'Taking the Barn for a Walk'. Carved out of a timber purlin from a vernacular farm building at Kristina's LT Ranch Space in Lithuania, three barn-shaped houses on iron nail legs precariously balance on a worm-eaten timber log.
The Summer Exhibition 2023 opens on Monday, 12 June and runs until 20 August 2023.
To learn more about studying Architecture at UCA, visit the course pages.