Seven fashion graduates shortlisted
for GFF Awards
Seven fashion graduates from the University for the Creative Arts (UCA) have been shortlisted for this year's Graduate Fashion Foundation (GFF) Awards.
12 Jun 2023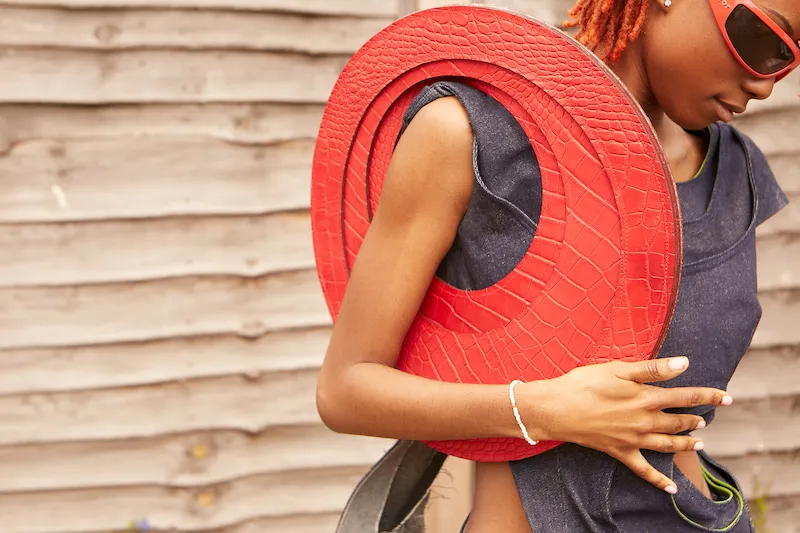 Considered Fashion Award
Hanaa Heetun (BA (Hons) Fashion) has been nominated for her fully sustainable graduate collection using donated clothing from her home – Mauritius – and from thrift shops.
She dyed all the fabric to meet her Barbiecore aesthetic, and also refrained from creating toiling, as this "can be a waste of fabric". Her garments are gender-neutral and can be fitted to various body sizes.
"I have always been taught to reuse old clothes or to alter used clothing. Being from the small island of Mauritius, outlet stores were not popular," she said.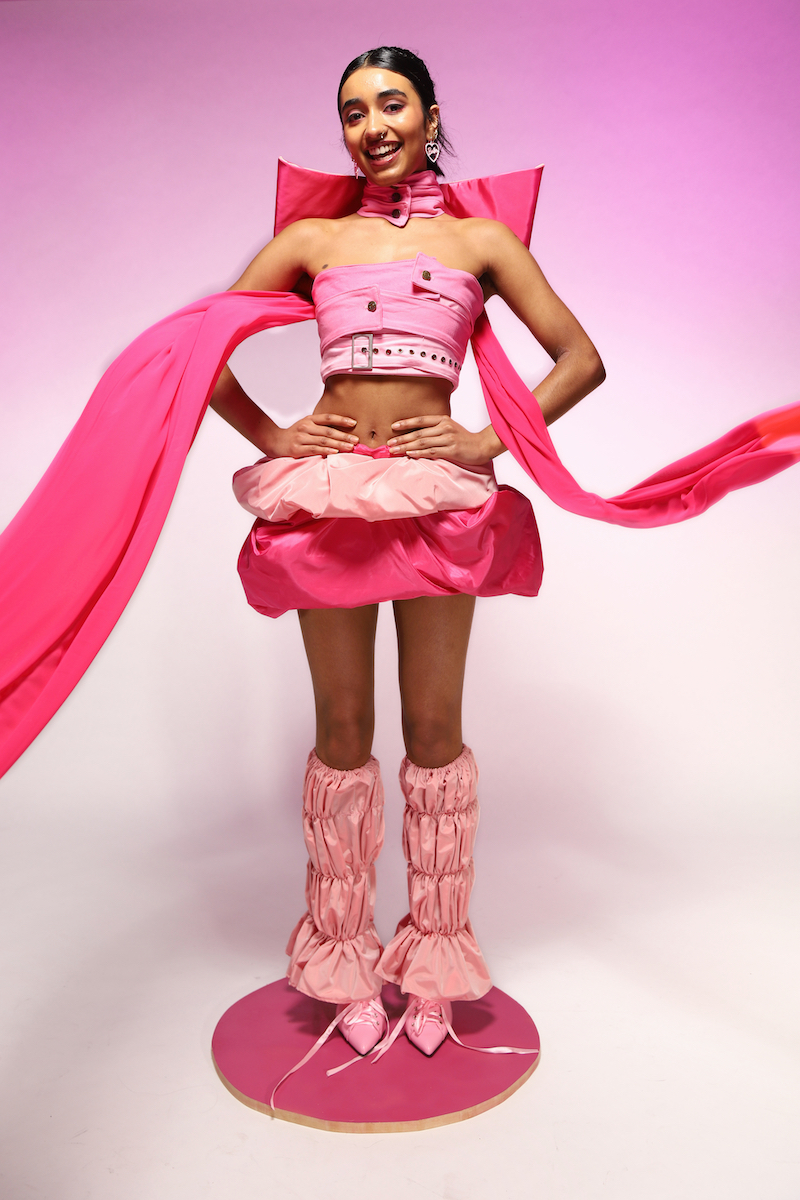 ©Hanaa Heetun
Fashion Illustration Award
Theo Loasby-Anning and Kyveli Fourli, BA (Hons) Fashion and BA (Hons) Fashion Design respectively, are both nominated for this award which celebrates the 'illustrated image' in the contemporary fashion industry.
Working digitally, Theo mixed realism and other abstract elements to recreate the maximalist concept of his work.
Theo said: "The most important part for me is the composition; styling, posing and giving the final piece a different view that you wouldn't get from a photograph."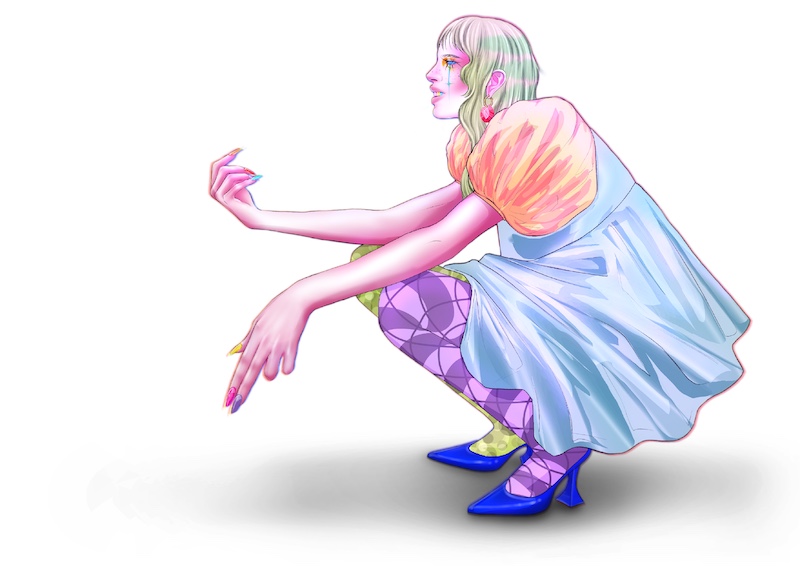 ©Theo Loasby-Anning
Kyveli's illustrations are more hands-on. Their work depends on experimentation and manipulation with physical forms and textures.
"In my illustrations, poses are organic, inspired by the way young people tend to carry themselves, which are inspired by candid photos of my friends. Illustration is a way to express my design vision – a visual manifestation of the person that would wear my design," explained Kyveli.

"The materials used take a humble approach, with the use of black biro pen and pencils on khadi paper, masking tape and tracing paper for layers, to mainly produce monochrome but also coloured sketches, while acrylic paint is used for finer detail and precise tones."

©Kyveli Fourli
Culture and Heritage Award
Christie Mande, BA (Hons) Fashion, has been shortlisted for her designs, inspired by her Congolese heritage and in particular the Congolese dandies, called Sapeurs.
La Sape wears bold, colourful, and elegant designer clothes, which are in stark contrast to and in defiance of their harsh surroundings. She combined this with a Harajuku influence, a Japanese sub-style that encompasses the cute, the casual and the extreme, meshing them together into biomorphic garments, evoking naturally occurring forms.
"I want people to see my work and take the mentality of the Sapeurs away with them; 'sapés comme jamais' translated to 'dress like never before, she said.

"[La Sape] always enjoys expressing themselves with their clothes, being over the top, and being the one to make a statement and stand out in a room."

©Christie Mande
Creative Pattern Cutting Award
Imogen Lemm, BA (Hons) Fashion Atelier, is shortlisted for this new award, which acknowledges the appreciation for inventive problem-solving and innovative pattern cutting skills when interpreting a designers' vision.
The garment that secured Imogen her nomination showed a tailored jacket with pleated trapezium sleeves, paired with a 3D trapezium fin jumpsuit, which is detachable at the waist by a zip.
Imogen said: "I enjoy the experimentation of pattern cutting, the accuracy and precision as well as the gradual developmental process. "For example, small changes in volume can have a large impact on the overall shape created in the garment which is what I discovered in my 3D sleeve development.
"Creative pattern cutting is essential to stand out in the contemporary fashion design industry and create a sense of identity to a designer."

©Imogen Lemm
New Business Award
Studying a BA (Hons) in Fashion Business and Management, Amy Edwards is nominated for her business plan Re:GenZ.
Originality, innovation, and sound rationale were key elements for this award, which asked graduates to propose a business idea for a new company within the fashion industry.
Amy's proposal was for a regenerative fashion consultancy agency that helps Gen Z-led fashion start-ups navigate the landscape of circularity.
"As a Gen Z cohort, we are very quick to make 'sustainable' business plans without doing enough research into the circular fashion economy, and only tackle part of the processes and design thinking required, explained Amy.

"My concept aims to start the necessary collaboration between brands and eco-tech companies and start a mass movement to restore the planet."

©Amy Edwards
Terry Mansfield Fashion Publication Award
Izzy Gray, BA (Hons) Fashion Promotion and Imaging, is shortlisted for her publication 'Morel'.
Morel is a multi-channel publication that aims to be a critical mouthpiece on wider social and environmental issues as well as looking beautiful, being inspirational, and providing escapism for its readers. It is aimed at the older Gen Z demographic who have the power to drive change.
"By using fashion and lifestyle as part of the narrative around dystopia, I created a platform where fashion can be used as part of a conversation that inspires positive change, Izzy said.

"The title of the project is named after a mushroom, which is a symbol of transformation. This is a metaphor for the positive transformation I hope to see in the future."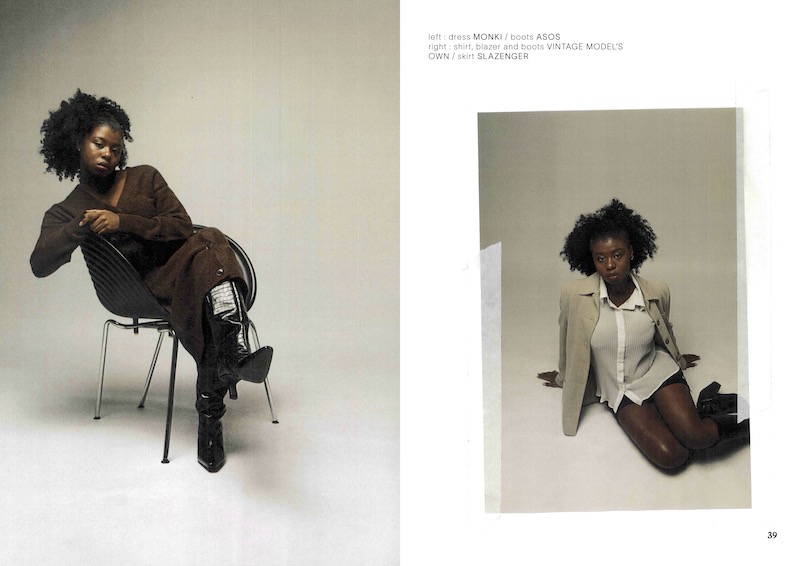 Morel magazine by ©Izzy Gray
Live judging will take place during Graduate Fashion Week (GFW), 12 – 15 June 2023. With winners announced at an awards show.
Follow Graduate Fashion Week on Instagram to find out more.
To learn more about studying Fashion at UCA, visit the course pages.