Finnish film industry
recognises UCA lecturer
University for the Creative Arts performing arts lecturer Pia Rickman has been recognised for her continuing work within intimacy co-ordination at a glittering awards ceremony.
05 Apr 2023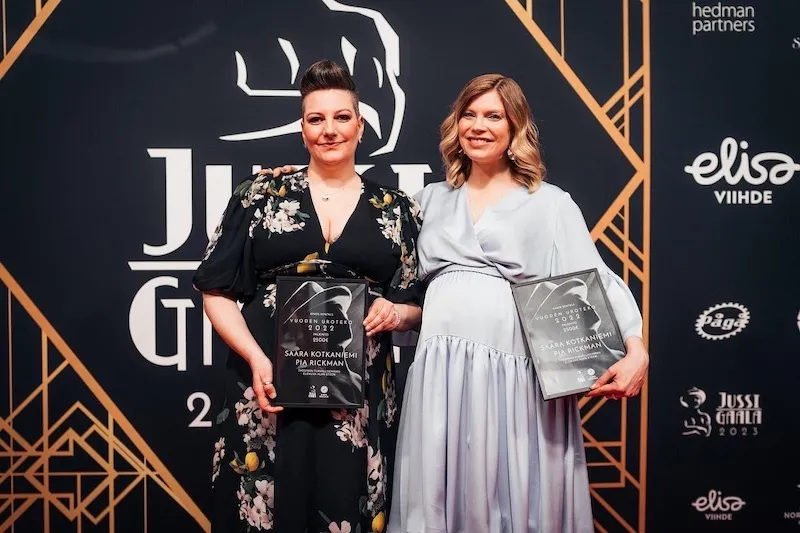 Pia was presented with a Deed of the Year Award at the Jussi Gala, the Finnish equivalent of the BAFTAs, along with an actress, Saara Kotkaniemi, for their respective work in helping create a safer film industry.
She was also involved in the Finnish movie, Girl Picture, which took home four major awards on the night. The event capped a great campaign for the film, which has picked up global buzz and won an Audience Award at the prestigious Sundance Film Festival in 2022.
"It was very lovely to be invited to the Jussi Gala to celebrate Finnish film and additionally to be awarded by the industry was a great honour," she said. "It's still early days but it's fantastic to witness a change in attitudes toward the new role. And it was brilliant to see Girl Picture take home so many prizes."
It's been a busy time for Pia, working on hit shows including the hit comedy Ted Lasso, as well as Romantic Getaway. She also had a key role in the inaugural International Conference on Intimacy Co-ordination in Berlin, a two-day event for industry peers and the public. She ran a workshop for production staff and assistant directors on budgeting and scheduling intimacy, took part in a panel about EU guidelines and the changing culture of intimacy co-ordination and a third event about standards and protocols.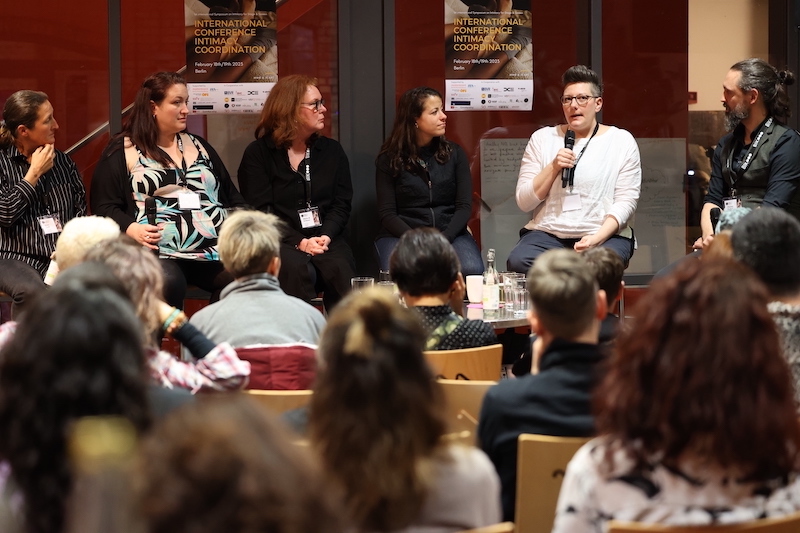 From left to right: Kate Lush, Amanda Cutting, Malin B. Erikson, Yarit Dor and Pia Rickman. Moderator Florian Federl. Photo ©Alfred Hartung
It was also an opportunity for Pia to talk to attendees about the Intimacy Practitioners' Guild (IPG), an organisation she co-founded to ensure there are suitable qualified intimacy co-ordinators working within the media, arts, and entertainment industry in Europe.
"The number of intimacy co-ordinators is steadily growing but it's important that there's quality over quantity," she said.

"There are still some countries that haven't even heard of intimacy co-ordination, but the industry in the UK and US is really acknowledging the importance of qualified intimacy co-ordinators on sets, and it's gaining more importance across Europe."
Pia's skills have benefited both staff and students, running workshops on intimacy and consent, initiating changes to risk assessments and setting up consent disclosure forms for students. Intimacy and consent is also threaded through the curriculum of the BA (Hons) Acting & Performance degree.
To find out more about Acting & Performance at UCA, see our course pages.