Creative duo design local mural for
Italian restaurant chain
Two final-year BA (Hons) Illustration students from the University for the Creative Arts (UCA) in Farnham have made their mark on the town after winning a mural competition by restaurant chain Zizzi.
14 Jun 2023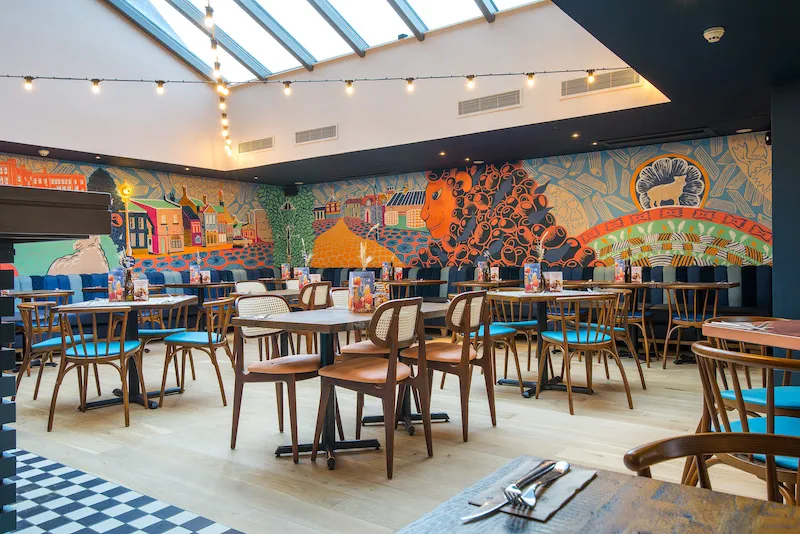 Artwork by Ruth Blacklock. Photo © Zizzi
Zizzi in Farnham was recently refurbished as part of its new brand vision, with each of its 136 branches featuring a unique illustration/mural inspired by the local area.
This idea then became a design brief for third year UCA illustration students, who were challenged to create murals for its ground and first floors, celebrating Farnham while also conveying the vibrancy and style of Zizzi.
Ruth Blacklock and Izzy Barrett were picked to have the two best concepts, and they had just five days to turn their ideas into reality.
Ruth's design used a vibrant colour palette to reflect the stunning colours found in the natural surroundings of Farnham. She also incorporated Zizzi's value of trustworthiness into her design by including the famous lion and lamb characters from the town's iconic Lion and Lamb sculpture (carved by Edwin Russell in 1986).
Ruth said: "I wanted to depict the experience of exploring Farnham as a town. I knew I wanted the eye to follow around the wall to show the escapade of travelling around the town and seeing the history and character hidden down every alleyway."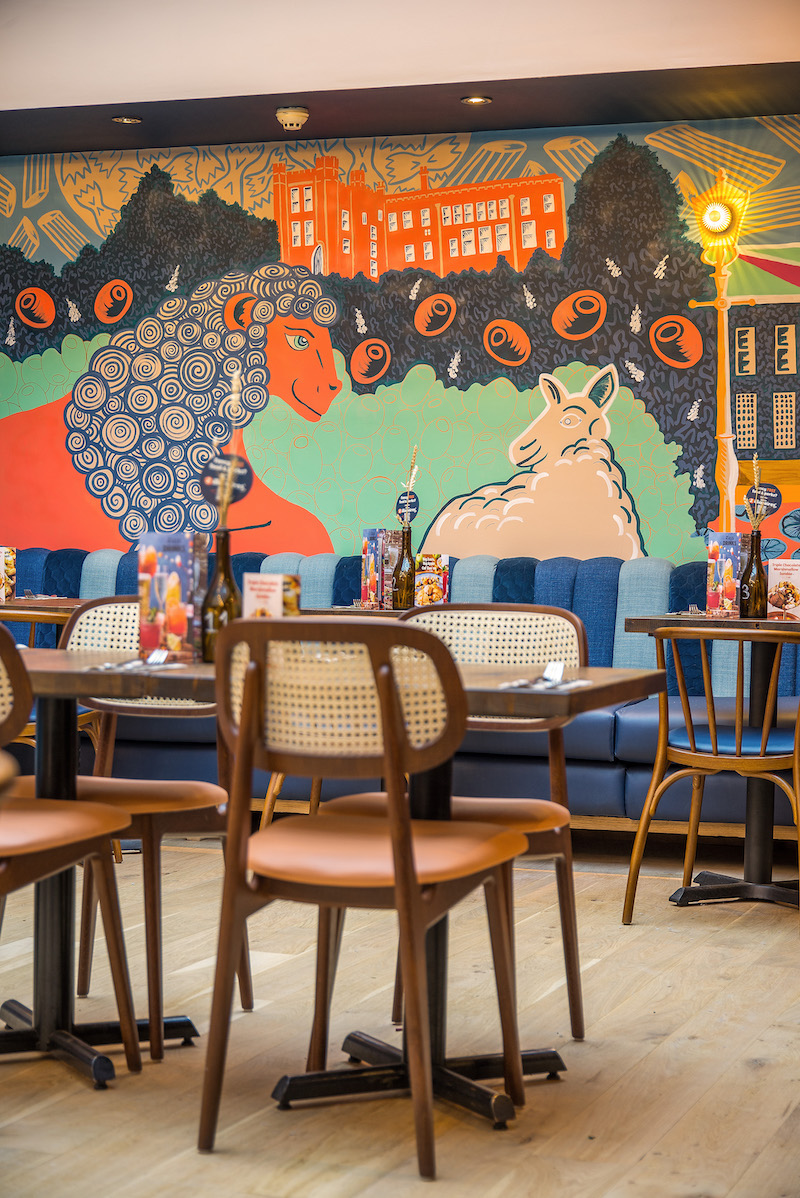 Artwork by Ruth Blacklock. Photo © Zizzi
For Ruth, the main challenge was transferring her design onto the wall.
"I had planned to use a projector to project my design onto the wall and trace it, explained Ruth. "But this didn't work out so, I knew I would need to freehand my design onto the wall. I have never worked on a project this big before, and every so often, I would need to stand right back to see how it would look from different distances. It made me a bit anxious, but I knew I needed to trust myself to be able to make any corrections along the way.

"There are always ways to overcome a problem, sometimes you just have to think outside the box."

"I hope customers can see things in the mural that they really like or recognise, and hopefully, it will add to their Zizzi experience."
Izzy's design was inspired by the commonalities between Farnham and Italy, namely Farnham's reputation for pottery during the Roman era. By combining Italian foodie culture with Farnham's pottery heritage, she created a fun illustration with pottery-inspired creatures carrying Zizzi dishes up through the winding, cobbled streets of Farnham to the castle.
"I aimed to reflect the family-friendly values of Zizzi, with the personification of inanimate objects and my simple bold style," said Izzy. "I used the six colours that are part of Zizzi's palette, and an additional two of my own: a deep red and olive green, which I thought complemented Zizzi's pinks, blues, and beiges. I hope my murals create a relaxed atmosphere for Zizzi's customers to enjoy."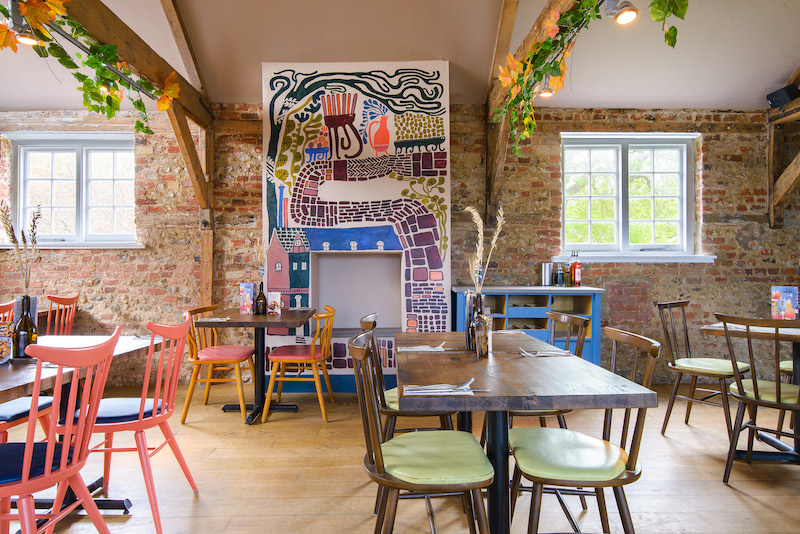 Artwork by Izzy Barrett. Photo © Zizzi
Time was the biggest challenge in completing the mural for Izzy, as she had university deadlines to meet at the same time.
"I was painting the actual mural during the final week before the deadline for my final major project. I'm not sure how I overcame this challenge, I put it down to pure nervous energy."
But Izzy did learn a valuable lesson about working on a construction site – buy earplugs!
You can see the murals at Zizzi, Farnham on Castle Street.
To learn more about studying illustration at UCA, visit the course pages.