UCA graduates shortlisted for
Rising Stars 2022
Five recent craft graduates from UCA have been shortlisted for the Rising Stars 2022 competition, organised by Farnham's New Ashgate Gallery.
16 Feb 2022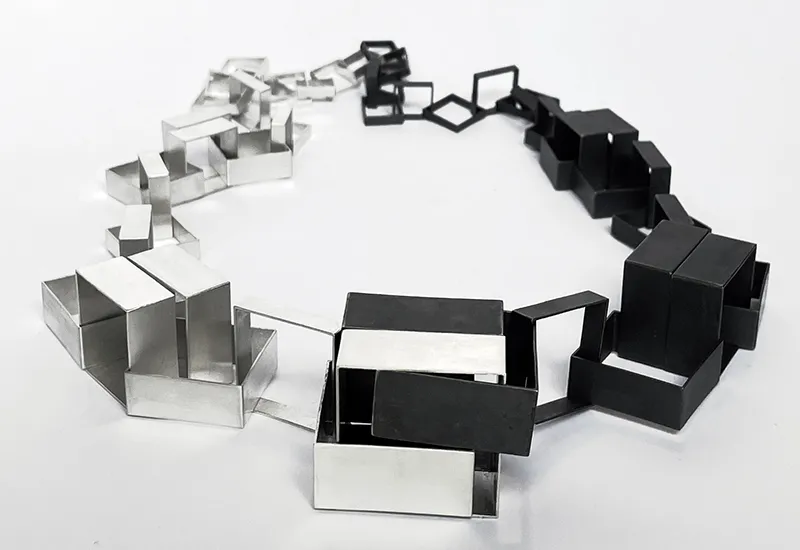 Maddy Barnett, Catherine Dunstan, Michelle Chung, Seongeun Kim and Pratibha Mistry were selected to be among the UK's 20 most exciting emerging makers.
An exhibition of their work opens at the New Ashgate Gallery on 12 March and runs until 23 April 2022. The winner will be announced at a private view ceremony on 11 March.
The shortlisted makers were selected by a panel of judges, which included UCA's Sharon Ting, Programme Director for Textiles.
"It was heartening to view the breadth of work created through this pandemic year and work that showed a great care for people, our environment, and sustainability," Sharon said. "Within the 20 selected makers/artists/designers there is a strong use of colour, both monochromatic and bright, and examples of work that exquisitely combine both analogue and digital processes."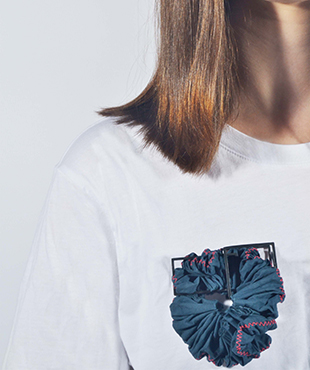 Brooch, copper and cotton fabric ©Maddy Barnett. Photo: Elen Jones
Maddy Barnett, an MA Jewellery graduate, was selected for her wearable objects, inspired by her grandad's profession as a Master Butcher and their conversations around the internal body. Her work replicates the patterns found inside organs, such as the intricacies of the intestines, through the process of ruching fabric and piping jesmonite.
"My pieces act as an exoskeleton, suggesting containment, restriction, and are created as if they are 'consuming' the body – an external representation of the internal – and worn as jewellery objects," Maddy said.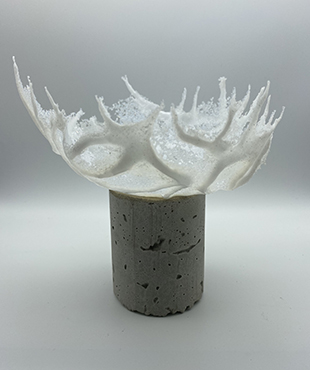 Emerge I, glass pate-de-verre ©Pratibha Mistry
With a scientific background in pathology and toxicology, Pratibha similarly explores the contours of human organs and their intricate cellular structures as inspiration for her sculptural glass works. Having graduated with an MA in Glass in 2020, Pratibha combines her experiences in laboratory research and microscopy with the unique and versatile properties of glass to show "what lies underneath".
"The work submitted for Rising Stars utilised contrasting materials of glass and concrete," Pratibha said. "It showcases the delicate intracellular constituents of organ systems and the fundamental support they provide for the basis of life."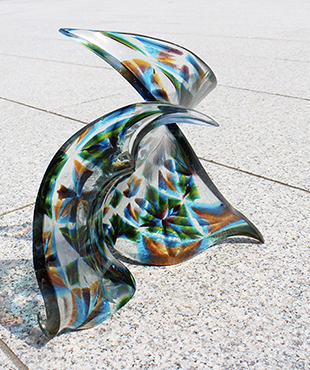 Yank I and Yank II ©Catherine Dunstan
While Maddy and Pratibha explore the physical world, MA Glass graduate Catherine explores the mental world, diverting her anxious energy into meticulous pattern making. As an anxiety sufferer, the unpredictability of becoming a new mother exacerbated her symptoms and the glassmaking process helped her take back control.
It took Catherine weeks to create her intricate sheet glass patterns, then seconds in the hot shop to manipulate into shapes. Her final pieces are a visual display of Catherine's struggle between control and vulnerability and finding beauty and growth in unexpected places.
"I'm thrilled to have been selected for Rising Stars 2022 among so many fantastic emerging artists. It's such a fantastic opportunity to have my work exhibited at the prestigious New Ashgate Gallery and the professional development training that is offered alongside the exhibition to the selected artists is invaluable," Catherine said.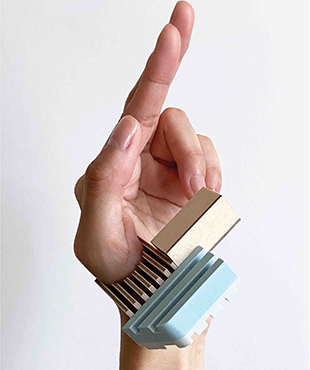 Hand Object II, Jesmonite and Plywood ©Michelle Chung
Another artist like Maddy, exploring wearable jewellery, is BA (Hons) Jewellery graduate Michelle Chung. Influenced by the built environment, Michelle sees jewellery as an extension of the human body and as a piece of architecture. She works mainly in jesmonite and plywood to imitate the qualities of the built environment and produces futuristic, urban and unconventional wearable jewellery.
"Using the body as the landscape, I have been exploring how jewellery objects become architecture and are positioned within that landscape," said Michelle.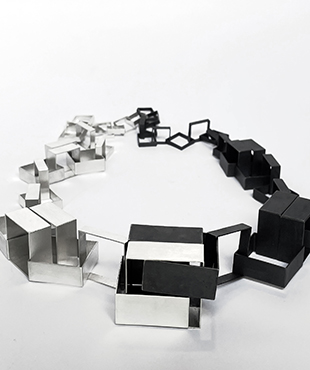 Cube chain ©Seonguen Kim
Cube Box Chain is a work created by Seongeun Kim, which was selected for its unique geometric form. Seongeun, who is currently studying towards an MA in Jewellery, constructed a chain of cubes made from oxidised and sterling silver. Each cube represents a place, time, or experience in Seongeun's life.
Seongeun said: "Today, jewellery is more than just an ornament – it is as an expression of who you are, linked to the body, individuality and identity. I'm so honoured that my work has been chosen for Rising Stars 2022. It will be the first step to building my early career as a jeweller."
To learn more about craft courses on offer at UCA, visit the course pages.