UCA alumni shortlisted for
Surrey Artist of the Year
UCA alumni Eli Delbaere and Sophie Kathleen have been shortlisted for the Surrey Artist of the Year 2022 Award.
01 Sep 2022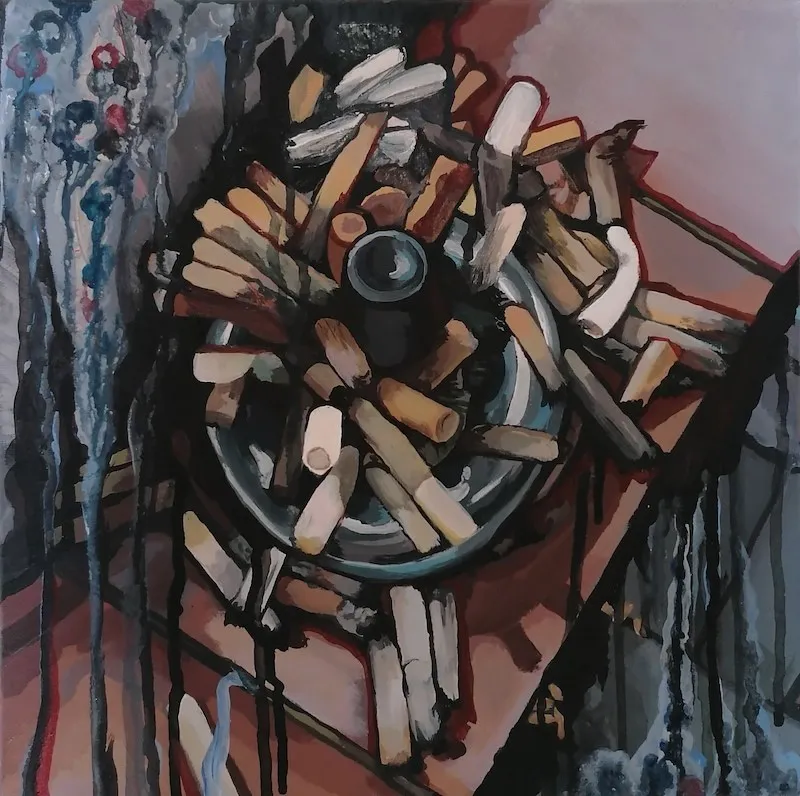 The competition is a partnership between the New Ashgate Gallery and the Surrey Artists Open Studios to celebrate the creative talent in Surrey.
Eli graduated from UCA Canterbury in 2020, with an Art Foundation Diploma. The course opened their mindset toward their creativity and encouraged them to embrace their individuality.
"My tutors pushed me towards creating from my vision and I never felt pigeonholed into copying someone else's style or doing anything by the book. At UCA I loved learning about all kinds of new art forms which I'd never engaged with before – printing zines, working in 3D, and making animations. These have since become cornerstones of my practice," said Eli.

"And the people that I met on my foundation course were awesome. Many of us are achieving major and admirable things in the art world after only a couple of short years and some remain close friends – the company you keep as an artist is super important!"
Eli said they hope to give some representation to emerging artists, students, and young people alike, who might feel a bit daunted by established competitions like this.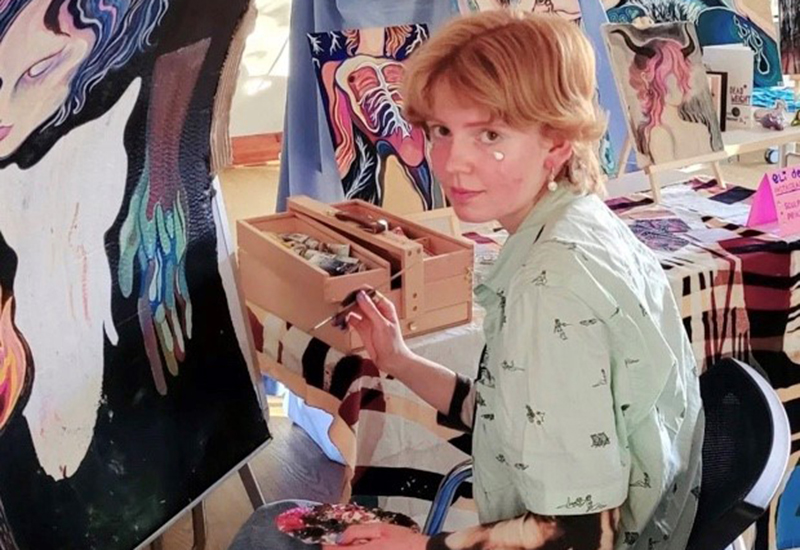 Eli D in their studio
Eli's art practice was transformed by the realisation of their gender identity, which was precipitated by meeting more transgender people at UCA. After identifying outside the cisnormative gender binary and realising themselves as gender fluid, their work was fundamentally changed as they started to interpret their new perception of themself and the world around them.
"This realisation spurred on a huge creative renaissance for me as I started making work which felt more personal, rawer, more emotive, and more exciting – often using distorted and abstracted imagery stemming from the human body, recontextualised as something alien or mythic," explained Eli.

"It's about how you relate to your own body as a queer person, which is full of both joy and complexity. It's a playful and sometimes a painful space. My best work tends to come from these feelings, and the most rewarding thing is when other young LGBTQ+ people tell me that it makes them feel validated and represented."
Interestingly, Eli is never short of inspiration or motivation for their work. The difficulty comes when deciding what to do with it afterwards.
"Do I want to monetise my work when that means participating in a system I disagree with? How radical do I want it to be? How do I want it to reach people? How much do I want to engage with online spaces like Instagram, which can be great for platforming your work but can also warp your relationship to it?"
For now, they remain excited about being a finalist and are hugely honoured and grateful to the team at New Ashgate Gallery.
Sophie Kathleen, artist and illustrator, graduated from UCA Farnham's Art Foundation Diploma in 2016.
The course connected Sophie with other creatives and encouraged her to collaborate, something she does a lot of in her practice. She also learned the importance of staying true to herself and the work she wanted to create.
"Comparing yourself to other creatives or taking criticism too personally is easy to do as a young person starting out," said Sophie. "But, remembering that the purpose of my art is self-expression and connection, helps me focus on how my work feels rather than how other people feel about it."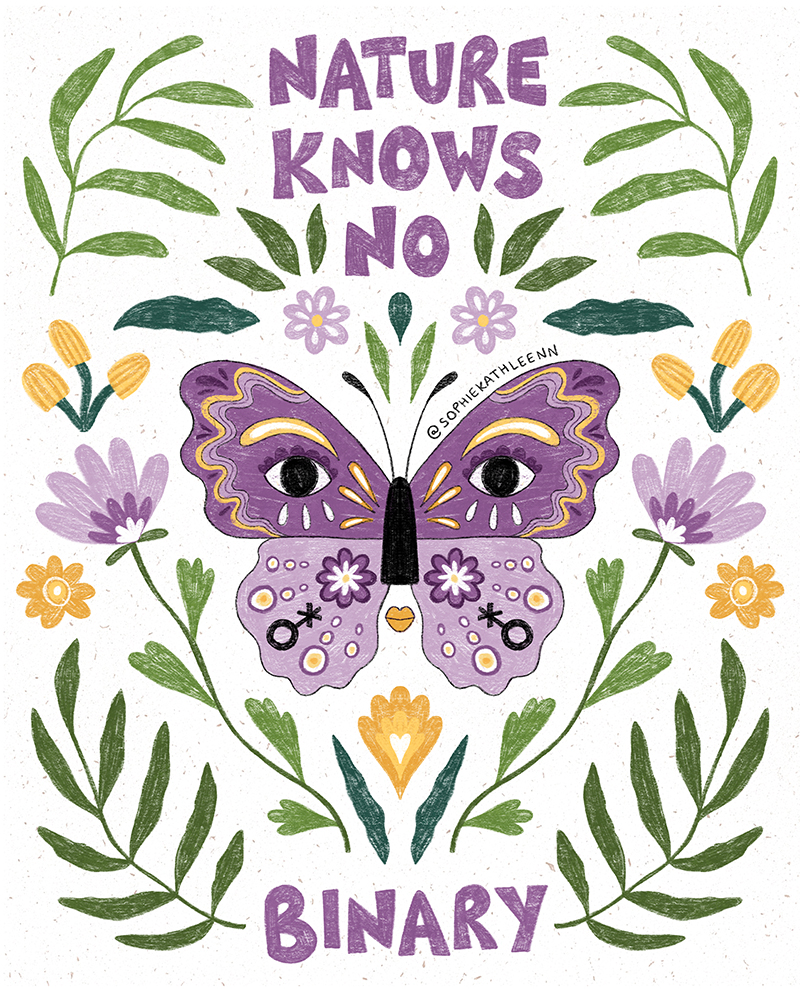 'Nature knows no binary' by ©Sophie Kathleen
Sophie is a multidisciplinary artist, working in a range of mediums. Currently, she works in digital illustration, creating impactful activist work, but also enjoys painting and sculpture. Her specialism is creating vibrant, engaging, and political work around the subjects which she is most passionate about – feminism, LGBTQ+ empowerment, and taboo subjects.
But it has not always been plain sailing. Sophie has found it a challenge to become an artist and has suffered with a lack of self-belief and imposter syndrome. But she always comes back to the reason she creates art in the first place: "to build community, promote equality, and inspire others."
And talking of inspiring others, she has the following advice for recent graduates keen to pursue a career as an artist.
"It's okay if your progress is slow. Sometimes (especially online and with social media) it can look like someone 'made it' overnight, but I guarantee that's not the case. Embrace your journey, go at your own pace, and use others' experiences to inspire you. Make the art that lights you up and you will find your people."

And on a more practical note, she added: "I'd recommend memberships like the AOI who offer a pricing calculator and support and advice for pricing which has helped me while working with my first big clients."
The winner of the Surrey Artist of the Year, with the most public votes, receives a bursary of £1,000, a solo show at the New Ashgate Gallery and a complementary winner's stand at the Surrey Contemporary Art Fair. Winners announced 14 October.
An exhibition of the shortlisted artists goes on show at New Ashgate Gallery in Farnham, on 24 September till 5 November, 2022. Tues-Sat: 10.30-5. Entry Free.
To learn more about UCA's art courses, visit our course pages.