Tansa exhibitions showcase bridge
between UK and Japanese textiles
UCA research students, graduates and doctoral alumni have taken part in a textiles research trip and exhibition alongside Japanese counterparts on both sides of the globe.
20 Apr 2022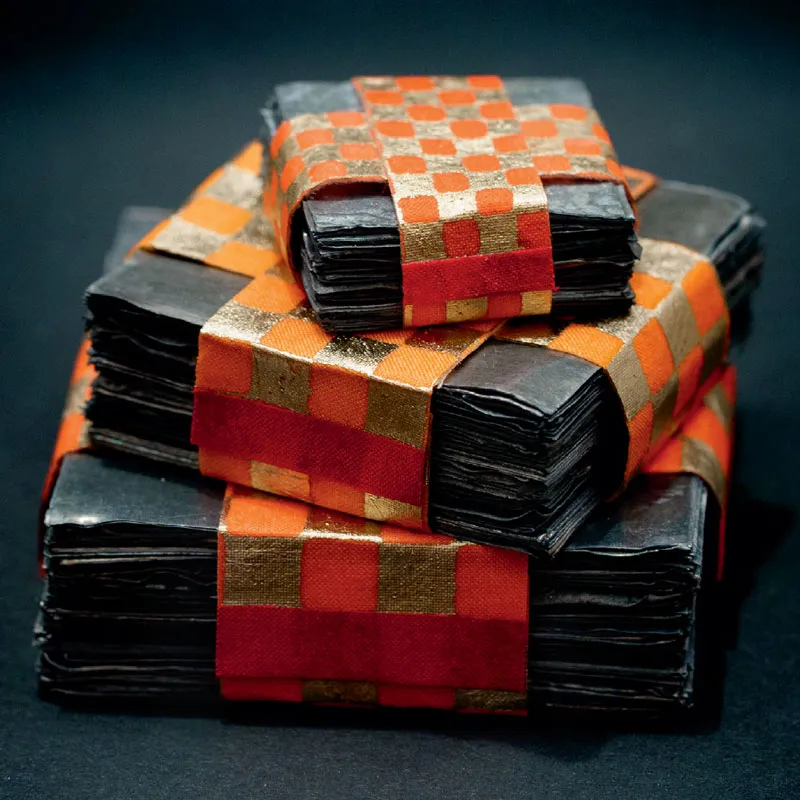 The 17-strong UK research group toured Japan, visiting Tokyo, Kyoto, Arimatsu and Kanazawa. Along the way they visited Yasumasa Komiya – dubbed a National Living Treasure – who demonstrated his technique of super fine Edo Komon, saw the processes of Shibori dyeing, visited one of the old HISHIJIN textile companies, and the Miho Museum and Gold Leaf Museum.
The purpose of the visit was to learn about techniques and culture, and then replicate those influences in the artists' own work, while for Japanese participants their work encapsulated UK influences.
Two exhibitions then took place – split between the Crafts Study Centre, Farnham, and at Gallery Kyoto, which runs until May 8.
The exhibitions were entitled Tansa (探査): Japanese Threads of Influence and featured miniature textiles, no bigger than 15cms. In Farnham there were several sold-out presentations, and although the Japanese artists could not visit the UK for the exhibitions, a video of four artists in their studios – Professor Hiroyuki Shindo, Professor Yasuko Fujimoto, Professor Chiyoko Tanaka and Professor Jun Tomita – was also shown. Included in the exhibition was work by Yasumasa Komiya, the first time the work of a Japanese National Living Treasure has been exhibited in the UK.
A second larger exhibition with the same name also took place at South Hill Park Gallery, Bracknell, featuring bigger pieces evidencing process and making, a programme of public workshops, artists' residencies open to the public, and presentations.
Selvedge Magazine reviewed the exhibition, saying: "For anyone familiar with Japan, it is easy to spot some of the 'Japanese threads of influence' behind the works. But these threads of influence run deeper, spreading between the works like a web, and connecting them through material, colour, form and technique. Viewing this exhibition is Tansa in action, and exploring the parallels and contrasts is what gives it meaning."
Participating artist Hiroyuki Shindo added: "The exhibition Tansa (探査) seems to become a bridge tying UK and Japan."
The research trips and exhibitions were co-ordinated and led by Professor Lesley Millar MBE, who is director of UCA's International Textile Research Centre.
She said: "The miniature textile works in this exhibition by the UK artists' perfectly capture their responses to their experiences in Japan, while the Japanese artists' work each hold an essence of Japan. A gift that fits in the hand between cultures."
The participating artists are Dr Beverly Ayling-Smith, Dr Gail Baxter, Susan Blandford, Dr Linda Brassington, Jennifa Chowdhury, Kendall Clarke, Evie Francis, Professor Yasuko Fujimoto, Janice Gunner, Sian Highwood, Peta Jacobs, Jennifer Jones, Yasumasa Komiya, Loucia Manopoulou, Professor Noriko Matsumoto, Annette Mills, Professor Suzumi Noda, Professor Chika Ohgi, Gina Pierce, Dr Carol Quarini, Paula Reason, Professor Hiroyuki Shindo, Professor Reiko Sudo, Professor Chiyoko Tanaka, Hermione Thomson, Dawn Thorne and Professor Jun Tomita.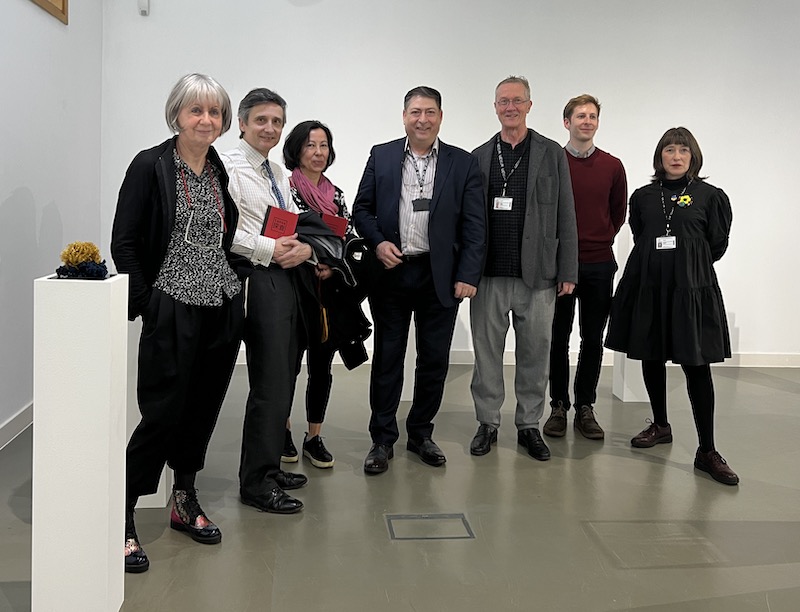 Pictured at the Tansa exhibition closing event, from left, Professor Lesley Millar MBE, Jason James, Director General of the Daiwa Anglo Japanese Foundation, Susan Meehan, Grants and Scholarship Officer of the Daiwa Anglo Japanese Foundation, Professor Bashir Makhoul, UCA Vice Chancellor and President, Professor Simon Olding, Director of the Crafts Study Centre, Rory Steele. Programmes Executive of the Great Britain Sasakawa Foundation and Professor Victoria Kelley, Director of Research at UCA.