Tackling prejudice in
the education of fashion business students
A project by Dr Julie Blanchard-Emmerson, a Senior Lecturer in Fashion History and Theory at UCA, has won the 2022 PRME UK & Ireland Research Seed Funding Competition.
08 Apr 2022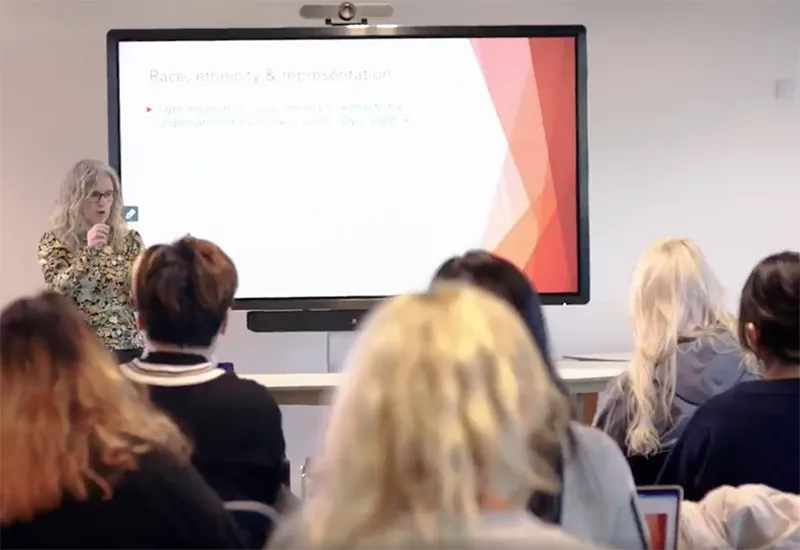 PRME is the UN Global Compact's initiative to transform management education, research and thought leadership globally, by providing the Principles for Responsible Management Education (PRME) framework. The Research Seed Funding Competition aims to incentivise and support research to deliver the six principles of PRME and the UN Sustainable Development Goals.
Dr Blanchard-Emmerson's proposal "'Do #blacklivesmatter in the education of fashion business students?" was commended by the judging panel for aligning with the principles of PRME and the UN Sustainable Development Goals, noting that the outcomes of the research should have real value in terms of theory and practice.
With aspirations to decolonise the fashion business curriculum, Dr Blanchard-Emmerson's project seeks to challenge white patriarchal perspectives in teaching, and enable fashion business students to consider the representation of racialised ethnicities in fashion education and fashion industry.
"Through dialogue, racialised minority students will be able to challenge how they may be stereotyped and under-represented, while white students will be encouraged to question their privilege and provide allyship to colleagues from minority backgrounds, explained Dr Blanchard-Emmerson.

"For every privileged white student who enters the fashion industry having understood the importance of allyship, one more injustice might be prevented."
The project will develop teaching materials, such as lesson plans and learning sessions so that both teachers and students can consider the issues. And to further encourage engagement, Dr Blanchard-Emmerson plans to create a list of student-centred issues of interest around racialised minorities in the fashion industry.
"Every week my students and I find and analyse images and examples of magazines, catwalk shows, look books and films that demonstrate white ideals and that stereotype and racialise other skin colours.

"I hope that racialised minority students benefit from knowing that racism, which is part of their everyday life experience, is taken seriously by the university: their teaching needs, their experiences, and their concerns. Critiquing the structures that construct race helps bring them one step closer to being dismantled," said Dr Blanchard-Emmerson.
The project was awarded seed funding up to a maximum value of £1,000, which will allow Dr Blanchard-Emmerson to conduct her research and collate the results. An update on the project will be presented at the PRME Chapter Conference this June as well as further articles to disseminate her findings to be published later this year.
Learn more about Research at UCA.