Naomi Campbell receives
honorary doctorate from UCA
Global fashion icon, activist and philanthropist, Naomi Campbell, has received an honorary doctorate at this year's University for the Creative Arts (UCA) summer graduation ceremonies.
13 Jul 2022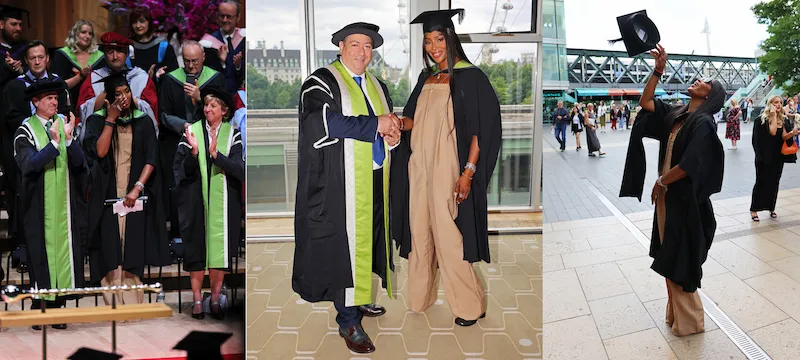 Dr Campbell received her doctorate to great applause at the graduation of UCA Epsom students on 7 July 2022, in recognition of her contribution to the global fashion industry.
Professor Bashir Makhoul, President & Vice-Chancellor of UCA, said: "Having fronted the covers of thousands of magazines and featured in advertising campaigns for celebrated global brands, Naomi Campbell is a fashion icon who is real inspiration for our graduating students.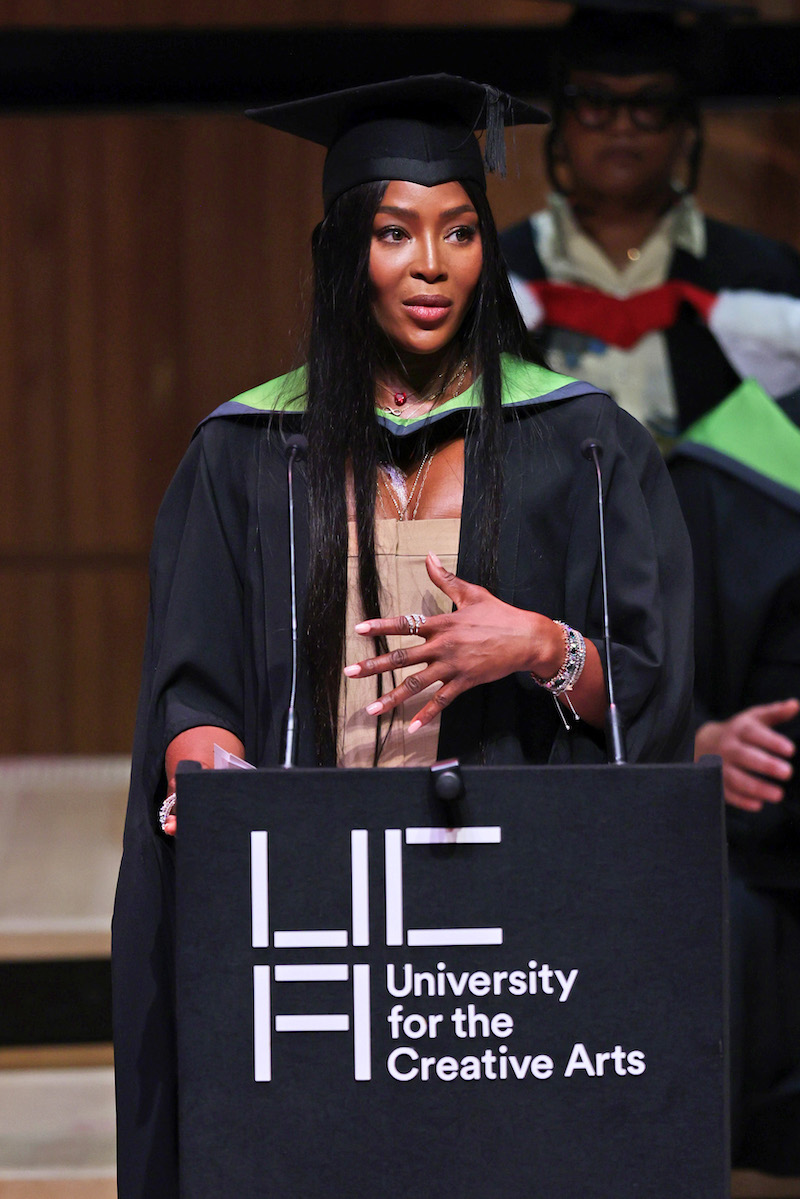 "Not only has she made an outstanding contribution to the industry, but she is a cultural innovator who has used her incredible platform and success for positive change across the world. We are proud and delighted to have Naomi join our creative community."
She received her doctorate at London's Royal Festival Hall, alongside hundreds of fashion, graphics and creative business students, and gave a rousing speech.
"The fashion industry is my work, but it is also my passion, and it is such a privilege to be recognised especially as I started in this industry when I was 15, and I have not stopped over the past four decades," she said. "I have dedicated my whole life to changing the fashion world for the better, by challenging the industry to enforce inclusion on the catwalk and beyond to make it a place of diversity, acceptance, and beauty.
"To be acknowledged for that work by such a prestigious institution is incredibly humbling."
And her advice to students – never quit!
"Never let anyone change the way you feel, change the course of your vision and what you want for yourself," she added.
Following the ceremony she marked the occasion with a graduation party, and then posted on instagram, congratulating the classes of 2020, 2021 and 2022, and thanking her mother, Valerie Morris-Campbell, her daughter, her family and chosen family as well as UCA for the honour.