'In Harmony' scoops two awards at
RTS Student Television Awards
UCA graduate Markus Øvre has been crowned a two-time winner at the Royal Television Society (RTS) Student Television Awards.
25 Jul 2022
The RTS Student Television awards, hosted in London, are designed to highlight the talent, potential, and enthusiasm of students from across the UK, celebrating the exemplary audio-visual work they create. The awards also provide a unique opportunity for students to get their work seen by leading figures within the television industry.
Markus, who studied BA (Hons) Animation at UCA Farnham, won Best Undergraduate Animation, and the award for Undergraduate Crafts Skills – Production Design, for his graduation film, In Harmony.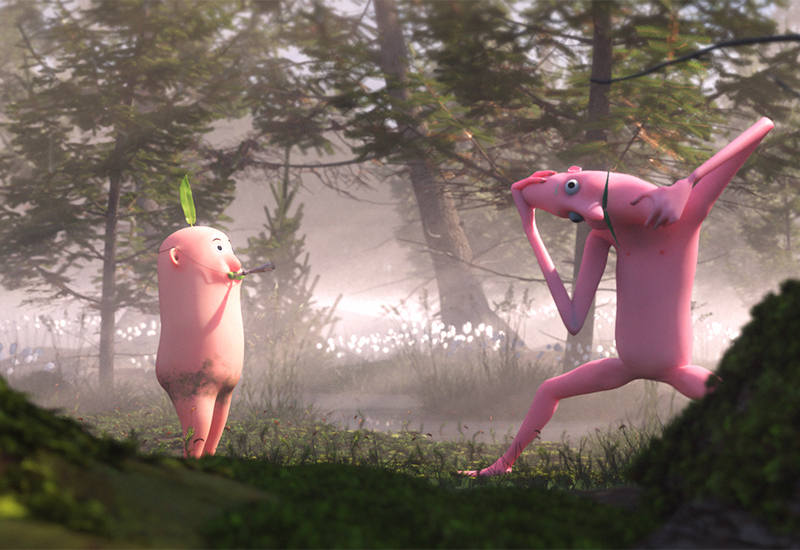 In Harmony depicts a world where the only way for people to communicate is with musical instruments or by creating sounds with their bodies. So, it is difficult to make connections. Backdropped against a luscious green, mossy landscape, the film follows the story of a small man who attempts to play his rhythmic tunes to create a loving bond with someone special.
On winning his awards, Markus said: "It felt very special – winning the awards was incredible. I'm hoping I can use this to make more connections with people in the industry. I'm keen to work on more short films and collaborate with different people and studios and recognition from the RTS will allow me to do that."
So, where does Markus' passion for animation come from?
"My father was the start of it!," he said. "He was the one who got me started in 3D software. At first, I was only doing 3D modelling, but I wanted to develop that further, which is why I decided to study animation at UCA – it was where my real passion for animation began.

"The lovely staff and people at UCA helped me so much and my film wouldn't exist without them."
Markus' inspiration for creating In Harmony comes from his wanting to branch out into storytelling and create a film with a big cast of unique characters. He was keen that music would one day play a big part in one of his films so, In Harmony was the perfect place to try that out.
"My hope for the film is that it puts a smile on someone's face and gives them a good feeling inside," he added.
To learn more about Animation at UCA, visit the course pages.