Immersive VR game wins
£20,000 Tranzfuser grant
An immersive VR game, designed by three UCA graduates, has been announced as a winner of this year's Tranzfuser competition, securing a £20,000 grant.
19 Dec 2022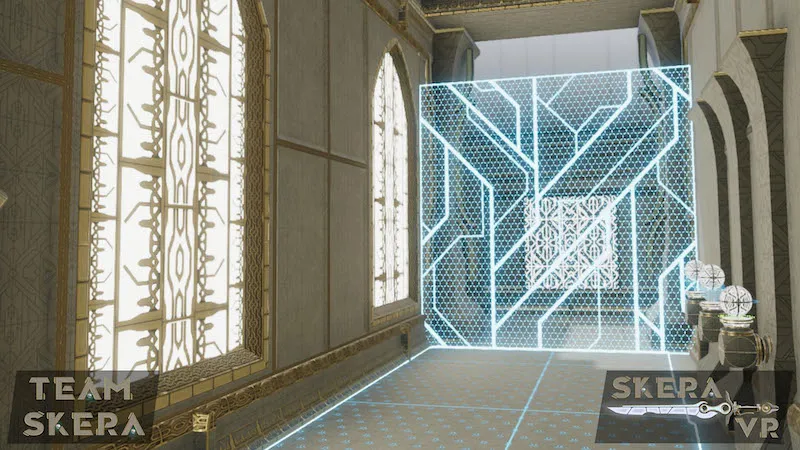 This year's competition returned to EGX London, one of the largest games trade fairs in Europe, giving the team behind Skera VR an unrivalled opportunity to have it played and tested by the enthusiastic game-playing public and pitching it to the UK Games Fund.
Skera is the latest computer game to come out of UCA's Incubator Studio – an enterprise initiative to support emerging game developers. It's a single-player, puzzle-solving action, adventure game designed for VR. Players slice through obstacles, find mysterious relics to unlock the mystery of the tower and save the doomed planet.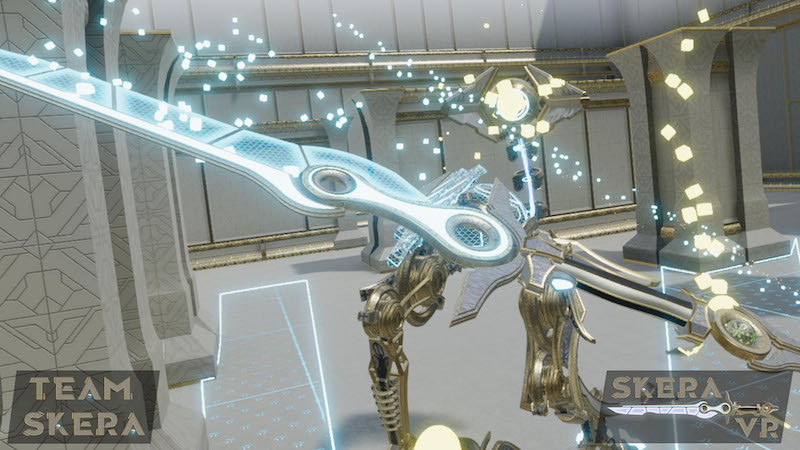 Max Portergill, one of Skera's game developers, a graduate of BA (Hons) Games Arts and now a technical tutor at UCA, said:
"Our USP is the mesh slicing mechanic, which we've woven into the gameplay. I've seen it used in games before but never as a core part of the game."
The UCA Incubator studio gave the team a year's worth of studio development time, using their computers, VR headsets, and supplying software licences. Also, being based on the Farnham campus, Max and his teammates were able to playtest the game to the public at open days and get tutor feedback.
Not only did the studio play a large part in them winning the Tranzfuser grant, but it also gave the team valuable industry experience.
All three team members had a love and appreciation for gaming, which stemmed from childhood.
"It is a beautiful and flexible medium that I fell in love with,"
said Anastasiia Veronina, Skera's 2D and 3D artist and games art graduate.
"I realised that whatever money I earned from a job would eventually get spent on games, and there are games I want to play that just haven't been made yet so, why not go into games development," added Max.
Horace Dann-Atkin, the third team member and audio lead also grew up gaming, but music was always his thing. So, it's when he realised, he could combine his two passions that the coin finally dropped, and he chose a career composing for stories and a degree on UCA's BA (Hons) Music Composition and Technology degree course.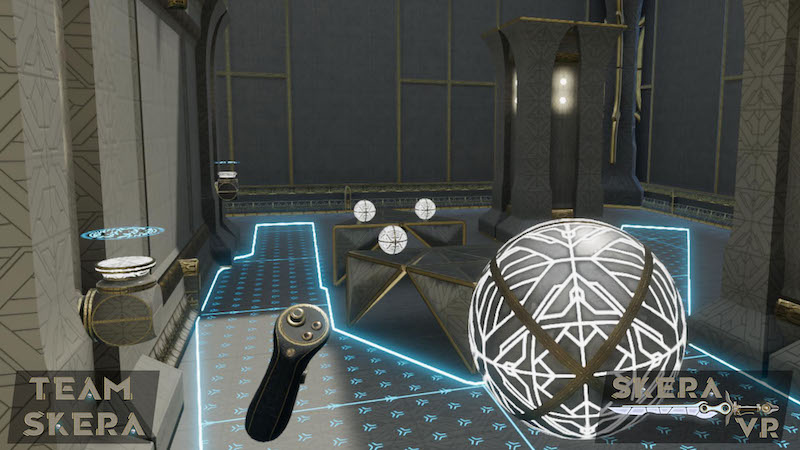 Skera VR joins the UK's thriving indie dev sector and a wealth of talented early-stage game dev studios. It's a rapidly growing sector of the industry, and has recently had a financial boost from the UK government of a further £8 million investment over three years.
As for what's next for Team Skera, they hope to finish the demo, adding more features and content then work on releasing a version of Skera to the market next winter.
Deborah Farley, Head of Talent and Outreach at UK Games Talent and Finance, said:
"All of this year's Tranzfuser teams were enthusiastically dedicated to the competition, each demonstrating their commitment to learn and grow, along with resilience in the face of challenge. Tranzfuser teams represent the future of the UK game development sector, and it has been a privilege to play a small part in their journey."
To learn more about studying games at UCA, visit our course pages.