Graduates nominated for
AJ Student Prize 2022
UCA graduates Elena Gruber and Keerthigan Thavaseelan have been shortlisted for the Architects' Journal Student Prize.
30 Sep 2022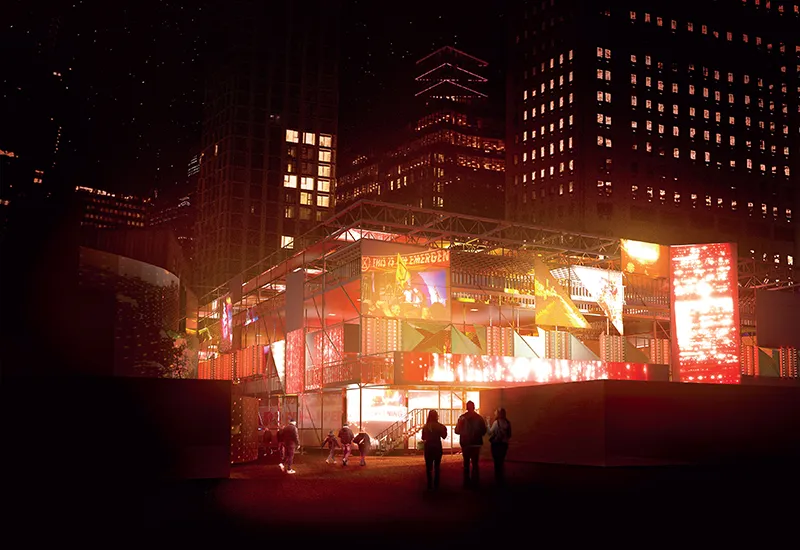 Night Exterior © Keerthigan Thavaseelan
Now in its fifth year, the annual competition is aimed at UK architecture schools and students on ARB and RIBA-accredited architecture courses, to celebrate emerging talent. There are three categories – undergraduate, postgraduate and sustainability – and the School of Architecture submitted one project per category on behalf of the students.
BA (Hons) Architecture graduate Elena was nominated by her tutor Alex Smith for her project The Platform, a new venue for London's creative industries. She designed a tower that rises out of the derelict Chisenhale Veneer Factory, with a polycarbonate façade that opens and closes to reveal internally shifting platforms. There are also performance spaces, a circular theatre, and a public plaza. Walls can be moved and changed, creating a flexible building fit for the future.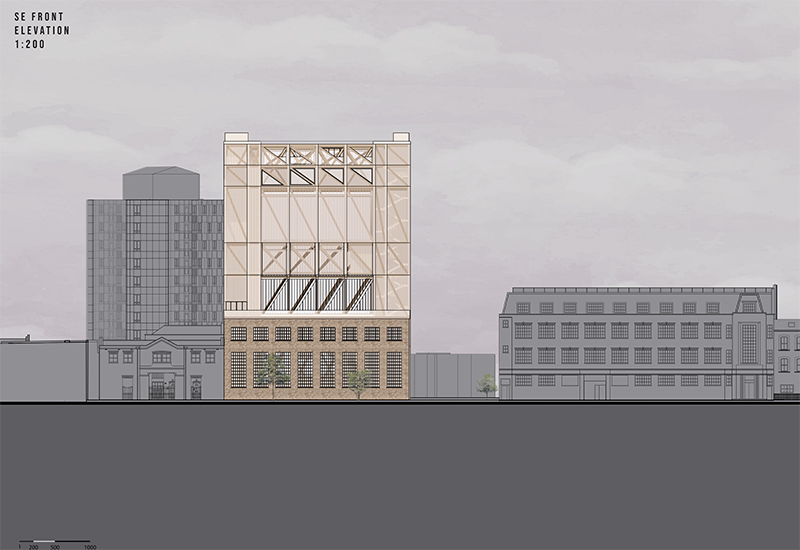 ©Elena Gruber
Alex said: "Elena's use of structural timber in a tower challenges current building regulations and creates a flexible platform for local talent to flourish, guided by investment from the local council. The design is subtle and flexible enough to allow the community to use it and stage their futures."
Master of Architecture graduate Keerthigan Thavaseelan was nominated by his tutor, Gabor Stark, for his proposal for a hub for environmentalists, climate scientists, and activists, named Climate Action Assembly. It provides an interface between specialists and the public to research, educate, and discuss climate action. The structure comprises low and high-tech components, and the building itself is made from locally sourced and pre-existing, ready-made walls, roofs and floors made from scaffolding and engineered wood.
Gabor said: "Keerthigan has developed a temporary, nomadic structure that provides a hub for climate activists and environmental NGOs, which serves as an extension of the civic realm and an interface with the wider urban public."
The judges will announced the winners of each category at a prize-giving event next Thursday, 6 October.