Glass artists commended at
Graduate Glass Prize 2022
Three UCA glass graduates have been awarded commendations by the Contemporary Glass Society (CGS), at its annual Graduate Glass Prize.
19 Aug 2022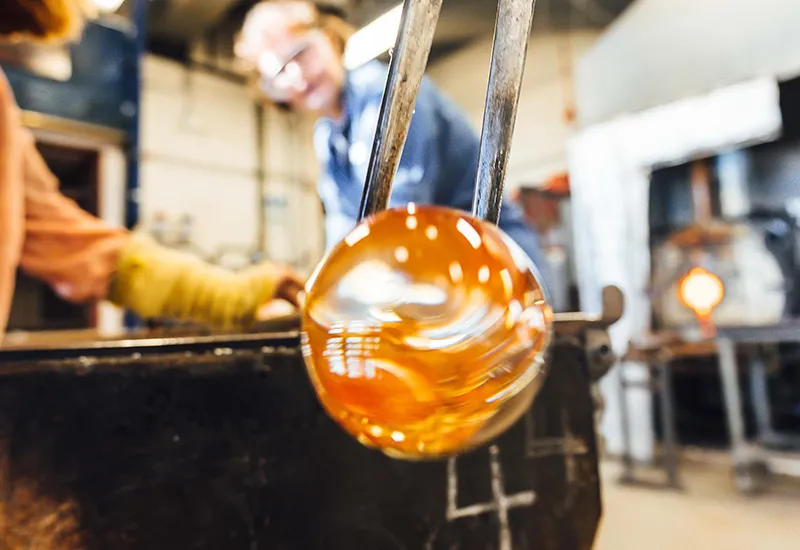 In the International Year of Glass, as designated by the UN, Eleanor Hughes, Christina Dembinska and Shannon Baker were officially named among some of the best of the UK's glass art graduates emerging from universities across Britain.
Supported by the Worshipful Company of Glass Sellers, the CGS supports and promotes contemporary glass art and contemporary glass artists in the UK.
Eleanor, a BA (Hons) Ceramics & Glass graduate, was Highly Commended for her colourful and contrasting sculptural glass pieces. Originally inspired by layers of texture in nature, they quickly became a form of self-expression and a reflection of her making process.
"It's exciting to have been highly commended! This is a great start to my future career and puts me on the map to be watched and considered by other artists, studios, galleries and collectors," she said.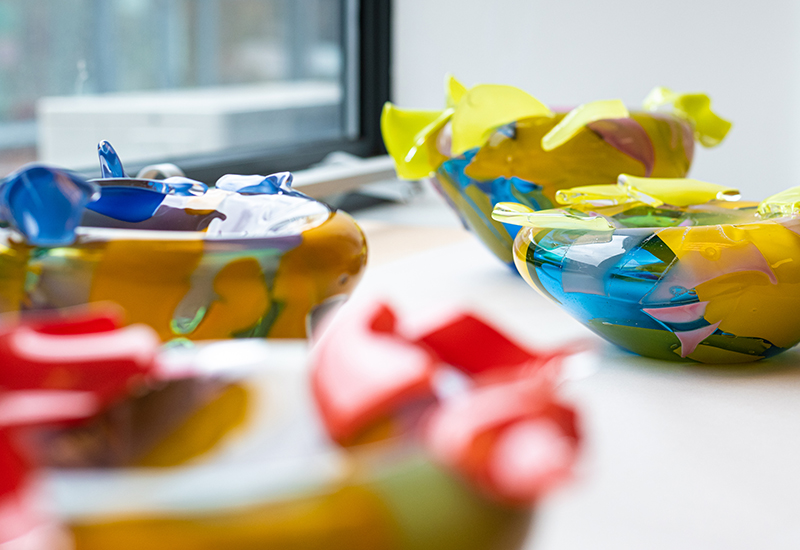 Eleanor has just begun a job in a glass studio, but her BA was invaluable in giving her the knowledge and skills to work with hot glass.
"My favourite thing about being a glass artist is the hotshop," she added. "Working with molten glass is amazing – the glow and the heat – and how simple and practised actions can manipulate and transform a glowing liquid into beautiful solid forms."
Christina, an MA Glass graduate, came to UCA because of the facilities and opportunities it offered her. With a background in fine art, she found the dichotomy between craft and art was bridged by working with glass – enabling her to cross those barriers.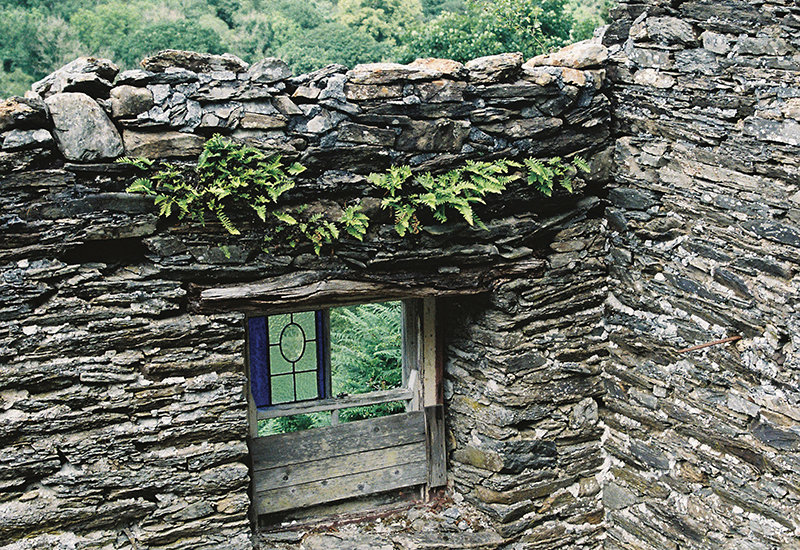 Christina, who usually works architectural glass, was commended for her stained-glass work, which she displays around the country in derelict buildings and other unusual locations, including a quarry in Snowdonia and in fields.
"I had this idea of putting some work in a derelict building, despite knowing they could be vandalised," said Christina. "Then lockdown happened, of course. When we could go out again, I visited my son in Wales where there are many derelict buildings and installed a window in a small roofless cottage."
Christina, who also engraves uplifting song lyrics into her glass designs, has had some of her work vandalised, but two-thirds of it has remained and is appreciated by passers-by.
"I feel safe in the knowledge that, unlike graffiti, I am replacing a part of an unused and derelict building. And as an old woman, I pass almost invisibly. Even at the top of Richmond Hill in broad daylight putting in a window. The potential sites are endless."
On the back of this commendation, Christina hopes to buy a new kiln and create a new studio space to continue her experimental work and push the boundaries of what and where architectural glass can be.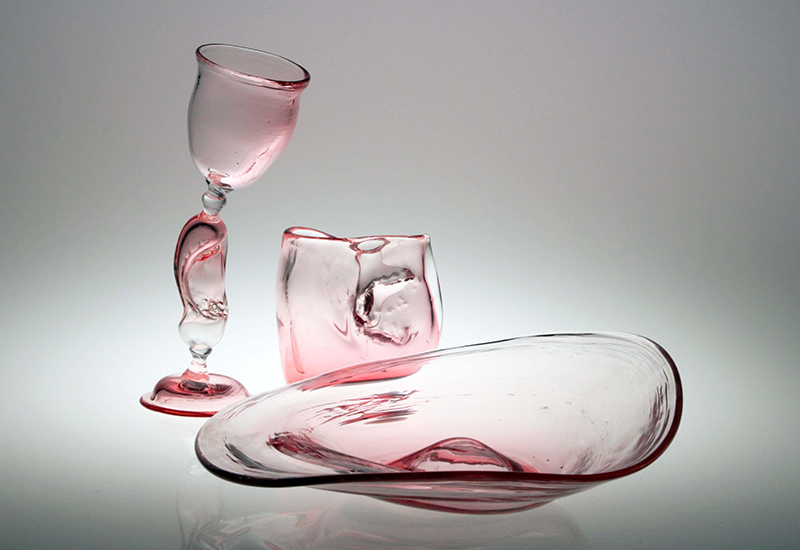 Shannon, another BA (Hons) Ceramics & Glass graduate, also received a commendation for her functional glassware. Her final collection titled Love as a Homesickness is comprised of a glass goblet, cup and dish, all blown glass, and all attempting to physicalise the internal self and her experience as a young woman.
The glass was manipulated by bronze tools cast from her body parts such as a finger, teeth, and abstractly, a claw to represent her inner self.
"Although uneasy, the objects in the collection are all fully functional, bringing the focus to the everyday and uncanny domesticity," Shannon said. "The work is a comment on the extreme burden of womanhood and its intrinsic link to ideas of the mother, motherhood, and unbefitting domesticity, which often leads to feeling out of place, questioning sanity."
Each recipient of the Graduate Glass Prize will also have their work featured in the New Graduate Review 2022.
To learn more about studying Crafts at UCA, visit our course pages.